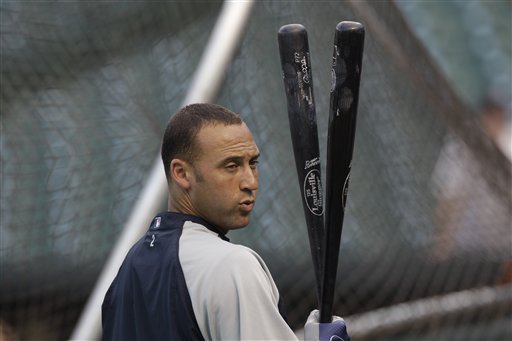 I can't believe he's 36-years-old already. I was too young to remember much of anything when Don Mattingly broke in, so Jeter is the first homegrown Yankee superstar that I've had the pleasure of watching from day one. I don't know what's going to happen with his contract after the season, but let's not worry about now. Today, let's just wish the Cap'n a happy birthday.
Here's tonight's the starting nine…
Jeter, SS
Granderson, CF
Teixeira, 1B
A-Rod, 3B
Cano, 2B
Swisher, RF
Cervelli, C
Gardner, LF
Burnett, SP
I'm sure Frankie Cervelli will fix whatever was causing A.J. Burnett to have a 10.35 ERA this month by whispering sweet nothings into his ear, so I expect seven innings of two run ball, at the minimum. First pitch is scheduled for 7:10pm ET and can be seen on FOX. Yes, Joe Buck and Tim McCarver have gone prime time. Mo save us all.