Curious about how viable Jorge Posada is as a backup first baseman? Or Eduardo Nunez usurping Ramiro Pena as the utility infielder or CC Sabathia's Hall of Fame chances? Then you've come to the right place, the RAB Mailbag. If you want to send in a question, use the Submit A Tip box in the sidebar.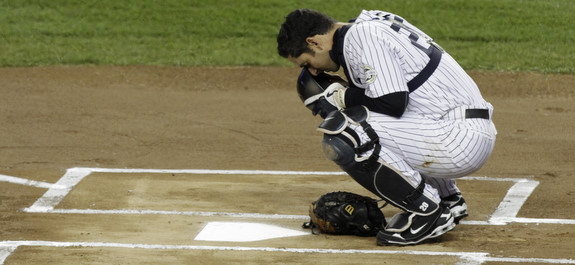 Bart asks: I know the Yankees are wanting Chavez to spell Tex at 1st base but if he is having trouble playing that position is there any chance they let Jorge be the backup 1st baseman? Then have Chavez to play 3rd when Arod needs to DH or sit. I'm assuming Chavez could also sub in RF if it were a desperate late game need.
I'm not sure about Eric Chavez playing the outfield, he might be too fragile to be running around there, but Posada can definitely serve as the backup first baseman. We've already heard that he'll see some time there during the spring, and he does have 28 games played (15 starts) at the position in his career, so it's not completely foreign to him. My only concern is that Jorge's defense would be so bad, Jason Giambi-esque considering how poorly he moves around, that it's basically no difference between he and the worst Chavez case defensively at first.
Either way, both guys can play first base if needed, though it won't be pretty. Nick Swisher is always an option there as well.
Patrick asks: Eduardo Nunez: What are his chances of replacing Ramiro Pena as the Yankees utility player? It seems that he is really having a great spring and with Pena's offensive deficiencies it may be time to swap them out. What have you been hearing?
I'm no insider, so I haven't been hearing anything, but it certainly seems like Nunez has passed Pena on the utility infielder depth chart. He played some outfield the other day, and he's also received more plate appearances than any other player in camp so far (Pena isn't far behind, to be fair). Nunez can do a little of everything – hit, defend, run – whereas Pena can only do one thing really well, and that's play defense. I'm no Nunez fan, but certainly offers more than Pena and would fit but better off the bench.
The only question is: how serious are the Yankees when they say Nunez is a future starting shortstop? If he really is, then end him to Triple-A to play everyday. I'll live with Pena coming off the bench once in a while just so Nunez can get regular at-bats to work on his approach and what not.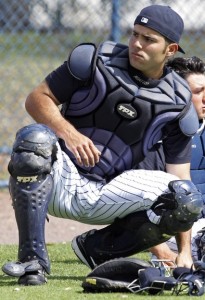 Rich asks: What do you think will happen if Russell Martin returns to form and has an all-star season? Do you think it's more likely he gets traded by the deadline, or the Yankees move Montero for pitching and hold on to Martin until Romine, Sanchez or whoever is ready?
If Martin returns to his 2007 form, I'll do the happy dance. What the team does really depends on the other guys. Is Montero clearly ready and capable of taking over behind the plate at the big league level? If so, then I'd trade Martin for (hopefully) a starting pitcher. If not, then I'd hang on Martin and reap the benefits. It would be a great, great problem if the Yankees ended up having too many quality catchers (in their 20's).
Mark asks: I was wondering, before the season begins, it may be fun to have an article about current Yankees and their Hall of Fame chances. Obviously Jeter and ARod are the front runners. But what about Jorge? Or CC? What do they (and the rest of the team) have to do from here on to be considered for the Hall?
The three surefire, no doubt it, first ballot Hall of Famers on the team are Derek Jeter, Alex Rodriguez, and Mariano Rivera, clearly. Those three will waltz into the HoF. The borderline guys are Posada and CC Sabathia in my eyes. Both Mark Teixeira and Robbie Cano a) have a long, long ways to go, and b) need to take their game to another level before we can begin this discussion.
Posada's candidacy depends on your criteria. He's better than Jim Rice, so by that standard he gets in. If you're a small Hall person, then he doesn't make the cut. My heart says that Jorge belongs in Cooperstown because he was essentially the best catcher in baseball for a period of eight to ten years, bridging Mike Piazza and Joe Mauer, but my head says he doesn't. Great player that is seemingly under-rated by Yankees fans, but a notch below HoF level. No shame in that at all.
As for CC, he obviously has a whole lot of playing time ahead of him. He's 30 years old with 157 career wins to his credit, so he has a very real shot at 300. For comparison's sake, Roger Clemens had 172 wins at age 30, Greg Maddux had 165, and Randy Johnson had a whopping 68. Sabathia's right there with those guys, and if he hangs around long enough to get that 300th win, he'll head to Cooperstown on the first ballot. Do I think he's a HoFer? Not right now, of course not. But he's already halfway there, and most guys don't make it that far.