By

Via George King: Japanese right-hander Masahiro Tanaka "is a priority" for the Yankees this winter, and they "are going to be serious players" in the posting process. "He is better than [Yu Darvish] because he is a strike thrower,'' said one overly-enthusiastic scout. "Overall, Darvish's stuff might be a little bit better, but this guy knows how to pitch. He is like [Hiroki Kuroda], he has a lot of guts. He throws four pitches but when it gets to [stone]-cutting time, it's fastball and splitter.''

Tanaka, 25 next month, had a 1.24 ERA with 7.7 K/9 and 1.3 BB/9 in 181 innings for the Rakuten Golden Eagles this year. He is indeed expected to be posted this winter. The Yankees have been scouting him quite a bit in recent weeks, most notably sending assistant GM Billy Eppler and special assignment scout Don Wakamatsu to see him. King spoke to several executives who expect the bidding to approach $60M, which would be a record. Only the contract, not the posting fee, would count against the luxury tax. The Yankees have shied away from Japanese players (via the posting process) since the Kei Igawa disaster, so bidding big on Tanaka would be a big chance of pace. · (73) ·
A few winter ball assignments have started to trickle in, but remember, just because someone is on the roster doesn't mean he'll actually play. The team controls the player's winter ball rights but his big league team may ask him not to play, something like that. Guys who are coming off injuries or pitchers nearing their workload limit usually don't see much playing over the winter. Here are the few names we have so far.
Mexican Pacific League: OF Jose Figueroa, IF Walt Ibarra, and UTIL Ronnie Mustelier.
Venezuelan Winter League: C Francisco Arcia, IF Ali Castillo, C Frankie Cervelli, C Jose Gil, and UTIL Jose Pirela.
Obviously Cervelli is the big name there. He plays winter ball most years anyway, but he missed a bunch of time to injury/suspension this summer and could use the extra at-bats. Now for the updates from the desert:
AzFL Scottsdale (12-2 loss to Salt River) Wednesday's game
3B Peter O'Brien: 1-4, 1 R, 1 HR, 2 RBI, 1 K — 23rd homer of the year … I imagine he'll hit a few more out here before it's all said and done
LHP Fred Lewis: 1 IP, 1 H, 0 R, 0 ER, 1 BB, 1 K, 1/0 GB/FB — only ten of 22 pitches were strikes (45%) … he's Rule 5 Draft eligible this winter and I wonder if the team sent him out here just to get one last look before deciding whether he can help them out of the bullpen next year
RHP Brett Gerritse: 1.1 IP, 2 H, 3 R, 3 ER, 2 BB, 2 K, 1 WP, 1/1 GB/FB — only 16 of 33 pitches were strikes (48%) … fun fact: his 2.42 FIP this year was the fifth lowest in minor league baseball among pitchers with at least 100 innings pitched (538 qualifiers)
AzFL Scottsdale (6-3 loss to Peoria) Thursday's game
Here is my spoiled Yankees fan admission: I remember almost nothing about the 1999 World Series. Most fans will remember pretty much everything about a recent World Series win — I could give you a game-by-game recap of the 1996 and 2009 World Series no problem, 1998 and 2001 would be a bit more difficult but still doable — but nothing about that 1999 series sticks out to me. Apparently Chuck Knoblauch hit a game-tying homer off Tom Glavine in the eighth inning at some point. That's … neat. I'm embarrassed.
Anyway, here is tonight's open thread. The Tigers and Athletics are wrapping up their ALDS with Game 5, which starts at 8pm ET and can be seen on TBS (Justin Verlander vs. Sonny Gray). Giants-Bears is the Thursday night NFL game while the Rangers are the only hockey local in action. Lots of fun stuff tonight. Talk about all of it and more here.
The Yankees re-signed Joe Girardi to a new four-year contract worth $16M yesterday, but there are still some other coaching staff and front office situations to address. Here's the latest from George King, Andy Martino, and Andrew Marchand.
Pitching coach Larry Rothschild is close to signing a new contract extension. Brian Cashman recently said the team hoped to bring him back, but they needed to get the manager's spot settled first. All of the coaches' contracts expire on October 31st.
The Mariners have internally discussed the possibility of pursuing Yankees third base coach Rob Thomson for their managerial opening. They have not yet asked New York for permission to interview Thomson or any of their coaches, however.
The Phillies named Pete Mackanin their new third base coach earlier this week. He spent this past year as a Major League scout with the Yankees. Mackanin is very highly regarded within the game and was reportedly on the team's short list of managerial candidates if Girardi left.
The Yankees will not bring back Charlie Wonsowicz, who has been an advance scout/video coordinator for the last five years. The position has being eliminated for whatever reason. Wonsowicz had been in the organization for 21 years.
Lastly, former Yankee and current YES broadcaster Paul O'Neill has some interest in replacing the since-fired Dusty Baker in Cincinnati. However, Reds GM Walt Jocketty confirmed the team has "not reached out to Paul regarding our managerial vacancy."
By

During a conversation with Erik Boland, Frankie Cervelli opened up about his performance-enhancing drug use and admitted he was looking for "a quick" after a fouled pitch broke his left foot in Spring Training before the 2011 season. "I felt — so many times in my career — a little scared I'm going to lose my job," said Frankie. "Every year I have to go to Spring Training and fight for a job."

Cervelli, 27, did not discuss the substances he took or who pointed him towards Biogenesis, but he did say he traveled to New York to personally apologize to Joe Girardi shortly after his 50-game suspension was handed down in August. "I went to the Stadium to talk to him because the team, maybe they don't deserve all the distractions," said Cervelli. "I went there to apologize to him because he's one of the people that's believed in me, gave me the chance, and he's a gentleman."

Cervelli managed a 143 wRC+ in 61 plate appearances this year before a broken right hand and subsequent setback ended his season. I don't know what the Yankees are planning to do with him next year — I get the sense they want to distance themselves from PED guys as much as possible, though that's just a hunch — but until they come up with two better catchers, his spot on the roster figures to be safe. · (46) ·
The 2013 season is over and we've had a week to catch our breath. It's time to review all aspects of the year that was, continuing today with the Yankees' ill-advised outfield pickup.
The Yankees traded for Vernon Wells at the end of Spring Training and paid him $11.5M this past season. On purpose. Despite a .222/.258/.409 (82 wRC+) batting line in 791 plate appearances for the Angels from 2011-2012, someone in the front office looked at Wells and thought he would be a good use of a roster spot and tens of millions of dollars. Desperation makes people do weird, weird things.
Injuries had taken their told on the Yankees even before Opening Day arrived. Derek Jeter and Alex Rodriguez had offseason surgeries delay the starts of their seasons while Curtis Granderson and Mark Teixeira got hurt in camp. Add in Nick Swisher leaving as a free agent, and the Bombers lost five of their six best hitters from last season without importing adequate replacements. That's how you wind up trading for a guy like Vernon Wells. Desperation.
Amazingly, Wells actually made the Yankees look good for the first few weeks of the year. He hit .300/.366/.544 (148 wRC+) with six homeruns in April and legitimately belonged in the middle of the order. Against righties, against lefties, whatever. Wells was an everyday player and a big reason why the club exceeded expectations for the first 50 games or so. It looked like the pro scouting department had found another gem like Eric Chavez or Bartolo Colon, the guy with something left after everyone wrote him off.
But, of course, it didn't last. I mean, it really didn't last. There was no gradual decline, no steady slide back to Earth. Vernon just fell right off in the middle of May and stopped hitting all together. He just … stopped. Rollover grounder to short after rollover grounder to short, that's what followed. It was unlike anything I've ever seen before. Healthy players — maybe Wells was nursing an injury, who knows? — just don't stop hitting like that. Here, look:
That's what it looks like when a hitter goes from really really good to really really bad in a heartbeat. Wells hit a homer on May 15th to raise his season batting line to .301/.357/.538 in 157 plate appearances, but his next 157 plate appearances? How about a .185/.204/.225 batting line. It didn't stop there though. After hitting that homer on May 15th — his tenth of the season — Wells put up a .199/.243/.253 line with one (!) homer in his final 301 plate appearances of the year. One homer! It wasn't even a real homer either. Look at this thing:
Hit Tracker says that homer traveled 344 ft. and would have been out in exactly one ballpark — Yankee Stadium. Vernon hit one dinger in his final 300 or so plate appearances and it bounced off the top of the wall of the shortest right field porch in baseball. Unbelievable.
Relegated to platoon status by the end of the season (even that was generous on Joe Girardi's part), Wells hit .233/.282/.349 (70 wRC+) with eleven homers in 458 plate appearances this summer. That includes a .269/.318/.379 (89 wRC+) line in 198 plate appearances against left-handed hitters, so he didn't even have much platoon value. On top of all of that, Wells was downright Andruw Jones-esque in the outfield, with little range and half-hearted retrieval skills. The total package was sub-replacement level (-0.2 bWAR and -0.8 fWAR) for the low price of $11.5M.
Big league teams know more about stuff than fans ever will, but every so often a move is made that is just so head-scratching and obviously bad. The Yankees asked Wells to buck two years of terrible performance and paid good money to do it. I guess the good news is that because of the way the money in the trade is structured, Vernon will count $0 against the luxury tax in 2014. The team still owes him $2.4M in real dollars though, so it's not like he's free. Wells was awful for two straight years before coming to New York and he made it three straight in pinstripes. I just don't know why anyone expected otherwise.
I've got two fun links to share tonight. First, friend of RAB Jonah Keri put together a comprehensive baseball dictionary at Grantland, complete with memes (#HIROK), sabermetric terms (xFIP), and quirky historical stuff (Operation Shutdown). It's both fun and informative, so check it out. Second, Grant Brisbee authored a great pitch-by-pitch breakdown of Max Scherzer's bases loaded, no outs escape job in yesterday's ALDS Game Four against the Athletics. It's a comprehensive look at Scherzer's overpowering dominance that points out he was millimeters from disaster on more than on occasion. Brisbee is awesome and that one gets RAB's highest level of recommendation.
Once you're done with those two, use this as your open thread. The Cardinals and Pirates will play their decisive Game Five at 8pm ET on TBS (Adam Wainwright vs. Gerrit Cole, sob sob), plus the Knicks are playing a preseason game. Talk about those games or anything else here. Have at it.
[2013 sad Hawk Harrelson compilation video via Awful Announcing]
The Yankees have taken care of their first (and arguably the most important) piece of offseason business. The team announced on Wednesday that they've re-signed manager Joe Girardi to a four-year contract that will keep him in pinstripes through 2014. Jon Heyman and Howie Rumberg say the deal is worth $16M guaranteed plus another $4M in bonuses, making Girardi the second highest paid manager in baseball behind Mike Scioscia.
"We decided this is where we wanted to come back," said Girardi to reporters during a conference call. "There were some things I wanted to make sure — in my home (with my family) — that people were okay with what I want doing. My kids love what I do. [My wife] Kim is still extremely supportive and continues to love what I do. I had to make sure everyone was still on board."
Girardi, 48, just completed his sixth year as the team's manager. His previous managerial contracts with the Yankees were both three-year deals, but Girardi confirmed his side pushed for a four-year contract this time around. The team made it clear they wanted to bring him back — "We're going to give him a real good reason to stay," said Brian Cashman during his end-of-season press conference — so they tacked on the extra year.
"I think stability is important," added Girardi when asked about the four-year term. "That was something we brought up to them. It is more stability for all of us involved in my household. It was something we brought to them and they were okay with it … It's good for both sides."
The Yankees are 564-408 (.580) all-time under Girardi, including 85-77 (.525) this past season. I thought 2013 was his finest year as the team's manager given all of the major injuries and, of course, the Alex Rodriguez circus. Girardi handled the A-Rod situation well and the club remained in the hunt for a wild-card spot far longer than I think anyone expected. Still, the team's future is up in the air and is something Girardi considered before returning.
"It was something I definitely thought about," said Girardi when asked about the state of the franchise going forward. "What will the New York Yankees look like in 2014? I don't think you can necessarily expect to have everything you want every year … To me, I want to be a part of this. I want to get us back on track. That is important to me."
Girardi's contract didn't expire until October 31st and the Yankees did not grant him permission to speak to other clubs in the meantime for obvious reasons. His hometown Cubs reportedly made it clear through back channels they were willing to top any offer, plus the Nationals had interest as well. It's not hard to argue those two clubs are better set up for success over the next four years than New York, but Girardi returned anyway.
Assuming Girardi sticks around for the full four years, the Yankees will have had just two managers over the previous 22 years. That's after having 12 different managers for a total of 21 different stints in the previous 22 years. Yeah, the days of the late George Steinbrenner hiring and firing people on a whim are long gone. The Yankees are going through a rather delicate transitional period at the moment and Girardi has done a pretty good job of getting them through the early stages. Now they can move forward and start focusing on other stuff.
"[There is] a lot more work to do this offseason than there has been in the past," added Girardi. "It's a special place to manage. Just to be able to put on the pinstripes as a coach, a player, a manager is special. I've always thought about it that way. I wouldn't have come back if I didn't think we could win a championship."
The 2013 season is over and we've had a week to catch our breath. It's time to review all aspects of the year that was, continuing today with the Yankees leadoff hitter.

The Yankees were pretty inactive last offseason, at least in the sense that they didn't import any actually good players from other teams, so the biggest upgrade they made was getting one of their own back from injury. Brett Gardner missed just about the entire 2012 season with an elbow injury that, three setbacks later, eventually required surgery. All told, he appeared in just 16 of the team's 162 games last year.
Gardner was essentially replacing Raul Ibanez in the lineup and in the outfield. Ibanez did an admirable job for the Yankees last year, though his contributions are greatly overstated because he became a clutch homer machine in the final two or three weeks of the year. For the first five and a half months, he was pretty bad at the plate and downright terrible in the field. The two-way upgrade was obvious.
Oddly enough, Gardner's season started with a position change. The Yankees dubbed it an experiment at first, but their plan was to move Gardner to center and Curtis Granderson over to left to best use their defensive skills. Brett has way more range and is the all-around superior defender, so he should play the tougher position. The team didn't commit to anything and only said they were trying it out in camp, but J.A. Happ made it official when he broke Granderson's forearm with a pitch in his first Grapefruit League at-bat. Took the decision right out of the team's hands.
Just like that, Gardner was the full-time center fielder. The full-time center fielder and full-time leadoff man thanks to Derek Jeter's ankle injury and Ichiro Suzuki's noodle bat. The Yankees had tried Gardner in the leadoff spot in the past and the results were pretty bad, bad enough that he never stuck atop the lineup. This year was different. This year he had no choice but to be the leadoff man because the team had no other alternatives. Maybe that lack of competition helped Brett feel more comfortable, who knows?
Anyway, with the understanding that every everyday player will have ups and downs throughout the 162-game season, Gardner remained remarkably consistent at the plate over the course of the year. I give you two graphs: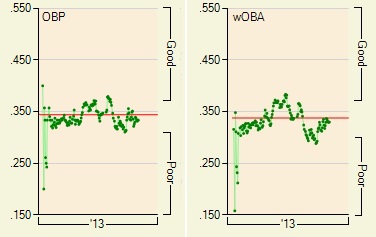 The left graphs shows Gardner's day-by-day OBP (the most important thing for a leadoff man) while the right shows his day-by-day wOBA (overall offensive production). There's not a whole lot of deviation there, especially with the OBP. Pretty much the same guy from start to finish. There was a never point where taking him out of the leadoff was considered because he wasn't hitting.
Gardner did have two notable hot streaks over the course of the summer. He hit three homeruns in a 13-game span from May 24th through June 5th, which is notable because he isn't a power hitter. Not even close. The last of the three homer was his sixth of the year, one short of his career-high after only 59 games. As Jeff Sullivan noted, Gardner was doing it by being more aggressive at the plate — three of those six homers came on the first pitch while another came on the second pitch. He was ambushing fastballs early in the count instead of taking them for the sake of working the count. The power surge didn't last — he hit only two homers in the team's final 103 games of the season — but it happened.
The second hot streak, weirdly, started when the power surge ended. Starting on June 5th, Gardner went on a 24-game tear in which he went 35-for-100 (.350) with six walks (.387 OBP) and eleven doubles (.540 SLG). He had multiple hits in half of those 24 games. Near the very end of that insane hot streak, Gardner's batting line topped out at .290/.348/.456 and had him in the conversation as a bubble player for the All-Star Game. He didn't get elected obviously, but it was still cool just to hear him be considered. Hooray arbitrary endpoints.
Unfortunately, Gardner's season ended prematurely when he strained an oblique muscle on a swing in his first at-bat of the September 12th game against the Orioles in Camden Yards. The injury ended his year — there was talk he could be available as a pinch-hitter late in the season, but that never happened — and left the team with a gigantic hole atop the lineup. Granderson had returned to take over center field by then, that wasn't an issue, but the Yankees didn't have anyone to properly set the table from the leadoff spot. The offense really sputtered down the stretch.
Overall, Gardner hit .273/.344/.416 (108 wRC+) while setting new career-highs in doubles (33), triples (ten), homers (eight) and plate appearances (609). He held his own against lefties (.247/.317/.427, 100 wRC+) and was a monster with men on base (.311/.379/.467, 130 wRC+). Pretty much the only complaint about Gardner's offensive game was his relative lack of steals. After swiping 47 and 49 bases in his previous two full seasons, he only went 24-for-32 (75%) in stolen base chances in 2013.
Defensively … I'm not really sure what you can say. Gardner was very good overall but not truly elite like he was in left field, at least in my opinion. The defensive stats — +6 DRS, -0.5 UZR, -7.3 FRAA, -20 TotalZone (?!?) — aren't too kind but a one-year sample doesn't tell us much of anything. You'd expect the numbers to come down because Gardner was being compared to other center fielders and not other left fielders like he was the last few years, but geez, they shouldn't come down that much. The FRAA and TotalZone numbers definitely do not pass my sniff test. You're welcome to feel differently.
From start to finish, Gardner was the team's second best position player behind Robinson Cano this season. By far too. It was Cano (big gap) Gardner (big gap) everyone else. That's as much a statement about Gardner's strong season as it is the rest of the roster. He didn't show any lingering effects from the elbow injury and, even with the (lack of) stolen base weirdness, he was an above-average player on both sides of the ball. Again, that's based on my opinion of his defense. The Yankees didn't have many bright spots this year, but Gardner was very obviously one of them.
Ian Clarkin | LHP
Background
A Southern California kid from San Diego, Clarkin struck out 133 batters and posted a 0.95 ERA as a senior at James Madison High School this spring, which earned him a third consecutive All-California Interscholastic Federation Baseball Player of the Year selection. Clarkin led USA Baseball's 18-and-under team to the International Baseball Federation 18U World Championship in South Korea last year with six strong innings in the gold medal game. He committed to the University of San Diego.
Prior to the draft, Baseball America (no subs. req'd) ranked Clarkin as the fifth best draft prospect in California and the 17th best draft prospect overall. The Yankees selected him with the third of their three first round picks, the 33rd overall selection. That's the pick the team received as compensation for losing Rafael Soriano as a free agent. Clarkin infamously said he hated the Yankees in a pre-recorded video aired during the draft broadcast, but the team changed his mind with a $1,650,100 signing bonus. He took exactly slot money roughly two weeks after the draft.