By

Via Anthony McCarron: Free agent-to-be David Robertson confirmed he has not yet had any contract extension talks with the Yankees. "We'll see what happens (after the season)," he said while noting he'd like to remain in New York. "There haven't been any talks, so we'll see … There's just been zero talks. When the offseason comes, it comes and we'll hear what other teams and everybody else wants to say."

Robertson, 29, is 23-for-25 in save chances with a 2.76 ERA (1.73 FIP) in 32.2 innings during his first year as Mariano Rivera's replacement. Among pitchers to throw at least 30 innings this year, he leads baseball with 16.26 K/9 (by 1.45!) and 44.7 K% (by 3.6%!). I am terrible at predicting free agent contracts but I hope something in the neighborhood of Rafael Soriano's three-year, $35M deal would work. That means he'll probably end up with four years and $52M or so. I am all aboard team #ExtendDRob. Keep him and Dellin Betances and enjoy the luxury of having two elite relievers. Guys who can handle the late innings in pinstripes don't grow on trees, you know. · (74) ·
Even though it is not really the halfway point of the season, there is no better time to review the first half than the All-Star break. This week we'll hand out some simple and straightforward grades, A through F, for the catchers, infielders, outfielders, rotation, and bullpen. These grades are totally subjective. We started yesterday with the catchers, now let's move on to the infielders.
Mark Teixeira — Grade B (A+ for Foul Territory)
There were a lot of questions about the infield coming into the season in general, but especially Teixeira. The Yankees' first baseman missed almost all of last season due to a tendon sheath injury in his wrist that eventually required surgery, and wrist surgery can be very problematic even after the player has been cleared to play. Remember, Teixeira started Spring Training late and has still felt soreness during the season. It has caused him to miss a game or two here and there. (His only DL stint was hamstring related.)
Despite that, Teixeira has been the team's most consistent and productive power hitter this summer, coming into the All-Star break with a .241/.341/.464 (120 wRC+) batting line with a team-leading 17 homers. His power output (.222 ISO) is right in line with his last full healthy season (.224 ISO in 2012), which is definitely encouraging after the wrist surgery. Most importantly, he's done most of his damage against right-handed pitchers (130 wRC+), who used to give him the most trouble. Is he Teixeira of old? No, of course not. That guy isn't coming back. But he's returned to his pre-surgery ways and been a much-needed force in the middle of the lineup.
Weirdly enough, the biggest issue for Teixeira this season has been his defense. He's already committed six errors this season, his most since 2004, and while errors are not the best way to evaluate defense, most of them were plays we're used to seeing Teixeira make. I think his scooping at first has been fine. It's the hard-hit balls he used to turn into outs that are now eating him up. I think it's a combination of rust from the lost 2013 season and a decline in his skills. Either way, Teixeira has definitely been a positive for the Yankees this year, especially when you consider he's coming off major surgery.
Brian Roberts — Grade C
There was no way the Yankees were not going to have a massive drop off in production at second base this year. Robinson Cano was the best player at the position last year and has been for several years running, so by definition he is irreplaceable. Roberts was not exactly a popular choice as Cano's replacement given his long injury history and the fact that he wasn't all that productive even when healthy ways. The Yankees love veterans though, especially AL East proven guys.
Roberts has remained remarkably healthy so far this year — he missed a handful of games with a back issue in April, but that's it — while being more than a total zero at the plate. His .241/.306/.376 (87 wRC+) batting line comes with the occasional homer (five), the occasional stolen bases (seven), the occasional walk (8.4%), and always a very long at-bat (4.04 pitches per plate appearance). Roberts has been fine defensively at second if not an asset. He's a perfectly capable stopgap and No. 9 hitter who has been asked to bear more responsibility. Will Roberts hit a wall later in the year after not playing a full season since 2009? I have a hard time thinking his second half will be better than his first, honestly.
Derek Jeter — Grade C
Like Teixeira, Jeter was coming off a major injury. He missed just about all of last season with a series of leg problems, including a twice-fractured ankle. Add in the fact that he is a 39-year-old shortstop — a demographic that is not well-represented throughout history — and things were definitely stacked against the Cap'n coming into 2014.
Jeter's season has been underwhelming statistically but I don't it's worst case scenario stuff. Like I said, a 39-year-old shortstop coming off a major leg injury could have been really, really ugly. Jeter is hitting .272/.324/.322 (80 wRC+) overall, so his power is non-existent, but he does rank third among qualified AL shortstops in OBP and is only five points away from leading. Is it vintage Jeter? Absolutely not. But relative to the league average shortstop (.308 OBP and 87 wRC+), he's been passable.
Defensive is another matter. Jeter's glovework has never been good and at this point he's barely mobile. The old "he makes the plays on the balls he gets to" rhetoric doesn't even apply anymore. He's booted more grounders and made more offline throws this season than I can ever remember. Inside Edge data says he has converted only 46.2% of "likely" plays into outs, which are defined as plays that would be make 60-90% of the time on average. He hasn't make anything tougher than an "even" play (40-60%) either. It's been ugly.
The total package, offense plus defense, has not been good for the Yankees this year. At the same time, I'm generously giving Jeter a C instead of a D or F because he has played better than I expected coming off the ankle injury at his age. Maybe I'm just a giant homer. The Cap'n has not been good this season though, certainly not by his standards, but it could have been much worse given everything that happened last year.
Kelly Johnson — Grade D
The Yankees have put Johnson in a tough spot for most of the year — playing once or twice a week, usually at an unfamiliar position like first or third base — but, at the same time, he knew what he was walking into when he signed as a free agent over the winter. He has hit .214/.299/.380 (87 wRC+) with six homers in 211 plate appearances, including a disappointing 83 wRC+ against righties and an even more disappointing 87 wRC+ at Yankee Stadium. Five of his six long balls have come in the Bronx.
Johnson's defense has been a problem, though again, he has mostly played out of position — he came into the season with only 18 innings at first base and 118 innings at third base. He has spent 199.2 innings at first and 255.1 innings at third this year, committing nine total errors and not looking particularly graceful either. Johnson was a shrewd signing and a wonderful fit for the roster on paper — left-handed hitter with power who can play the three non-shortstop infield positions as well as left field — but it just hasn't worked out halfway through the season.
Yangervis Solarte — Grade B
Man those first eight or so weeks were fun, weren't they? I like to think I'm well-versed in the minor leagues but even I had not heard of Solarte before the Yankees signed him as a minor league free agent over the winter. It goes without saying that no one expected to take over as the starting third baseman for the first eight weeks of the season, during which he hit .299/.368/.458 (128 wRC+) in 229 plate appearances. Solarte was a godsend for a beleaguered offense.
The Solarte Partay came to crashing halt after that, unfortunately. He has hit .111/.238/.130 (10 wRC+!) in 63 plate appearances since, earning him a demotion to Triple-A Scranton. Yangervis has owns a .255/.338/.382 (101 wRC+) line in 288 trips to the plate overall and holy crap, no one expected that. Even if he never hits again, those first eight weeks made the signing more than worth it. That's even considering Solarte's occasionally shaky defense. He was a great story and a tremendously productive player into early-June. His days as a useful MLB player may have already come to an end, but boy did Solarte contribute in a big way when given an opportunity early this season.
Brendan Ryan — Grade C
Giving Ryan two years plus a player option this past offseason definitely flies under the radar as a lolwtf offseason move. I mean, yeah, I get it. Jeter was a major question mark, but geez. Ryan spent the first five weeks of the season on the disabled list with a back injury, and he's nothing more than a no-bat (.235/.273/.255, 43 wRC+ in 55 PA), good but no longer elite glove infielder who plays maybe once a week. It's far from the best use of the roster spot, but the Yankees are stuck with him. It's just a weird fit. Even weirder are all those times Ryan played first base while Jeter manned short. He's fine as the 24th man on the roster. Just a pricey and not at all versatile (in terms of bringing different things to the table) insurance policy for Jeter in his final season.
Zelous Wheeler, Dean Anna, Scott Sizemore — incomplete
These three guys have combined for 61 total plate appearances — Anna has the most at 25 — and have hit a combined .232/.246/.438. Most of the power production comes from Wheeler, who has hit two homers in his 20 plate appearances. He is currently with the team in that revolving door 25th man spot while Sizemore is stashed in Triple-A awaiting an injury. Anna has already been designated for assignment (to make room on the roster for Zelous) and claimed off waivers from the Pirates. I wonder how many more guys will cycle through this role in the second half.
* * *
There were some serious concerns about the infield coming into the season. Teixeira and Jeter were huge question marks following their injuries and the same was true of Roberts given his history. Johnson was the sure thing on the infield at the start of camp. The defense has been hideous — Yankees' pitchers have a .258 BABIP on ground balls, the seventh highest in baseball (league average is .244), and even more grounders would sneak through for hits if not for the club's aggressive shifting — and that was fairly predictable.
The infield has, by and large, been more productive than I expected, mostly because Solarte was awesome for a while and Teixeira has shown no lingering issues with the wrist when it comes to raw production. Roberts is the new Lyle Overbay — the best of all the bad players and therefore giving off the appearance of being good — and Jeter's Jeter. He's untouchable. The Yankees have some internal options who may improve the infield, namely Triple-A Scranton second baseman Rob Refsnyder, but either way  it's clear they could use some help in the second half. Beefing up third base is an obvious upgrade area.
The video above is C/1B Peter O'Brien taking some hacks during batting practice before yesterday's Futures Game, courtesy of Baseball America. Here are some more notes:
Triple-A Scranton is off until Thursday for the All-Star break. The actual game is Wednesday night. UTIL Jose Pirela was the only Yankees farmhand selected to the International League squad.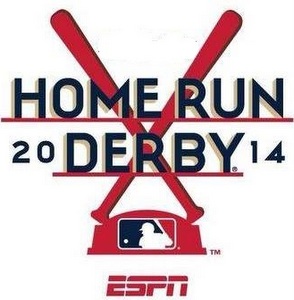 The All-Star break is officially underway and tonight is the annual Home Run Derby. It's an event that, like just about everything else in the history of the universe, is better enjoyed in person than on television. It can get a little slow and start to drag on at times, but hey, I love homers. This is fun.
If you haven't heard, the Derby has a new format this year. There are five players per league and they each get seven outs per round, not ten. The top three homer totals in the first round in each league advance. The player with the most homers in each league gets a bye to the third round while the players with the second and third most meet head-to-head in the second round. The winner of the third round in each league meet in the finals, so it'll be AL vs. NL. Kinda cool. Little more exciting that the old format, that's for sure.
There are no Yankees in the Home Run Derby this year, which isn't all that surprising. Mark Teixeira is pretty much only guy on the roster who belongs in the same sentence as the Home Run Derby but meh. Robinson Cano represented the Yankees every year from 2011-13. Here are the ten Home Run Derby participants. I don't know the order in which they'll swing, but we'll find out soon enough.
American League
Jose Bautista, Blue Jays (captain)
Yoenis Cespedes, Athletics
Josh Donaldson, Athletics
Brian Dozier, Twins
Adam Jones, Orioles
National League
Todd Frazier, Reds
Justin Morneau, Rockies
Yasiel Puig, Dodgers
Giancarlo Stanton, Marlins
Troy Tulowitzki, Rockies (captain)
I thought it was kinda weird there are two Athletics and two Rockies in the Derby, but it turns out it's not uncommon for two teammates to participate. It happened as recently as 2011 (David Ortiz and Adrian Gonzalez) and has happened a bunch of other times throughout history. My official prediction is Frazier over Jones. Don't ask me why. It's just a guess.
The Home Run Derby is scheduled to begin at 8pm ET and you can watch on ESPN. Talk about that or anything else right here. Enjoy.
Nike, one of Derek Jeter's long-time sponsors, put out a new commercial with fans, celebrities, and athletes paying tribute to the Yankees captain:
Pretty dope.
As we discussed in our Midseason Grades post earlier today, Brian McCann has been a huge disappointment in his first half-season as a Yankee. He is hitting only .239/.294/.377 (83 wRC+) overall despite a strong road trip (13-for-39) heading into the All-Star break. The Yankees didn't guarantee this guy $85M over five years to hit like that. They expected him to do damage and he has not done that.
In the middle of the road trip we learned McCann had made some changes to his stance and swing mechanics with the help of hitting coach Kevin Long. Minor changes, of course, no one is going to overhaul a seven-time All-Star after a bad half-season, but changes nonetheless. When you struggle for 80-something games, it's time to start tinkering.
"I'm no longer toe-tapping," explained McCann to Erik Boland last week. "I've gotten wider, I've gotten more into my base and basically I've been doing four or five unnecessary movements to get to the baseball."
So, first things first, here is the side-by-side comparison of McCann with the toe-tap (left) and McCann without the toe-tap. I'm not the most tech savvy person, but I did my best to sync the GIFs at the moment his front foot hits the ground: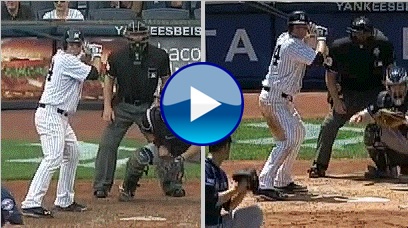 The toe-tap is pretty noticeable. It also looks like his stance is a little more closed and he isn't jerking his hands towards his body before his swing, but I'm not sure if that's something he's worked to change or if it's just something that happened on this one swing. The toe-tap is there on the left (game on June 20th) and gone on the right (July 2nd) though, that's clear and McCann confirmed it was intentional.
Thanks to the magic of MLB.tv, I went back through the archives and found that McCann's first game without the toe-tap was June 27th, the first game of the home series against the Red Sox, when Vidal Nuno unexpectedly pulled 5.2 scoreless innings out of his behind. McCann did not play on the 26th (team off-day) and he did not play on the 25th either (personal off-day), so he had two consecutive days off and was probably working with Long on these mechanical changes.
"I made some big changes in my swing," added McCann while talking to Jorge Castillo yesterday. "I just broke down film. I finally got to the point where things that I've been doing in the past weren't working. Long kind of hit the reset button and basically broke down my swing and showed me what I was doing wrong, and I've been simplifying my swing."
McCann actually went 2-for-4 with a double on June 24th, but he went into that game in an 0-for-9 and 4-for-27 (.148) slump. His batting line sat at .223/.284/.360 (76 wRC+) through 268 plate appearances following that game, he took the next two days off, and has hit .310/.339/.448 (115 wRC+) in 68 plate appearances without the toe-tap since. That's the guy the Yankees thought they were signing, more or less.
Now, courtesy of the amazing Baseball Savant, here are McCann's spray chart heat maps with (left) and without (right) the toe-tap: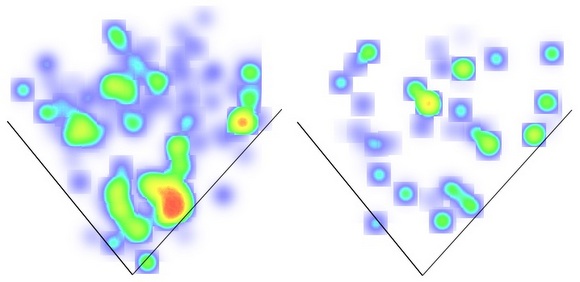 He's pulling the ball more! Well, kinda. I know everyone wants McCann to hit the ball the other way because it's aesthetically pleasing and it beats the shift — McCann already has 20 opposite field hits this year, more than he did in each of the last three seasons — but he's much more effective when he pulls the ball. He was losing hits to the shift even when he was focused on going the opposite field anyway. Might as well just stick to his strengths and try to yank the ball down the line to right. That's who he is. Embrace it.
I don't really know how the toe-tap helps McCann but I assume it's a timing thing. Get your front foot down earlier and you'll be better able to see the ball and have a better base underneath you for you swing. That sounds like something that might be right, right? Who knows. All I know is that McCann and Long worked to eliminate that toe-tap and he's been much more productive since. It might be anything more than a coincidence. I hope it's not. McCann was very good on the road trip and getting him back to being the guy he was all those years in Atlanta would be the best possible offensive upgrade the Yankees could make in the second half.
Even though it is not technically the halfway point of the season — the Yankees are 58% of the way through the 2014 season, in case you're wondering — there is no better time to review the first half than the All-Star break. Over the next few days we're going to hand out some real simple and straightforward grades, A through F, for the catchers, infielders, outfielders, rotation, and bullpen. These grades are totally subjective. Let's start with the backstops.
Brian McCann — Grade D
If the Yankees wanted a defensively sound catcher with a .294 OBP and an 83 wRC+, they could have simply played on of their young upper-level guys everyday instead of signing McCann to a five-year, $85M contract. His first half was a colossal disappointment overall, especially offensively. McCann's glovework and apparent leadership guiding the pitching staff are the reasons I'm giving him a D rather than a straight F.
From 2010-13, McCann posted either a 122 or a 123 wRC+. The one exception was the 2012 season, when he managed an 87 wRC+ while battling a right shoulder labrum injury that required offseason surgery. When healthy, he (very) consistently produced at the plate in recent years. This year though, McCann comes into the break with a .239/.294/.377 (83 wRC+) batting line, which ranks him ninth out of the ten catchers qualified for the batting title (only Dioner Navarro has been worse). Even with his strong first half-ending road trip, he's been that bad overall.
Unlike offense, catcher defense is a very thing to quantify even with all these fancy stats we have today. StatCorner says McCann has one again been an excellent pitch-framer, and he rates right in the middle of the pack when it comes to allowing wild pitches and passed balls. I don't think that's been a problem. I mean, we watched Jorge Posada for a very long time, we know what it looks like when a catcher struggles to keep the ball in front of him. Considering all the nasty breaking and offspeed pitches on the staff — Masahiro Tanaka's and Hiroki Kuroda's splitters, David Robertson's and Dellin Betances' curveballs, Shawn Kelley's slider, etc. — I have no complaints about McCann's receiving work at all. He's been solid, as expected.
One thing we can measure is the rate at which a catcher throws out attempted base-stealers, and McCann has gunned down 21 of 48 runners, or 43.8%. That's outstanding. It's fifth among catchers with at least 300 innings behind the plate and second only to (who else?) Yadier Molina among the 16 guys who have caught at least 500 innings. McCann came into the season with a below-average career 23.8% throw-out rate. Is this a fluke? I don't think so. I think this is Joe Girardi's and Tony Pena's work. They have helped some others improve their throwing in the past (Frankie Cervelli, most notably) and it appears they helped McCann this year. He might not sustain a 43.8% throw-out rate, that's pretty high, but I don't think the improvement is dumb luck.
Overall, McCann has undeniably been a disappointment this season. He was expected to provide not just more offense than he's given, but a lot more. He has not been able to fully take advantage of the short porch in right, perhaps because he's been focused on hitting to the opposite field to beat the shift — his 20 opposite field hits are already more than his total from 2011 (14), 2012 (15), and 2013 (19). Given his overall lack of production, maybe it's best for McCann to be himself and focus on ripping the ball to right. Trying to beat the shift seems to be dragging down his offense overall. The Yankees need more from McCann in the second half. There's zero doubt about it.
Francisco Cervelli — Grade C
The first half was a typical first half for Cervelli. He showed enough to keep you interested with the bat, hitting .273/.333/.364 (95 wRC+) in 48 plate appearances. He also threw out some attempted base-stealers, four of twelve (33.3%) to be exact. And he got hurt, missing two months with a Grade II hamstring strain. Cervelli actually played more games before getting hurt last April (17) than he did in the first half this year (16). I can't possibly go any higher than a C because of the injury and missing so much time. Cervelli is a perfectly cromulent backup catcher for a team with a clear number one (in theory) like McCann. I feel he has performed exactly as expected when healthy.
John Ryan Murphy — Grade C
When Cervelli got hurt, Murphy got the call and showed flashes of why he's expected to one day be an everyday catcher. He started off very well with that bat before slowing down and finishing his cameo with a .286/.308/.365 (85 wRC+) batting line in 63 plate appearances. Murphy threw out two of ten attempted base-stealers and did allow eight passed pitches in 159.2 defensive innings, so the superficial defensive stats aren't all that impressive. He looked very much like a young catcher getting his first extended taste of the show. There's a decent chance Murphy will be traded in the coming weeks, but right now he is a capable backup catcher stashed in Triple-A.
Austin Romine — incomplete
Yes, Romine did actually spend some time with the big league team this season. The Yankees called him up and briefly carried three catchers when Mark Teixeira landed on the 15-day disabled list with his hamstring injury in April. Romine spent four days with the team, played two innings behind the plate in a blowout and struck out on seven pitches in his lone plate appearance. That's it. Romine's prospect shine has dimmed considerably over the last year or two, and he is currently a part-time first baseman/Murphy's backup in Triple-A.
* * *
The bar behind the plate is rather low these days, so even with McCann being such a big disappointment, Yankees' catchers still rank only 19th out of the 30 teams with an 85 wRC+ this year. I thought it would be worse. They have collectively been very good defensively, throwing out 38.6% of attempted base-stealers (third best) while allowed one passed pitch every 22.2 innings (15th). StatCorner says McCann, Cervelli, and Murphy have all been better than average pitch-framers as well and I buy it based on the eye test.
The Yankees just need McCann to hit more, that's it. Cervelli staying healthy would be nice too, if for no other reason than possibly upping his trade value. On paper, this should be one of the best and most productive two-way catching units in baseball. They've gotten the defensive value in the first half. Now they need to offense to catch up in the second half.
Record Last Week: 3-4 (22 RS, 27 RA)
Season Record: 47-47 (375 RS, 412 RA, 43-51 pythag. record)
Opponents This Week: All-Star break (Mon. to Thurs.), vs.Reds (three games, Fri. to Sun.)
Top stories from last week:
Please take a second to answer the poll below and give us an idea of how confident you are in the team. You can view the interactive Fan Confidence Graph anytime via the nav bar above, or by clicking here. Thanks in advance for voting.
Given the team's current roster construction, farm system, management, etc., how confident are you in the Yankees' overall future?

Source: FanGraphs
What a fitting end to a frustrating first half of the season. The Yankees lost 3-1 to the Orioles after only four and a half innings on Sunday night thanks to Mother Nature — the game was called after 2+ hour rain delay. New York heads into the All-Star break at a thoroughly mediocre 47-47. Let's recap the rubber game loss.
One Man Army: Right from Opening Day, the team's best player this year has been Brett Gardner. He gave the Yankees their only run on Sunday with a leadoff homer against Kevin Gausman, his ninth long ball of the year. That's a new career-high. Gausman allowed just three singles after that and the Yankees never had another runner reach second base. Well, not unless you count Mark Teixeira getting thrown out trying to stretch his first inning single into a double. He did physically get to second base, after all. Twelve of the final 13 men they sent to the plate made outs and I'm not sure they would have scored three more runs even if the game had continued.
Back In The Rotation: Chase Whitley escaped a bases loaded situation in the second inning, but he wasn't going to hold off this high-powered Orioles offense forever. Things fell apart for him in the fourth inning, the second time through the order. Nelson Cruz walked, Chris Davis mashed a go-ahead two-run homer, and J.J. Hardy doubled. All that happened within the first eleven pitches of the inning. Jonathan Schoop singled with two outs to plate the third run, ending Whitley's night. He allowed the three runs on five hits and two walks in 3.2 innings. Over his last four starts, Whitley has put 40 men on base (five homers!) and surrendered 20 runs in 14 innings. He absolutely can not be in the rotation after the All-Star break. They gotta find someone else.
Leftovers: The rain likely spared David Huff an ugly inning. He walked Steve Pearce to leadoff the fifth and was slated to face Adam Jones and Cruz before the tarp was brought out. Almost no chance that would have ended well … Gardner, Teixeira, Derek Jeter, and Brian McCann had the four hits … obviously this game gets an asterisk, but the Yankees closed out the first half by scoring no more than three runs in their final four games.
The box score and video highlights are at MLB.com, the nerdy stats are at FanGraphs, and the updated standings are at ESPN. The Yankees head into the break five games back of the top spot in the AL East and 3.5 games back of the second wildcard spot. They now get a much-needed four-game break before opening the second half against the Reds in Yankee Stadium. David Phelps and Mike Leake will be the pitching matchup on Friday night.
2014 Futures Game (Team USA won 3-2)
1B Peter O'Brien: 0-2, 2 K — struck out against Astros RHP Michael Feliz and Padres RHP Tayron Guerrero
RHP Luis Severino: 1 IP, 1 H, 0 R, 0 ER, 0 BB, 1 K, 0/2 GB/FB – nine of 12 pitches were strikes (75%), and Keith Law says he was 93-95 mph … the strike out came against eventual Futures Game MVP Rangers 3B Joey Gallo … watch his outing in the poor quality, no audio video above