For the first time since September 2013, the Yankees have lost a series at Fenway Park. Saturday night's 8-0 loss to the Red Sox was New York's fourth straight loss and 12th in their last 16 games. It was more of the same: no offense and mediocre to bad pitching. The Yankees: they're bad. Real bad. They're setting a new low every night it seems.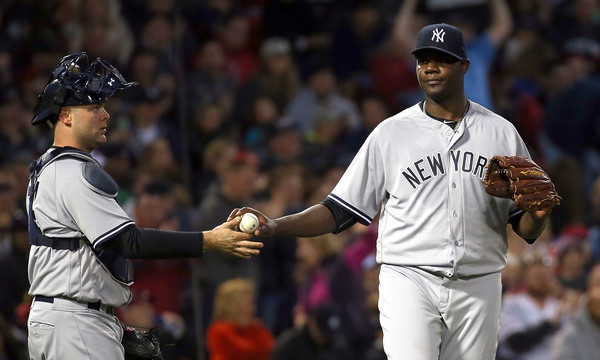 Two-Out Damage
If there were only two outs per inning, Michael Pineda would be a pretty great pitcher. Red Sox batters went 0-for-10 with two walks when there were fewer than two outs in the inning Saturday night, then went 5-for-10 with a walk and two doubles with two outs. A single and back-to-back doubles — all with two outs, of course — led to Boston's two runs in the second. To be fair, the second double was a bloop to right most non-Carlos Beltran outfielders catch.
Two-out base-runners were not Pineda's only problem Saturday night. His pitch count got elevated in a hurry too. Here are his pitch counts by inning:
First: 28
Second: 25 (53 total)
Third: 24 (77 total)
Fourth: 15 (92 total)
Fifth: 14 (106 total)
Brutal. Pineda faced 23 batters overall and 12 saw at least five pitches in their at-bats. Eight saw at least six pitches. BoSox batters piled up 21 foul balls, which is a ton. Give them credit, they made Pineda work hard. The Red Sox don't lead the league in runs by accident. They know how to grind out at-bats.
Pineda's final line: 5 IP, 5 H, 2 R 2 ER, 3 BB, 3 K. It was his second start with three walks this season after never once walking three batters in 40 starts from 2014-15. I think Pineda deserves a lot of credit for grinding through five innings after all those pitches in the first and second (and third) innings. He really battled. Classic bend but do not break outing.
Oh You Thought They Would Score?
The Yankee offense, both Saturday night and throughout the season, can be summed up with this GIF:
Ineptitude at its finest. The Yankees were held to five singles and one walk in nine offensive innings Saturday. (Emphasis on offensive, hiyo!) They had one runner reach third base and one other runner reach second base. That's it. The top five hitters in the lineup went a combined 1-for-20 (.050). Beltran had the one hit. Bad. Bad bad bad.
The Yankees had their best chance to score in the fifth inning, when Didi Gregorius and Chase Headley (!) strung together back-to-back singles with two outs to put runners on the corners for Jacoby Ellsbury. Ellsbury grounded out weakly to second to end the inning. The Yankees also had runners on first and second with two outs in the second, but Gregorius grounded out.
Over their last 17 games — this dates back to the end of the Tigers series — the Yankees are hitting .216/.284/.318 as a team. They're averaging 2.29 runs per game and I'm surprised it's that high. No one in the lineup is hot right now. I guess maybe Starlin Castro is hitting well, but that's it. Everyone else is in some kind of funk and is contributing nothing more than the occasional base hit. They're bad and they're boring. This is the least enjoyable stretch of baseball I've seen since the early-1990s.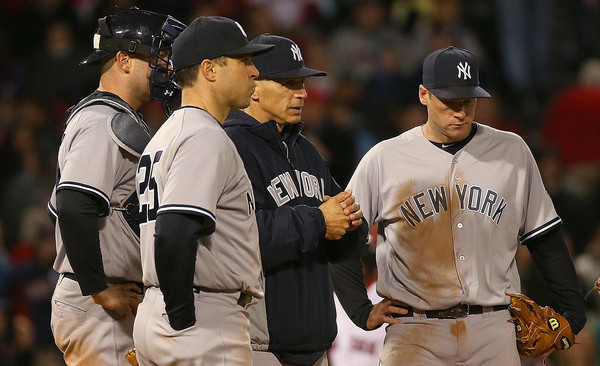 Now The Bullpen Is Bad Too
Pineda managed to hold the Red Sox to two runs in five innings, and even with the offense struggling the way it has, that's not terrible. It's still a ballgame at 2-0. The bullpen wiped that all away though. Four relievers combined to allow six runs on eight hits and three walks in the final three defensive innings. They threw 98 total pitches.
Chasen Shreve allowed a run(s) for the third time in his last four outings, and in the one scoreless outing he faced one batter and threw literally one pitch. A four-pitch walk to Brock Holt set up Jackie Bradley Jr. for the RBI triple in the sixth. Kirby Yates then came and allowed an infield single to Mookie Betts to score Bradley, making it 4-0 Red Sox. Both insurance runs in that sixth inning scored with two outs, of course.
It seems every young Yankee pitcher has to give up a home run to David Ortiz to officially "make it," and Johnny Barbato got his out of the way in the seventh inning. I guess down four runs in the late innings is a good time to give it up. He was charged with four runs in two-thirds of an inning thanks in part to Nick Goody. Barbato, like Shreve, has allowed run(s) in three of his last four outings. He threw nine innings in the first 14 games and hasn't seemed right since.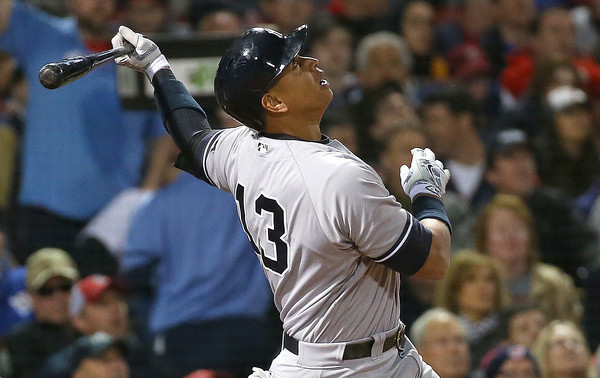 Leftovers
At 8-14, the Yankees are off to their worst start since 1991. That 1991 team, as you youngins may not know, was awful. So is this 2016 team. Aside from Dellin Betances and Andrew Miller in the late innings, this team doesn't seem to do anything well. (Yes, I know Betances gave up the homer Friday. Eat me.)
During this ugly 4-12 stretch, the Yankees have scored more than three runs runs twice, and they've been held to two runs or fewer eleven times. Yuck. They've scored 74 runs in 22 games overall. Last year they scored their 74th run in their 15th game. Heck, the crappy 2013 Yankees scored their 74th run of the season in their 15th game as well.
And finally, we got about a half-inning's worth of anti-Comcast propaganda in the third inning. This was the first WPIX game of the season, so everyone in the Tri-State Area was able to watch, and YES took the opportunity to deliver the message. Given the way the Yankees have been playing, I'd say Comcast customers are the lucky ones.
Box Score, WPA Graph & Standings
Go to ESPN for the box score and MLB.com for the video highlights. Here are the updated standings and our Bullpen Workload and Announcer Standings pages. Now here's the ol' loss probability graph:

Source: FanGraphs
Up Next
The Yankees and Red Sox will wrap up this series on Sunday Night Baseball, though the weather forecast is pretty grim, so the game may be in jeopardy. We'll see. The Yankees have already had two games rained out this month already. Nathan Eovaldi and David Price are the scheduled starters.