Over the last week or so, all the talk about streaks has involved Aaron Judge and strikeouts. Last night he struck out in the 33rd consecutive game, breaking Adam Dunn's record for position players. Pitcher Bill Stoneman holds the overall record at 35 games. Judge is hitting .291/.420/.614 (170 wRC+) with an AL leading 37 home runs this year, so the strikeouts haven't stopped him from being productive, but they are an eyesore.
Eight hundred miles away in Chicago, another record streak was on the line Wednesday night. Reds first baseman Joey Votto had reached base multiple times in each of his last 20 games, one short of the record held by Ted Williams. Votto went 1-for-4 against the Cubs and would've led off the tenth inning had the Reds not lost on a walk-off wild pitch, so his streak came to an end. Judge broke Dunn's record last night. Williams' will live on.
Votto's streak, coincidentally enough, started against the Yankees. Remember when Luis Severino dominated the Reds at Yankee Stadium last month and Votto was the only player able to work a quality at-bat against him? That was the first game of his 20-game multiple times on base streak. During those 20 games Votto hit .424/.596/.712 (234 wRC+) with 26 walks and nine strikeouts. Overall this year he's hitting .315/.447/.597 (165 wRC+) with 31 home runs and far more walks (98) than strikeouts (61).
At this point, there's little doubt Votto is not only one of the best hitters in baseball — managers, coaches, and scouts named him the best hitter in the NL in Baseball America's recent best tools survey (subs. req'd) — but also one of the best hitters of his generation. He's one of the best hitters of the last half-century, really. Here is the career wRC+ leaderboard since the mound was lowered in 1969 (min. 3,000 plate appearances):
Barry Bonds: 173 wRC+
Mike Trout: 170 wRC+
Joey Votto: 158 wRC+
Mark McGwire: 157 wRC+
Frank Thomas: 154 wRC+
No, Votto has not yet entered his decline phase yet, so that number will come down in the future, but it goes to show just how great he's been in his career so far. At a time when strikeouts are rapidly increasing because pitchers are throwing harder and relievers are getting more and more specialized, Votto decided it would be best if he stopped striking out, so he did: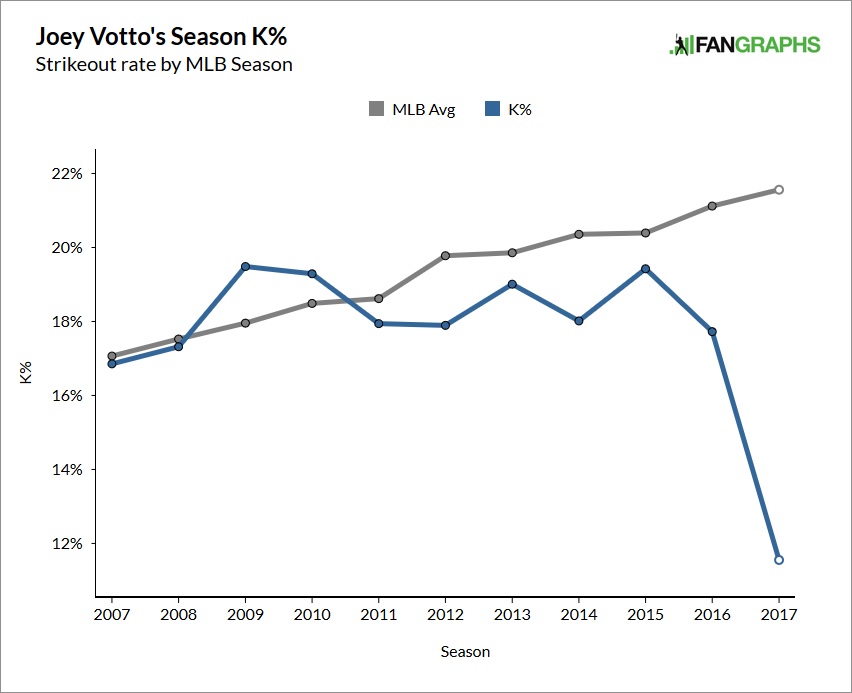 Votto is a hitting savant. He hits for average, he hits for power, and he gets on base, all at elite clips. He hits righties, lefties, fastballs, breaking balls, to left field, to right field, he chokes up, whatever. Votto is a brilliant offensive force and he is absolutely perfect for the Yankees. I mean, he's perfect for every team, but especially the Yankees. They have openings at first base and DH going forward, and he'd balance their righty leaning lineup.
As always, there's more to the story than simply taking a player and plopping him into your lineup. Put Votto in New York's lineup right now and they go from postseason hopeful to no-doubt contender pretty quickly. He's the kind of player who could change the balance of power in a division race. The Yankees adding Votto is a dream scenario and there are three reasons it won't happen.
1. He's entering his mid-30s. As great as he is and has been, Votto will turn 34 next month and at some point his skills will begin to erode. It happens to everyone and it's unavoidable. Votto is undeniably great now. How great will he be in two years? We've seen more than a few truly great players go from productive one year to basically out of baseball the next. Votto is as smart as any hitter in the game and he keeps himself in great shape. That doesn't mean he'll be productive forever.
2. His contract is massive. Votto is owed $150M from 2018-23, his age 34-39 seasons, then there's a $7M buyout of his $20M club option for 2024. Paying a hitter of this caliber $25M a year is a bit of a bargain these days — Miguel Cabrera will make $30M annually from ages 34-39, for example, and who knows how much Bryce Harper and Manny Machado will sign for next offseason — though that's still a ton of money for a player that late in his career. You're going to be paying premium dollars for a player who is going to spend most of the remainder of his contract over 35.
3. Votto doesn't want to leave Cincinnati. Even with the Reds rebuilding and a few years away from contention, Votto has said, repeatedly, he doesn't want to leave. And he has a no-trade clause, so he controls his own destiny. "I don't think of myself as anything but a Cincinnati Red. That's one of the really cool things about having a no-trade clause, being one of the rare players that has that, I get to stay a Cincinnati Red," he said to C. Trent Rosecrans last year. (For what it's worth, Joel Sherman says Votto has already cleared trade waivers.)
* * *
Anonymous comments from a gutless "Yankee insider" aside, the Yankees seem to love Greg Bird and are intent on giving him every opportunity to be their long-term first baseman. Hopefully he'll be back within a week or so. If not, they'll try again next year. Dumping Bird to replace him with a soon-to-be 34-year-old first baseman making huge dollars, even one as great as Votto, is an old Yankees move. It doesn't fit with the youth movement at all. There's always DH, but we've seen what it's like to have an older player on a huge contract tying up the DH spot. It's not pretty.
That all said, a guy can dream. Basically no other player in baseball combines this level of natural talent with ultra-high baseball smarts and a non-stop desire to get better. Votto also genuinely loves baseball and has fun messing around with fans, so he brings some personality to the table too. That's a plus in my book.
Joey: Let's find a Reds fan to give this to.
Inner Joey: THROW IT OUT OF THE STADIUM pic.twitter.com/HUnDw7owHI

— Cincinnati Reds (@Reds) August 15, 2017
Votto should've been a Yankee back in the day and the baseball fan in me wishes he could be a Yankee today for many reasons. It's not going to happen though. Not given his age, his contract, and what the Yankees are trying to do as far as building around young players. Who knows, maybe in a year or two trading for Votto as the final "get us over the hump" piece will make sense. It doesn't right now though. Votto's greatness and New York's timetable don't really match up at the moment.