By

The Yankees have acquired right-handed reliever Chaz Roe from the Marlins for cash considerations, the team announced. Chris Cotillo says Roe will likely join the big league team when rosters expand tomorrow. The Yankees will have to clear a 40-man roster spot to accommodate him but that shouldn't be much of a problem.

Roe, 27, has a 3.66 ERA (3.73 FIP) with very good strikeout (10.13 K/9 and 27.5 K%) and walk (2.95 BB/9 and 8.0 BB%) rates in 64 Triple-A relief innings this year, all with the Marlins. He has 22.1 big league innings to his credit, all with the Diamondbacks last season (4.03 ERA and 4.39 FIP). The Yankees are facing a pretty big 40-man roster crunch after the season, and between this and the Josh Outman pickup, it appears their September call-ups will be a bunch of guys they can cut in the offseason rather than prospects who are not yet Rule 5 Draft eligible and would only further clog the 40-man. Eh, whatever. · (106) ·

Source: FanGraphs
Remember when the Yankees won five straight games a week ago? They've followed that up by losing two of three to a wildcard competitor in the Tigers and two of three to a struggling Blue Jays team that played themselves out of the race this month. The Yankees have had a knack for following up winning streaks with a bunch of losses this year, and they did it again this week. Let's recap Sunday's 4-3 loss:
MLB.com has the box score and video highlights, FanGraphs some other stats, and ESPN the updated standings. The Orioles are beating the snot out of the Twins, so the Yankees will be nine games back in the division in short order. Depending on the outcome of the day's other games, the Yankees will be either 3.5 (Tigers and Royals lose) or 4.5 (Tigers and/or Royals win) games back of the second wildcard spot. FanGraphs has New York's postseason odds at a generous 9.6%. The Yankees are off on Monday and will open a three-game series against the Red Sox on Tuesday. Shane Greene and Joe Kelly is the scheduled pitching matchup for the opener. Head over to RAB Tickets if you want to catch the game. There are only 17 regular season home games left in the season.
The Yankees were one-hit for the first time in five years yesterday, but they still have a chance to take this series from the Blue Jays this afternoon. There's an off-day tomorrow and then rosters expand, so grab this win, get some rest, then add some new players. Nice and easy. Here is the Blue Jays lineup and here is the Yankees lineup:
It's cool and sunny in Toronto, so the Rogers Centre roof will probably be open. This afternoon's game is scheduled to start at 1:07pm ET and can be seen on YES. Enjoy.
By

Via Ken Rosenthal: The Yankees are unlikely to call up left-handed reliever and 2014 second round pick Jacob Lindgren in September due to workload and 40-man roster concerns. The team acquired Josh Outman on Thursday to upgrade over Rich Hill and add more lefty depth. Outman joins David Huff as Joe Girardi's two southpaw options in the bullpen.

Lindgren, 21, has already thrown 80 innings this year between college and pro ball. He's reached Double-A and struck out 48 batters in 25 innings since signing, and a scout recently told John DeMarza that Lindgren could get big leaguers out right now. You don't draft a reliever with your top pick unless you think he can get to the big leagues in a hurry, but Lindgren has already pitched a ton this year and the Yankees are facing a big 40-man crunch after the season. It would be disappointing if he isn't called up when rosters expand but also understandable. I'd still expect Lindgren to come to big league camp next spring with a chance to win a bullpen job. · (100) ·
Triple-A Scranton (3-2 loss to Lehigh Valley in eleven innings, walk-off style) their season ends Monday and they've already been eliminated from postseason contention
LF Chris Young: 1-4, 1 R, 1 HR, 1 RBI, 1 BB, 2 K — if Jacoby Ellsbury's ankle injury turns out to anything more than a minor nuisance, Young might play more than originally expected come September
2B Rob Refsnyder: 1-5, 2 K
1B Kyle Roller: 0-4, 1 BB, 3 K
RF Zoilo Almonte: 1-4, 1 BB, 1 K, 1 CS
DH Adonis Garcia: 1-5, 1 R, 2 K — quietest 21-game hitting streak ever thanks to a stint on the disabled list
3B Scott Sizemore: 1-4, 1 RBI, 1 BB
C Austin Romine: 0-4, 2 K, 1 E (throwing)
RHP Zach Nuding: 6 IP, 3 H, 1 R, 1 ER, 1 BB, 4 K, 1 HB, 8/3 GB/FB — 63 of 93 pitches were strikes (68%)
RHP Bryan Mitchell: 2 IP, 3 H, 1 R, 0 ER, 1 BB, 2 K, 2/0 GB/FB, 1 E (throwing) — 23 of 38 pitches were strikes (61%) … finishes the minor league season with 94/45 K/BB in 103 innings … I assume he came out of the bullpen as a prep for that role come September
RHP Chase Whitley: 2 IP, 0 H, 0 R, 0 ER, 1 BB, 2 K, 4/0 GB/FB — 15 of 26 pitches were strikes (58%)
LHP Taylor Dugas: 0.2 IP, 2 H, 1 R, 1 ER, 0 BB, 0 K, 1/1 GB/FB — seven pitches, six strikes … always rough when a position player takes a loss
Here is your open thread for the rest of the night. MLB Network will air a regional game a little later on and there is a ton of college football on as well. Talk about those games, this afternoon's loss, or anything else right here.

Source: FanGraphs
For the fourth time in four attempts this season, the Yankees failed to improve their record to eight games over .500. They just can't get over that hump. Drew Hutchison (seven innings) and Aaron Sanchez (two innings) one-hit the Yankees and took Saturday afternoon's game 2-0. Let's recap the loss:
One Hit: The Yankees put five men on base all afternoon but just one came via a hit. That was Mark Teixeira's two-out double in the fourth inning. They actually loaded the bases with two outs that inning thanks to the double and two hit batsmen (Carlos Beltran and Brian McCann), but Martin Prado flew out harmlessly to end the threat. Beltran walked in the sixth and Stephen Drew walked in the seventh. That's it. That was the offense. If fairly certain Teixeira's double was the only hard-hit ball of the afternoon too. Hutchison and Sanchez shut them right down.
Big Mike: Michael Pineda only made one really terrible pitch on Saturday, and that was the 0-2 hanging slider Jose Bautista hit off the facing of the second deck for a two-run homer in the first inning. They handled Bautista with sliders all day, but that one was left up and he didn't miss it. Otherwise Pineda did not allow any other runs the rest of the afternoon and held the Blue Jays to just those two runs on seven hits and no walks in six innings. He struck out three and did leave two runners on base in the seventh — Shawn Kelley bailed him out beautifully — but that's it. Pineda was very good yet again.
Leftovers: Kelley escaped that second and third, no outs jam in the seventh with a strikeout, a ground ball, and a fly ball. Great job by him … David Huff threw a scoreless ninth with an unintentional intentional walk to Bautista mixed in … the Yankees were held to one hit for the first time since, coincidentally, the Blue Jays did it to them in Rogers Centre in September 2009. That game was all Roy Halladay though.
MLB.com has the box score and video highlights, FanGraphs some additional stats, and ESPN the updated standings. The Tigers are playing a doubleheader today, so depending on the outcome of that (plus the Mariners game), the Yankees can finish the day anywhere from 2.5 to 4.5 games back of the second wildcard spot. FanGraphs has their postseason odds at 12.4% at this very moment in time. Brandon McCarthy and J.A. Happ will be the pitching matchup in Sunday afternoon's finale.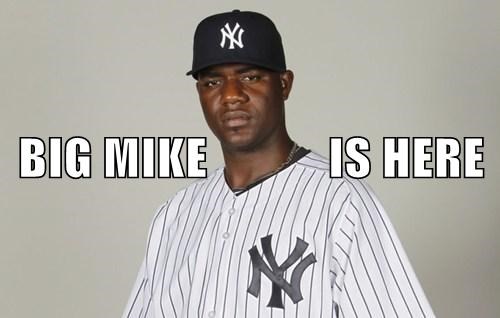 Michael Pineda made his first start of the season (and as a Yankee!) in Toronto back in April, and today he'll face the Blue Jays again, in his eighth start of the season. Pineda held the Jays to one run in six innings in his first start, though that was a really long time ago. I'm not sure how much seeing him once before will really help at this point. Either way, Toronto seems to have checked out on the season, so beat them again and inch closer in the second wildcard race. Here is the Blue Jays lineup and here is the Yankees lineup:
It's cool and cloudy with a little bit of rain in Toronto today, so the Rogers Centre roof might be closed. This afternoon's game will start a bit after 1pm ET and you can watch on YES locally and MLB Network nationally, depending on where you live. Enjoy the game.
Injury Update: Jacoby Ellsbury (ankle) is obviously not in the lineup and he was still limping in the clubhouse earlier today. With the off-day coming on Monday, my guess is he does not play tomorrow either and gets three straight days off.
By

Jacoby Ellsbury injured his left ankle sliding into home plate in the ninth inning of last night's game. A fluoroscope exam — whatever that is — came back negative, but he was walking with a limp in the clubhouse after the game and received treatment. "I'm going to call them first thing in the morning when I wake up and let them know how it feels," said Ellsbury to Brendan Kuty. "It's not going to feel great, but hopefully it's good enough for me to play tomorrow."

Replacing Ellsbury in the outfield won't be much of a problem for the Yankees — they could play Brett Gardner in center field and Martin Prado in left or right — but losing his bat this point of the season would be a big blow. He's been the best hitter on the team over the last week or two, igniting the offense once he moved back into the leadoff spot. Hopefully the ankle is just a little sore and it's not anything more serious. Ellsbury is one of the most indispensable players on the roster. · (56) ·

Source: FanGraphs
That was a good way to rebound from Thursday's rough walk-off loss. After being shut down for the first six innings on Friday, the Yankees rallied late to walk away with a 6-3 win over the Blue Jays in the series opener. Let's recap:
MLB.com has the box score and video highlights, FanGraphs some other stats, and ESPN the updated standings. The Orioles won, so the Yankees remain seven games back in the AL East. Assuming the Tigers hold on to their big lead over the White Sox, the Yankees will remain three games back of the second wildcard spot regardless of the what the Mariners do in the late game. FanGraphs puts their postseason odds at 10.8%. Michael Pineda and Drew Hutchison will square off in the second game of this series on Saturday afternoon.