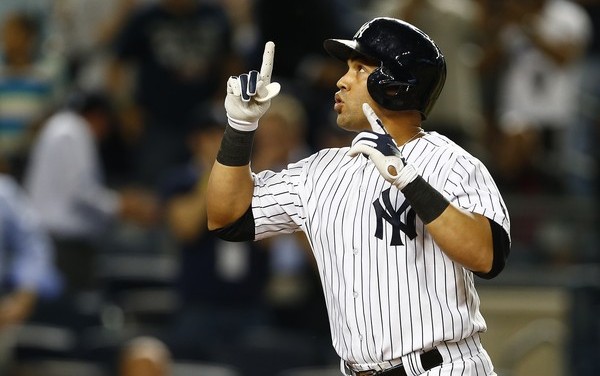 The 2016 season with be the third year of Carlos Beltran's three-year contract with the Yankees. The first two years have been a mixed bag. Some good, some bad, some injuries. To Beltran's credit, he was the team's best hitter from about mid-May through the end of the season in 2015.
Beltran will turn 39 shortly after Opening Day next year, and during a scheduled appearance in midtown earlier this week, he seemed to suggest he is considering retiring following the 2016 season. He indicated he'll either play one more season after that or call it a career. From Zach Braziller:
"I don't think there is any big decision I have to make — other than to play one more year or go home," he said. "In my case, I am very happy with my career. … If I feel like I produce well to the point where I can make a good impact on a team, then I can play one more year. Or if I feel like I have [had] enough, I'll go home."
Beltran has had a brilliant career that, at the very least, will deserve serious Hall of Fame consideration when the time comes in a few years. He's going to wind up retiring with 500+ doubles, 400+ homers, 300+ steals, and 70 WAR or so. Beltran is still looking for that elusive World Series ring, however.
As far as the Yankees are concerned, Beltran's decision to retire or keep playing figures to have little impact on them. It's hard to see the team bringing Beltran back in 2017 no matter what happens in 2016. The Yankees are focused on getting younger and right field is earmarked for top prospect Aaron Judge. Even if Judge flames out in Triple-A next year, others like Aaron Hicks, Slade Heathcott, Mason Williams, and Ben Gamel could get the call.
Beltran, who also told Braziller he intends to stay on top of new addition Starlin Castro, will again play right field next season because Alex Rodriguez is locked in at DH. Should A-Rod get hurt or see his playing time reduced at any point, Beltran's the obvious choice to slide into a full-time DH role.