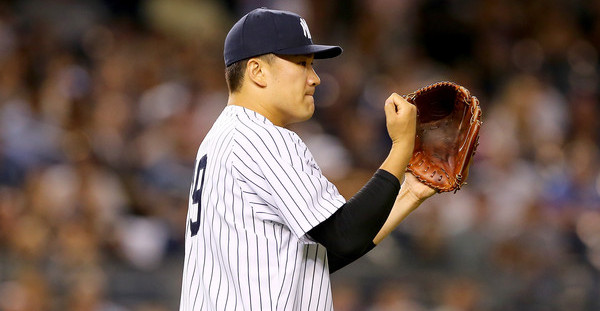 As expected, Joe Girardi announced today that Masahiro Tanaka will start Tuesday's AL wild-card game. No surprise here. The Yankees lined Tanaka up for the wildcard game when he returned from his minor hamstring injury last week. Tanaka was the obvious choice.
With Ivan Nova and Luis Severino starting yesterday's doubleheader, and Michael Pineda starting today, the only realistic candidates for the wildcard game were Tanaka and CC Sabathia. And I guess Adam Warren, but he's needed in the bullpen. Tanaka will have an extra day of rest heading into the wildcard game. Sabathia would have been on normal rest.
Tanaka, 26, has a 3.51 ERA (3.99 FIP) in 24 starts and 154 innings this year around hamstring and forearm issues. He's been pretty awesome the last few weeks, pitching to a 2.98 ERA (3.80 FIP) in nine starts and 60.1 innings since early-August. The only concern with Tanaka is his penchant for the long ball (1.46 HR/9), though he usually limits the damage to solo homers because he's so good at limiting base-runners (0.99 WHIP).
The Yankees still don't know who or where they will play the wildcard game. Chances are it will be the Astros but it could still be the Rangers or Angels. A win today or an Astros loss clinches home field advantage for the Yankees in the wildcard game. If that doesn't happen, it'll be in the other team's park.