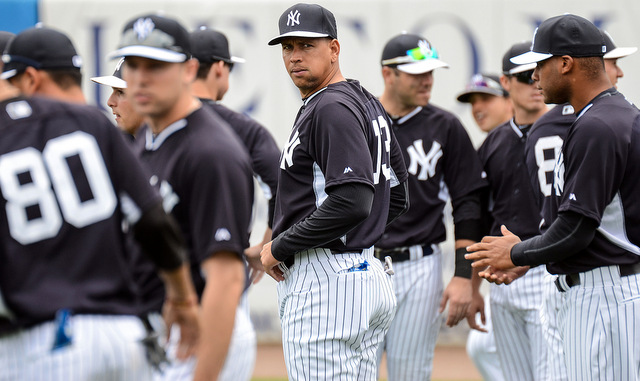 It has been almost a year and a half since Alex Rodriguez last played in any sort of baseball game. Today, after sitting out all of last year with his suspension, A-Rod returns to the field and will make his Grapefruit League debut. It is only Spring Training, but Alex admitted yesterday he was nervous, and how could he not be? This is an awkward situation for everyone, including A-Rod.
Needless to say, way too much will be made of Rodriguez's performance today. At least if he does poorly. If he goes 0-for-3, it's because he's washed up and can't help the Yankees. But if he goes 3-for-3 with a homer, well it's only Spring Training so who cares. Doesn't mean anything. Feel free to build your own narrative around his performance. That's what everyone else will do.
Today's reason to watch: Aside from A-Rod, we'll also get our first look at newcomers Didi Gregorius and Nathan Eovaldi. Eovaldi is scheduled to throw two innings and 30 pitches or so. He and pitching coach Larry Rothschild have been working on elevating his fastball in strikeout situations, so I want to see if he does that today. Andrew Miller will also make his spring debut this afternoon.
Here is the starting lineup for this afternoon's spring home opener at George M. Steinbrenner Field:
SS Didi Gregorius
DH Alex Rodriguez
2B Stephen Drew
RF Tyler Austin
LF Ramon Flores
CF Mason Williams
RHP Nathan Eovaldi
Available Position Players: C Gary Sanchez, 1B Francisco Arcia, 2B Nick Noonan, SS Cito Culver, 3B Cole Figueroa, LF Jake Cave, CF Slade Heathcott, and RF Aaron Judge are all scheduled to come off the bench. C Eddy Rodriguez, C Trent Garrison, C Kyle Higashioka, 1B Greg Bird, 1B Kyle Roller, UTIL Jose Pirela, UTIL Jonathan Galvez, and 2B Rob Refsnyder are all available as well.
Available Pitchers: LHP Andrew Miller, RHP Kyle Davies, RHP Danny Burawa, RHP Wilking Rodriguez, LHP James Pazos, and LHP Tyler Webb are all scheduled to pitch. RHP Nick Rumbelow, RHP Jose Ramirez, and RHP Scott Baker are the extra arms.
Gorgeous weather in Tampa this afternoon. Nice and sunny with temperatures in the mid-80s. Perfect for some spring baseball. This afternoon's game will begin just after 1pm ET and there are all sorts of ways to watch: YES locally and both MLB Network and MLB.tv nationally. The game will not air on MLB Network in the New York market, however. You're stuck with YES or MLB.tv in market. Enjoy the game.