By

Here's a fun little story in the middle of the Yankees' five-game winning streak. Jeff Passan wrote about the 2014 version of Jason Giambi's gold thong: Shawn Kelley's horse mask. It's exactly what it sounds like, a giant latex horse mask. Here's a photo. Apparently Kelley stumbled across it online one day, bought one, and started wearing it during pre-game warm-ups and in the clubhouse to keep the team loose.

"When I see those things, randomly in a crowd, it makes me laugh. So I figured I'll do that, and it'll make everyone laugh in the clubhouse," said Kelley. "And then we went on a winning streak." The Yankees are a perfect 5-0 since the horse mask they've dubbed Seabiscuit — they really dropped the ball by not called it Tex or Teixeira or something like that — so it stays. Baseball players are a superstitious lot. Say it with me, folks: the latex horse mask that turned the season around. · (23) ·
Thanks to their five-game winning streak, the Yankees come into Tuesday only 2.5 games back of the second wildcard spot with 33 games left to play. FanGraphs puts their postseason odds at only 12.8%, but the Yankees have a knack for outperforming expectations and projections and run differential and all that. Two and a half games with 33 games to go is a sneaky big deficit but it's hardly insurmountable.
The non-waiver trade deadline was four weeks ago now, but the real trade deadline is midnight this coming Sunday. Players must be in the organization by 11:59pm ET on August 31st to be eligible for the postseason roster and there are no exceptions. No injury loopholes, no waiver tricks, nothing. If the player is not in the organization by midnight Sunday, they can not play in the postseason, end of story. It's a hard deadline.
The Yankees swung four trades leading up to the July 31st deadline but they still have some holes to fill. They dumped Matt Thornton on the Nationals a few weeks ago and have yet to reinvest his salary — this is despite reports saying they were working on other things — though it's unclear exactly how much wiggle room the team has financially. That's up to Hal Steinbrenner, of course. Here are some last minute trade targets who could help the Yankees in the final five weeks of the season.
OF Alex Rios, Rangers
New York reportedly had interest in Rios prior to the trade deadline, but instead they opted for the more versatile Martin Prado. The 33-year-old Rios went into last night's game hitting .283/.313/.401 (91 wRC+) with four homers and nine steals in 122 games this year, so his production has dropped off quite a bit from last year (104 wRC+) and the year before (126 wRC+). Even his usually strong outfield defense has slipped according to the various metrics.
Even after making those deals at the trade deadline, the Yankees are still short a right-handed bat or two in the lineup. I mean, Zelous Wheeler has started four times in the last five games, and as long as that continues to happen, the Yankees are short a righty bat. Rios has put up a .343/.374/.581 (155 wRC+) batting line against southpaws this year, so he'd fill a definitely need, especially now that Carlos Beltran is locked back in at DH following his recent elbow problem and Prado seems to have taken over at second base.
Rios is owed approximately $2.5M through the end of the season with a $13.5M club option ($1M buyout) for next season, so he's essentially a pure rental at $3.5M. Calvin Watkins reported Rios cleared trade waivers earlier this month, meaning he can be traded to any team at any time. The Rangers traded Geovany Soto over the weekend and they failed to move Neal Cotts after he was claimed off waivers, so, if nothing else, they're active on the August market. Rios is available and would address a need.
OF Ryan Ludwick, Reds
Not thrilled with Rios? The lower profile Ludwick is hitting .250/.310/.390 (94 wRC+) with eight homers in 97 games overall, plus he has a .253/.318/.506 (124 wRC+) line against lefties. He was once a really strong defender but his glovework isn't quite what it once was — Ludwick has a bunch of experience in right but also hasn't played there since 2011 — but he's not a butcher either. Besides, acquiring Ludwick is about adding another right-handed bat, not upgrading an already strong outfield defense.
Bob Nightengale reported the Reds were letting teams know Ludwick was available before the trade deadline, though it's unclear if he has cleared or even been placed on trade waivers yet. He is owed roughly $1.6M through the end of the season, and his $9M option for 2015 comes with a pricey $4.5M buyout. The total investment (~$5.1M) is quite a bit more than Rios' ($~3.5M). Ludwick is very available — the Reds have fallen out of the playoff race this month — and might be easier to attain, however.
DH Adam Dunn, White Sox
If Beltran is eventually going to return to right field, the Yankees will have an opening at DH, at least in the sense that there won't be one dedicated player for the position. (Joe Girardi tends to rotate players in that spot whenever possible.) Dunn, 34, has a .220/.343/.429 (114 wRC+) line with 19 homers this year, though he won't help the team's right-handed bat problem. He does offer made for Yankee Stadium left-handed power though, and there is no such thing as too much of that. There is roughly $3M left on Dunn's contract through the end of the season and he'll become a free agent this winter. He only makes sense if Beltran can play the outfield regularly and right now there is no evidence that is the case. It's a less than perfect fit.
RHP Matt Lindstrom, White Sox
I feel like I write about Lindstrom as a trade target every August. The 34-year-old has a 5.09 ERA (5.05 FIP) in 23 appearances and 23 innings this year, though that is inflated by two disaster outings earlier this month (six runs in one inning). Lindstrom missed three month with an ankle injury — he just returned two weeks ago — and at this point he's just a ground ball pitcher (50.0%) who doesn't miss many bats (5.48 K/9 and 13.6 K%). He's owed about $800k through the end of the season and, given all the late-game experience he's built up over the years, he could be a decent complement in the sixth or seventh inning as he gets further out from ankle surgery. If it doesn't work out, then who cares? They can bury him in the back of the bullpen with expanded rosters in September.
* * *
As always, the key to these late-August trades is the price. You're only getting five weeks of the player, and in the cases of Ludwick and Dunn, their teams would be motivated by dumping salary and not necessarily acquiring a real live prospect. If the Yankees have to give up anything more than a nondescript prospect for these guys, then forget it. They can only have so much of an impact at this point of the season. If they can get Rios or Ludwick for next to nothing to add another right-handed bat for the rest of the year, then they should be all over it. The Yankees only have six more days to make any additional moves and have that player potentially be available in October.
If you're only going to spend one day in Kansas City, you might as well win. The Yankees beat the Royals by the score of 8-1 on Monday night, in the makeup of a rained out game from early-June. The Bombers have won five straight — that ties their longest winning streak of the season, which they had previously done back in April — and seven of their last nine games overall.
One Run, Three Times
The Yankees scored the first run of the game without hitting the ball out of the infield. Ichiro Suzuki led off the third inning with an infield single and moved up to second when James Shields threw the ball wide of first. Zelous Wheeler drew a walk but was erased on Jacoby Ellsbury's grounder to first. Ellsbury is way too quick and the Royals didn't even attempt to turn the 3-6-3 double play. That gave the Yankees runners on the corners with one out.
The run came across on Derek Jeter's tailor made 6-4-3 double play ball. Thankfully Ellsbury was running on the pitch and he slid in safely at second, meaning it was only a fielder's choice. Ichiro scored and the Yankees were up 1-0. The Royals answered right back in the next half-inning with Mike Moustakas' solo homer, and the Yankees answered that back with a Stephen Drew solo homer in the next half-inning. So, after all that, the Bombers were up 2-1 in the fourth inning. The two teams combined to score exactly one run in three consecutive half innings.
Big Game James Big Mike
For the first time as a Yankee, Michael Pineda recorded an out in the seventh inning on Monday. The team has understandably had him on pitch limits this year, both back in April and now coming off the injury. Pineda's only real mistake was the homerball to Moustakas, which was nothing more than a pitch left up in the zone. Otherwise he allowed only two runners to get as far as second base — the speedy Jarrod Dyson singled and stole second in the sixth, and Salvador Perez doubled to center with one out in the seventh. The double ended Pineda's night.
With an assist to David Huff for stranding Perez, Big Mike's final pitching line was just the one run allowed on five hits and no walks in 6.1 innings. He struck out five and recorded eight of his other 14 outs on the infield. Pineda has walked just one batter in 17.1 innings since coming off the disabled list and four batters in 37 innings overall this year. That's not a surprise — part of what made Pineda so special a few years ago was the combination of high-end stuff and strike-throwing ability. He's always pounded the zone.
Pineda threw 96 pitches — Joe Girardi said he was scheduled for 95-100 before the game — as he continues to stretched out. PitchFX says he averaged 94.6 mph and topped out at 97.6 mph with his fastball — those are both season highs, but the PitchFX system has run hot in Kansas City for whatever reason over the years. I'm not sure if that's still the case though — and the velocity plot shows he actually threw harder and harder as the night went on. Pineda's been awesome. Just please stay healthy, Big Mike.
Blown Open
It was a random makeup game miracle. Rather than force the pitching staff to nurse a one-run lead for the rest of the game, the offense went out and scored some insurance runs. A bunch of them too. The four-run seventh inning started with a Martin Prado leadoff homer — OMG he is sooo hot right now — and continued with four singles by the next five batters. The only out during that stretch was Wheeler's failed bunt attempt. He bunted back to Shields with runners at first and second and the force out was made at third.
The Yankees still had runners at first and second after the bunt, only this time with one out instead of none. Ellsbury pulled a single through the right side of the infield, scoring Ichiro and getting Wheeler to third. Jeter followed that with a single literally off Shields — the grounder hit him in the foot and deflected away from shortstop Alcides Escobar to score Wheeler. Brian McCann lifted a sac fly to right to score Ellsbury for the fourth and final run of the inning. He was originally called out at the plate, though the play was overturned after Girardi asked for a challenge.
It was great to see the offense string together some hits for a big inning, especially with the botched bunt mixed in there. Big innings are few and far between with this club, mostly because they don't have a ton of power and it's tougher to get a simple base hit right now than at any other point since the mound was lowered (shifts, specialized relievers, etc.). Ellsbury tacked on even more runs with a two-run homer in the ninth inning. For the first time in a long time, it actually felt like a game was in the bag. A seven-run lead with three outs to go will do that.
Leftovers
Shoutout to Huff for retiring eight of ten batters faced to close the game out in relief of Pineda. He allowed an infield single and a traditional single while throwing 2.2 scoreless innings. The key bullpeners got the night off thanks to the big offensive explosion and Huff's quality work. Twenty-one of his 25 pitches were strikes too. Pretty cool.
Everyone in the starting lineup had at least one hit while Ellsbury, Prado, and Ichiro had multiple hits. McCann, Beltran, and Wheeler all had a single and a walk. The Yankees had nine different players record at least one hit in a nine-inning game for the third time this season. They did it twice in April in the span of four days.
The Yankees scored 5+ runs in back-to-back-to-back games for the first time since late-June and the fourth time overall this season. It's only the second time they scored 7+ runs in back-to-back games this year. They did it against the Mets back in May, and they managed to lose both of those games.
And finally, Ellsbury's seventh inning single was his 1,000th career hit. He singled in the first and homered in the ninth for a three-hit game. One-hundred-and-thirty-six of those 1,001 career hits have come in Yankees pinstripes. Congrats to him.
Box Score, WPA Graph & Standings
If you want to check out the box score and video highlights, head over to MLB.com. You can find some other stats at FanGraphs and the updated standings at ESPN. The Orioles pounded the Rays, so the Yankees are still six games back in the AL East. They'll be either 2.5 games (Mariners lose) or 3.5 games (Mariners win) back of the second wildcard spot depending on the outcome of the late game. FanGraphs puts their postseason odds at 11.1%.

Source: FanGraphs
Up Next
So long, Kansas City. The Yankees are done with the Royals and now they're off to Detroit to start a three-game series with the Tigers. That one has some pretty serious wildcard implications. Brandon McCarthy and Rick Porcello will be the starters for Tuesday night's opener.
Highlights of tonight's Double-A Trenton game are in the video above. Here are two quick notes:
The Yankees have signed RHP Wilking Rodriguez to a minor league deal, according to Matt Eddy. The 24-year-old was up with the Royals earlier this year (two innings) and had a 2.87 ERA (3.32 FIP) in 15.2 Triple-A innings before being released. Rodriguez hasn't pitched much the last few years due to injuries.
RHP Andy Beresford and 1B Bo Thompson have both been suspended 50 games after testing positive for an amphetamine, MLB announced. Beresford was with Low-A Charleston and Thompson was with the Rookie GCL Yanks after being the team's 13th rounder this year.
Triple-A Scranton (4-2 loss to Rochester)
RF Ramon Flores: 1-4, 1 3B, 1 RBI, 1 K
2B Rob Refsnyder: 0-2, 1 R, 2 BB, 1 K — five strikeouts and eight walks in his last six games
1B Kyle Roller: 2-3, 1 2B, 1 RBI, 1 K
LF Zoilo Almonte & C Austin Romine: 0-4 — Romine allowed a passed ball
3B Scott Sizemore: 2-4
RHP Bryan Mitchell: 5 IP, 5 H, 1 R, 1 ER, 2 BB, 4 K, 1 WP, 5/4 GB/FB — 54 of 91 pitches were strikes (59%) … he's had a nice little run in Triple-A after only a handful of starts in Double-A
RHP Preston Claiborne: 2 IP, 3 H, 3 R, 3 ER, 1 BB, 0 K, 1/4 GB/FB — 21 of 30 pitches were strikes (70%)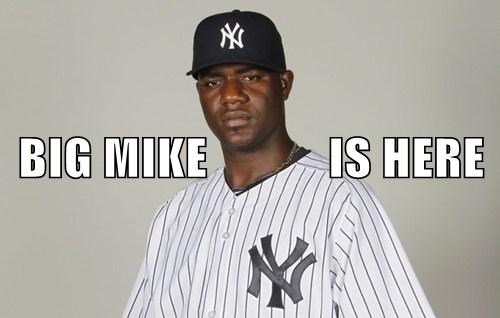 For one night only, the Yankees are in Kansas City to play a makeup game against the Royals. The two teams were rained out back in June. The Yankees have Michael Pineda on the mound making his third start since coming back off the disabled list. He is still getting stretched out, and, given the state of the bullpen, the Yankees need about seven innings out of him tonight. Hopefully the offense can give them some breathing room. Here is the Royals lineup and here is the Yankees lineup:
It is hot and humid in Kansas City, with temperatures in the mid-90s. Yuck. Tonight's game is scheduled to start a little after 7pm ET and you can watch on My9 locally and ESPN nationally. Enjoy the game.
Injury Update: Brett Gardner (ankle) feels better and hopes to be in the lineup tomorrow. He did not take batting practice today but did go through a light workout … Mark Teixeira has been dealing with a tight left hamstring the last few days but he is available off the bench tonight.
By

Via Peter Gammons: The Yankees "are claiming everyone" off trade waivers this month. That doesn't necessarily mean they are trying to make a trade, they're most likely blocking players from getting to the teams ahead of them in the wildcard race. The Yankees can still use some help with five weeks left in the season — another reliever, a right-handed bat, etc. — like every other team, but it seems unlikely they will make another trade at this point. They made their moves before the trade deadline. · (254) ·
Today was supposed to be an off-day. Instead, the Yankees are in Kansas City for a quick little one-game series against the Royals. The two teams are making up their June 9th rainout game. The Royals took two of three during the rained-shortened four-game series back in June.
What Have They Done Lately?
Manager Ned Yost's squad lost to the Rangers yesterday, but they won two of three games in the series and have won a ridiculous 24 of their last 31 games. That surge has them sitting atop the AL Central at 72-57 with a +35 run differential, the fourth best record and fifth best run differential in the American League.
Offense
The Royals average 4.15 runs per game with a team 94 wRC+, so they are a below-average offense overall. It's worth noting they have baseball's lowest strikeout rate at 15.7%, nearly two full percentage points lower than the next lowest team (Athletics at 17.5%). The Yankees have the sixth lowest at 18.5%. Anyway, 1B Eric Hosmer (91 wRC+) is out with a hand problem and is the team's only injured position player.
Yost's lineup is built around OF Alex Gordon (126 wRC+), who has emerged as one of the best all-around players in the game these last few years. He's every bit as good as Brett Gardner in left field defensively. Probably better, really. DH Billy Butler (99 wRC+) is having a very poor year by his standards. C Salvador Perez (96 wRC+) is a budding star and the duo of OF Josh Willingham (121 wRC+) and OF Raul Ibanez (60 wRC+) give the all-important veteran presents.
OF Norichika Aoki (89 wRC+) and 2B Omar Infante (80 wRC+) set the table from the one-two spots in the lineup — good thing the Yankees didn't give Infante four years, huh? — while OF Lorenzo Cain (108 wRC), SS Alcides Escobar (89 wRC+), and OF Jarrod Dyson (97 wRC+) provide speed. All three have stolen at least 20 bases. (The Royals lead the AL with 112 steals, 20 more than the second place Yankees.) 3B Mike Moustakas (80 wRC+), IF Christian Colon (182 wRC+ in very limited time), and C Erick Kratz (78 wRC+) fill out the rest of the position player crop.
Pitching Matchup: RHP Michael Pineda (vs. KC) vs. RHP James Shields (vs. NYY)
Figures. The Yankees are in town for one night only, and they still get stuck facing Kansas City's best pitcher. The 32-year-old Shields has a 3.28 ERA (3.69 FIP) in 27 starts and 178.1 innings this season, though his strikeout rate (7.22 K/9 and 19.2 K%) is his lowest in five years. He still limits walks (1.82 BB/9 and 4.8 BB%) and does a decent job of keeping the ball in the park (0.96 HR/9 and 10.1 HR/FB%) and getting grounders (45.1%). Lefties (.327 wOBA) have a bit more success against Shields than righties (.311 wOBA). A mid-80s changeup remains his go-to pitch, but Shields has scaled back on it a bit this year and is throwing more low-90s four-seamers and mid-80s cutters. He also throws an upper-70s curveball on occasion. The Yankees scored one unearned run in six innings against the ex-Rays righty back in June.
Bullpen Status
The reason David Robertson and Dellin Betances are only "arguably" the best closer/setup man tandem in baseball is because RHP Greg Holland (2.14 FIP) and RHP Wade Davis (1.30 FIP) exist. They're both outstanding. Throw in the super-hard-throwing RHP Kelvin Herrera (2.87 FIP) and you've got the best late-game trio in the game. None of the three pitched yesterday either.
The rest of Yost's bullpen includes LHP Bruce Chen (1.59 FIP), LHP Francisley Bueno (3.06 FIP), RHP Aaron Crow (5.45 FIP), and RHP Jason Frasor (3.52 FIP). Both Frasor and Crow threw an inning yesterday. Joe Girardi's bullpen, on the other hand, is a bit of a mess after this weekend's series with the White Sox. Robertson has pitched in three straight games and surely won't be available tonight. I guess that makes Betances the closer du jour. Check out out Bullpen Workload page for recent reliever usage, then check out Royals Review and Royals Authority for the latest and greatest on the Royals.
Late last week, the Red Sox signed free agent Cuban outfielder Rusney Castillo to a seven-year contract worth $72.5M. He'll play in some minor league games this week and make his MLB debut in September. The Yankees were connected to Castillo — they reportedly liked him more as a second baseman — but opted to "end any pursuit" of him a few days before he wound up in Boston. Here are some notes on the international market, including some more details on New York's pursuit of Castillo.
Yankees never made offer to Castillo
Both Jon Heyman and Joel Sherman report the Yankees did like Castillo — they saw him as a potential 20-homer player — but balked for luxury tax reasons once the bidding got up to $40M. They didn't even make a contract offer. The Yankees are taxed 50% on every dollar they spend over the $189M threshold, so $72.5M for Castillo would have meant a $108.75M total investment, and they didn't view him as that type of player. They considered him to be similar to trade deadline pickup Martin Prado. One thing is clear: the price for Cuban free agents is only going up with each new player who arrives.
The Next Big Thing
Isn't it amazing how as soon as one high-profile Cuban player signs, the next one pops up? Ben Badler puts on a name on that next big thing, and it is 19-year-old Yoan Moncada. He is described as a "a 6-foot, 210-pound switch-hitting infielder who's the best teenager to leave Cuba since Jorge Soler, a player with exciting tools and dominance of the Cuban junior leagues on par with what Yasiel Puig did at the same age." Here's the obligatory video The video was removed from YouTube for whatever reason.
Now here's the catch: no one seems to know where Moncada is at the moment. Badler says it doesn't appear he is in Cuba but other reports say he is still on the island. If he is still in Cuba, it will obviously be a long time before Moncada is able to sign with a big league team, if ever. If he has defected, teams still have to wait for MLB to declare him a free agent and for the Office of the Foreign Assets Control to unblock him.
Because he is only 19, Moncada will be subject to the international spending restrictions clubs deal with each summer. The Yankees are unable to sign a player for more than $300,000 during the 2015-16 and 2016-17 signing periods as a result of this year's international spending spree, so they won't be able to make a serious play for Moncada if he becomes the available anytime soon. That's the risk with going big in one signing period, taking yourself out of the running for the top talent in future years.
Tomas establishes residency
Cuban outfielder Yasmani Tomas has established residency in Haiti, according to Jesse Sanchez. That is a big and necessary step towards being unblocked by the OFAC and declared a free agent by MLB. It's still likely he will not be able to sign with teams until the offseason, if not sometime in 2015. Because of his age (23) and service time in Cuba, Tomas will not be held to the international spending restrictions.
Back in June, Badler described Tomas as a "righthanded-hitting corner outfielder" who can "hit towering home runs thanks to the strength from his thickly-built 6-foot-1, 230-pound frame," though he cautioned Tomas has "some swing-and-miss tendencies" and an "uppercut stroke and trouble handling good breaking pitches." Tomas is also described as a below-average runner who will be a corner outfielder in the big leagues. Here's video. Jim Salisbury says the Phillies intend to be major players, for what it's worth.
MLB implements new rules to curb pre-July 2nd deals
Last week, MLB sent teams a memo detailing new rules for how they are allowed to evaluate international amateurs, according to Badler. Players are now no longer allowed to be at a team facility until they are 16 years old or until six months before they are eligible to sign, whatever comes first. Before that, players can go to team facilities for MLB sanctioned league games and showcases only. The rule change is effective immediately.
Under the old rules, teams would bring players to their complex and have them work out. If they liked what they saw, they would make an offer and often agree to a contract in advance of the signing deadline. Teams would "hide" players they like at their complex so other clubs couldn't scout them. That isn't possible anymore. Long story short, MLB is trying to crack down on pre-July 2nd deals, and limiting how long players can spend at team complex is a big step towards doing that.
Record Last Week: 4-2 (25 RS, 22 RA)
Season Record: 67-61 (506 RS, 540 RA, 60-68 pythag. record) 6.0 GB in ALE, 3.5 GB of WC
Opponents This Week: @ Royals (one game, Mon.), @ Tigers (three games, Tues. to Thurs.), @ Blue Jays (three games, Fri. to Sun.)
Top stories from last week:
Please take a second to answer the poll below and give us an idea of how confident you are in the team. You can view the interactive Fan Confidence Graph anytime via the nav bar above, or by clicking here. Thanks in advance for voting.
Given the team's current roster construction, farm system, management, etc., how confident are you in the Yankees' overall future?
It's been a while since I've updated the standings, so let's do that now. The minor league season is over in about a week anyway.
Triple-A Scranton (5-4 loss to Rochester) 65-71 and they've already been eliminated from postseason contention
CF Jose Pirela: 2-5, 1 R
RF Ramon Flores: 3-5, 1 R, 1 2B, 2 HR, 3 RBI – five homers in his last five games … nine homers in only 60 games this year, his career high is eleven in 125 games back in 2011
2B Rob Refsnyder: 2-4, 1 R, 1 2B, 1 BB, 1 K, 1 SB — 14-for-37 (.379) in his last ten games
1B Kyle Roller: 2-3, 1 2B, 1 RBI, 1 BB, 1 K
LF Zoilo Almonte: 0-4, 3 K
C John Ryan Murphy: 0-3, 1 BB, 1 K
RHP Zach Nuding: 5 IP, 6 H, 1 R, 1 ER, 2 BB, 3 K, 7/3 GB/FB — 51 of 85 pitches were strikes (60%)
RHP Chase Whitley: 2 IP, 2 H, 0 R, 0 ER, 0 BB, 3 K, 1/2 GB/FB — 27 of 38 pitches were strikes (71%) … first outing since being sent down
RHP Nick Rumbelow: 0.1 IP, 4 H, 4 R, 4 ER, 1 BB, 0 K, 1/0 GB/FB — 15 of 28 pitches were strikes (54%) … blew the lead in the eighth