By

Jim Callis of Baseball America has rounded up this year's recommended slot bonuses and draft pool totals now that the draft order is finally final. The Astros lead the way with a $11.7M pool — the reward for having baseball's worst record — while the Nationals get just $2.7M after losing their first rounder for signing Rafael Soriano. Overall, the slot values and draft pools rose more than 8% this year.

The Yankees will have $7,957,400 in draft pool money — the eighth most in baseball — to sign their 12 picks in the top ten rounds. They received supplemental first round picks for losing Soriano and Nick Swisher to free agency, giving them three of the top 33 picks. As I wrote over the weekend, the Yankees really need to nail those top three picks and add some fast-moving impact talent to the farm system. Is that easy? Hell no, but it's imperative given the state and direction of the big league roster. · (27) ·
By

Via George King: The Yankees never got to the point of discussing trade scenarios involving Joba Chamberlain with the Rangers. We heard last month that Texas had been scouting the right-hander.

Joba, 27, became much more important to the bullpen as soon as David Aardsma was cut loose. He's the clear number three late-inning guy behind Mariano Rivera and David Robertson, sorta bridging the gap between those two and the Shawn Kelleys and Cody Eppleys of the world. One year of a reliever coming off two major injuries doesn't have much trade value anyway. Makes more sense just to keep him. · (37) ·
Just seven months before hitting the open market as (by far) the best free agent available, Robinson Cano has fired agent Scott Boras. He is now represented by CAA Sports and Jay-Z's new Roc Nation Sports. Cano will be Roc Nation's first client and they will handle his marketing. Buster Olney, Mark Feinsand, Ken Rosenthal, and Dan Barbarisi all had a hand in breaking the news.
"At this point in my career, I am ready to take a more active role in my endeavors both on and off the field," said Cano in a statement released on Roc Nation's site.  "I am confident that the pairing of Roc Nation Sports and CAA Sports will be essential in helping me accomplish my short- and long-term goals.  I am making this important decision now so I can keep my focus on helping the Yankees succeed in 2013, while minimizing any distractions for me and my teammates."
Darren Rovell notes that Jay-Z hopes to become a certified agent in baseball, football, and basketball. Roc Nation's initial launch is with CAA Sports, but it will be its own stand-along company. Given his new affiliation with Jay-Z, it is very hard to see Cano leaving New York. I doubt he has his eyes on joining the Mets either.
Brodie Van Wagenen of CAA will handle the bulk of Cano's contract talks. He represents Ryan Zimmerman, Carlos Quentin, Ryan Howard, and Drew Storen, among others. CAA itself has a long client list, including stars like Ryan Braun, Buster Posey, Matt Cain, and Roy Halladay. Current Yankees Phil Hughes and Boone Logan are both CAA clients.
"Robinson Cano is an extraordinary all-around talent who has established himself as one of the game's best and most consistent players," said Van Wagenen in a statement. "Our mandate is to minimize his distractions while helping him achieve his goals on and off the field in both the short- and the long-term. His immediate concern is continuing to show respect for the New York Yankees organization, his teammates and fans."
As for the Yankees, Cano cutting ties with Boras is pretty much the best case scenario as far as contract extension talks go. They've already made their franchise cornerstone a "significant offer," though apparently there hadn't been much progress in recent weeks. With a few notable exceptions, Boras has always taken his biggest clients out onto the open market and created a bidding war. Teams like the Tigers, Nationals, Angels, and especially the Dodgers figure to be in the mix for Cano after the season. Nearly every star CAA client has signed an extension in advance of free agency.
Does the agency switch means it will be easier for the Yankees to sign Cano long-term? Maybe, but I'm not sure easier is the best way to put it. I do think it improves their chances of signing him to a more affordable contract — not a ton because I doubt Jay-Z wants his first baseball contract to be a sweetheart deal — though Robbie is getting paid either way. He'll clear nine figures easily and could double Chase Utley's second base record of $85 million guaranteed. Perhaps he'll sign a shorter (six years?) deal instead of seeking a massive eight- or ten-year agreement. That would be awesome.
The Yankees kicked off the season yesterday afternoon with a game that was basically the sum of all fears: an ineffective offense, a diminished CC Sabathia following elbow surgery, and sketchy bullpen work aside from Mariano Rivera and David Robertson. It wasn't an ugly loss, per se, but it was a flat and uninteresting game. Add in weather that got increasingly cold, wet, and windy as the afternoon went on, and it's no surprise the stands looked like the above photo by the ninth inning. Oh well, it's only one game. Still 99.4% of the season left to play.
1. It didn't hit me how vulnerable the Yankees are against left-handed pitching until I saw yesterday's lineup. Eduardo Nunez hitting second? Jayson Nix and Ben Francisco in the lineup? That is weak. At least against righties they'll have Travis Hafner and Lyle Overbay. The against-lefties lineup will improve when Derek Jeter and Mark Teixeira return, but who knows when that will happen. The Yankees aren't likely to face many southpaws over the next two weeks because their upcoming opponents have righty-heavy rotations, but there are a lot of good left-handers in the AL East and they won't be able to avoid them forever.
2. Not a day goes by that I don't lament the inability to trade for Justin Upton. The Yankees desperately need that type of young impact bat, a true cornerstone type of player whose best years are (theoretically) ahead of him. Upton has that big right-handed power that plays in any park, a perfect lineup anchor for the team that could sign a lefty hitter off the street and get 20 homers out of him thanks to the short porch in right field. The Diamondbacks reportedly didn't like the prospects the Yankees had to offer, but damn. Upton would have been perfect.
3. While on the subject of offense, I would much rather watch a team that can't pitch than a team that can't hit. Especially over the course of 162 games, no question asked. Nothing is more frustrating than being unable to score runs, even blowing leads inning after inning. Also, you can get to the playoffs as an all-hit/no-pitch team. The Yankees have done that a bunch of times before, including in the not-too-distant past. No-hit/all-pitch though? It's one of the easiest ways to ensure early tee-times in October.
4. Boone Logan absolutely terrifies me right now. Between the barking elbow in camp and the league-leading workload last year and the fact that Joe Girardi will use him often since he's the only lefty … I'm nervous. He was fine in yesterday's game, but man, I feel like it's all going to blow up at some point. The Yankees have plenty of left-handed relief depth, specifically Vidal Nuno and Josh Spence in Triple-A with Cesar Cabral due to return at midseason, but I feel like Logan will have to blow up before the team dips into that depth. He feels like a grenade with the pin pulled.
The Yankees had won eleven consecutive Opening Days at home dating back to 1986 — an MLB record, believe it or not — but that streak is over following the Red Sox's dismantling of the Bombers on Monday. They out-hit, out-pitched, and out-defensed New York.
Sabathia Struggles On Opening Day
Outside of 2011 against the Tigers (two earned runs in six innings), CC Sabathia has struggled quite a bit on Opening Day as a Yankee. On Monday he allowed four second-inning runs to the Red Sox in his five-inning start, throwing 102 pitches and walking four. He walked four or more just twice last summer (consecutive starts in mid-May).
Outside of that four-run second inning — two walks, two infield singles, two ground balls singles through the hole — the most notable thing about Sabathia's start was that his velocity was down from last year. PitchFX says he averaged 89.9 mph and topped out at 91.7, compared to 92.5 and 94.1 on Opening Day last year, respectively. It's worth noting that was in a climate-controlled dome. I suppose this could be the result of his offseason elbow surgery and weirder than usual Spring Training, but it could also be a workload and age thing. Unsurprisingly, Sabathia is not concerned and said he just needs to pitch better going forward. Given his overall velocity drop last summer, it's worth monitoring. CC is at that age.
Anyway, the good news is that Sabathia's offspeed stuff, particularly his changeup against Boston's parade of right-handed hitters, was pretty sharp. He threw 24 of his 33 changeups for strikes and got eleven swings and misses with the pitch, which is pretty awesome. Given his historical struggles on Opening Day and in April in general, I'm willing to write this one off as a mulligan for Sabathia. Obviously he'll need to hit his midseason stride sooner rather than later this year.
Frankie And The No-Shows
We all know the Yankees' offense isn't what it once was, but I don't think I was prepared for Frankie Cervelli to be the team's most productive hitter on Opening Day. His two-out, two-strike, bases loaded single (that landed on the foul line) in the fourth was responsible for the team's only runs on the afternoon. He drew a walk later on as well.
The rest of the lineup didn't do much of anything. Kevin Youkilis hit a double to start that two-run rally and Vernon Wells was robbed of a double by the third base ump, who incorrectly ruled his hard-hit ground ball foul. Replays showed it hopped over the bag before heading into foul territory. Brett Gardner beat out an infield single for the team's first hit of the year, Ichiro Suzuki and Travis Hafner slapped some dying quails into right, and Robinson Cano grounded a ball through the infield for a single.
The Yankees had their best chance to get back into the game in the seventh, when Andrew Miller charitably walked the first two batters he faced on eleven total pitches to bring the tying run to the plate. The next three hitters — the 2-3-4 hitters — all struck out to end the threat. That was more of a Red Sox bullpen thing than a bad hitting thing; Miller and Andrew Bailey were throwing some serious heat. Either way, it never felt like New York was on the verge of putting something together offensively.
Leftovers
Cano, the team's most indispensable player, went 1-for-4 with two strikeouts, including one during that ill-fated seventh inning rally. One game doesn't tell us much, but Robbie saw a ton of breaking balls on the outside corner from the Red Sox. That's how teams figure to approach him this year given the lack of thump around him.
David Phelps, who is scheduled to start Saturday, was the first reliever out of the bullpen and the first batter he faced hit a leadoff triple. He escaped the jam — Jayson Nix helped him out with a great snag at third to get the runner at home on the contact play — and created another one the next inning before  needing a hand from Boone Logan. Despite pitching an inning and a third, Phelps remains on schedule to start Saturday. No big deal.
Shawn Kelley, who made the roster over David Aardsma because of his ability to throw multiple innings, threw one perfect inning with a strikeout. Joba Chamberlain allowed three runs in two-thirds of an inning and the staff as a whole walked eight batters against eight strikeouts. Considering the pitching is supposed to be the strength of the team, this was hardly one for the highlight reel.
On the bright side, the 49,514 fans in attendance set a new record for the largest Opening Day crowd in the relatively short history of the new Yankee Stadium. I guess that's good news.
Box Score, WPA Graph & Standings
MLB.com has the box score and video highlights, FanGraphs some additional stats, and ESPN the updated standings.

Source: FanGraphs
Up Next
The Yankees are off on Tuesday — the whole "in case Opening Day gets rained out" day off thing — but these same two teams resume the series on Wednesday night. Hiroki Kuroda and Clay Buchholz is your pitching matchup for game two of the season. If you want to attend, check out RAB Tickets.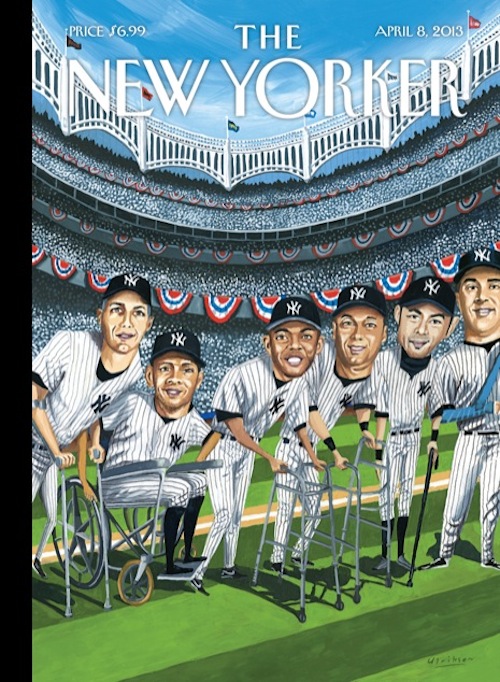 The Red Sox beat the Yankees rather convincingly on Monday afternoon, the team's second consecutive Opening Day loss. Boston was the far better team and there's no way to dispute it. They outplayed New York in every facet of the game and completely overmatched their division rivals. Oh well, give it a go again on Wednesday.
Here is your open thread for the night. All three hockey locals are in action, but screw that, baseball's back. ESPN is showing games all night and Extra Innings is free preview mode right now. Find the channels and watch whatever games you want. Talk about whatever, go nuts.
By

Mark Teixeira was given the okay to lose his wrist brace today, and said the doctors are "very happy with the progress" following this morning's checkup. He's still a ways off from resuming baseball activity and returning the team, but any progress is good. Teixeira has been fielding ground balls, running the bases, and swinging a bat one-handed as he waits for the tendon sheath in his right wrist to heal. · (11) ·
A new thread for luck. They need it.
By

Via Howie Rumberg: Phil Hughes is scheduled to make what amounts to a rehab start for Triple-A Scranton this Saturday before rejoining the team in Cleveland next week. It is not at all a coincidence David Phelps is scheduled to start for the big league team on Saturday as well.

Hughes, 26, made a minor league start on Wednesday and threw seven innings in another minor league game today according to Adam Berry, lining him up for Saturday. He's coming back from a bulging disk that caused him to miss the first few weeks of camp, and right now the Yankees are just stretching him back out to 100+ pitches. Hughes is reportedly healthy, but not yet ready to pitch deep into games. · (0) ·
By

Via Andy McCullough & Chad Jennings: Brian Cashman confirmed Derek Jeter will resume playing catch today and hopes the Cap'n can do even more in the coming days. "There is no exact schedule for Derek because it's what his ankle allows him to do (and) we're really not going to know that until he goes out there," said Joe Girardi.

Jeter, 37, received a cortisone shot in his surgically repaired left ankle two weeks ago. He was apparently on track to be ready in time for Opening Day, but the team had to shut him down due to lingering soreness and inflammation last week. The Yankees say they want Jeter to play back-to-back nine inning games at shortstop before activating him off the DL, which means the original target return date of April 6th is wildly optimistic. I really do worry about there being that lingering soreness and inflammation all season. · (7) ·