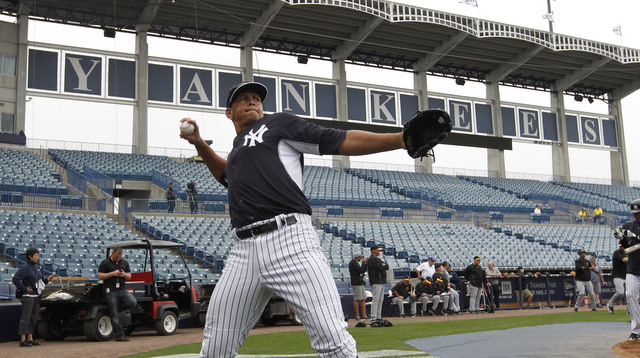 Now that we're about a week into Spring Training games, the rotation has turned over and we're getting to see guys for the second time. Adam Warren will make his second start of the spring — I assume he'll work three innings or 45 pitches, that's pretty standard for the second spring start — and both Andrew Miller and top pitching prospect Luis Severino will make their second Grapefruit League appearances.
The Nationals made the two-hour bus trip over from Melbourne and didn't bring many regulars, predictably. In fact, they sent the minimum four big leaguers, and two of them (Kevin Frandsen and Jose Lobaton) are bench players. Impending free agents and possible future Yankees Ian Desmond and Doug Fister are the other two. The Yankees drafted Fister once upon a time (sixth round, 2005) and he's super tall (6-foot-8 and 210 lbs.), so maybe the team will have interest in him as a free agent after the season.
Today's reason to watch: Alex Rodriguez is playing his first game at third base — first since September 2013! — so we'll get to see how (im)mobile he is at the hot corner. With no clear cut backup for Chase Headley, A-Rod's ability to play third on occasion is not insignificant. Also, Dellin Betances is making his Grapefruit League debut. And Severino will pitch too.
Here is this afternoon's starting lineup:
3B Alex Rodriguez
RF Chris Young
2B Jose Pirela
SS Nick Noonan
RHP Adam Warren
Available Pitchers: LHP Andrew Miller, RHP Dellin Betances, RHP Luis Severino, RHP Wilking Rodriguez, LHP James Pazos, and RHP Jared Burton are all scheduled to pitch, apparently. RHP Diego Moreno, RHP Nick Goody, LHP Chasen Shreve, and RHP Chris Martin are the extra arms.
Available Position Players: C Gary Sanchez, 1B Kyle Roller, 2B Cole Figueroa, SS Cito Culver, 3B Jonathan Galvez, LF Ben Gamel, CF Mason Williams, and RF Aaron Judge will be the second string off the bench. C Francisco Arcia, C Kyle Higashioka, C Trent Garrison, 1B Greg Bird, 2B Rob Refsnyder, OF Jake Cave, OF Ramon Flores, and OF Tyler Austin are all on the bench as well.
It's a little cloudy in Tampa this afternoon but there's no rain in the forecast. Temperatures in the mid-70s and not that much humidity by Florida standards. This afternoon's game will begin shortly after 1pm ET and you can watch live on YES and MLB.tv (no blackouts). MLB Network will show the game on a tape delay later tonight (8pm ET). Enjoy.