By

Via Jon Heyman: Along with the Cubs, the Yankees are viewed as a likely landing spot for free agent-to-be left-hander Jon Lester this offseason. Heyman says a reunion with the Red Sox is considered unlikely. The Cubbies are run by Theo Epstein and Jed Hoyer, who obviously know the southpaw from their time in Boston.

Lester is a great fit for the Yankees because he's a great fit for every team in baseball. Every club could use a prime-aged workhorse left-hander with proven big market and postseason chops. The real question is whether the Yankees are willing to take on a third $20M+ annual salary pitcher, especially given the other holes on the roster. The team is very top heavy and I think they need to focus on adding several solid players rather than one star plus a bunch of replacement level guys this winter. · (97) ·
The Yankees and Astros wrap up their three-game series this afternoon and, amazingly, the Yankees are trying to avoid getting swept. They've lost four of five games to Houston this year, including these last two games at home. The Yankees have lost seven of their last nine games overall and their postseason hopes are fading, but avoiding a sweep at the hands of the terrible Astros (at home!) is all about preserving some dignity, you know? I can live with missing the playoffs, but getting swept by the Astros at home is a whole other level of shame. Here is the Houston lineup and here is the Yankees lineup:
It's an okay afternoon for baseball here in New York. On the cool side and overcast, and there is rain in the forecast later this afternoon. Looks like it will hold off long enough to get a full nine innings in though. First pitch is scheduled for 1:05pm ET and you can watch on YES locally and, depending on where you live, MLB Network nationally. Try to enjoy.
By

Rehabbing right-hander Masahiro Tanaka will face hitters and throw live batting practice on Saturday, Joe Girardi announced. He threw his second bullpen session yesterday, including breaking balls and splitters, and everything went well enough for him to move forward in his rehab from a partially torn elbow ligament. This will be the first time Tanaka throws to hitters since getting hurt. It's a pretty big step given the increase in intensity. · (33) ·
By

10:39am: Whitley has been sent down to Triple-A Scranton to make room on the roster for Wheeler. Rosters expand in ten days, so he'll be back before you know it.

10:36am: The Yankees have called up utility man Zelous Wheeler, according to the various reporters in the clubhouse. No word on the corresponding move yet, though I assume the team is dropping one of their eight relievers. Rich Hill or Chase Whitely seems likely. Carlos Beltran received a cortisone shot in his elbow yesterday and will miss a few games, so Wheeler gives them an extra bench player. I suppose there's a chance Beltran is heading to the disabled list. We'll see. · (52) ·
The Yankees have struggled to piece together a decent rotation for much of the season. At one point arguably the five best starting pitchers in the organization were on the disabled list, and for a big chunk of the summer they were without CC Sabathia (knee), Michael Pineda (shoulder), and Ivan Nova (elbow). Masahiro Tanaka (elbow) went down right before the All-Star break. Pineda has since returned but the other guys are all still on shelf and only Tanaka has a chance of returning before the end of the season.
Finding five quality starters has been a struggle at times, though the Yankees have a decent group right now. Pineda joins young Shane Greene and veterans Hiroki Kuroda, Brandon McCarthy, and Chris Capuano in the rotation, which isn't the most intimidating fivesome in the league, but they've been no worse than solid these last few weeks. It would be nice if they pitched a little deeper in the game once in a while — Greene is the workhorse at this point, no? — but what can you do? Take what you can get. Those guys done more than any of us could have reasonable expected, really.
Rosters expand in only ten days now, at which point the Yankees will surely call up some extra players to help out in the final month of the season. Extra arms like Bryan Mitchell, Matt Daley, and (if healthy) Preston Claiborne will be back, and they may be joined by Manny Banuelos as well. Jacob Lindgren or Tyler Webb could replace Rich Hill, though that's not adding another pitcher to the roster. Once rosters expand and the Yankees have extra bodies lying around, it actually makes sense to implement a six-man rotation for the final month of the regular season. Here are some reasons.
Control Workloads
Fatigue is always a concern this late in the season, especially for young pitchers and older pitchers. Kuroda has faded late in each of the last few seasons — he's again showing signs of fading this year — and scaling back on his workload these last five weeks wouldn't be a bad idea. I know Kuroda is likely in his final few weeks with the team, but he's been a damn good Yankee these last three years and you take care of your people. He gave the club everything he had and they should reciprocate by taking it easy on him in September even if he won't wear their uniform in 2014.
The 25-year-old Greene is actually in great shape with his innings total. In fact, he might not throw enough innings this season. He is at 109.2 innings total right now (MLB and Triple-A) after throwing 154.1 innings last season, the most in the farm system. The final weeks of the season probably get him up to 150 or so for the year. Ideally you'd like to see him get up to 170-180 innings this year, but still, we're talking about a guy who was in High-A and Double-A last year. Major League innings are a different animal. They're more intense and take more out of you. The raw innings total only tells you so much. Easing Greene towards those 150-ish innings is in no way a bad idea.
Injury Concerns
Needless to say, the rotation is still loaded with injury concerns. Pineda has made two starts after missing more than three months with a back/shoulder issue, and he didn't even get stretched all the way during his rehab assignment. Given his injury history, taking it easy on him these last few weeks makes an awful lot of sense. Same goes for McCarthy, who has been healthy this year but has a long history of shoulder problems. If the Yankees intend to try to re-sign him after the season — and they should absolutely try to bring him back — then they have every reason to do whatever they can to keep him healthy in September.
And then there's Tanaka, who threw his second bullpen session yesterday as he works his way back from a partially torn elbow ligament. Everything is going well so far — he even threw some breaking balls and splitters yesterday — so much so that he might face hitters in live batting practice for his next throwing session. The hope is Tanaka will return in September to make a few starts, and if he does, using a six-man rotation would be a fine way to take it easy on that elbow. They were trying to get him extra rest whenever they could before he got hurt. There's no reason that should change once he returns, right?
Busy Schedule
The Yankees will play their final 38 games of the season in only 39 days. They do have two off-days (September 1st and 8th) but also one doubleheader (September 12th). They close the season out with 21 games in 20 days. There will be no opportunity to give the rotation an extra day of rest here or there the last three weeks of the season — at least not without more rainouts, which would only lead to more doubleheaders — so playing it safe with guys like Greene and Tanaka and Pineda will be tough. The six-man rotation would give everyone an extra day of rest each time through the rotation automatically. They won't have the opportunity to give them that otherwise.
* * *
Though the Yankees are bringing David Phelps back from his elbow injury as a reliever, they'll still have Mitchell and Esmil Rogers as sixth starter candidates until Tanaka returns. Maybe even Banuelos, if he's physically up to it after missing close to two full seasons. That would be fun. Expanded rosters in September ensure there will be plenty of extra arms available in case someone gets knocked out early or anything like that. There's no worry about overworking the bullpen.
Let's face it, the team's postseason odds are tiny — 4.3% according to FanGraphs and 3.1% according to Baseball Prospectus — so it really doesn't matter who they run out there as the sixth starter. The important thing is getting guys like Tanaka and Pineda extra rest down the stretch, not winning every last ballgame. A six-man rotation isn't all that practical before September, but it's plenty easy to implement once rosters expand and winning is a secondary concern. It makes a lot of sense for the Yankees to use six starters in the season's final month given the injury and workload issues on the roster.
Same old, same old. The Yankees lost to the Astros on Wednesday night for the fourth time in five tries this season, this time by the score of 5-2. New York has now scored four or fewer runs in nine straight games. Not coincidentally, they are 2-7 in those nine games.
Big Mike In The Bronx
Michael Pineda's first start back in Yankee Stadium after getting hurt in April went very well considering he was on a strict pitch count. The Astros touched him up for one run in the fourth inning on a single (Robbie Grossman), a sac bunt (Jose Altuve), and a loud double into the right field corner (Dexter Fowler), but that was it. Pineda was charged with a second run but we'll get to that in a bit. He struck out three, walked one, allowed four hits, and threw 66 of 89 pitches for strikes (74%). Last time out he threw 67 pitches.
I don't know if this is the norm, but Pineda seemed extra fidgety on the mound all night. Lots of stretching, lots of flexing, stuff like that. If he was in some kind of discomfort or just didn't feel well, it didn't show in the quality of his stuff, which was crisp from start to finish. He even threw some hard 90 mph changeups. (They might have been two-seamers, actually.) So far, so good for Pineda since he's come off the disabled list. Just needs to continue getting stretched out, that's all. He looks just as good as he did in April and that's the most important thing.
The Bronx Bombers Squeeze Bunters
It's amazing what it takes for the Yankees to score a run these days. It seemed like just yesterday people were saying this team hit too many homers and needed to play more small ball and all that. Now the number three hitter has to lay down a squeeze bunt with two outs against the Astros in mid-August just to take a 2-1 run lead in the fifth inning. I miss offense. Ichiro Suzuki's single and stolen base combined with Derek Jeter's ground out set up Jacoby Ellsbury's run-scoring bunt, which was perfect. The Astros had no chance to get either runner. Desperate times, I guess.
The Yankees scored their first run a half-inning earlier, when Stephen Drew hit his first homer in pinstripes. I wouldn't call it a Yankee Stadium cheapie, but he didn't exactly crush it either. It landed in the bullpen, right next to stands. The homer and the squeeze bunt were the extent of the team's run scoring on the night, though they sure had a bunch of chances. Eight at-bats with runners in scoring position overall, and the only hit was Ellsbury's bunt. The lack of hitting with runners in scoring position is only a symptom, not the real problem. The real problem is a straight up lack of good hitters.
The B Team
Because they had each pitched three times in the last four games, the late-inning trio of Shawn Kelley, Dellin Betances, and David Robertson was apparently unavailable. Or at least one or two of them was, with the other guy(s) being held back for the eighth or ninth inning. That meant the B Team relievers were going to see high-leverage work because we all know the offense wasn't going to give them any breathing room.
Pineda started the seventh inning but was lifted immediately after walking Jason Castro, the leadoff hitter. I can't tell you how much I hate it when Joe Girardi sends his starter back out to start another inning when his leash is only one base-runner, especially when it's someone on a pitch limit like Pineda. I hate it. Hate hate hate it. Just let the reliever start the inning fresh, you know? Anyway, that leadoff walk put the wheels in motion for Houston's comeback.
In came David Huff — for the first time in ten days — to face the left-handed Jon Singleton (strike out) and the switch-hitting Marwin Gonzalez (single). Esmil Rogers replaced him with runners on first and second with one out, and he proceeded to allow four straight singles. All in the span of six pitches too. Matt Dominguez singled to load the bases, Jake Marisnick singled to tie the game at two, Grossman singled in two runs to give Houston a 4-2 lead, then Altuve capped it off with a single to score another run and make it 5-2. It happened in the blink of an eye.
The Yankees have an eight-man bullpen but only three are actually trustworthy right now. Maybe two depending on your opinion of Kelley. They're wasting their time with guys like Rich Hill — what's the point of dumping Matt Thornton if this is the guy you replace him with, even temporarily? — and others like Rogers and Chase Whitley just aren't all that good. The lack of offense means Girardi's go-to relievers have to work a lot, and every so often they need a rest. That's how you end up with nights like this.
Leftovers
Brett Gardner (walk) and Jeter (single) reached base with two outs in the seventh to feign a rally but Ellsbury struck out to end the inning, so that was that. Almost the exact same thing happened in the ninth — Gardner (single) and Jeter (walk) reached base with two outs, meaning Ellsbury represented the tying run, but he flew out to right to end the game. The three-run bunt just wasn't in the cards either time.
Jeter, Ellsbury, Chase Headley, and Ichiro all had two hits and both Gardner and Drew had one. Gardner, Jeter, and Drew each drew a walk. The Yankees stole four bases against Scott Feldman (two by Ellsbury, one each by Jeter and Ichiro) and got thrown out once (Headley). Feldman is really slow to the plate and ranks near the top of the league in stolen bases allowed.
Rogers tacked on a scoreless eighth inning after making a mess of things in the seventh and Whitley retired the side in order in the ninth. He had some help by Gardner, who made running catch in foul territory, hit the wall at hip-level, and flipped into the stands. Gardner held onto the ball and was fine. It wasn't a violent fall or anything. Still a nice play.
According to the YES broadcast, Ellsbury's squeeze bunt was the team's first go-ahead bunt base hit in the fifth inning or later since August 1996, when Girardi did it. I doubt he was batting third. It was their second successful squeeze bunt of the year — Brendan Ryan did it to the Pirates back in May.
Box Score, WPA Graph & Standings
MLB.com is the place to go for the box score and video highlights, FanGraphs has some other stats, and ESPN has the updated standings. Both the Orioles and Tigers won, so the Yankees are 9.5 and five games back in the AL East and second wild-card races, respectively. FanGraphs has their postseason odds at 6.3%. That's really low!

Source: FanGraphs
Up Next
The Yankees will look to avoid getting swept by the Astros at home in the year of our lord 2014 on Thursday afternoon. Brandon McCarthy and Dallas Keuchel will be the pitching matchup in the matinee. RAB Tickets can get you in the door if you want to claw your eyes out in Yankee Stadium rather than at home.
By

David Phelps will return to the Yankees as a reliever when healthy, Joe Girardi confirmed. Phelps is currently working his way back from elbow inflammation and is two or three weeks from being activated off the disabled list, assuming no setbacks. Whatevs. · (11) ·
By

10:52pm: Beltran is day-to-day after receiving a cortisone shot in his elbow, according to Joe Girardi. He won't play tomorrow but could be in the lineup on Friday.

3:59pm: Carlos Beltran is heading to see the doctor after feeling pain in his right elbow following a swing last night. It's the elbow with the bone spur he's been playing through since May. Beltran felt it during last night's game and it did not improve overnight. Joe Girardi said the team is hopeful he will miss a day or two, but who really knows. I guess we'll find out soon enough. · (157) ·
Triple-A Scranton (11-2 loss to Syracuse)
CF Jose Pirela: 1-3, 1 RBI
2B Rob Refsnyder, RF Zoilo Almonte & 1B Kyle Roller: all 0-4 — Refsnyder and Zoilo each struck out once
3B Scott Sizemore: 1-4, 1 K, 1 E (fielding)
C Austin Romine: 0-3, 2 K – 0-for-7 with four strikeouts since being sent down, which will happen after you sat around doing nothing for eight days
RHP Bryan Mitchell: 4.2 IP, 7 H, 8 R, 8 ER, 2 BB, 4 K, 1 WP, 6/4 GB/FB — 48 of 81 pitches were strikes (59%)
SwP Pat Venditte: 2.1 IP, 1 H, 0 R, 0 ER, 1 BB, 1 K, 1 WP, 1/3 GB/FB – 22 of 35 pitches were strikes (63%)
LHP Tyler Webb: 0.2 IP, 3 H, 2 R, 1 ER, 1 BB, 1 K, 1/0 GB/FB — 24 of 37 pitches were strikes (65%) … rough
RHP Branden Pinder: 1.1 IP, 2 H, 1 R, 1 ER, 0 BB, 1 K, 0/1 GB/FB — 11 of 19 pitches were strikes (58%)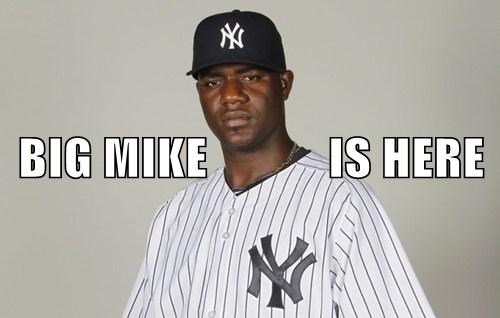 For the first time since April 16th, 109 games ago, Michael Pineda will start for the Yankees in Yankee Stadium. He last start before hurting his back/shoulder came in Fenway Park and his first start off the disabled list came in Camden Yards. This will be his third career start in the Bronx. He's only been a Yankee for 2.765 seasons, but who's counting? Here is the Astros lineup and here is the Yankees lineup:
It's a little cloudy in New York but there is no rain in the forecast, so that's good. Tonight's game is scheduled to start a little after 7pm ET and you can watch live on YES. Enjoy.