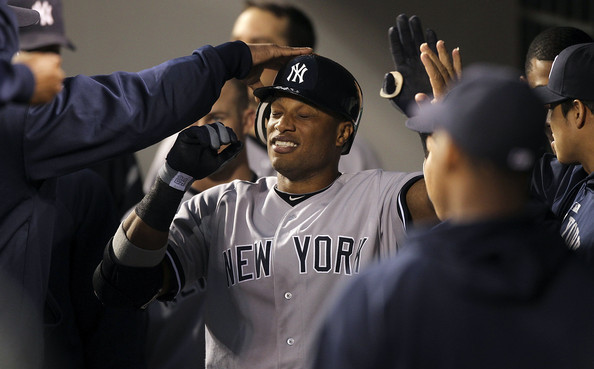 Now that we're into October, it's time for another edition of our MLBTR Archives series. I forgot to do this earlier in the month, so my bad for the tardiness. Anyway, the entire point of his monthly series is to look back at trade and free agent rumors from five years ago to see how silly (or genius!) it all sounds now. What good are rumors if you only read them once?
The Yankees finished the 2011 season with a 97-65 record and a +210 run differential despite serious rotation concerns. Bartolo Colon and Freddy Garcia really bailed them out. Only the Phillies (102-60) had a better regular season record than New York. Unfortunately, the Yankees didn't last long in the postseason. The Tigers beat them in five games in the ALDS. That stunk. Let's get to the October 2011 rumors.
October 1st, 2011: Quick Hits: Pettitte, Granderson, Alomar Jr.
Former Yankees lefty Andy Pettitte is enjoying retirement is highly unlikely to return to pitching, according to Joel Sherman of the New York Post. "I feel the desire [to play] is gone," Pettitte said. "I am retired. I would never say never, but God would literally have to give me desire again… I'm really doing good. I just had a good peace about [retiring]."
Hah. Little did we know that a few months later Pettitte would come out of retirement to join the Yankees not only for 2012, but 2013 as well. I never in a million years expected Pettitte to un-retire — I know people talk about it all the time, but it rarely actually happens — but I'm glad he did. He was pretty awesome after coming back. The first round of "will he or won't he retire" talk during the 2010-11 offseason was the worst though. It never ended.
October 7th, 2011: Yankees Notes: Sabathia, Posada, Cashman
Joel Sherman of the New York Post suspects that the Yankees will wait, instead of extending Robinson Cano and Curtis Granderson this offseason. Both players are eligible for free agency after 2013 (assuming New York exercises Cano's two options).
This was back when the Yankees had that "no extensions" policy that accomplished … I'm not sure what, exactly. Thankfully that is no more. Extending Cano back then would have been a smart move because he was an excellent homegrown Yankee at a hard-to-fill position — there's no reason to think Robbie would have entertained an extension offer at that time anyway — and those guys are worth locking up.
Granderson was a different matter. He had a monster 2011 season, hitting .262/.364/.552 (146 wRC+) with 41 homers and 25 steals. Granderson finished fourth in the AL MVP voting and Cano finished sixth. That was also Granderson's first season with that kind of production, so it was fair to wonder whether he'd do it again. The Yankees had him signed for another two years and could afford to be patient. Granderson had another year like that in 2012 but no extension came. Alas.
October 7th. 2011: Eric Chavez "Leaning Heavily Towards Retirement"
Veteran third baseman Eric Chavez is considering retirement, according to Joel Sherman of the New York Post (Twitter link).  Chavez, 33, is "leaning heavily towards" hanging up his cleats after 14 Major League seasons. 
The Yankees brought Chavez to camp as a non-roster player in 2011 and he wound up making the team as a bench player. He was okay that year, hitting .263/.320/.356 (80 wRC+) while playing the corner infield and missing time with a foot injury. Not great, not awful. Chavez did not retire that offseason, so the Yankees brought him back, and he rewarded them with an incredible 2012 season. He hit .281/.348/.496 (126 wRC+) with 16 homers that year. Pretty awesome. Chavez played another two years with the Diamondbacks after that, so he wasn't close to retiring this offseason.
October 9th, 2011: Quick Hits: Payrolls, Jay, Wilson, Epstein
Some people think that C.J. Wilson has keen interest as a free agent in New York, tweets Jon Heyman of Sports Illustrated.  He adds that the Yankees are probably the early favorite to sign him.
At the time, Wilson was very desirable as a free agent. The Rangers moved him into the rotation in 2010, and from 2010-11 he had a 3.14 ERA (3.39 FIP) in 427.1 innings. That's really good! Wilson walked a few too many (9.5%), but he missed bats (21.3%) and got grounders (49.2%), plus he didn't have nearly as many miles on his arm as most 30-year-old starters because he spent so much time as a reliever.
Alas, the Yankees didn't sign Wilson, and that was for the best. He actually took less money from the Angels than the Marlins because he thought they were closer to winning. Wilson had a 3.87 ERA (3.95 FIP) in 722.1 innings with the Halos during his five-year, $75M contract. That's not awful, but it's not what the team was expecting. Wilson hasn't pitched since July 2015 due to ongoing elbow and shoulder woes. The Yankees were never seriously in the mix to sign him during the 2011-12 offseason.
October 10th, 2011: AL East Links: Red Sox, Jays, Yanks, Sabathia, O's
Unsurprisingly, the Yankees are looking for starting pitching and left-handed relievers, tweets Heyman. Our free agent list shows a number of attractive lefty relief options.
The Yankees did indeed get starting pitching that offseason — that was the Michael Pineda trade/Hiroki Kuroda signing offseason — but they took the "let's bring in a bunch of guys and hope they work out" approach to the lefty relief market. The Yankees added three southpaws that winter: Cesar Cabral, Hideki Okajima (!), and Clay Rapada. Cabral, a Rule 5 Draft, hurt his elbow in Spring Training. Okajima failed his physical and never officially signed with the Yankees.
Rapada? He was nails in 2012. Had a 2.82 ERA (3.20 FIP) overall and held lefties to a .183/.263/.255 batting line with 28.7% strikeouts. Pretty awesome. Rapada and Boone Logan were a very nice left-on-left matchup tandem during that 2012 season. Unfortunately, Rapada got hurt during Spring Training in 2013 and didn't pitch a whole lot after that. He pitched for the Philippines in the World Baseball Classic qualifier this past February, then retired.
October 11th, 2011: Raul Valdes, Scott Proctor Elect Free Agency
Relievers Raul Valdes and Scott Proctor have elected free agency, the Yankees announced today (Bryan Hoch of MLB.com tweeted the news).  Having lost Aaron Laffey as well, the Yankees' 40-man roster now stands at 37.
Like this offseason, the Yankees got a head start on their 40-man roster cleanup during the 2011-12 offseason. Valdes and Proctor were late-season bullpen depth pickups not unlike Blake Parker and Tommy Layne. I'll never forget Joe Girardi letting Proctor wear it in Game 162 in Tampa that year. That was the year the Red Sox collapsed and the Rays made the postseason on the final day of the season. Girardi brought Proctor in to pitch extra innings that game and you could tell he was in there until the game ended, one way or the other. He threw 2.2 innings and 56 pitches that game. Proctor spent 2012 in Korea and that was pretty much it for his career.
October 12th, 2011: Front Office Notes: Orioles, Yankees, Angels
The Yankees have granted the Angels permission to interview both Billy Eppler and Damon Oppenheimer for their vacant general manager job, tweets Mark Feinsand of the New York Daily News.
The Angels wound up hiring Jerry Dipoto to be their new GM that offseason, and Eppler was actually the runner-up. Oppenheimer was eliminated from contention earlier in the process. Dipoto resigned last summer — when was the last time a GM resigned? geez — and eventually the Halos hired Eppler as their new GM, partly because they were so impressed during his initial interview in 2011.
October 13th, 2011: David Ortiz Talks Yankees, Red Sox
David Ortiz recently hinted that the offseason could get even more tumultuous for the Red Sox. The designated hitter, who will be eligible for free agency after the World Series, suggested to ESPN's Colleen Dominguez that he would fit into the Yankees' culture.

"It's great from what I hear," he said. "It's a good situation to be involved in. Who doesn't want to be involved in a great situation where everything goes the right way?"

Ortiz says there's "too much drama" in Boston these days and acknowledged that he's thinking about moving on. "I don't know if I want to be part of this drama for next year."
This was so obviously an attempt to create leverage during contract talks with the Red So that the "Ortiz to the Yankees???" stuff never picked up steam that offseason. Yeah, the Red Sox collapsed hilariously in 2011, but no one actually expected him to leave. The Yankees needed the DH spot for Alex Rodriguez and other veterans, plus Jesus Montero was locked into a roster spot at the time, so signing another DH wasn't a priority, even one as good as Ortiz. He eventually re-signed with the Red Sox to the surprise of absolutely no one. This was like when Mariano Rivera said he was open to signing with Boston during the 2010-11 offseason. Yeah, sure. Like that was going to happen.
October 19th, 2011: Yankees To Decline Damaso Marte's Option
The Yankees will announce that they're declining their 2012 option for Damaso Marte, according to Mark Hale of the New York Post (on Twitter). The left-hander missed the entire 2011 season after undergoing shoulder surgery last October. He'll get a $250K buyout instead of a $4MM salary for 2012.
That's World Series hero Damaso Marte to you. The Yankees declined Marte's $6M option for 2009 and instead gave him a three-year deal worth $12M. He had a 6.39 ERA (5.41 FIP) in 31 innings during the life of the contract and didn't pitch at all in 2011 due to injuries. But! …
You're cool with me, Damaso.
October 19th, 2011: Yankees Notes: Kuroda, Darvish, Sabathia, Nova
Rafael Soriano will not opt out of the two years and $25MM remaining on his contract, though there's nothing official yet, according to Marchand.
I don't know about you, but I was shocked a pitcher who missed half the season with elbow trouble and had a 4.12 ERA (3.97 FIP) when he did pitch didn't walk away from a guaranteed $25M.
October 20th, 2011: Yankees Notes: Sabathia, Swisher, Blake, Soriano
The Yankees are "very likely" to pick up Nick Swisher's $10.25MM option for 2012, reports ESPN New York's Wallace Matthews, though they may wait "until the very last minute" (i.e. three days after the World Series) to do so.
I didn't understand the "the Yankees might decline Swisher's option!" talk that was going around after the Yankees were eliminated in the 2011 ALDS. Switch-hitters coming off a .260/.374/.449 (124 wRC+) season with 23 homers are a dime a dozen, I guess. No need to keep that guy for $10.25M. What a weird talking point that was. The option was a no-brainer and of course the Yankees picked it up.
October 21st, 2011: Heyman on Friedman, Darvish, Yankees
Free agent starter Freddy Garcia is popular with the Yankees' front office and could return in 2012. The right-hander barely qualifies as a Type B free agent, according to our rankings.
The good ol' Type-A/B free agent system. Garcia did qualify as a Type-B, meaning the Yankees would have received a supplemental first round pick had he signed elsewhere. It would have been, like, 55th overall. Somewhere in that neighborhood. Instead, the Yankees re-signed Garcia to a one-year deal worth $4M. There's no such thing as too much pitching depth, right? Sweaty Freddy was good in 2011 (3.62 ERA and 4.12 FIP) and not so good in 2012 (5.20 ERA and 4.68 FIP). So it goes.
October 24th, 2011: Quick Hits: Yankees, Pirates, Moyer, Oswalt
The Pirates have prioritized catching help this offseason and the Yankees would "definitely" trade Francisco Cervelli in the right deal, according to Sherman. The Pirates may not view Cervelli as a starter, however.
The seeds were planted early. In fact, Brian Cashman said he originally proposed Cervelli for Justin Wilson back in 2012, but the Pirates said no. It wasn't until November 2014 that they went through with that trade. Anyway, Cervelli missed most of 2011 due to injuries and the Yankees stashed him in Triple-A for all of 2012. His value was at an all-time low at the time.
October 27th, 2011: Boras Kidding About Reworking Cano's Contract
6:32pm: Boras was just joking about a new contract for Cano, the agent tells George A. King III.  "Cash [Brian Cashman] and I have talked three or four times in the last three days. My statements were in jest. Cash always returns my phone calls," Boras said. "My conversations with Cash about Robinson have nothing to do with the options. We fully expect the options to be exercised."

9:57am: Agent Scott Boras phoned Yankees GM Brian Cashman to discuss the possibility of re-working Robinson Cano's contract, according to George A. King III of the New York Post. Boras says he's hoping to remove the 2012 and 2013 options on the second baseman's deal and work out a new contract.

"I called Cash to ask about dropping the options and he hasn't returned the call," Boras told King.
Oh that silly Scott Boras. I have a hard time thinking Boras would have seriously discussed a contract extension that offseason, not unless the Yankees talked Mariners money. He was fully intent on getting Cano out on the open market and breaking the bank. And he did.
October 31st, 2011: Yankees, CC Sabathia Agree To Extension
CC Sabathia has agreed to a precedent-setting contract that will keep him in pinstripes and off of the free agent market. The 31-year-old left-hander announced on his Twitter account and on Zoodig.com that he has agreed to a new deal with the Yankees. 
Sabathia's opt-out was, by far, the biggest story of the 2011-12 offseason — really the entire 2011 season, for that matter — and it was over quick. The Yankees and Sabathia agreed to an extension minutes before the opt-out deadline. He got to say he never did opt-out while still leveraging it into more money. Here's the video in which Sabathia announced the extension:
All things considered, the opt-out situation could have been much worse. The Yankees tacked one additional year and $30M in guaranteed money on top of the four years and $92M left on his original contract. The extension also included the vesting option that covers next season. There was talk of adding two or three more guaranteed years to his contract.
Sabathia had a phenomenal season in 2011 (3.00 ERA and 2.88 FIP) and letting him walk was not something anyone wanted. The extension hasn't really worked out as hoped — Sabathia had a great year in 2012, stunk from 2013-15, then rebounded nicely in 2016 — but I still love the big guy. Huge money contracts can work out worse.