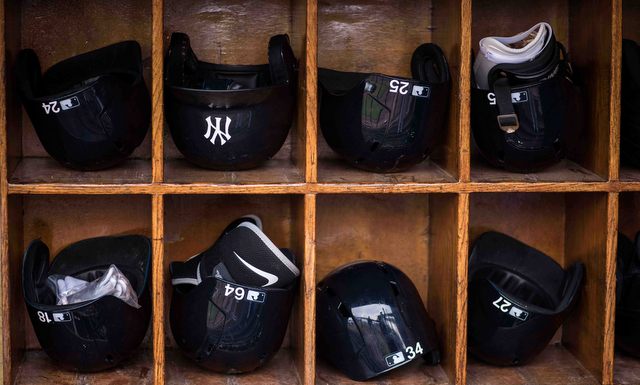 One week from today, the Yankees will play their final exhibition game of the spring. We can finally see the light at the end of the Spring Training tunnel. These games are fun in their own way, but the novelty has more or less worn off at this point, and I'm ready for meaningful games. Soon.
The Yankees made the quick half-hour ride up to Dunedin to play the Blue Jays this afternoon. I'm not sure there is anything in particular to watch this game — Rob Refsnyder's play at third is worth monitoring, especially since he seems to be getting exposed of late — and that's probably a good thing at this point of the spring. Here is the Blue Jays' lineup and here is the Yankees' lineup:
CF Aaron Hicks
3B Rob Refsnyder
SS Pete Kozma
LF Cesar Puello
RHP Bryan Mitchell
Available Pitchers: RHP Anthony Swarzak and RHP Branden Pinder are scheduled to pitch. RHP Gio Gallegos, RHP Jonathan Holder, RHP Conor Mullee, RHP Matt Marsh, RHP Alex Smith, and LHP Caleb Smith are up from minor league camp and on the trip as well.
Available Position Players: C Carlos Corporan, 1B Deibinson Romero, LF Chris Parmelee, CF Lane Adams, RF Juan Silva, and DH Eddy Rodriguez will come off the bench. C Kyle Higashioka, IF Vicente Conde, IF Cito Culver, and IF Jose Rosario are on the trip too.
It is cloudy with temperatures in the low-80s in Dunedin, and there are some thunderstorms in the forecast. Doesn't look like it'll be anything long-lasting though. Maybe just a quick shower. We'll see. There is no YES or MLB Network broadcast for this afternoon's game. If you're in the Blue Jays' home market, which I'm pretty sure is all of Canada, you can watch on Sportsnet. Otherwise MLB.tv is your only option. Enjoy the game.