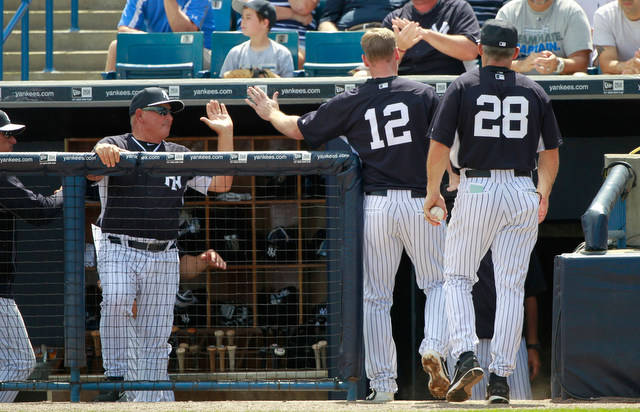 The competition for the sixth starter's spot continues today. Well, consider it jockeying for position on the depth chart more than an outright competition. Both Chase Whitley and Esmil Rogers are scheduled to pitch today, and they're in the extra starter race alongside Adam Warren and Bryan Mitchell, most notably. All of those guys want to put themselves in position to be the first guy thrust into the rotation when a sixth starter is inevitably needed.
The Yankees are making the hour or so trip down to Sarasota to play the Orioles this afternoon. New York has won five of their last six Grapefruit League games, you know. (Woo!) The O's are playing eight-ninths of their projected Opening Day lineup this afternoon — here's their lineup card — though starting catcher Matt Wieters is in at DH. He's coming back from Tommy John surgery.
Today's reason to watch: Following his last start, Rogers told reporters he spoke to Mariano Rivera about the importance of location, and reportedly he hit his spots very well in his first spring outing. Let's see if that carries over. Rogers has good stuff but not good command. Even average command would be a big help for him going forward. A healthy dose of young bullpen prospects are scheduled to follow Whitley/Rogers as well. Oh, and Aaron Judge is playing. That's always fun.
Here is this afternoon's starting lineup:
CF Chris Young
DH Jose Pirela
2B Stephen Drew
RF Aaron Judge
LF Ramon Flores
RHP Chase Whitley
Available Position Players: C Gary Sanchez, 1B Kyle Roller, 2B Rob Refsnyder, SS Cole Figueroa, 3B Jonathan Galvez, LF Jake Cave, CF Mason Williams, and RF Slade Heathcott will come off the bench as the second string. C Trent Garrison, C Eddy Rodriguez, and SS Cito Culver drew the short straws and had to make the trip even though they aren't scheduled to play.
Available Pitchers: LHP Chasen Shreve, RHP Jose Ramirez, LHP Jacob Lindgren, RHP Branden Pinder, and RHP Nick Goody are all listed as scheduled to pitch after Whitley and Rogers. RHP Nick Rumbelow, LHP James Pazos, and RHP Danny Burawa are the extra arms.
The spring of great weather continues — it's sunny with only a few clouds in Sarasota and the temperature is up in the mid-to-high-80s. This afternoon's game is set to begin just after 1pm ET, and, if you're in the Baltimore area, you can watch on MASN. If not, you're stuck watching on MLB.tv. (There are no MLB.tv blackouts in the Yankees' market.) The game will be replayed on MLB Network later tonight tomorrow morning. Enjoy.