Eight. Eight wins in a row. Ah ah ah. The Yankees kept rolling Monday night with a 7-4 win over the White Sox at Yankee Stadium. The eight-game winning streak is their longest since a ten-gamer in June 2012. This team is fun, is it not? As of this writing, the Yankees lead MLB with a +23 run differential.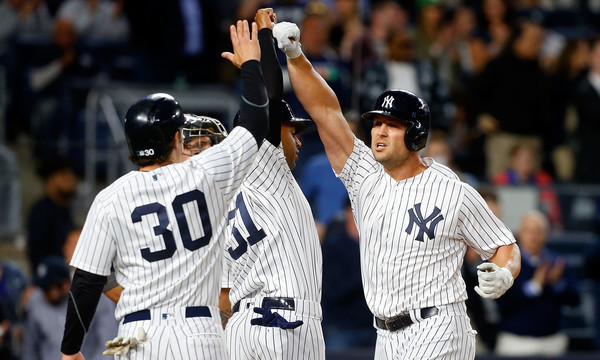 Five Runs In Five Minutes
No, I didn't actually time that third inning, but the rally sure seemed to come together quick. The score went from 0-0 to 5-0 Yankees in a heartbeat. It all started with a Pete Kozma single too. How about that? It was an infield single literally off left-hander Derek Holland. I'm pretty sure it got him on the bottom of the cleat. The trainer didn't even come out to look at him. The single gave the Yankees a runner on first with one out.
Jacoby Ellsbury followed that with an infield single of his own, though that one was generously scored. He hit a soft tapper to first base and Jose Abreu bobbled it, allowing Ellsbury to beat it out. Abreu had plenty of time to get the out at first had he fielded it cleanly, but alas. Somehow it was ruled a single and not an error. Hooray for hometown scoring. Aaron Hicks followed that by hitting what looked like an inning-ending double play to shortstop Tim Anderson, but the turn was a little slow and Ellsbury slid in hard (and cleanly) to break it up. You don't see many takeout slides these days.
Ellsbury's slide kept the inning alive for Matt Holliday, who missed the previous two games with back stiffness and had gone 2-for-15 (.133) in his previous four starts prior to that. He worked a 2-2 count and Holland did execute his put-away pitch — he climbed the ladder and tried to get Holliday to chase a 93.8 mph fastball up and out of the zone (strike zone plot). Holliday just went up and got it. He tomahawked the ball out to left field for a three-run home run:
Distance: 459 feet. Exit velocity: OMG. Launch angle: LOL. That was the second longest home run in baseball so far this season. (Carlos Gomez hit one 462 feet on Opening Day.) Holliday is not not strong. That dude is every bit of his listed 6-foot-4 and 240 lbs., and he's solid as a rock. It's easy to see where that 459 feet dinger came from.
But wait! The Yankees did not stop there. They pushed across two more runs in the inning on back-to-back doubles by Starlin Castro and Chase Headley, and an infield single by Aaron Judge. Castro's double was into the left-center field gap. Headley's was down the left field line, and Melky Cabrera misplayed the carom off the wall, allowing Headley to get to third base. Judge yanked a hard-hit grounder deep into the shortstop hole and was able to beat Anderson's throw, allowing Headley to score. Look at the big man showing some wheels. There were ten pitches between the Holliday homer and the Judge infield single. Like I said, it happened fast. Love this team, you guys.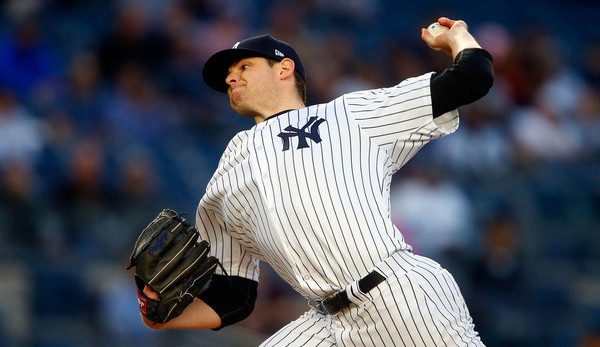 The Full Monty
Three runs in six innings does not do Jordan Montgomery nearly enough justice. He took the shutout into the seventh inning before two singles and a three-home run homer uglified his pitching line. That's a shame. For the first six innings, Montgomery battled and pitched out of some jams, including runners at second and third with one out in the first and runners at first and second with one out in the sixth.
Montgomery escaped that first inning jam by getting a ground ball right at Headley — the runner at third had to hold — and a harmless fly ball to center field. After that, he settled down and retired 15 of the next 19 batters he faced. Two of the four baserunners he did allow during that stretch were immediately erased on ground ball double plays. After throwing 35 pitches in the first two innings, Montgomery needed only 44 to get through the next four innings. Once the Yankees took the lead in the third inning, he really starting pounding the strike zone.
The three-run home run obviously stinks, though with a seven-run lead and his pitch count at 79, I had no trouble with Joe Girardi sending Montgomery out for the seventh. Let the kid learn how to pitch deep into the game and go through the lineup three times. It was a learning experience. All told, three runs on seven hits and two walks in six innings is fine work by the rookie, especially since three of those hits came from the last thee batters he faced.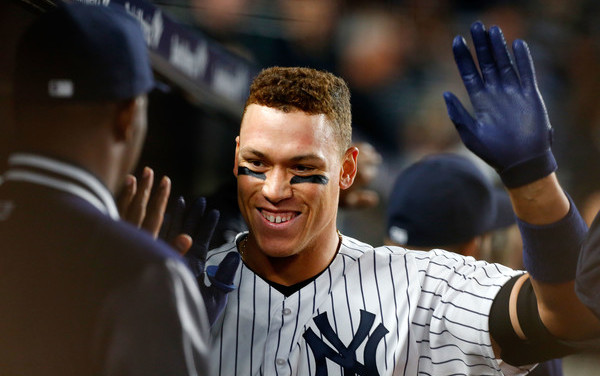 Leftovers
Judge knocked Holland out of the game with two-run home run into the visitor's bullpen with two outs in the fifth. It was a rather pedestrian shot by Judge's standards — it traveled 385 feet off the bat. That's what happens when Judge doesn't really get a hold of one. The two-run shot gave the Yankees a 7-0 lead. They did not have another baserunner the rest of the night. The final ten men they sent to the plate made outs.
Ten hits for the offense overall, including two each by Ellsbury and Judge, and three by Castro. Castro went 3-for-4 with two doubles to raise his season batting line to .365/.389/.538 (165 wRC+). He got off to an insanely hot start last year too, but by Game 13, his batting line was down to .280/.333/.480 (118 wRC+). What if Starlin is good now? Headley, meanwhile, went 1-for-4 with a double to drop his batting line down to .395/.509/.605 (219 wRC+). Is that good? That seems good.
Adam Warren's hidden perfect game/no-hitter bid is over. He replaced Montgomery in the seventh and recorded two quick outs before walking a batter. Warren had retired the first 22 batters he faced this season prior to that. He then allowed a bloop single to the leadoff hitter in the eighth. He'd thrown 7.2 no-hit innings to start the season prior to that. So close, Adam. So close. Time to start another streak.
A single and a double scored the White Sox's fourth run of the night and knocked Warren out of the game with one out in the ninth inning. Aroldis Chapman, who has now warmed up or pitched five times in the last six days, threw two pitches and managed to give up a hit and get two outs. Dellin Betances warmed up in the eighth but didn't pitch. He's also warmed up or pitched five times in the last six days.
Box Score, WPA Graph & Standings
Head on over to ESPN for the box score and MLB.com for the video highlights. ESPN also has the standings. Don't miss our Bullpen Workload page either. That comes in handy from time to time. Here's the ol' win probability graph:

Source: FanGraphs
Up Next
Game two of this three-game series against the White Sox. And hopefully a ninth straight win. Luis Severino and one-time Yankees killer Miguel Gonzalez are the scheduled starting pitchers. RAB Tickets can get you in the door for that game or Wednesday's series finale. The Yankees head out on a six-game road trip through Pittsburgh and Boston after that.