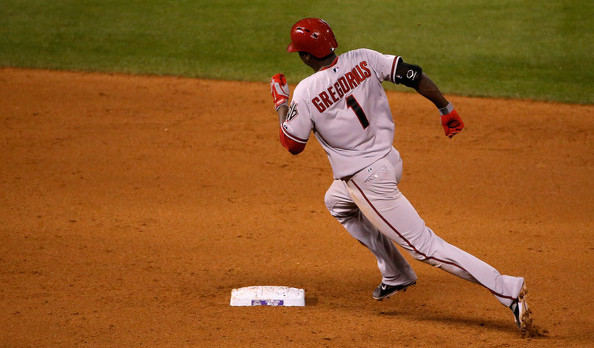 The Yankees finally — and I say "finally" while fully acknowledging it is only December 6th — made some moves yesterday to bring in help for the infield and pitching staff. First they acquired shortstop Didi Gregorius from the Diamondbacks in a three-team trade that sent Shane Greene to the Tigers, then they signed lefty relief ace Andrew Miller to a four-year contract worth $36M. The team still has a lot of work to do to improve the roster but yesterday was a nice first step. Here are some thoughts.
1. I don't have much to say about the Miller signing so I might as well start there. I thought he was going to end up getting $44M or so across four years, so getting him for $36M is pretty neat. He's awesome, four-year contracts for relievers are really risky, blah blah blah, yadda yadda yadda. Don't really have much more to add to that. Nothing you haven't heard already, anyway. I am curious to see how the bullpen roles shake out though, especially if David Robertson doesn't return. It would be awesome if Joe Girardi uses Miller and Dellin Betances as sort of a tandem setup men/closers situation, using them based on matchups in the eighth and ninth (the Braves did something like this with Rafael Soriano and Mike Gonzalez a few years ago), but I think the Yankees are last team in MLB that would try that. Girardi likes using guys in set roles and you know what? Players like having set roles too. If Robertson doesn't come back, I think I'd rather see the Yankees sign a cheap capital-C closer like Jason Grilli or even Soriano so Miller and Betances can raise hell in the seventh and eighth than see them use Miller or Betances to close.
2. If Robertson does leave — I think that's likely at this point — the only players left from the 2009 World Series team will be CC Sabathia, Mark Teixeira, Brett Gardner, and Alex Rodriguez. That's it. Gardner and A-Rod will be the only players left on the team who played in the old Yankee Stadium too. The times, man. They are a changin'.
3. As for Gregorius, I am pretty tired of the defense-first profile, but it was unavoidable at shortstop. There was very little chance the Yankees were going to acquire a shortstop who significantly improved the team's offense this offseason. It just wasn't going to happen, the players weren't available for it to happen. Gregorius can catch the ball and he might learn to hit down the road, which makes him like most other 24-year-old shortstops. The guys who can field and already know how to hit at that age cost way more than Greene to acquire. I'm just glad they were able to plug the shortstop hole with a young player. They really needed that. The Yankees need to start adding more young building blocks to the roster and Gregorius might be one of those guys. Stephen Drew on a one-year contract would have been fine as a stopgap, but this is much more preferable. New York has to stick with Gregorius all year next year, ride out the slumps, not platoon him with Brendan Ryan, and see what happens. Gregorius is more of a long-term asset than someone who will have an immediate impact.
4. The rotation now without Greene is very thin. Three of the team's top five in innings pitched as a starter from this past season (Hiroki Kuroda, Brandon McCarthy, Greene) are no longer on the roster and the two that remain (Masahiro Tanaka, David Phelps) will head into next year with injury concerns. As of right now, the rotation is Tanaka, Phelps, Sabathia, Michael Pineda, and I guess Bryan Mitchell in whatever order. The Yankees don't need a starter, they need starters. Plural. One Jon Lester or Max Scherzer won't solve their problems. They'll help, but one of those guys alone isn't enough. I think they need at least two starters — I like Phelps much more in the swingman/sixth starter's spot — and I'd prefer three because the odds are pretty high someone won't make it through Spring Training in one piece, either Tanaka (elbow) or Sabathia (knee) or whoever. The Yankees do have Ivan Nova due to return from Tommy John surgery around midseason — no earlier than May based on when he actually had surgery — but counting on him to come back and boost the rotation in the second half probably isn't a great idea. Getting another bat is very important. Getting more help for the rotation is somehow now even more important.
5. The good news: there is still plenty of pitching left on the free agent market. The only starter to sign so far is A.J. Burnett, who was either going to go back to the Pirates or retire, so he doesn't really count. The Yankees continue to insist they won't be in on Lester or Scherzer, at least depending on which reporter you want to believe, but there are plenty of second and third tier options they could explore. Brandon McCarthy is the most notable, and others like Jason Hammel, Francisco Liriano (qualified), Justin Masterson, and Ervin Santana (qualified) all make some sense for the New York depending on the price. The Padres, Reds, Athletics, and Mets are among the clubs said to be open to trading pitching this winter. The arms are out there. The Yankees just have to find the best ones for them, and I'm pretty confident they'll do that given the way they cobbled together the rotation around all those injuries this summer. I'm not saying it'll easy. Just that digging up adequate pitching is doable right now given the market.