Not dead yet! The Yankees, with an assist from the Blue Jays (groan), avoided elimination from postseason contention Tuesday night with a 6-4 win over the Red Sox in the series opener. Five games left in the season and this team still hasn't been eliminated. Pretty wild.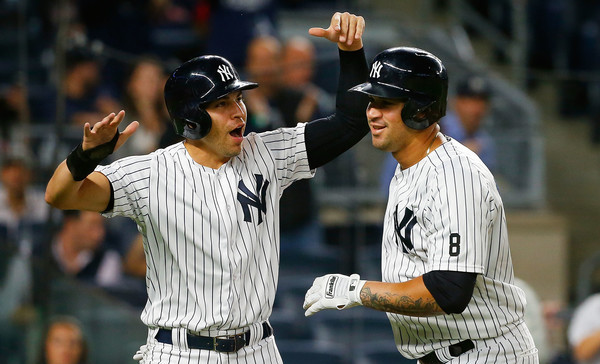 Kid No. 1
The Yankees were led by four young players Tuesday night. Young players they hope will be part of the next great Yankees team. Right at the front of the line is, of course, catcher Gary Sanchez, who smacked his 20th home run of the season in the first inning. He jumped on David Price's first pitch fastball for a two-run home run into the Red Sox's bullpen for a quick 2-0 lead. Sanchez has four homers in eight career games against Boston. He's a Red Sox killer already. Love it.
Kid No. 2
I don't know about you folks, but boy do I like what I've seen from Luis Cessa since he moved into the rotation. He held the Red Sox to two runs in six innings overall Tuesday night, and he started the game with five scoreless innings on only 56 pitches. There were some just misses mixed in there — the Red Sox hit a few balls I thought had a chance to get out, but ultimately stayed in the park — but hey, five scoreless innings is five scoreless innings.
The messy sixth inning started after Cessa appeared to hurt his back during his warmup tosses. He made his eight warmup pitches, then flexed his back, which prompted a visit from the trainer. Cessa stayed in the game and didn't even throw any test pitches. The Yankees were up 3-0 at the time, and that sixth inning started with an error — Cessa threw away a soft ground ball, allowing Andrew Benintendi to go to second — and two base hits to score a run and put runners on second and third.
Suddenly that 3-0 lead was very much in jeopardy. It was now 3-1 with the tying run on second, and of course David Ortiz was due up. Given Cessa's home run problems and five innings worth of near misses, everyone expected Ortiz to put a ball into orbit. Instead, Cessa struck him out for the first out of the inning and his first strikeout of the game. Well timed, I'd say. Mookie Betts drove in a run with a ground out, then Cessa fanned Hanley Ramirez to preserve the 3-2 lead.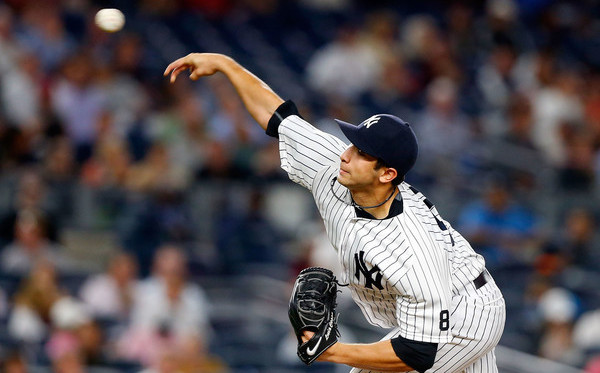 The final line: 6 IP, 5 H, 2 R, 2 ER, 1 BB, 2 K. Not too shabby for a rookie making his eighth career start, especially against a great hitting team that had just seen him two weeks ago. Cessa now has a 3.72 ERA in 46 innings as a starter this season. The home runs are a problem — this was only his second homer-less start — but I like everything else I've seen. Cessa throws four pitches, works quick, and showed some real gumption to escape that sixth inning jam with the lead.
Kid No. 3
Kid No. 3 isn't a rookie, but he's a young player who is important to the Yankees long-term. It's Didi Gregorius. A half-inning after Cessa escaped that sixth inning with a 3-2 lead, Gregorius swatted his 20th home run of the season to give the Yankees another multi-run lead. It was a line drive into the short porch against Price. I have to say, getting 20 homers from a very good defensive shortstop is pretty awesome. Especially since he's only 26 years old. Heck of a season for Didi.
Kid No. 4
Because these games are never easy, the Red Sox rallied to tie the game 4-4 in the seventh inning. Aaron Hill hit a solo home run against Tommy Layne, then later in the inning Dustin Pedroia poked a run-scoring single inside the first base bag to bring home the tying run. I'm not quite sure why Layne was facing Pedroia in that spot, especially with Blake Parker ready to go in the bullpen, but he faced him and it led to the tying run. Blah.
Luckily Tyler Austin came through in the next half-inning. Austin Romine opened the frame with a single to left — I was pretty surprised Eric Young Jr. didn't pinch-run — then Price tried to get cute and blow Austin away with fastballs. The first was fouled off, the second was swung through for an 0-2 count, and the third was inside-outed into the right field seats for a two-run home run. The Yankees retook the lead, this time 6-4.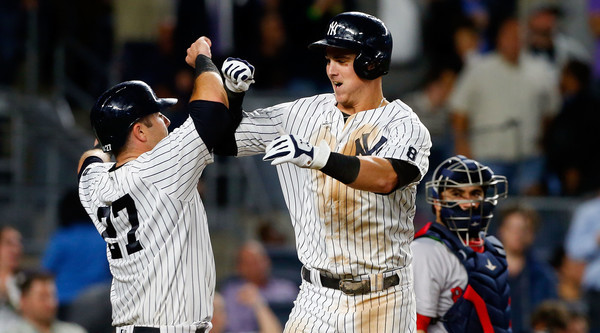 Austin has hit four home runs this season and all four have a) given the Yankees the lead, and b) been opposite field jobs at Yankee Stadium. His right field pop is very real. Austin has been glued to the bench for the last two weeks or so, but he got a chance Tuesday night, and he came through with yet another important home run. That must have felt good. The kids did some nice work against the Red Sox on Tuesday.
The B-Team Bullpen
Luis Severino's short start Monday night meant the Yankees went into Tuesday's game with limited reliever availability. That's why Layne, Parker, and Richard Bleier had to bridge the two-inning gap between Cessa and Tyler Clippard, the closer du jour. Those three guys each got two outs. Bleier got Chris Young to ground out to third and Jackie Bradley Jr. to strike out in the eighth, both while representing the tying run. He's done some nice work this month.
Clippard came in for the ninth inning with the Yankees up 6-4, and again, these games are never easy, so of course Benintendi doubled to right with one out to bring the tying run to the plate. Clippard then walked Pedroia to put the tying run on base. Sure. Fine. Great. Clippard got Xander Bogaerts to pop up on the first pitch for the second out inning, which brought Ortiz to the plate as the go ahead run. Drama at the ballpark.
Ortiz at the plate in the ninth inning representing the go-ahead run meant we were all about to have our hearts broken. Especially with Clippard on the mound. He's served up some pretty crushing home runs lately. The Red Sox buried the Yankees in Fenway Park two weeks ago and it was about to happen again. A weird thing happened though. Clippard struck Ortiz out to end the game. Who'd a thunk it? Here's the at-bat:
One fastball the entire at-bat, and it was way up and out of the zone. Clippard threw Ortiz a steady diet of changeups — PitchFX classified some of his changeups as a splitter for whatever reason, though it's functionally the same pitch — and got him to swing through a mistake pitch up and out of the zone for strike three. Ortiz swung at four ball. How about that? No soul-crushing home run would come on this night. Hooray for that.
Leftovers
The Yankees had 13 hits as a team, including three each by Gregorius and Austin, and two each by Ellsbury and Romine. The 6-7-8-9 hitters went a combined 8-for-15 (.533) with four runs scored and three runs driven in. Always nice to get that kind of production from the bottom of the lineup. Especially from Austin after he was stuck on the bench.
This was Price's fifth start against the Yankees this season, and the third time he allowed six runs. He allowed five runs in another start, and in the other one, he allowed three runs on eleven hits in 5.2 innings. All told, the Yankees scored 26 runs on 47 hits and six walks in 29.2 innings against Price this season. That's the good stuff right there.
There was a pretty silly moment in the stands in the fourth inning. Some guy proposed to his girlfriend on the scoreboard, and he managed to drop the damn ring when he was about to pop the question. Other fans in the section and security guards spent an inning looking for it. They eventually found it and the guy made a proper proposal. Check it out:
If nothing else, those two have a pretty great engagement story. That had to be embarrassing and terrifying, and also a giant relief once they found the ring. Hope the couple has a happy life together.
And finally, the Blue Jays beat the Orioles, which means the Yankees are now only four games back of the second wildcard spot. Their tragic number remains two. It ain't over yet.
Box Score, WPA Graph & Standings
ESPN has the box score and updated standings, MLB.com has the video highlights, and RAB has Bullpen Workload and Announcer Standings pages. Here's the win probability graph, which doesn't accurately reflect the tension of that ninth inning:

Source: FanGraphs
Up Next
Game two of this three-game series. Bryan Mitchell and Clay Buchholz will be on the mound Wednesday night. There are only five games left this season, so head on over to RAB Tickets if you want to catch any of them live at Yankee Stadium.