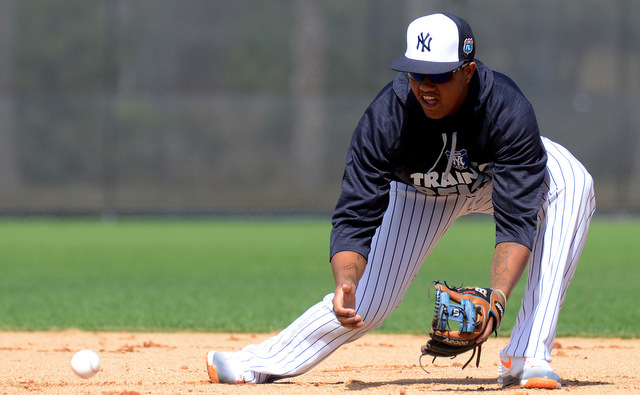 The Starlin Castro at third base experiment is over before it even had a chance to begin. Earlier today Joe Girardi told George King the team won't try Castro at third because they want him to focus on preparing to play second base. "I don't know if that is going to happen. We want to make sure he is comfortable at second," said the skipper.
Castro, 25, moved to second base last August and has only played 258 career innings at the position, so it's not like he's a seasoned veteran there. He hasn't played the hot corner since rookie ball years and years ago, and that was only a handful of games. Castro took ground balls at third during infield drills earlier in camp but he never did appear in a game at the position.
There are reasons to believe Castro can handle third, but letting him focus on second base is a smart move since it'll be his primary position. Asking him to learn third might be too much, too soon. The Yankees could always revisit the plan in the future — in fact, I bet we'll hear about Castro possibly playing third base next spring — but right now it's been shelved.
This decision means the Yankees must use the fourth and final bench spot on a backup third baseman. That's good news for Rob Refsnyder, who has looked good in his limited time at the hot corner and played there again today. Others like Pete Kozma (who also played third today), Donovan Solano, Ronald Torreyes, Jonathan Diaz, and Deibinson Romero are candidates for that bench spot.
The Yankees could still go outside the organization for third base help — there's always a rash of small trades at the end of Spring Training as teams finalize their rosters — but right now it seems very likely the Yankees will carry Refsnyder on their Opening Day roster. The more he plays third base going forward, the better his chances to make the club.