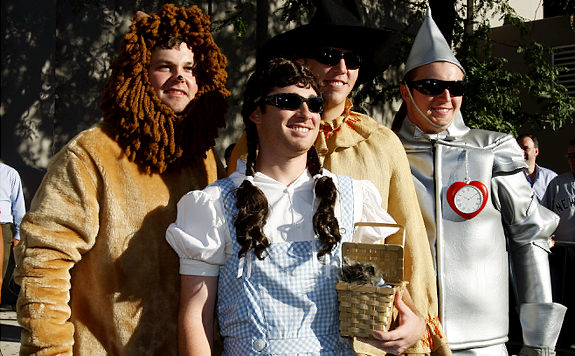 Dan asks: How excited should we be about the Killer B's (Manny Banuelos, Dellin Betances and Andrew Brackman) in comparison to how we were a few years ago with the Big Three (Phil Hughes, Joba Chamberlain and Ian Kennedy)? Also, when can we expect an impact at the major league level?
The first thing we have to remember is that we're talking about a group of very different pitchers here, so it's not exactly an apples to apples comparison. Just speaking in general terms, Brackman, Betances, and Joba are all pure stuff guys. Hughes and Banuelos are a combination of stuff and polish, while Kennedy is all polish. The Killer B's have a higher collective ceiling only because IPK drags down The Big Three, not that he's a bad pitcher or anything.
Another difference is health. Both Brackman and Betances have had major elbow surgery in the not too distance past, but none of The Big Three have gone under the knife. Well, Kennedy did for his aneurysm in 2009, but that was a non-baseball thing, like Banuelos' appendix. Then there's performance. Hughes, Kennedy, and Joba completely smoked the minors, not a single one ran into any kind of rough patch where they struggled for a month or so. Brackman, as well know, sucked in 2009, and Betances had been pretty inconsistent prior to the elbow. The track records are on opposite ends of the spectrum as far as I'm concerned.
If I had to pick between the two group of pitchers at their respective prospect status peaks, I'd take Hughes-Joba-Kennedy eight days a week and twice on Sunday. Hughes and Joba we simply the two best prospects of the six, and at his peak Kennedy was a better prospect than either Brackman or Betances. In terms of hype, which is really what the question boils down to, I don't think there's any doubt that the Big Three were more hyped and anticipated. Like I said, they all destroyed the minors, and that alone is enough to drum up some excitement. And remember, the Yankees were in a very different place a few years ago. The rotation was crap and here we had three young and exciting arms coming to save the day. That adds fuel to the fire as well.
As for when you can expect The Killer B's to make an impact, I think Brackman's the first one to debut, likely as a reliever in the second half of 2011. I suppose if he performs well enough and the Yankees have a need, he could come up as a starter, but there are a few guys ahead of him on the pecking order. Both Betances and Banuelos are 2012 guys at the absolute earliest. Neither has much experience at Double-A, so they still have to clear that hurdle and then deal with Triple-A. Banuelos will probably beat Betances just because he's better and is more advanced as a pitcher, but Dellin has a 40-man roster spot to his name.
Best part of it all? The Yankees have five of these six guys, so no matter who you like best, we all still win. Developing not one, but two trios of pitching prospects like this within four years of each other is rather awesome if you ask me.