By

NoMaas has a clip of CC Sabathia from last night's game, showing the big guy striking out a helpless Ryan Raburn to start the game. I haven't figured out a way to direct link to their post or the video (lame), so make sure you head on over and check it out before it gets buried on the main page. They've also got a clip of David Robertson getting a little towel work in. Check it out. · (8) ·
In their first night game of the exhibition season, the Yanks sent their shiny new $161M toy to the mound to get their first real look at him in action. CC Sabathia was CC Sabathia last night, albeit for only two innings instead of his usual eight or nine. Sabathia allowed two hits – one a bloop double that Shelley Duncan probably should have caught, the other a single through the hole – but surrendered an unearned run thanks to yet another Angel Berroa misplay. He struck out two and induced five groundballs, throwing 20 of his 26 pitches for strikes. It basically went as well as anyone could have hoped for, and he'll look to improve upon tonight's effort when he faces these same Tigers next Wednesday.
Al Aceves pitched very well in relief of CC, giving up just one hit and one walk in 2.2 innings of work, a considerable improvement over his last outing. Steven Jackson gave up a pair of runs in an inning-plus of work, while Jose Veras, Anthony Claggett and David Robertson combined to strike out six in three shut out innings to end the game. Aceves and Jackson each hit ex-Yank Gary Sheffield with a pitch. I'm sure Sheff was livid.
The offensive load was pretty well spread out, with six different players contributing an RBI in the 7-3 win. Handsome Cody Ransom doubled, as did Johnny Damon and a trio of backstops – Jorge Posada, Jose Molina and Jesus Montero. Austin Jackson chipped in a garbage time single while Nick Swisher drew yet another walk (that's five walks in six preseason games for Swish). Ramiro Pena, manning short while Jeter's away at the WBC, went two for two and swiped a bag, perhaps making a case for a bench spot now that A-Rod might be out for a while.
The Bombers have a quick turn around with the Atlanta Braves coming in to Steinbrenner Field for a matinee this afternoon. Chien-Ming Wang will be making his second start of the spring, and the game will be shown live on YES. See you at the game thread later.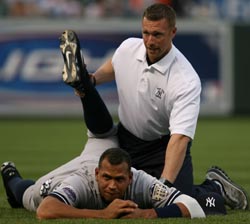 Just yesterday it looked like Alex Rodriguez would be going the rest and rehab route for his ailing hip, avoiding, at least temporarily, the worst case scenario of four-plus months on the shelf with surgery. But tonight, all of a sudden things don't sound so promising. From PeteAbe:
Alex underwent more tests today and supposedly planned to throw and even hit in a cage out in Colorado. Then he will take a day or two to decide what to do, in consultation with the Yankees.

The sense I get from talking to people both in Tampa and elsewhere is that Alex will be having the surgery and it would be as soon as Monday. The Yankees are fearful of his trying to play and then having to come out of the lineup.
The most damning quote came from Joe Girardi, who, when asked if surgery was a possibility, said "That's a determination Alex and the doctors have to make. The organization will continue to discuss it with both parties. But yeah, there is a possibility."It certainly seems that surgery is a much greater possibility today than it was yesterday.
Basically, the advantage of having surgery now is that A-Rod gets a month head start on rehab, which could possibly have him back on the field in June or July, and that the issue is addressed right away. I'm no doctor, but it would seem that playing through the injury could lead to even more damage, something no one wants a part of, obviously. The team will have a month to acquire a stopgap, whether it be a trade or free agent signing, and basically not have to worry if their best player could go down for the season at any moment.
During the chat earlier today I said I was in favor of A-Rod having the surgery now, and I still am. I just think it's best that he gets this entire thing taken care of and behind him as soon as possible. Based on what we heard tonight, it looks like Alex may be leaning that way as well.
Update (11:06pm): This is what I get for writing a post two hours in advance. Brian Cashman said no surgery has been scheduled yet, and as of right now all parties involved are trying to develop a course of action.
Photo Credit: Mitch Stringer/CSM
I'm sure plenty of people are curious to see how the Yanks have fared without A-Rod in the lineup over the last few years, so I looked in it. You are forewarned, it's not pretty:
With A-Rod: 457-312 (.594), 5.81 runs per game
Without A-Rod: 19-22 (.463), 4.46 runs per game
Yikes. On to the think happy thoughts linkage:
Anyway, here's your open thread for the night. CC Sabathia is making his Spring Training debut tonight against the Tigers. Alas, the game is not on television, but you can follow along with the box score here. The only local team in action is the Nets, who are down in Orlando. Anything goes, and since it's Friday, you don't have to be nice.
Yesterday, we discussed who could replace A-Rod if the Yanks' slugger needs surgery. Buster Olney — in a piece discussing Mark Teixeira's new role on the Yanks — has another internal option for the Yanks to consider.
The Yankees have talked internally in the past about how Robinson Cano's best position might be third base in the long term. And it might be that if they determine A-Rod will be out for a long period of time, they could shift Cano from second to third and create another set of options for themselves as they try to replace A-Rod's offense.
Olney also notes that the Yanks have some insurance on A-Rod's contract if Rodriguez is out for an extended period of time.
Anyway, that Cano option is intriguing. The Yanks could shift Robbie to a new position and opt for the slightly easier route of filling the second base hole. Mark Grudzielanek, my choice, and Ray Durham are both still free agents. Tim Dierkes feels that the Yanks could inquire on Dan Uggla too.
Right now, A-Rod will play on — and no, he's not getting traded to the Mariners as Impacto Deportivo is reporting. The Yanks will hope that judicious rest and proper rehab can lead A-Rod to a productive 2009, but if it can't, they have a bunch of options both internally and externally.
By

Chad Jennings has done a stellar job this spring of covering how former Yankee farmhands are doing as they attempt to break camp with other teams. Today, he has up his best recap yet. He e-mailed some top bloggers of other teams to get their assessments of the Yanks' Rule V victims. To sum: Aaron Gleeman thinks Jason Jones is a long shot for the Twins; FishStripes doesn't like Zack Kroenke's chances with the Marlins; U.S.S. Mariner is 50-50 on Reegie Corona; and Ducksnorts likes Ivan Nova's chances in San Diego. Check out the post for more. Great idea and great execution from Jennings. · (15) ·
It's de rigeur for anyone covering the Yankees to write about how different Derek Jeter and Alex Rodriguez are. One is the Yankee Captain. He knows winning. He has intangibles (and a, um, $189 million contract). The other is a paid mercenary who pads his stats and just wants to be the center of attention. He hurts the team and is a pox on New York.
One of those players has his contract coming up for renewal at the end of next year, and while the Yanks probably wish they could dump Alex Rodriguez in 22 months, it is Derek and his contract who will be at the eye of that storm. That this decision is still two years away isn't impacting anyone from writing about, and the latest reporter to opine on the situation is Ian O'Connor. Let's see what he had to say:
This franchise player can't be trusted with the franchise. It has nothing to do with a hip that could bench A-Rod until who knows when, and everything to do with a lack of leadership skills and common sense that would allow him to use steroids, to tell all sorts of tall tales about his drug use and to wish out loud that Reyes played for the Yanks.

Just another circle of reasons why the Yankees should extend the contract of A-Rod's most conspicuous ex-friend, Jeter, whose deal will expire at the close of next season. They need to keep Jeter beyond 2010, if only to serve as an A-Rod deodorant…

Jeter should be anywhere from 65 to 100 hits shy of 3,000 at the end of his current deal. The Yankees can't possibly finance A-Rod's hollow home-run derby while denying the face of their last dynasty — and the face of all drug-free players — his chance to become the first man in franchise history to clear 3,000 hits.

The captain will be 37 in the summer of 2011, the first season of a potential extension. He will need to rely on his intangible grace more than ever as his physical skills decline.

But if any golden oldie is worth the gamble, Jeter's the one. The Yanks gave him $189 million for leading them to the four championships. They should offer him another $45 million over two years for helping them build the new palace across the street in the Bronx.
O'Connor's justification for an inexplicable raise is that it would be his last contract no matter what. The Yankees would be giving Jeter a gracious send-off by overpaying one of the richest athletes in New York. Brilliant!
If this is the type of argument writers are going to make until and unless the Yankees lock up Jeter through the end of his career, I dread the next two years. When the time comes, the Yankees will have to evaluate their commitment to Jeter not through some nostalgic lens of a World Series last won in 2000 but rather through one that judges what Derek can do for the Yanks in 2011 and beyond.
There will be a spot on the team for the Captain if he is willing to take it. He'll be 37, and he won't be a viable short stop. He also won't earn $20 or $22.5 million a year. Intangibles aren't worth the farm, and those covering the Yanks shouldn't sound so naive about Derek Jeter.
Until the end of the 2017 season, Alex Rodriguez is the property of the New York Yankees. The team has invested nearly $300 million in him with the expectation that he will be among the best in baseball. In return, his bosses control his health, his training regime and most of his life.
A few weeks ago, when A-Rod Story II — the steroid scandal — broke, Brian Cashman seemed to indicate his understanding of this relationship. "We've invested in him as an asset," the Yanks' GM said at the time. "And because of that, this is an asset that is going through a crisis. So we'll do everything we can to protect that asset and support that asset and try to salvage that asset."
On Thursday, Ross at New Stadium Insider played off that quote and noted that the team has failed to protect one of its top assets. The news though got even more damning as the day unfolded.
Jack Curry and Tyler Kepner turned up some very alarming statements from the Yankee brass concerning the timing of A-Rod's injury and the team's knowledge about it.
Cashman said the Yankees discovered an irregularity in Rodriguez's hip last May when he underwent a magnetic resonance imaging exam for a right quadriceps injury. By June or July, the hitting coach Kevin Long said he could notice subtle changes in Rodriguez's hitting, notably in his right foot — the back one in his stance.

The foot was not pivoting fully, Long said, and as a result, Rodriguez could not completely turn his waist and clear his hips. This caused his bat to drag and prevented him from driving through the ball and generating maximum power.

"Speed-wise, to catch up to 95, 96 mile-an-hour pitches, you've basically got to get your hips through," Long said. "It affects bat speed, power, balance. From a technical standpoint, it affects quite a few things. But he's so gifted and so talented that he made due with what he had."
Cashman goes on to defend the move not to give A-Rod an MRI last spring. Cashman claims that if you sent the entire team for MRIs, most of them would come back with problems due to wear and tear. That A-Rod felt no pain — but did adjust his approach at the plate — meant that the Yanks would not force their $300-million man into the MRI tube. "You don't treat the M.R.I., you treat the patient," Cashman said. "There was no pain and he was never having a problem with it. You talk with him about it, make him aware of it and off you go."
For now, the Yankees will have A-Rod play, but medical experts all agree that he will need surgery eventually. The Yanks are risking permanent, long-term damage to his hip socket by electing the rehab path. I guess they know what they're doing.
Those among us who do not like Cashman are right to express outrage and incredulity at this latest revelation. The Yankees showed here an unwillingness to treat potential injuries with any sort of aggression or urgency. By letting A-Rod dictate the terms of his visits to the doctors, the Yankees are risking their investment and the team's on-field success.
With this injury and the behind-the-scenes glimpse Kepner and Curry provided, the Yankees should use this experience as one from which they must learn. Injuries do not heal themselves, and Major League Baseball players never like to sit out. Someone has to protect the investment, and Brian Cashman and the Yankee coaches dropped the ball.
By

While A-Rod dominated the day, the Yanks received a spark of good news amidst the injury chatter. Mariano Rivera, coming off a minor shoulder surgery, threw his first bullpen of the spring today and felt good just like we knew that he would. Rivera took a mound session at about 85-90 percent today and plans to get a few more of those in before facing batters on March 17. · (25) ·