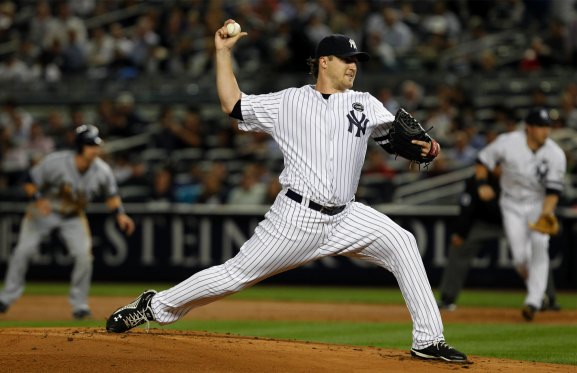 There's no question that the first few innings of Phil Hughes' outing last night were rocky. He put at least one man on base in each of the first four innings, averaging almost exactly 20 pitches per frame. He escaped a bases loaded jam in the fourth one inning after getting out of a first and second situation. The young righty clearly was having trouble throwing consistent, quality strikes, and after getting out of that fourth inning unscathed most thought that was the end of his night.
But no, Girardi sent Phil back out for the fifth and he responded with his strongest inning yet, retiring the Rays' 3-4-5 hitters with a strikeout sandwiched around a pair of ground outs. With 97 pitches thrown and five innings in the bank, it seemed like a natural spot to summon someone from the bullpen. Again, Girardi fooled everyone by sending Hughes back out for the sixth, which ended up being his second consecutive 1-2-3 inning, this time on just eight pitches. Surely that was it after 105 pitches, right? Wrong, there was Hughes back out for the seventh. He threw six more pitches and allowed a single before recording an out to end his night. A case could be made that Girardi should have removed Phil two or three innings earlier, but he stuck with his 24-year-old righty.
Rewind to Monday. Rookie righthander Ivan Nova started the game for the Yanks, and he cruised right into the fifth inning on just 56 pitches, having allowed just a first inning single and a third inning walk along the way. That crucial fifth inning could not have gone any smoother, as Nova retired all three batters on just four pitches total. He was on autopilot, pounding the zone with fastballs and getting Tampa's hitters to chase the curveball down and off the plate.
After the Yanks pushed a pair of runs across in the bottom of that fifth inning, Nova went back to work in the sixth and promptly allowed a leadoff single to Jason Bartlett. John Jaso followed that up with a five pitch walk, and then Ben Zobrist singled to load the bases with no outs and the Yanks up by four. Carl Crawford reached on a catcher's interference, and after Evan Longoria plated a run on a double play to cut the lead to two, Girardi was out of the dugout to lift Nova after just 79 pitches.
What's remarkable about both outings is how differently Girardi handled each pitcher. Hughes was left in until he had emptied the tank despite the stressful early innings while Nova wasn't allowed to escape his own jam even though the Yanks were still up by two with two outs in the inning. Girardi surely had last week's series in Tampa in mind, which included not only Nova's fifth inning meltdown, but Dan Johnson's go-ahead two run homer off Hughes after he sent him out for that proverbial "one more inning." Even though both are relatively new to this big league starter thing, Girardi clearly gives Phil more rope right now.
Joel Sherman's column today confirms what we already know, that Hughes is all but guaranteed a rotation spot in the postseason. Nova, despite what some other scribes want you to believe, is fighting for a spot on the playoff roster, nevermind a starting assignment. Oh sure, the bullpen situation certainly played a part in Girardi's decisions the last two days, but this is nothing new. Nova's been subjected to the quick hook all season (longest start: 91 pitches, only one other time over 79) while Hughes has been given a nice long leash (shortest start: 84 pitches, just nine under 100 pitches) all year long.  It's appears to be a matter of getting what you can out of one guy while giving the other every opportunity to succeed and develop.
Trust is probably the wrong word to use in the title of this post, I think it's more about development. Nova's a fine pitcher and the Yankees seem to like him, but it's undeniable that they adore Hughes and have gone to great lengths to help him reach his ceiling. In some cases that involves putting the big picture over a single game, something they have yet to come close to doing with Nova. The way they've handled both pitchers this season is pretty telling about what they think of each both right now, and down the road.