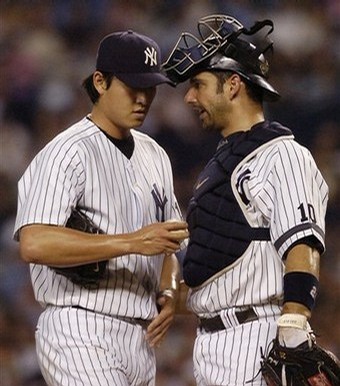 Pitchers and catchers are just eleven short days away, but two of the Yanks' most important pieces are already down in Tampa getting their workout on. Anthony McCarron has the word:
Anyway, I am down here for a little pre-spring training visit and saw several Yankees hard at work, including Jorge Posada and Chien-Ming Wang. Posada has been showing up most days since early December to get his surgically-repaired shoulder ready for the season and says he can feel great progress and there's no pain. He made 140 throws during a workout Monday and says he'll increase the intensity Wednesday. He throws every other day and while he won't be ready to catch in spring training until at least March 6, he said, he will be ready for opening day.

After a light workout in the batting cage, Posada went through a series of strenuous exercises in the weight room and did some agility drills.

[snip]

As for Wang, he threw his first pre-spring training bullpen, going for seven minutes and 27 pitches. Decked out in a dark blue shorts and a gray Yankees' T-shirt pulled over a long-sleeve T-shirt, he threw only fastballs under a blue sky. Pitching coach Dave Eiland was among those who watched, along with pitching guru Billy Connors.

Wang, whose 2008 season was wrecked by foot injuries, said afterward, "Everything feels fine. It's just normal." Wang had gotten a clean bill of health in October from Yankee doctors, even throwing a few bullpens then. When he went home to Taiwan during the winter, he did a lot of fitness work on his feet, he said.
Well, of course Posada thinks he'll be ready for Opening Day, anyone could have told you that. The real issue is whether or not the doctors say he's ready. It's very encouraging that he's so far along in his rehab and hasn't suffered any setbacks, but until he gets back out there in game action we just won't know. Same goes for Wang.
Anyway here's your open thread for the night. Rangers great Adam Graves is having his #9 jersey retired tonight at the Garden. The ceremony started at 6:30, but you can still flip over and catch the bulk of it. Hot shot prospect Artem Anisimov will also be making his NHL debut for the Blueshirts tonight, think of it as the hockey equivalent of Phil Hughes' first start. The Nets are hosting the Bucks, and the Knicks won't give up 61 points to one player tonight because they're off. The Caribbean Series (Mexico vs Venezuela) is on MLB Network at 9pm. Hooray for live baseball. Anything topic's fair game here, just be cool.
Photo Credit: Bill Kostroun, Associated Press
By

Maury Brown at The Biz of Baseball has the news. The award winning sportscaster will join the network immediately, and host special original programming and head back to the broadcast booth for select games. Costas obviously is great addition to the network, but let's just hope they don't force him down our throats. Costas is good in moderation, but we don't need to see his holier than thou schpeel every night. · (12) ·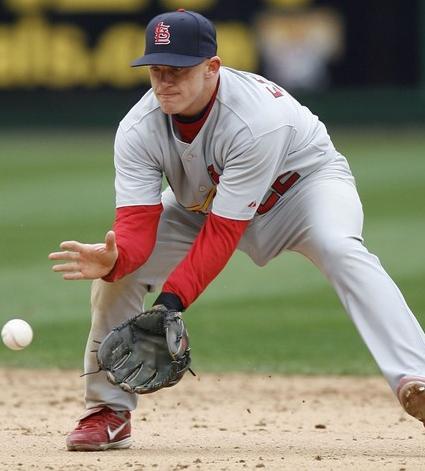 This is the time of year when we fans have nothing to complain about except the bench. With the additions of CC Sabathia & AJ Burnett, as well as the return of Andy Pettitte, the Yanks' starting rotation is as set as can be in February. Phil Hughes, Ian Kennedy and Al Aceves provide some Triple-A depth for spot starts. The bullpen is chock full of options, and the additions of Mark Teixeira and Nick Swisher fortify the offense. Just about the only part of the team that can use some real improvement is the bench corps.
One problem with being the Yankees is that it can be tough to get those borderline everyday/bench players to come to the Bronx because of a lack of opportunity. Take David Eckstein for example. The little scrapper would have been a solid pickup as a backup middle infielder, providing pesky at-bats of the bench while being capable of playing everyday should Derek Jeter or Robbie Cano hit the DL for a few weeks, but why would he pass up a chance to start and play everyday for the Padres for the opportunity to ride the pine for the Yanks? It just makes sense for him to head to San Diego.
Because of this, the only real way the Yanks can acquire quality players for the bench is by trading for them. Just look at the 1996 team's bench: Charlie Hayes and Cecil Fielder were both acquired in mid-season trades – Hayes from the Pirates for a PTBNL, Fielder for the disgruntled Ruben Sierra and 1993 first rounder Matt Drews, who was in the process of flaming out because of extreme control issues. Both Hayes and Fielder were available because of unfavorable contract situations, so why can't the Yanks work a similar scheme thirteen years later?
After the jump is a few potential mid-season trade targets that fit the bill for that oh so terrible bench.
By

According to Daily News writer Roger Rubin, the White Sox have, at some point this winter, extended a one-year, $8-million offer to Bobby Abreu. The Yanks' former right fielder made $16 million last year and had originally wanted a three-year deal at a similar average annual value. He may find it tough to swallow a 50-percent pay cut, but in this economy, Abreu might have to. How he makes the White Sox a better team though is something I can't quite fathom.

Update 3:15 p.m.: A suburban Chicago newspaper has debunked this Abreu rumor in a rather roundabout way. A White Sox has "dismissed" the rumor, according to the Daily Herald news service. Take that for what you will. · (54) ·
Via Pinto, the Yankees are apparently still interested in Orlando Hudson. He told the MLB Network that the Mets, Yanks, Dodgers, and Nationals are all interested. Furthermore, he said that he would not need to change positions. Regarding the Yankees, this sounds a bit outlandish. It would mean that they'd have to trade Robinson Cano or move him to center field, both of which aren't attractive options.
Given the market and the total lack of interest in Hudson, this could be the player hyping himself up, using the vague term "interested" to describe his supposed suitors. In fact, I'm willing to bet that the Yankees haven't expressed genuine interest in the second baseman since before the Winter Meetings. There's just no place for him on the roster, especially if he's not changing positions.
Reading the situation as presented, it seems like he's trying to squeeze some more money and/or years out of Washington. The Yankees have Cano, the Mets have Luis Castillo, for better or for worse, and the Dodgers have Blake DeWitt. Why would any of them pony up significant years and dollars for another second baseman? In the end I don't think any of them will. The Nationals seem like the obvious destination here — though that could change if the Dodgers don't retain Manny Ramirez.
Things picked up last week in Yankeeland because of some book written by some guy who, I think used to manage the team. That's still going, kind of, but you can't write about it in every column, can you? Wallace Matthews doesn't think so. He's changed the topic this week, though it's not any less insufferable than the Torre talk. He think that Derek Jeter should stick up for Alex Rodriguez. Great. We're back on this again.
No one, of course, tells Derek Jeter what to do, and I don't presume to try. But it is my considered opinion that Jeter can hide for only so long behind his stock answer, "I haven't read the book yet."

The book is out Tuesday. Time to start reading. And he doesn't even have to read it to come out and say, simply: "Alex is my teammate. Alex is our guy. Everyone in this clubhouse stands behind him."

And that has to include the captain. Because that's what captains do.
Over the past few years, more than a few Yankees fans have wondered why Jeter doesn't say something on A-Rod's behalf. Fire Joe Morgan once criticized Jeter for coming to Jason Giambi's defense but not A-Rod's. The situations are a bit different, though.
No one thought Jeter didn't have Giambi's back. The fans were just peeved at Giambi for 1) the steroids thing, 2) missing most of 2004, and 3) getting off to a terrible start in 2005. So Jeter came out and publicly defended his teammate. So why doesn't he do this for A-Rod? I can't give an explanation, as I am not Derek Jeter, nor do I know anyone familiar with his thinking.
The difference in the situations is clear. Yankees fans presume Jeter doesn't have A-Rod's back. We all know about the incident where A-Rod tried to take Jeter down a peg, and the consensus is that Jeter still bears a grudge. That seems a bit extreme eight years later, especially when the object of the grudge is now a teammate. Something tells me that this is not the whole story.
The captain should have his teammates' backs, implicitly or explicitly. Jeter was explicit with Giambi, but not with A-Rod. Does this mean Jeter doesn't have A-Rod's back? Not necessarily. I don't think it's as big a deal that Jeter comes out and says anything. Alex is a grown man. He can handle his own business. Or at least we hope he can.
It's been a while 24 hours since we last checked in on Manny Ramirez, and, well, there have been some interesting developments that could impact the Yanks.
According to the latest from various sources, succinctly summarized for us by MLBTR, the Dodgers have extended a one-year, $25-million offer to Manny. The Dodgers have also made this a conditional offer: Manny and Scott Boras have 48 hours to accept it or Ramirez will once again be left offer-less with around ten days left until pitchers and catchers report.
In a way, a one-year deal from Los Angeles would be exactly what the vocal group of Yankee fans who want to see Manny arrive in the Bronx want. As iYankees noted earlier, the Yankees will be looking for a full-time DH following the 2009 season. Hideki Matsui will be a free agent, unlikely to return; Johnny Damon will be a free agent, unlikely to return; and Xavier Nady will be a free agent with his return contingent upon his 2009 season. Manny would, to quote Buster Olney, be a perfect fit for the Yankees in tens months.
For now, though, it seems highly unlikely that the future Hall of Famer will wind up in the Bronx. Next off-season, we can debate the virtues and pitfalls of courting a then-37-year-old Manny, but for now, let's look at production just because. Last year, splitting his time between L.A. and Boston, Manny hit .332/.430/.601 with a combined 164 OPS+ in 153 games. He was by and large the best offensive player in the game last year.
Meanwhile, in the American League, DHs hardly fulfilled half of their collective role. AL DHs as a group hit .256/.339/.435, and the Yanks' various DHs hit .282/.378/.461. That's a respectable total, but is it a realistic goal for 2009?
Last year, in limited duty, Matsui hit .294/.370/.424 with a 108 OPS+. This year, he'll be the Yanks' primary DH with Jorge Posada, Damon, Nady and Nick Swisher filling out the rotation. This disparity — 50 OPS+ points and a whopping .140 slugging difference — is why, if the Yanks had the money and the will to land Manny, they should. When a player offers that much of an upgrade, a GM deals with a logjam on the roster after improving the team.
Of course, this is reality and not fantasy baseball. As rich as the Yanks are, they are still constrained by the realities of the economy in Feb. 2009. They've spent a lot of money and can't spend more. But if Manny takes this one-year offer and excels in L.A. this year, the Yanks, with money coming off of their books, and their fans can have this debate all over again.
* * *
Update: Manny has already turned down the Dodgers' offer. Twice, Los Angeles has put an offer out there, and twice, the Ramirez camp has turned it down. No other team has yet to offer the slugger a deal this winter.
For the last 12 years, Scott B. and his wife have enjoyed Yankee games from Row A of Section 1 of the Tier Reserve. Located directly behind home plate, these are primo Tier seats, and Scott had hoped for comparable seats at the ballpark.
When his relocation information arrived, he was in a surprise. The Yankees had put him in Section 412, Row 9. Using the seat selector to find those seats reveals a location a few sections away from fair territory down the right field line.
"When I called to express my extreme dissatisfaction," Scott told me via e-mail today, "no one even looked at my file. They said I should pay it and check in periodically to see if we can switch our seats."
Bin's story isn't an isolated one among Yankee fans, and last week, the Yankees sent a letter to holders of the 41-game plan about the relocation. "Due to overwhelming demand for 41-Game Plans, we strongly suggest that Licensees accept their initial seat assignment. The demand for 41-Game Plans will definitely exceed the available 41-Game Plan seat locations," the letter said.
It continued: "If you decline your assignment, the assigned seat location set forth on the enclosed invoice will be immediately forfeited and released into available inventory. There can be no assurance that such assigned seat location or any other requested location and/or Plan will be available to you at a later date."
Meanwhile, the Yanks' customer service seems to be handling this with a little bit less than grace and aplomb. "I asked if blocks of 8 seats open up often (semi-sarcastically). No answer," Scott related. "When I asked if the fact that we've had these seats for 12 years meant anything to anyone, he said others were pushed out farther. There ain't much farther or higher to go. I think [the section] only goes up 15 rows."
Scott says that the ticket rep he spoke to didn't offer up much. He didn't give him the option to buy cheaper or more expensive seats in a different section. He didn't look up Scott's file to check on his 12 years of patronage. He just gave off what Scott called a "a basic 'I have to be courteous but stop bothering me'" attitude.
Opening the new stadium should be a celebratory event. This tale and countless others like just leave a bad taste in my mouth.
Ever wonder how SI.com's Jon Heyman ends up breaking so many signings? Sounds like Rich Lederer of The Baseball Analysts has a reasonable explanation (h/t The Yankee Universe). He starts off by noting Heyman's recent breaking of the Jason Varitek signing, and then makes an observation regarding Heyman's biography:
If you're wondering how Heyman got wind of the news before any of the Boston beat writers or columnists, be aware that he had Mark Teixeira going to the Yankees before anyone else and, according to his biography, also "broke the story of Barry Bonds going to the Giants in 1992…Alex Rodriguez going to the Yankees in 2004, A-Rod opting out of his $252-million contract in 2007 and Manny Ramirez going to the Dodgers in 2008."
Let's see here. Is there a common thread among Alex Rodriguez, Mark Teixeira, Manny Ramirez, Jason Varitek, and Barry Bonds? There's got to be something. What could they all have in common? Oh yeah! They were all represented by Scott Boras at the time of those respective transactions. Is Heyman then a media puppet, used by Boras to hype up his clients in exchange for scoops on those clients signing? Lederer apparently thinks so.
You see, Boras throws Heyman a bone on a Tek or Tex signing but also uses him to spread rumors about the level of interest and terms in ongoing free agent negotiations to create a false sense of demand. Teams that fall for this trick wind up competing against themselves, which is exactly what Boras desires.

While Boras is no fool, Heyman is a tool for the Scott Boras Corporation. Boras knows how to game the system to get the best deals for his clients and will gladly use Heyman as long as the latter plays along or until the market realizes what is going on. As it stands now, it's almost as if Heyman, who is no stranger to the Boras suites during the winter meetings, is on the SBC payroll.
Lederer goes on to chronicle Heyman's work regarding Manny Ramirez, starting with his trade to Los Angeles last summer and going all the way through January 28. Given the emphasis Lederer puts on certain lines, I can completely understand why he comes to the puppet-master conclusion.
This does work out for us fans in some way. We hear about signings rather early, as we saw during the Teixeira saga. Since it's information we crave, this works out well. However, it also creates a mass of false information in the interim, which can be bothersome. We can filter out this noise, however, and just concentrate on Heyman's "this is a done deal" reports. In other words, I'd recommend subscribing to his blog so you can find out about things like the Mets agreeing in principle with Oliver Perez. For the rest of the material, though, you might want to familiarize yourself with the "Mark as Read" button.
This is your open thread for the evening. The local teams are off in hockey, the Knicks host L.A. in the only local pro hoops action, and new No. 1 UConn heads to No. 7 Louisville (Go Huskies, right Matt?).
By

Today is Day One of the Serie del Carib, which runs through the end of the week. MLB Network is carrying the Venezuela-Dominican Republic game at 5pm Eastern, as well as the Mexico-Puerto Rico matchup at 10pm, so if you're yearning for some live baseball action, here's a nice little hold over. Maury Brown at The Biz of Baseball has the rest of the broadcast schedule, including the announcers.

There are no current Yankees (minors or majors) playing this year, but there are some notable ex-Yanks in the event, namely Felix Rodriguez, D'angelo Jimenez, Ruben Rivera and Jackson Melian. By far the best big leaguer playing is the Padres' Adrian Gonzalez, who's suiting up for Mexico and will be a teammate of Bill Pulsipher. Yes, that Bill Pulsipher. Jorge Aranguare Jr. of ESPN took a deeper look at each team's roster.

Enjoy the games if you're going to watch. · (31) ·