By

Just a quick heads up: you can still buy game used Staten Island Yankees jerseys over at Baby-Bombers.com, at reasonable prices too. There's even a select few game used Trenton Thunder unis available. They've got jerseys from players like Dellin Betances, Steve Karsay, Octavio Dotel, Ian Kennedy, Shelley Duncan, Chase Wright, Jose Contreras, Wilkins DeLaRosa and tons more. Give it a look. · (2) ·
Okay fine, he didn't say exactly that. Joba did talk about the whole starter or reliever thing however, and says he's (heh) relieved to be starting:
The GM told the phenom to prepare over the winter to be in the Yankee rotation.

"That was a little calming to me because I know I'm going into that," Chamberlain said Friday after throwing a bullpen session at the Yankees' minor-league complex. "Physically, you're not going to do anything differently, but the game is so hard mentally that it was nice to know that.

"You just prepare like you're going to get 30 starts and pitch 200 innings. That's my mindset and I got into it early."

[snip]

Chamberlain's off-season fitness program paid special attention to strengthening his shoulder, he said.

Friday, all appeared well during an easy bullpen session. He threw 30 pitches – all fastballs and changeups – and said he'd be ready to throw his breaking pitches in his bullpen session Monday.

"Everything's going good, just the few kinks you get in your first bullpens," said Chamberlain, who has thrown four sessions since he arrived in Tampa last week. "You work on repeated your mechanics. But my arms, my legs, feel really good."
This is an understated part of this whole thing. The preparation needed to go into a season as a starter is different than the prep needed to relieve. I think the most interesting thing CC Sabathia said during his press conference was that physically he had no problems starting on three days rest down the stretch for Milwaukee last year, it was all the mental preparation that wore him down. If Joba approaches his innings limit and the Yanks can't afford to just shut him down, then move him to the pen. I think the going from reliever to starter nonsense has to stop.
Also, I feel inclined to link to this.
By

One of the most common Spring Training cliches is "[insert player here] worked all hard all summer and is in the best shape of his life," but how often is it true? Not often. Well, Nick Swisher reportedly lost sixteen pounds this offseason, ironically by incorporated chocolate milk into his post-workout regiment. Based on the photo in the linked article, it looks to be legit (here's last year's slightly thicker version of Swish). Reliever Brian Bruney also reportedly shed sixteen pounds off his frame this winter, which supposedly puts him under 220 lbs for the first time since high school. There's no picture to verify Bruney's new physique, but I'll give him the benefit of the doubt after all the weight he lost last offseason. I'm sure Joe Girardi will be pleased. · (27) ·
How many of you were around in the days of Friday Randomness? That's old school right there baby. Remember your roots.
On to the links:
Boy does that bring back memories. I wish I had done this earlier in the offseason, it could have been a weekly thing. Anyway here's your open thread for the evening. The Rangers are in Dallas (hopefully they won't come back with Sean Avery), the Devils are in Atlanta, and the Knicks get a visit from the Celtics. Venezuela will look to remain undefeated in the Caribbean World Series tonight when they take on Mexico. Anything goes, just be nice.
In his latest Rumblings & Grumblings column, ESPN.com scribe Jayson Stark takes a look at the state of the free agent market. With just a week left until Spring Training, some big names — Manny Ramirez, Bobby Abreu, Adam Dunn, Orlando Hudson, Juan Cruz — remained unsigned, and the excuse that any or all of these players hurt team chemistry doesn't really fly.
But that's not important right now. In the column, Stark gives us a tidbit about Nick Swisher and the Braves. It's the rumor that just won't die. He writes:
In the meantime, the Braves seem to have emerged as the club most interested in Yankees outfielder Nick Swisher. But there are indications the teams got hung up when the Braves asked the Yankees to eat some of the $22.05 million Swisher has coming over the next three years — and got turned down flat.
When push comes to shove, I'm going to bet on "no deal" here. The Yanks have no incentive to trade Swisher — or Xavier Nady, for that matter — for anything less than what they want. Doing so would in fact weaken the team's bench. If the Braves won't give up the prospects or money for him, the Yanks may very well be better of for it.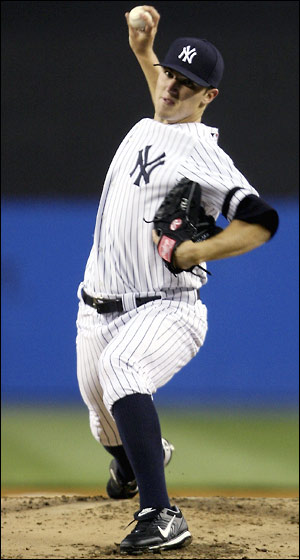 The start of the 2008 season was an exciting time for us Yankees fans. The team had two young and talented pitchers in the rotation for the first time in a long time, and a third in the bullpen that was slated to join the other two in the rotation later in the summer. Of course things didn't go as planned, as Phil Hughes and Ian Kennedy struggled before getting hurt, then Joba Chamberlain joined them in the infirmary after successfully making the transition to the rotation. Other than being young and being Yankees, those three guys don't have much in common. They're three different kinds of pitchers with three different body types and three different development tracks, yet they all got hurt, albeit in different ways. Why is this?
Enter former A's and Mets' pitching coach Rick Peterson. Peterson and Gary Armida, author of Full Count Pitch, sat down and talked about the epidemic of young pitchers getting hurt (h/t BBTF). The article starts with Peterson stating the industry in general has been slow to react to all the injuries, and that the focus needs to be shifted from "rehab to prehab." Amateur coaches (going all the way back to little league) don't have enough information about the proper way to develop young pitchers, which has been a major contributor to the explosion of pitching injuries.
Aside: While I agree that amateur coaches don't have enough info, we also have to remember that their job isn't to develop players, it's too win. Why should Tony Gwynn (coach at San Diego State) take it easy on Steven Strasburg, the likely first overall pick in the 2009 draft? The team that drafts Strasburg isn't paying Gywnn, the school is, and that's who he has an obligation to. It's his job to do what's right for the university, not what's in the best interest of Major League teams. It's a grey area, and we have to remember that the vast majority of college pitchers will never throw a professional pitch, let alone a big league pitch, so is it right to treat the true prospects differently than everyone else?
The article then goes on to list the three root causes of arm injuries. I'm going to quote at length, so let's add a jump to keep from overflowing the front page.
As Spring Training approaches — today's the ever-popular Truck Day up in Boston — the fantasy guides are hitting the Internets. Today, both MLB.com and ESPN.com unveiled their respective guides, and while I'm not complaining much, the early projections for the Yankees are widely optimistic.
Take, for example, Mr. Rodriguez. MLB predicts a .293/.381/.570/41/124 season for A-Rod, and ESPN predicts .303/.393/.585/44/130. Mark Teixeira looks primed for a big fantasy season as well. When you add up the totals, the Yanks come out with around 850 runs scored via ESPN and 958 via MLB. The playing time totals are a little sketchy, but I'd take that improvement in a heart beat.
On the pitching front, Sabathia emerges as a true ace. MLB pegs him at 19-8 with a 3.39 ERA and a 1.14 WHIP while ESPN predicts 19 wins, a 3.33 ERA and a 1.13 WHIP. Both sites believe he'll toss more than 230 innings in 2009. Adding up the pitcher's win totals on ESPN puts the Yanks at 95 for the season; MLB targets a 98-win season for the Bombers. Pessimistic PECOTA these are not.
In the end, of course, these projections are great for the plethora of upcoming drafts — and yes, we'll probably put together a RAB Fantasy Baseball League — but they're not great for much else. It's fun to imagine that everyone on the Yanks will be as great as their potential, and it's wishful February thinking to target a 98-win season for the Yankees. But if the stars align just right, it may just become reality.
By

A few days ago, the creatively-named online sportsbook SportsBook.com released its most recent set of odds for the 2009 baseball season. Unsurprisingly, the Yankees came out on top. Our hometown team is the 5/2 favorite to capture the title. Someone tell Mayor Bloomberg to save the date for the parade. · (23) ·
Oh, Derek Jeter, what ever will the Yanks do with you in 20 months when you're long-awaited and long-dreaded free agency rolls around? The Yanks will be saddled with a popular player past his prime and not very good at defense coming off of a contract in which he was overpaid. Someone has the upper hand in that bargaining session. I'm just not sure which side.
But that is a conversation for next season. For now, we get to talk about Derek the short stop, also one of everyone's favorite topics. Christina Kahrl got the party started with a Baseball Prospectus piece (hosted on ESPN.com) about how Derek should move to center field. Her argument:
Crying over last year's spilled Melky won't help them catch up to the Rays and Red Sox, but signing Orlando Cabrera would provide the team with a useful-enough hitter, and a slick-fielding asset at short could make a small but important difference to a bad defensive ballclub. Last season's Yankees ranked 25th in the major leagues in defensive efficiency (their ability to convert balls in play into outs) and park-adjusted defensive efficiency, and no positions see more chances than the middle infield. For all his defensive warts, Jeter has a strong arm and has always earned praise for his ability to track bloopers and pop-ups. These skills should both translate in center field. And simply by providing his usual dose of high OBP, he'd be a much better option than running Melky Cabrera out to center for 117 games, which the Yankees did last year.

Swapping Jeter out at short to address the team's need for a center fielder would be the sort of win-win move that can let the Yankees return to the top of the standings while breaking in their new stadium, and it does nothing to damage the Captain's place in franchise history. If Yount or Ripken, MVP winners and top stars in their day, could agree to help their teams and themselves to make these switches, you need to ask yourself why Jeter should be any different, especially when the need has gone from debatable to obvious.
Okay. So that's a pretty convincing argument on its face. Kahrl, however, opted against using any metrics to evaluate how Jeter might do in center field and how the Yanks would fare with Orlando Cabrera at short. Enter Driveline Mechanics.
David Golebiewski analyzed Kahrl's proposal and came up with a statistical answer to my questions. The analysis is rigorous. The conclusion:
We have little idea of how good or bad of a center fielder Derek Jeter would be, but even if we assume that Jeter would be lousy (costing his team -12.5 runs with the leather), the projected WAR of an Orlando Cabrera/Derek Jeter duo (4.79 WAR) trumps that of a Jeter/Melky Cabrera alignment (3.89 WAR) by nearly a win. If Jeter isn't quite so bad, that advantage grows even further, perhaps nearer 2 wins if Jeter is only kind of bad in center.
Rob Neyer had a take on this as well. He hears what Kahrl and Golebiewski had to say and doesn't feel that the two-win differential is worth the experiment. Neyer wants to see Brett Gardner win the job, get on base enough and steal. Whether he can do it is anyone's guess.
Neyer, by no stretch of the imagination a Yankee fan, suggests that the Yanks should cut Jeter loose after 2010. I doubt that they will, and I sentimentally hope they don't. But for now, just like his defense, it is just an issue lurking around the corner, and it won't go away until the Yanks have to confront it head on.