Join Jon Heyman to the growing list of national baseball columnists proclaiming Nick Swisher and Xavier Nady expendable. In a recent post, Heyman notes that the two outfielders could be available for the right price, but more notable is his note on Johnny Damon.
The Yankees are fielding trade offers for corner outfielders Xavier Nady and Nick Swisher. There's been some speculation they might consider trading Hideki Matsui, too, but he has a full no-trade clause and is coming off knee surgery, so there's really no way to trade him…

Johnny Damon isn't in the trade mix, as the Yankees need him to be their leadoff hitter and part of a center field rotation. The other in-house candidates for center field are Melky Cabrera and Brett Gardner.
So here's what doesn't make sense. Hideki Matsui just isn't a viable outfield candidate. Even if his knees could take the daily wear-and-tear, his range is a huge negative. So if the Yankees are planning on going with Damon in center field, that would leave whichever of Nady and Swisher aren't traded to man right field and…no one…to man left field.
Now, the idea of Damon in center makes most Yankee fans queasy. He's a very good left fielder, but his range in center is a big diminished. I'm not even going to mention his limp noodle arm. Meanwhile, most of us are quite content with giving Brett Gardner a shot in center field, but there's a real chance that he just doesn't have the bat to succeed at the Major League level. It's tough to say how committed the Yankees are to that idea though.
Considering that the Yankee outfield is a huge question mark for 2010, the team has no real need, as we've been saying over and over again, to trade Nady or Swisher. If they get a great offer, of course they should consider it. But for now, both players have roles on the 2009 Yankees, and my money is on the team breaking camp in April with both Xavier Nady and Nick Swisher in tow.
By

The Red Sox are on the verge of landing themselves a pair of injured players with high upside. Buster Olney reports that John Smoltz, a 20-year veteran of the Braves, will jump leagues and cities. He and the Red Sox are nearing a deal on a one-year, $5.5-million contract. Smoltz will be playing his age 42 season in 2009, and he's coming off surgery. The Sox don't expect him back until the end of May, and I wonder how he'll handle the AL for the first time in his career. Boston, however, can well afford the risk.

Meanwhile, MLBTR directs us to various reports on an impending deal between Rocco Baldelli and the Red Sox. When healthy, Badelli ranks up there with the game's top outfielders, but he has played just 155 games since the end of 2004. Baldelli received some good news earlier this winter when his mitochondrial disease was revealed to be a misdiagnosis, but he's not out of the injury woods yet. Again, this is a nice potential low-risk, high-reward signing, but Baldelli shouldn't be considered more than a role player until he can be healthy for long stretches at a time. · (111) ·
Meet Corky Simpson. He is a member of the Arizona Associated Press Sports Hall of Fame and once made a name for himself when he was the sole AP voter to tab Alabama for the top slot of the NCAA poll every week during the 1992 season.
He is not, apparently, a firm believe in taking his responsibilities as a sports writer too serious. "If that year," he once said about 1992, "proved anything to me, it was the fallacy of the polls. They're a lot of fun, but they mean nothing. It's fun to follow the teams, but they're not that important."
Now, during the Winter Meetings in December, Simpson, now retired from the Tucson Citizen but a lifetime honorary voting member of the BBWAA, unveiled his Hall of Fame ballot in the Green Valley News & Sun. This ballot languished in the Arizona community newspaper Website until Rob Neyer got wind of it, and boy, is it creating a stir.
Corky, you see, voted for Matt Williams. And Don Mattingly. And Tommy John. And Tim Raines. And Jim Rice. And not Rickey Henderson.
I'll let that sink in for a second. Corky Simpson, a lifetime honorary member of the BBWAA, did not vote for Rickey Henderson for the Hall of Fan.
Now, there's even some irony, as Neyer points out, in Simpson's argument. He claims not to have voted for Mark McGwire because of the steroid scandal but opted for Matt Williams, a career .268/.317/.489 hitter with 378 lifetime HRs and a place in the Mitchell Report, because "nobody ever played the game with more intensity, nor with more reverence for the sport." I guess reverence included cheating.
Now, Corky's only 70. He's not that old. But this ballot is a pure embarrassment, and it does nothing to help the reputation of baseball or the Hall of Fame. I would commend Simpson for making this thing public, but if the BBWAA had any common sense, they would strip him of that honorary lifetime title. He doesn't deserve it.
By

Bryan Hoch used his winter vacation to assemble a Yankee Stadium playlist. He left out a few, such as A-Rod's love of Baby Boy Da Prince's "The Way I Live." Help him out. Fill in the blanks. · (110) ·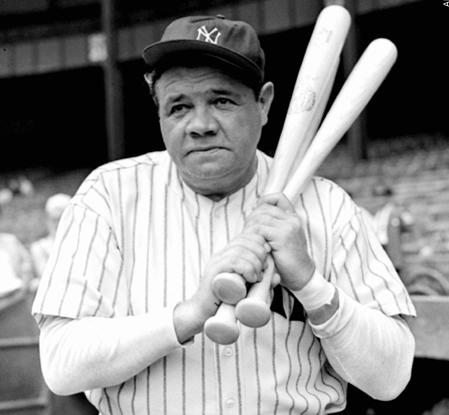 Yesterday marked the 89th anniversary of the Yanks' acquisition of George Herman "Babe" Ruth from the Red Sox, perhaps the single biggest player transaction in baseball history. All told, the Bombers sent Sox owner Harry Frazee $125,000 in cash, as well as three annual payments of $25,000 at 6% interest in exchange for Ruth. The Yanks also loaned Frazee $300,000, accepting the mortgage to Fenway Park as collateral.
Fresh off a recording setting 29 homerun season in his final year with the Sawx, Ruth became the Sultan of Swat as we know him immediately after the trade, clubbing 113 homers in his first two years in pinstripes. The team went from a 701-780 (.473) record in the ten years preceeding Ruth's acquisition to a 924-670 (.580) record in the ten years following the pickup. Ruth finished his career with a .342-.474-.690 batting line, a 207 OPS+, 714 homers, 2,217 RBI, 1330-2062 K/BB ratio, a .518 wOBP, and seven World Titles. He's easily the greatest player in baseball history based on how he performed in comparison with the rest of the players in his era.
Thanks Harry. (h/t UWS)
Here's your open thread for the night. The Rangers take on Montreal at home, the Knicks are off, the Isles are off, and the Devils suck. Talk about whatever else is on your mind, just be nice.
Via ScottBoras.com, er, I mean, MLB Trade Rumors, we get some commentary from Hall of Fame journalist Peter Gammons. He spoke of Mark Teixeira, the Yankees' choice of A.J. Burnett over Derek Lowe, All-Star Catcher Jason Varitek, and the AL East. So let's hear what Gammo has to say.
First we'll start with Tex. Gammons doesn't add much to the story we've come to know over the past two weeks. He does say that the Red Sox were kind of blindsided, and that Boras kind of hemmed and hawed in order to get things going with the Yankees:
They didn't know it. They were waiting on the day that he signed . . . they thought that they were going to get him. They tried to close the deal on Monday night [Dec. 21], and Scott [Boras] said, 'Well, the Teixeiras are flying, and they haven't quite done this, and they haven't quite done that," and he kept putting it off an all along it was to just finish the language with the Yankees.
Shortly after this quote, Gammons goes on to note the "testiness between Alex Rodriguez and Mark Teixeira when they played in Texas together." He doesn't comment on what that could mean for the Yankees, but allow me. It won't matter. They'll be together in New York, with no-trade clauses, for the next eight years. They're professionals. They can handle it.
After saying that it might have taken $220 million for the Sox to actually nab Tex, Gammons goes on a little rant about the media, specifically as it exists on the Internet:
What happened this winter is that, as the internet has expanded to become the media power, the flow of information is quickly controlled by agents. A lot of general managers and those of us in the business kid about a couple of sites referred to as ScottBoras.com, and Scott will float things out there and throw it out there and people will report it, you know, 'The Brewers are jumping in on Derek Lowe.' They're not jumping in on Derek Lowe. I mean, please. 'The Red Sox are really hot for Derek Lowe at $16 [million] . . . ' No, they're not. But Scott floats this stuff out, and he's able to get people to report it.
Not only does it get reported, but it's then aggregated at MLB Trade Rumors and other similar sites. So the news does spread rather quickly.
Next topic: Derek Lowe. As Gammons tells it, he could have easily been a Yankee if not for the efforts of A.J. Burnett's agents:
[Lowe] could have gotten four-times-$15 million from the Yankees, but A.J. Burnett's agents stopped Scott Boras [who is Lowe's agent] and beat him to the Yankees. The Yankees wanted Lowe, but A.J. Burnett's agents did a better job.
At the time, considering the market was still pretty wide-open, I have a hard time believing that Derek Lowe would have taken a four-year, $60 million deal. Then again, since he's probably not going to get that now, maybe he would have. I don't know.
On the subject of Jason Varitek, Gammons, like most of us, can't believe he and Boras declined arbitration:
How Scott Boras looked him in the eye and said, 'By the way, I turned down $10 million [in arbitration],' is beyond me.
(snip)
I know the players' association was strongly advising agents not to take arbitration. They felt that teams were trying to control players for one year at a lesser amount than they'd have to pay down the line. But again, if you're Jon Garland or Ben Sheets or Orlando Cabrera or Jason Varitek, it cost you a lot of money.
Finally, on the AL East:
I picked the Red Sox second, just because we don't know about the health of David Ortiz and Mike Lowell, and I think Josh Beckett will be fine. You never know about J.D. Drew's health. And the Yankees, with the innings that [CC] Sabathia and [Chien-Ming] Wang can give them and all the offense they should have, they clearly have to be the favorites.
There's plenty to discuss here, so fire away.
By

James M. Odata at The Times-Union has whipped out his CPA calculator to figure out the Yanks' top five earners' tax liability. Based on the assumption that none of these guys consider New York State, for tax purposes, to be their primary residences and that the Yanks are in New York for 100 of the season's approximately 240 days, the state alone would make $3 million from Mark Teixeira, CC Sabathia, A.J. Burnett, Derek Jeter and A-Rod. If they all permanently resided here, the state could claim up to $7 million. The city would take some, and the Feds would want a large cut too. (Hat tip to Shysterball again. Craig does good work. Read him.) · (36) ·
Ryan Zink | RHP
Background
Zink grew up in the baseball … ahem … hotbed of Madison, WI, where he attended LaFollette High School. A standout for the Lancers, he was named to the All-City First Team and was an honorable mention for the All-Conference team as a sophomore, when he led the school to the City Championship. As a junior Zink repeated as a first team All-City player, adding All-Conference First Team and All-District Second Team honors to his resume. He was at his best when needed most, striking out eleven batters and allowing just three hits in a ten inning outing in the Regional Finals.
Score one for the little guy. After facing intense scrutiny over aggressive e-mails and shady land dealings, the City of New York will be giving up its luxury suite at the new Yankee Stadium for a cash payment. While this doesn't really solve the rampant problem of the tax-exempt bonds, it's a victory, albeit a small one, for good government groups.
Fernanda Santos has the story in The Times today:
After intense criticism, the Bloomberg administration has given up a perk it worked fervently to secure: a free luxury suite at the new Yankee Stadium.

The city will relinquish use of the 12-seat box in exchange for whatever revenue the Yankees generate by selling the seats, minus the cost of marketing them. Although neither the city nor the Yankees have publicly disclosed the market value of the suite, similar suites at the new stadium are being sold for as much as $600,000 a year…

Under the new arrangement with the city, the Yankees will be allowed to keep the parking spaces and use of the billboards, and the city will be guaranteed at least $100,000 for each baseball season, even if no one buys the suite. The deal was formalized last month in a letter from Mr. Pinsky to the Yankees president, Randy Levine, that was made public on Tuesday. A similar arrangement is being negotiated with the Mets, which also gave the city free use of a suite in its new ballpark, Citi Field.
While I think this is a fair deal, Assemblyman Richard Brodsky is a bit skeptical. "The taxpayers who are paying for the construction of Yankee Stadium cannot afford to buy tickets for the games, but the mayor was getting a luxury box, so he had to back off," he said to The Times. "But the reason he backed off is because next week, the city is going to give the Yankees more taxpayer money."
Next week, the city should just make the Yankees take taxed bonds. This whole thing would be over. Either way, King Mayor Bloomberg has discovered that if he doesn't play nice, he doesn't get his perks, and the city will give up a luxury box it probably could have gotten through more legitimate means. Such are the way of things.
So this Andy Pettitte article from Joel Sherman seems to be making the rounds, and again, I'm forced, against my will, to confront a Post article. Basically, Sherman's premise is that the Yanks are going to respond to Pettitte's supposedly rejection of their $10-million offer by — wait for it — lowering their offer.
Sherman writes:
Andy Pettitte's chances to return to the Yankees New York Yankees have dropped precipitously because in the aftermath of the Mark Teixeira signing the organization is now strongly inclined to lower the $10 million offer that the lefty already has been resistant to all offseason, the Post has learned.

Pettitte recently rejected the Yankees' latest $10 million overture, and now – barring a wave of sentimentality by the Yanks or significant change of strategy by either side – that dollar figure very likely will not be offered again. A reduced offer almost certainly would assure the end of the prideful Pettitte's second tour with the Yankees.

Multiple sources refused to divulge if the offer had been lowered already. But one executive briefed on the matter described both the chances of making a deal and the $10 million bid as on life support. Another executive said he did not believe that the $10 million offer was there to be taken any longer.
So in one paragraph, Serhman speculates — "the Post has learned" — that Pettitte's offer will be lowered. Two paragraphs later, no one on or off the record will confirm to him that this is indeed anything more than a move of his creation. One person says the deal probably won't happen; the other says the offer is off the table. No one at talks about lowering the offer.
Now, if the Yankees want Pettitte back, they won't lower the offer. They'll probably just keep it on the table while continuing to promote the idea that the Phils — Coke and Hughes — will be given shots at the rotation and that Ian Kennedy and Al Aceves will get long looks as well. They'll make Pettitte aware of the fact that he doesn't deserve and shouldn't be making $10 million and that the teams knows this and is prepared to move on.
Meanwhile, Yankee bloggers aren't that heartbroken over the Pettitte saga. Alex Belth thinks it would be "a nice luxury" but doesn't feel that the Yankees necessarily need Pettitte. Brian at In Mo We Trust takes Pettitte to task for thinking he is worth more than he really is. I still wouldn't be too shocked to see Pettitte back in pinstripes, but I won't be disappointed if he's not. I don't, however, for a second believe that the Yanks are going to insult the man by lowering their offer.