By

Hideki Matsui, projected to be the Yanks' DH in 2009, will not be participating in the WBC, Ken Davidoff reported over the weekend. While a very big celebrity in Japan, Matsui is rehabbing another knee surgery, and the Yanks are not so keen on his playing during the tournament. As Davidoff notes, Matsui's decision to opt out of the tournament in 2006 upset his fellow countrymen and baseball officials. This year, however, the 34-year-old will focus on getting and staying healthy. · (5) ·
By

Hal Steinbrenner cause a mini ruckus last week when he said, in regards to CC Sabathia, that: "We made an offer. It's not going to be there forever." That sounds like a pretty Hank-ian statement, reminiscent of his "Hughes is on the table, but only for two days" ultimatum towards Minnesota last off-season. Thankfully, Jon Heyman puts the statement into the proper perspective, citing someone within the Yanks organization. No, it won't be on the table forever, but they won't pull the offer anytime soon. So can we please just forget Hal ever opened his mouth? · (31) ·
By

I received an email from fellow MLB Draft watcher Travis Orton, who mentioned that I may have been treating the compensation picks for unsigned draft picks incorrectly in our 2009 Draft Order page. I was under the impression that the comp picks are essentially "invisible," and do not effect the overall number sequencing (i.e. #8, #9, #9A, #10, #11), however Travis pointed out that last year the comp picks were counted towards the overall numbering. This is significant because my methodology pushes a comp pick back one spot for every comp pick that comes before it, meaning the Crow pick pushed the Fields pick back one spot, which then pushed the Cole pick back two spots, etc.

So Travis and I exchanged you're an idiot, I'm right friendly emails, and eventually took it Baseball America's Jim Callis, who confirmed with MLB that the comp picks do count towards the overall, meaning I've been accounting for them incorrectly. I've updated the page to reflect the correct order and numbering, while Jim has an updated draft order in today's AskBA. My mistake irreparably destroys my credit as a know-it-all blogger, but the Yanks actual benefit: the comp pick for Gerrit Cole moves up two spots, while the comp pick for Scott Bittle moves up four spots.

My bad, yo. · (34) ·
When Hal Steinbrenner officially assumed control of the Yankees last week, an era of baseball history came to close. For 30 years, George, spending billions of dollars, has gone from a wild and crazy guy devoted to winning to a somewhat tempered owner still obsessively devoted to winning. Along the way, he's made countless enemies, broken numerous baseball rules and forever altered the economic face of the game.
Earlier this year, I looked at the Boss' Bronx legacy, and then Reggie called for George to land in the Hall. Over the next few years, we'll hear a lot of those arguments — impact vs. personality — rehashed, but for now, writers are struggling with his quiet departure.
In a piece from the West Coast, Steve Dilbeck pens a Dodgers-centric paean to King George. A lot of us are too young to remember it, but the Dodgers and Yankees were primary interleague rivals during Steinbrenner's early years as manager. While that rivalry has faded, the Boss' best hyperbole came out when the Yanks and Dodgers squared off in the playoffs. Dilbeck looks back, almost fondly, on that era and wonders how the Boss managed to fade away so quietly. It truly is the end of an era of baseball history.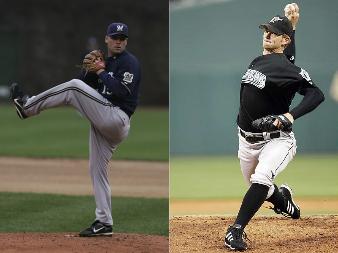 They're both free agents, they both have top notch power arms, they have an equal amount of playoff experience (zero innings), yet one has been much more sought after this winter than the other. Widely considered to be the best non-Sabathia pitcher available this offseason, AJ Burnett has been a hot commodity, drawing rumored interest from as many as eight or ten teams. Ben Sheets, on the other hand, has heard his name garner nary a whisper early in the Hot Stove League despite starting the All-Star Game just four months ago. Why is this?
In terms of pure stuff, you're looking at two very similar pitchers. Both work heavily off their fastball-hammer curveball combo, mixing in a changeup ranging anywhere from average to unhittable depending on the day. Burnett throws harder (average fastball velocity over the last four years is 94.9 mph according to Fangraphs), but Sheets isn't exactly a soft tosser, averaging 92.8 mph on his heater over that time. Both have used their outstanding stuff to post historic outings; Sheets struck out 18 Braves in 2004 while Burnett no-hit the Padres back in 2001. AJ Burnett has arguably the best arm in the big leagues, but make no mistake about it, Ben Sheets ranks right up there are well.
Unfortunately for them, these two share more than just immense talent – they've both earned the "injury prone" label. While frequent DL trips is an unquestionable negative, it's necessary to take a deeper look to see what's really going on. Here's Sheets' DL history:
Yankee fans these days are a predictable bunch. As soon as the Red Sox do something — anything — they flip out and, of course, blame Brian Cashman.
Case in point: Last night, word got out that the Red Sox may have offered Junichi Tazawa a contract. The deal is rumored to be a $3 million for three years.
In response, a RAB commenter Bryan left this gem:
I cant believe that the Yanks didn't offer Junichi Tazawa a contract, now MLB rumors is speculating that he has already decided on the sox. It seems stupid that we should miss out on a 22 year old just because Cashman has some moral issue with the Japanese league! I tell you one thing, we better get Yu Darvish when posting time is up.
It is hard to believe that Cashman should shoulder the blame for the fact that the Red Sox are the first team to offer Tazawa a contract. Never mind the fact that the Yankees could still get involved. Never mind the fact that the Red Sox haven't actually done anything. And never mind the fact that Tazawa might not even be that good.
Wait a sec, you might be saying. Isn't the bunch on Tazawa that he's supposed to be some Major League-ready 22-year-old stud? Not quite.
Over the weekend, Jim Allen, a Japan-based sportswriter who has actually, you know, seen these guys pitch, offered up some scouting reports on the less-than-impressive Japanese free agents, including Tazawa. He hardly had impressive things to say about the youngster:
Tazawa, who stands 5 feet, 10 inches — "5-11 if you really like him," Wilson said — will get a major league deal this winter but is unlikely to make it to the majors during that first season.

He has good command of his fastball and slurve, but he lacks velocity, stamina and the ability to keep the ball down. The talk of a deal worth as much as $4 million is testimony not to Tazawa's talent, but to the soaring appreciation of Japan's game…The right-hander would have gone in the first round of Nippon Professional Baseball's recent draft, but that is a long way from being ready for the majors.

At 22, Tazawa is unlikely to throw much harder than he does now; his fastball barely tops 90 mph when he is rested, and he struggled to hit 88 mph at the end of last season. In Class A or Double-A, Tazawa likely will get hit harder and harder as the season wears on.

Because he knows what he's doing against corporate league hitters here, there is a chance Tazawa will make adjustments, although [Isao] Ojimi is a skeptic. The Mets scout believes the pitcher's body is too stiff to allow him to keep the ball down in the zone and Tazawa lacks the smarts and toughness to hang in and learn the lessons needed to apply his talent in the majors.
For what it's worth, East Windup Chronicle, another on-the-scenes site, echoes Allen's less-than-glowing endorsement.
So there you have it; a few writers who actually have seen Tazawa pitch aren't that impressed. He frankly sounds like another Kei Igawa to me who will be in way over his head in the minors. Japan's industrial league is a far, far cry from the Majors.
As the Hot Stove heats up, we can't lose sight of objectivity. If Cashman isn't too keen on ruining the Yanks' relationships with the other Japanese teams, perhaps it's because the potential free agent just isn't that good, and when writers on the scene say that, I'm inclined to believe them.
Yesterday, Dave Pinto looked at the PMR for defense behind pitchers. For those unfamiliar with PMR, it stands for Probabilistic Model of Range, and it compares the number of balls in play and compares it to predicted outs and actual outs. Read the link above for a better explanation and past PMR ratings. The defense behind pitchers is a neat one, because we're supposed to see how a defense benefitted or hurt a pitcher.
The Yankees kind of stick out on this list. First is Chien-Ming Wang, who seems to be the pitcher most helped by his defense. On the other end of the spectrum are Andy Pettitte and Darrell Rasner, who are among the most hurt by the defense behind them. So what gives? Can the Yankees defense be like eight Omar Vizquels when Wang pitches, but turn into eight Jason Giambis when Pettitte and Rasner take the hill?
Clearly, I think this has something to do with the pitcher himself. One thing I've noticed over the years with Wang is not only his ability to induce groundballs, but also his ability to induce poor contact. Even balls in the air don't have much under them. Yeah, you might make Johnny move a few steps, but it's not like he's giving up many screamers into the gap. That's the beauty of Chien-Ming Wang.
On the other end, with Pettitte, I'm not sure what to think. It's comforting, I suppose, to think that the defense behind Andy, which we know isn't among the best in the league, played a role in his poor second half. But what if he was just giving up a lot of hard-hit balls, ones that the defense had no shot at? That's going to show in these defensive numbers, even though it's not necessarily the defense's fault.
Another interesting note: Dice-K was second on the list. So he gave up the fourth most walks in baseball — most in the American League — and had his defense convert the second most balls in play into outs? I'm really interested to see how next year turns out.
A year ago, we turned Melky Cabrera into the Yankee whipping boy. While many fans were high on the youngster with the good arm, we weren't impressed with his hitting and didn't feel he could be the Yanks' center fielder of the present, let alone the future.
This time around, the Yanks don't even have a center fielder upon whom we could dump. It seems that barring a trade, the Yanks will head into 2009 with some combination of Brett Gardner, Melky Cabrera and Johnny Damon patrolling the home where Bernie Williams, Mickey Mantle and Joe DiMaggio once roamed.
To that end, some names keep popping up in low-level trade speculation. Some Yankee fans like Ichiro; rumors have linked the team to both Mike Cameron and Aaron Rowand. The Yanks, after all, could be the salary dump team of choice for NL teams looking to off-load their high-priced outfielders.
While the center field market is hardly robust, last week's trade of Coco Crisp from the Red Sox to the Royals may open Kansas City up for a deal with the Yanks. The Royals now have too many outfielders and could look to trade David DeJesus. Enter John Perrotto. In this week's Any Given Sunday column (subscription required), Perrotto drops in this piece of idle speculation:
The Royals would at least consider trading outfielder David DeJesus after acquiring center fielder Coco Crisp from the Red Sox in a trade, and there has been talk of a swap with the Yankees for second baseman Robinson Cano.
Robinson Cano, of course, remains the Yankee Major League most likely to be traded this off-season despite the team's obvious commitment to straightening out his swing. They didn't send Kevin Long down to the Caribbean for Winter League work with Cano just to fix the Royals' future second baseman.
That said, DeJesus is an interesting candidate for CF. A soon-to-be 29-year-old Brooklyn native, DeJesus has had his ups and downs over the last few years. He's a career .287/.360/.422, and while fast, he doesn't seem to be a very effective base stealer. He's just 40 for 71 in his career on the base paths.
I wouldn't trade Cano for him, but I could see why the Yanks would think DeJesus to be a good fit for the Bronx. Can they pull the trigger on this one? Or will Brett and Melky and Johnny become the de facto center field trifecta next season?
As always, use this open thread for, well, an open thread. Feel free to comment on anything. The Jets beat the Titans. That was impressive. The Red Sox seem willing to wave good bye to the man with a giant red C on his chest, and the Lugo-for-Willis rumors persist.
Thursday's AzFL Peoria Game (13-6 win over Phoenix) the Javelinas finished the season at 16-22, 3.0 GB of a playoff spot … the Phoenix Desert Dogs won their fifth straight league title
Kevin Russo: 0 or 4, 1 R, 1 BB, 1 K – finished at .309-.377-.464 while playing at least four positions (SS, 3B, LF, RF) … he may have played more, but that's all I can remember
Austin Jackson: 0 for 3, 1 R, 1 BB, 2 K – finished at .246-.298-.377 with 30 K (7 BB) in 114 at-bats … not what we would have liked to see, but eh, it's only the fall league
Juan Miranda: 1 for 3, 1 R, 1 2B, 3 RBI, 2 K – finished at .301-.378-.658 with 14 XBH & 20 RBI in 73 at-bats
Kevin Whelan: 2 IP, 1 H, 0 R, 0 ER, 0 B, 2 K, 1-3 GB/FB – 18 of 33 pitches were strikes (54.5%) … finished with a 21-14 K/BB ratio & a .175 AVG against in 17.1 IP … his reward, exposured to the Rule 5 draft
Humberto Sanchez: 0.1 IP, 4 H, 3 R, 3 ER, 1 BB, 0 K, 1-0 GB/FB – 12 of 21 pitches were strikes (57.1%) … finished with 4-11 K/BB ratio (that's not a typo) & a .389 AVG against in 12 IP … ouch
The Hawaii Winter Baseball season is over, Waikiki took home the league title.
Other notables:
Melky Cabrera: 8 for 19 (.421), 4 R, 1 2B, 3 RBI, 1 BB, 2 K, 1 SB in 5 games
Robbie Cano: 2 for 9 (.222), 2 R, 2 RBI, 1 BB in 2 games
Frankie Cervelli: 8 for 31 (.258), 7 R, 1 2B, 1 HR, 1 RBI, 6 BB, 6 K in 15 games
Justin Christian: 33 for 116 (.284), 18 R, 5 2B, 3 HR, 14 RBI, 11 BB, 21 K, 9 SB, 1 CS in 28 games
Reegie Corona: 15 for 49 (.306), 9 R, 5 2B, 1 HR, 9 RBI, 3 BB, 6 K, 1 SB, 1 CS in 19 games
Walt Ibarra: 12 for 52 (.231), 3 R, 2 RBI, 5 BB, 12 K, 2 SB, 1 CS in 23 games
Ramiro Pena: 11 for 43 (.256), 4 R, 1 2B, 1 HR, 6 RBI, 0 BB, 1 K, 1 CS in 12 games
Jon Albaladejo: 4.1 IP, 3 H, 0 R, 0 ER, 1 BB, 3 K, 1 WP in 4 appearances
Wilkins Arias: 6.1 IP, 10 H, 10 R, 10 ER, 5 BB, 8 K, 2 WP in 10 appearances
Ian Kennedy might be starting Mayaguez's game today, but I'm not sure. There was a suspended game at the end of the week, and I'm not sure how it effected the rotation. I'll update this post when I find out if he's pitching. Here's the scoreboard.
Update (4:27pm): Oh, and one more thing. J! E! T! S! JETS JETS JETS!!!
While yesterday I suggested that Yankee Stadium demolition could begin as early as March, PeteAbe has a different take on it. In a post chock full o' goodies, the LoHud beat writer drops in a note about the stadium:
— We're hearing that the old Stadium won't be torn down until next fall. A movie will be filming there in the spring and summer, it seems. It's going to be a while before fans get to purchase seats and other memorabilia. Will the long delay reduce the value? I'm hardly a marketing guy, but it seems to me that the best time to sell that stuff would be now when the experience was fresh in people's minds.
To respond to the latter point, the delay isn't going to reduce the value of anything. Yankee Stadium memorabilia will always be Yankee Stadium memorabilia. They could sell it today, tomorrow or five years from now when people will, hopefully, have more disposable income, and the seats would sell like hot cakes.
It will, however, be odd to see the old stadium looming over the subway tracks while fans pour into the new park. The old and new will face off until the day comes when the city starts dismantling the House that Ruth Built, one piece at a time.