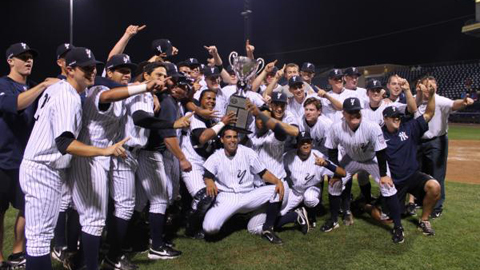 The 2011 season was almost guaranteed to be a disappointment after the near-flawless year the farm system put together in 2010. The breakout-heavy and injury-free season spoiled us rotted, but everything returned to normal this summer. There were some more injuries, some more players not making as much progress as we'd like, and a few less players breaking out. It's disappointing after the success of 2010, but this was a pretty normal season for the farm system.
For at least the 29th consecutive year, the Yankees' six domestic affiliates combined to an above-.500 record (352-342). Although none of the four full season affiliates qualified for the postseason (the first time that's happened as a foursome in basically forever), both the Short Season Staten Island Yankees and the Rookie Level GCL Yankees won their league titles. Staten Island's title was the franchise's sixth in 13 years of existence, while the GCL Yanks took home their fourth title since 2004.
This post is not intended to be any sort of prospect ranking, it's just a recognition of those who had great years regardless of their future potential. Sometimes we just have to step back and say damn, that guy was awesome without obsessing over the underlying data and wondering whether or not it's sustainable. Here are my 2007, 2008, 2009, and 2010 awards posts. Just as a reminder, I disqualify the Player of the Year from the other major awards just to mix things up.
Minor League Player of the Year: Mason Williams, CF, SS
I've never given the PoY to a guy that didn't play in a full season league and I don't intend to make a habit of it, but Williams gets the nod in a year lacking an obvious candidate. The now-20-year-old center fielder demolished older competition in the New York-Penn League, hitting .349/.395/.468 with 28 steals in 68 regular season games. Williams let the league with 94 hits (by ten), and placed second in the circuit in batting average, triples (six), total bases (126), and steals. Only three players topped his .863 OPS, and all three are two years older than him. Williams, the Yankees fourth round pick in 2010, received the largest signing bonus they handed out that year, and now you know why. He excelled against college kids and helped his team to the best record in the league as well as a championship.