When history — in the form of Monday's tabloids — comes to judge yesterday's Yankee acquisition of OF Xavier Nady and LHP Damaso Marte, columnists will be rushing to pass judgment on a trade that changes the look of the 2008 Yankees. But it isn't that simple; it never really is.
Right away, this trade makes the Yankees better, and on the face of it, they gave up a lot of nothing. Offensively, they now have a bat to sit in for — but not truly replace — Hideki Matsui or Jorge Posada while at the same time they no longer will trot out a lineup with two of Melky Cabrera, Brett Gardner and Justin Christian. On the year, Xavier Nady has been one of the NL's best hitters. He's sporting a .330/.383/.535 batting line in 360 plate appearances. Melky wishes he were that good.
But the questions surrounding Nady are all about future production. Is Nady having a break-out season or is he just enjoying a good four months? His career numbers — .281/.337/.456 — don't suggest that this stretch is anything more than a hot streak, but at age 29, he could be putting it all together. Either way, the Yankees expect him to bat seventh, and he's bound to fill that spot more than adequately.
On the pitching front, the Yankees landed a set-up man who also happens to be a lefty. This year, Damaso Marte, the one-time Yankee farmhand once traded for Enrique Wilson, has thrown 46.2 innings and has recorded 47 strike outs. He's allowed 38 hits, 16 walks and just four home runs with an ERA of 3.47. Even though his splits indicate more success against righties, Marte has struck out 22 of the 59 lefties to face him.
With Marte joining the team, the Yanks do have the opportunity to ensure that this trade makes the bullpen worse, albeit only slightly. If they don't DFA LaTroy Hawkins, by far the worst pitcher in the bullpen, then Marte will push a deserving and effective reliever out of the Bronx. The only way LaTroy stays is if Dan Giese gets sent back to AAA, but I still think Giese should get the call over Hawkins.
That's the short-term prognosis. These moves help the Yankees shore up their offense and fortify their strong bullpen. But the long-term picture — analyzed here with an assist from Mike — is more complicated, and the trade really hinges on what Jose Tabata does and does not do over the next few seasons.
For starters, George Kontos and Phil Coke are simply throw-ins. Unless the stars align perfectly, Kontos will probably never see the Major Leagues. While Coke — disappointed with the trade — could be a potential fifth starter or long reliever, he is, in the words of Mike, "easily replaceable." Plus, the Yankees have a surplus of arms, and trades like these are always made from strengths. See ya later, Kontos and Coke.
So the prime pieces are Ross Ohlendorf and Jose Tabata. In a way, they may have sold high on one, low on the other. Now, Ohlendorf we know. He's got the velocity, but does he have the stuff? In 40 Major League innings this year, Ohlendorf fooled no one. He allowed 50 hits and seven home runs, an exorbitant amount for a supposed sinkerball pitcher. He had a 6.53 ERA with a 1.725 WHIP, and opponents were hitting .299/.374/.473 against him.
While he's thrown somewhat batter in the Minors of late as the Yanks attempted to convert him back into a starter, his numbers still aren't very overwhelming. His move back to the rotation, however, carried with it a bit of hype, and the Yanks may actually have sold high on him simply because starters are more valuable than relievers. It's doubtful, as Mike says, that he'll ever be more useful than Marte out of the pen, and his ability to succeed as a starter is up in the air. As this was his second trade in about 18 months, he was rather resigned to his fate.
How about Jose Tabata? The once-untouchable Tabata — the Yanks wouldn't trade him for Bobby Abreu in 2006 — has seen his stock plummet this year. Soon to be 20, Tabata is hitting .248/.320/.310 at AA and has suffered through attitude and injury problems this year. Corner outfielders who can't hit for power and aren't overwhelmingly fast don't survive long in the Majors.
Still, Tabata is one of the youngest players in the Eastern League and has plenty of time left to turn things around. He could be the next Drew Hensen or Eric Duncan or he could be a bona fide Major Leaguer. Time will tell.
So then the question is: Will Jose Tabata ever be better than Xavier Nady? Mike says that odds are against it, but it's not out of the realm of possibilities. Right now, this trade makes the team better today, and for 2008, it's a very good trade. The Yanks landed what they needed without giving up too much, if anything at all. While, in five years, we could be singing a different tune, I'd still pull the trigger on this one any day.
Update by Mike (11:55): The trade has been reconfigured: Dan McCutchen & Jeff Karstens are heading to the Steel City instead of Coke & Kontos. The analysis doesn't change much, except that these two are a level closer to the bigs. Karstens is pretty bad as we all know, and he would have been out of options next year anyway. McCutchen's pitching well, but a little he's two months away from his 26th birthday, so he is what he is, a solid back-end/middle relief guy.
I'm not sure what happened, maybe they found something in someone's medicals?
Another update by Mike (12:10): Pete updated his post to say that the Pirates selected McCutchen & Karstens from a pool of players that also included Coke & Kontos. Makes sense.
By

Austin Jackson, one of the Yanks' premier position-player prospects, will be taking some questions from bloggers later this afternoon. Eric SanInocencio, a frequent RAB commenter and writer for Baseball Digest Daily, will speak to Jackson as part of the live BDD Talk Radio podcast. A-Jax will be fielding questions on his progress this season, his recent hot-hitting and what he hopes to accomplish next year. You can listen live at noon eastern time or follow that link for the show's archive later on.

And, yes, we'll have some more in-depth trade analysis shortly after noon. · (5) ·
Remember when a whole bunch of New York sports writers and talk-show hosts were flipping out over Joba Chamberlain's move to the starting rotation? Remember how Joba was supposed to be oh-so-much more valuable to the Yankees as a one-inning set-up man than as an elite starter he was projected to be? Well, I don't hear those voices anymore. That's for sure.
Tonight, it was all about Justin Chamberlain. For seven innings, Joba powered his way past Boston's offensive powerhouse in Fenway Park. He outpitched Josh Beckett and delivered the Wild Card-leading Red Sox just their 12th home loss of the season. The final score, of course, had to be 1-0.
Chamberlain was, in a word, masterful. Over seven innings — his longest outing as a starter — he threw 68 of 102 pitches for strikes and allowed just three hits, all singles, and one walk while striking out nine. Only two Boston runners made it to second, one on a steal and one was forced there on a walk. And until Kyle Farnsworth came in to attempt the eighth inning, the Red Sox never had much of anything going.
The best part of the outing had to be the Kevin Youkilis at-bat in the seventh. Youk and Joba, BFF's since last season, were facing off when Joba fell behind 2-0. Chamberlain's next pitch sailed up and over Youkilis' head, and the feisty first baseman was so unhappy that, three pitches after jawing at Joba, he whiffed on one of the nastiest sliders Joba's ever thrown. Game, set, match.
On the other side of the ball, Josh Beckett was good but not good enough. He too threw seven innings and allowed 10 baserunners, but the Yanks, Beckett's strike-out victims six times, could push across just one run. Amusingly, that run came off a Jason Giambi infield single hit just to the right spot against the shift. When your opponents don't score, one run is all you need.
The Yankees, of course, with Joba starting, ran into trouble in the eighth inning. How ironic. The recently reliable Kyle Farsworth allowed a hit, recorded an out and gave up an infield single before giving way to Mariano. It happens. The Sandman was more than happy to clean up Kyle's mess, dispatching Jacoby Ellsbury and Dustin Pedroia to end the inning.
The game had to end with a nasty cutter from Mariano River, and as J.D. Drew watched strike three sail into Jose Molina's glove, all was right in Yankee Universe. Two reinforcements are Bronx-bound; Joba finds himself with a 2.30 ERA as a starter with 63 K's and 23 walks in 54.2 innings; and the Yanks are just two back of Boston, breathing heavily down their necks.
As you may have noticed, our server was having some issues tonight and the site would crash every so often. This generally occurs during large spikes in traffic, which happened tonight when word of the trade got out. If you ever have trouble with the site, please give us 2 or 3 minutes to get things up and running again. If you keep hitting refresh, it only makes it worse. Thanks all.
Triple-A Scranton (7-3 win over Rochester)
Bernie Castro: 1 for 5, 1 K
Alberto Gonzalez: 2 for 5, 2 R, 1 HR, 1 RBI, 1 K
Matt Carson: 1 for 3, 1 R, 1 HR, 1 RBI, 1 K
Juan Miranda: 2 for 3, 2 R, 1 RBI, 1 BB, 1 K – .969 OPS vs RHP … .455 vs LHB
Cody Ransom: 1 for 3, 2 R, 1 2B, 1 RBI, 1 BB
Ben Broussard: 1 for 4, 1 RBI – couldn't make it 3 straight with a homer
JD Closser: 2 for 4, 1 K
Chris Stewart: 3 for 4, 1 2B, 1 RBI – picked a runner off first with a snap throw
Nick Green: 0 for 3, 1 RBI, 1 K – threw a runner out at home from RF
Jeff Karstens: 5.2 IP, 9 H, 3 R, 3 ER, 2 BB, 5 K, 3-6 GB/FB – 65 of 95 pitches were strikes (68.4%)
Steven Jackson: 0.1 IP, zeroes
Brian Bruney: 1 IP, 0 H, 0 R, 0 ER, 1 BB, 1 K
Billy Traber: 0 IP, 1 H, 0 R, 0 ER, 0 BB, 0 K - useless with Marte now on board … of course he was useless before that too
Chris Britton:2 IP, 1 H, 0 R, 0 ER, 0 BB, 1 K, 3-2 GB/FB
By

Breaking news: The Yanks have traded Jose Tabata, Ross Ohlendorf, Phil Coke and George Kontos to the Pirates for Xavier Nady & Damaso Marte. More to come.

Update: SI has it now. I love Ross Ohlendorf, and Jose Tabata was still a very promising prospect despite his problems this year, so I'm kind of on the fence with this one. I think they sold low on Tabata.

Update 2: ESPN's joined the fun. I'm coming around on the deal, but I still don't like selling low on Tabata. Ohlendorf has a chance to be pretty damn good, and Coke had a chance to be serviceable. Kontos sucks, I never liked him. If you've been following my stuff since the 2006 draft, you know that's the truth. At least now the Yanks have a decent option for replacing Abreu next year. · (171) ·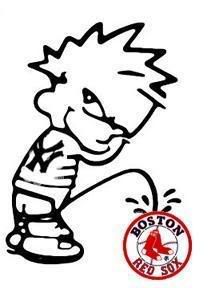 So how hot are the Yankees right now? They're so hot that they picked up a half-game in the standings during their off-day yesterday. They've won 11 of their last 14, outscoring their opponents 64-35 in the process, and they managed to shave a full six games off their deficit in the division race. And make no mistake about it, it's very much a race. The last 60 games of the season should be a blast.
Primo pitching matchup in that hideously ugly high school field where even the birds are unruly, as the wicked awesome Josh Beckett takes on Joba "ZOMG teh 8th inning!!!1!!1!!" Chamberlain. Joba's posted a 2.64 ERA since becoming a starter, good for 8th in AL, and he's held opponents to a .653 OPS against. Basically, he's turned everyone into Melky Cabrera (.654 OPS). How's that for some perspective?
Boston gets David Ortiz back in their lineup tonight for the first time since May 31st, but everyone should be paying attention to the Joba vs Kevin Youkilis matchup; those two have a bit of a history, most of which involves Youkilis whining like the bitch he is. Hopefully Joba gives him a little double-chin music tonight.
Remember guys, the only thing that matters is if you win or lose, not how you play the game.
1. Damon, DH
2. Jeter, SS
3. Abreu, RF
4. A-Rod, 3B
5. Giambi, 1B
6. Cano, 2B
7. Melky, CF
8. Molina, C
9. Gardner, LF
And on the mound, Joba "fist pumps show I care" Chamberlain.
Notes: I can't remember the last time the Yanks & Sox played a series this late in the season in which neither team was in first; hell, I don't even know where I'd go to look that up (it's probably this game though) … wanna talk trade rumors? then do it in this thread … there's going to be lots of comments this weekend, so please review our Commenting Guidelines before telling us how much you hate Dustin Pedroia … we Yankees' fans are going to deserve a medal after this weekend, we get Michael Kay tonight, Buck & McCarver tomorrow, then Joe Morgan on Sunday (yikes) … the game is on MY9 tonight, not YES
By

You want your rumors; we'll give your rumors. Or at least, we'll dispel them. PeteAbe reports that the Yanks are not interested in a catcher or Barry Bonds but are still hoping to land Jarrod Washburn. Jon Heyman writes that the Yanks are "considering" Bronson Arroyo, won't be able to pry A.J. Burnett from the Jays and said no to a trade with Seattle involving both Melky Cabrera and Brett Gardner. He also says those Robinson Cano rumors have not an ounce of truth to them. So there you go. Have fun. · (105) ·
By

Based on the rumors, as Ken Rosenthal reports them, the Yankees are interested in upgrading at catcher. Kenny says that Gerald Laird of Texas could be a potential match for the Yanks; we advocated for Josh Bard. Now while Laird has shown some ability to hit this year, his career numbers — .257/.308/.387 — are none too inspiring. >

But the bigger problem is the Yanks' position. Everyone knows the team is looking for an upgrade over the Molina/Mueller tandem. Why would anyone be willing to sell for a reasonable price? Teams with excess catchers always have the upper hand in trade talks, and the Yanks would be buying from a position of weakness. Don't expect a move behind the plate. · (54) ·
So that Ian Kennedy start. Pretty impressive, eh?
In case you're joining us already in progress, Kennedy, the exiled and highly-regarded pitching prospect, came within one out of a seven-inning no-hit, no-walk performance for AAA Scranton this evening. He ended the game throwing seven, allowing no earned runs, one hit — a run-scoring double after a Chris Basak error — no walks and seven strike outs. He threw 61 of 92 pitches for strikes and was about as good as it gets.
With this start, Kennedy thrust himself back into the Bronx picture. No longer can we ignore him every five days, pretending that he isn't there. In fact, Kennedy's rehab and subsequent progress at AAA had to, inevitably, lead to this point. While he started out July on a mediocre foot, since landing in Scranton, Kennedy finds himself sporting a 2.73 ERA. He has struck out 19 over 26.1 innings and has a WHIP of 0.99. Remember that number.
Over the next few days and weeks, Kennedy's name will begin to resurface more frequently in New York. If he pitches well, he will become a replacement option for either Sidney Ponson and his 1.72 WHIP in the Bronx or Darrell Rasner, coming off a nice start but still sporting a 6.42 ERA over 47.2 innings since June 1. Kennedy's name will also appear in other forms. With this outing tonight, he has re-established himself as one of the biggest trade chips in the Yankee organization. He doesn't appear to be untouchable as Phil Hughes, Austin Jackson, Mark Melancon and Jesus Montero are, and teams will be drawn to his talent and ability as well as his pedigree.
So what are the Yanks do to? At some point, they'll have to replace Rasner, Ponson or both. The two just don't have the numbers or stuff to be what the Yankees need with Chien-Ming Wang out, and Kennedy is now a prime candidate to replace either sooner rather than later. But if the right trade offer comes along, Kennedy could be gone.
Despite his early-season Major League struggles, I'd still like to see the Yankees hold on to Kennedy. Thrity-seven innings do not a career make. But will the brass see it the same way? Only time will tell. One thing, though, is for certain: Ian Patrick Kennedy is back on the radar.