By

Via the Arizona Republic, Phil Hughes will toe the rubber later today for the Peoria Javelinas when the Arizona Fall League season begins. First pitch is scheduled for 12:35 local time, which is 3:35 on the east coast. Here's the league scoreboard, you should be able to follow along on Gameday (the link will show up as we get closer to game time). Austin Jackson will likely be patrolling CF behind Hughes.

HWB was off last night, hence no DotF.

Update (3:15pm): Here's the Gameday link. Hughes starting, Ajax batting third & playing CF, Kevin Russo batting ninth & playing the hot corner. · (105) ·
By

As the U.S. economy, strong fundamentals and all, falls apart around us, Tony Gabriele, a writer for The Daily Press out of Newport News, Virginia, knows who to blame. It is, he says, all the Yankees' fault. When the Yanks missed the playoffs in 1929, the Great Depression followed, and now history is repeating itself. So really, everyone in the U.S. should be rooting for the Yanks. That, my friends, is sound logic. · (20) ·
It's no secret that we're not fans of Melky Cabrera around here. We didn't think the Yanks were making the right move in awarding him the center field job this year, and we thought the Yanks should have traded Cabrera last year when his stock was high.
After a hot April, we thought we were wrong, and we were happy to allow for the possibility. In fact, through the first week of May, it seemed as though Melky had arrived. After 31 games, Melky was hitting .291/.359/.505 with 6 HR and 17 RBI. It was all downhill from there.
Over his final 311 ABs, spanning 335 plate appearances, Melky was abysmal. He hit .235/.280/.286 with just 2 HR and 20 RBI. After walking 12 times in his first 118 plate appearances, he managed to draw just 17 free passes over that final 335 PAs. Melky Cabrera became an out machine.
As the season wore on and Melky's numbers grew more and more grim, the Yankees did nothing. A mid-July Brett Gardner call-up didn't net anything in the way of a replacement, and the Yanks were quick to send Brett packing. In August, the team had finally had enough, and after acquiring Xavier Nady, they moved Johnny Damon into center and Nady into left. Melky landed in AAA. While the Yankee defense would subsequently struggle — odd considering that Melky is largely overrated in center — the team had rid itself of blackhole in the lineup.
But the damage had been done. On the season, Melky was below average in every regard. For the third straight season, his rate stats (BA/OBP/SLG) declined, and his OPS+ hit 70, well below the league average. Melky managed to make Jason Varitek look like an offensive force at the plate this year. Sabermetrically, Melky pulled down a VORP of -4.0. Of players who had as many plate appearances, Melky was far and away the least productive. Replacement level would have been better, and once Brett Gardner found his groove in September, that replacement level player was better.
The question now though is twofold. First, what went wrong? A quick glance as Melky's batting stats reveal that he was slightly unlucky this year. His BABIP, a mark which should hover around .290, was .271. His line drive percentage was steady, and his groundball rates decreased. By his fly ball numbers spiked. After a six-home run start to the season, Melky was trying to elevate his pitches, and he couldn't get out of that rut. He didn't hit all with runners in scoring position and struck out more often this year than last.
The next of course concers Melky's future. Where does he go from here? It's pretty clear that the Yanks have thankfully written him off. They will actively search for a center fielder this year and will probably be inclined to make Melky really earn his way onto the team next year if Melky isn't traded. But trading Melky will be a problem too. If I were a GM, I wouldn't be too keen to pick up a kid with a good arm who can't hit particularly well and doesn't take the best approach to fielding his position.
By himself, Melky wasn't responsible for the Yankees' lost season. But he was a part of it. An average outfielder — far above replacement level — such as Marlon Byrd or Vernon Wells would have netted a VORP in the mid-20s, and that three-win swing would have brought the Yanks that much closer to the playoffs.
In the end, I don't like to gloat or revel in it. I would have rather seen Melky turn into a star or, at the very least, a serviceable center fielder. But for now, it looks like we were right, and the Yanks are stuck looking to fill a center field hole in a year in which the pickings are slim to say the least.
The Angels lived to fight another day last night, and now they're right back at it ready to do it again. Even though the game went 12 it should have never been that close to start with, except that Howie Kendrick/Torii Hunter's brain fart led to the first 3 RBI single in postseason history.
The last time John Lackey pitched in Fenway, he did pretty well, but he still sports a 6.34 career ERA in the little league field. Jon Lester has been close to unbeatable at home this year, going 11-1 with a 2.49 ERA at the Fens. I dunno though, those stats are so one-sided that this game might have reserve lock written all over it.
In what must be a new rule, the Sawx dropped Mikey Lowell off their postseason roster and replaced him with some guy named Gil Velazquez. As Chip Caray has reminded us numerous times last night, Lowell has a torn labrum in his hip and has basically been useless on both sides of the ball. This has to be a brand spankin' new rule, because the only time you were allowed to change the roster was between rounds as recent as last season. If a guy got hurt, too bad, you were stuck with him.
Anaheim
1. Don't Call Me Sean Figgins, 3B
2. Garret Anderson, LF
3. Mark Teixeira, 1B
4. Vlad Guerrero, DH
5. Torii Hunter, CF
6. Mike Napoli, C
7. Juan Rivera, RF
8. Howie KKKKKKKKendrick, 2B
9. Erick Aybar, SS
- John Lackey, P (12-5, 3.75)
Bahstin
1. Jacoby Ellsbury, CF
2. Dustin Pedroia, 2B
3. David Ortiz, DH
4. Kevin Youkilis, 3B
5. JD Drew, RF
6. Jason Bay, LF
7. Mark Kotsay, 1B
8. Jed Lowrie, SS
9. All Star Catcher Jason Varitek, C
- Jon Lester, P (16-6, 3.21)
The winner of this series will take on the Rays, who sent the ChiSox packing earlier tonight.
After they're finished hitting each other in the face with bats, the Rays will look to close out the first playoff series win in franchise history tonight. Chicago escaped certain doom yesterday, pouncing on Matt Garza's mistakes and getting timely hits, but will they be so lucky tonight? Andy Sonnanstine doesn't strike fear into the heart of anyone, but the dude's one ballsy pitcher. Gavin Floyd's been a bust since age 22, so I'm sure he won't be effective tonight, or ever in the future.
Comment away on the game here, although I'm sure we're all saving our energy for tonight's Lester-Lackey deathmatch in the Fens.
Tampa Bay
1. Akinori Iwamura, 2B
2. Bossman Junior, CF
3. Carlos Pena, 1B
4. Don't call me Eva Longoria, 3B
5. Carl Crawford, LF
6. Clifford Floyd. DH
7. Dioner Navarro, C
8. Gabe Gross, RF
9. The Team MVP, SS
- Andy Sonnanstine, P (13-9, 4.38)
Chicago
1. Orlando Cabrera, SS
2. AJ Pierzynski, C
3. Jermaine You Dye Now!, RF
4. Jim Thome, DH
5. Paul Konerko, 1B
6. The Kid, CF
7. Alexei Ramirez, 2B
8. DeWayne Wise, LF
9. Juan Uribe, 3B
- Gavin Floyd, P (17-8, 3.84)
Today, friend of RAB Keith Law examines the rise of White Sox ace Jon Danks (apologies, it's behind the pay wall, but you can still read the first few graphs). The 6'2″ southpaw was the ninth pick of the 2003 draft by the Rangers, and had a tough time in the upper levels of the minors. In search of a more big league ready chip, the Rangers dealt him to the Sox in a deal for Brandon McCarthy. He struggled in his major league year, posting a 5.50 ERA over 139 innings. The White Sox, though, added a cutter to his repertoire, and he delivered big time in '08 with a 3.32 ERA in 195 innings. He'll be 24 in the middle of April 2009.
Why is this noteworthy? I seem to remember another pitcher, drafted a year after Danks, who had some initial troubles at the major league level. The fans of the team were all over this guy before he hit the DL with a rib injury at the end of April. Yet he came back and was highly effective in his minor league stint, and had one "meh" and one superb start upon his return to the majors. Yep, it's Phil Hughes, and yes, he added a cutter to his repertoire. Perhaps Danks's tale will allow us to exercise a little more patience in judging the 22-year-old.
This, of course, is not to say that Hughes will develop in the same way, or even that his cutter will equal that of Danks. It's to say that young pitchers take time to develop. I'll be the first to admit that we were a bit overzealous in our praise for Hughes and Kennedy. However, I still have faith in both of them, especially Hughes. It was wrong of us to expect him to slot into the rotation last year and become a mainstay without any major bumps. The past year has helped temper our expectations, but long term I think our enthusiasm still stands. With Philly now rocking a fastball, cutter, monster hook, and a work-in-progress change, he can make better use of his repertoire and stay on top of major league hitters.
I can see where the Yankees might not want to pick up the $6 million option on Damaso Marte, who had problems throwing a strike in the AL. But wouldn't it make sense to pick it up and then try and trade him? If you agree to pick up $3 million, you could get a pretty good prospect or two in return.
I disagree. After a rough first few appearances on the Yanks, Marte threw 2/3 of his pitches for strikes. He also threw 11 stellar innings over 15 appearances, allowing nine base runners and striking out 13. He did the job the Yanks expected him to do.
In today's market, $6 million for a solid bullpen arm seems to be a little bit high, and while the 2008 Yanks proved that the bullpen-by-veteran approach is largely unnecessary, Marte has a role on the Yanks next year. He can be that power lefty out of the pen the Yanks haven't had since the glory days of Mike Stanton. He can set up for Rivera, and he can solidify the back end of the game.
I don't advocate signing three Marte's and three Farnsworth's for the rotation. But Marte offers up something the Yanks haven't enjoyed in a while. Phil Coke is still an unknown, and the future of the pen is up in the air. Bringing Marte back is a move the Yanks can afford, and they should do it.
By

I'm filling in today over at MLB Trade Rumors. The first thing I came across in the morning was a mailbag by MLB.com writer Mark Bowman. In it, he mentions that the Braves could be interested in trading for Xavier Nady. Of course, Nady has gone over well with New York fans, and it's probable he starts the season at a corner at New Yankee Stadium. I wonder, though, what the Braves would offer. The only name on their roster that makes sense is Casey Kotchman. Would they dish the Mark Teixeira bounty for Nady? Would the Yankees be interested? · (128) ·
With the Brewers out of the playoffs, the CC Sabathia sweepstakes will begin to heat up. Sabathia is, of course, under contract with the Brewers until after the World Series, and Milwaukee will get first crack at him. While other teams can't say anything about CC quite yet, the big lefty is free to says as he pleases.
MLB Trade Rumors wraps up the CC Sabathia quotes from Sunday's post-game interviews. "All those who say I only want to go back to California to play, that's not true," Sabathia said.
He also dropped this gem:
I want to get it done pretty quick. I try to be as less free as possible. All that is is stress, having it drag on through the winter. I can guarantee you I won't be flying around going to different cities. I've pretty much been to every city. I've got a lot of friends around the league. They're going to have to come to me.
That we must all take at face value. Sabathia sounds like a man who isn't set on any one course. He liked pitching in the NL with the Brewers this year but isn't married to the idea. Again, the Yanks will be willing to be the house on Carsten Charles. He doesn't cost them anything other than dollars, and the team will have plenty of those for the foreseeable future.
If it comes down to money, I'd bet on Sabathia in the Bronx, and it's starting to sound like it very well may come down to money.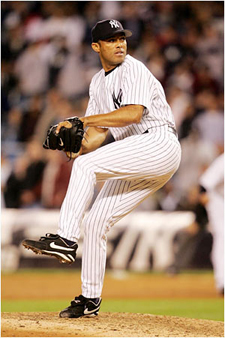 We are truly blessed. For the past 13 years, we've had the privilege of watching Mariano Rivera work his magic out of the bullpen. While he may never hold the career record for saves, he is the greatest relief pitcher in the history of baseball. You won't find too many people, Yankee lover or hater, who will argue that point. In an aspect of the game wrought with volatility, Mo has been a pillar of consistency and excellence.
Let me take this a step further. Some might not agree with me, but I think in due time many of them will come around. Not only is Mariano Rivera the greatest relief pitcher in the history of baseball, he is the best pitcher, period, in the history of the New York Yankees. This is no disrespect to Whitey Ford, Ron Guidry, and the other workhorses of Yankees lore. They all have their places in history. Mo, however, is a once in a lifetime talent. I can't even begin to imagine life in 2011.
While we've been examining what went wrong with the 2008 Yankees, Mo was among the few things that went right, though that doesn't begin to describe his phenomenal performance. You might even be able to call 2008 the best, if not most dominant, season of Mariano Rivera's career. He certainly earned the first year of his contract.
We'll start with his raw ERA, 1.40, the second lowest of his career. The lowest came in 2005, 1.38, so there's hardly a difference. Well, scratch that. The difference is that in 2005 Mo got hosed out of a Cy Young because Bartolo Frickin' Colon won 21 games. Johan Santana also has beef. His ERA+ was actually better this year, 308, though it was 307 in 2005. He also allowed the fewest runs of his career, 11, even surpassing 2002, when he threw just 46 innings. His six walks were also a career-low.
None of those, however, is the most astonishing stat of them all. For that, I point to his WHIP: 0.665. I couldn't believe it the first time I saw it. Seriously? That has to be some kind of record, right? Thanks to ESPN, we can check at least back to 2000. Surprisingly, there are a few closer than I had thought, but none as low as .0665. Want another has-to-be-a-record? Mo's K/BB ratio was 12.83:1. Only Ben Sheets has hit 10.00 since 2000.
As if that wasn't enough, he did it all with calcification on top of his AC joint, causing inflammation. How someone deals with that for 70 innings is beyond me. He'll undergo arthroscopic surgery on Tuesday, but will be ready for Spring Training. Thank Mo for that.
It was an utter joy to watch Mo pitch ninth innings this season, as it has been since 1996. Each year, he continues to amaze. You'd never think a lanky guy like Mo, with only a fastball in his repertoire, could author such a dominant career. Yet he has, and there's more to come. It has been a blessing and a privilege to watch Mariano become perhaps the greatest pitcher in Yankees history.