By

In what can only be described as a good sign, the Yankees, contrary to rumor, have not offered Mike Lowell a four-year deal to play first base in the Bronx. The Daily News has the story at the bottom of an article. The same article says Mariano Rivera will probably accept an overly-generous three-year, $45 million deal. That's awfully swell of him. · (8) ·
Just figured I'd drop a line that I'm filling in over at MLB Trade Rumors today. Come check it out.
Scott Patterson, he of the 77.1 IP, 45 H, 9 ER, 15 BB, 92 K line in 2007, was added to the Yanks 40-man roster yesterday. The chances of seeing the 28-yr old, 6′-7″, 250 lb former Indy baller in the Bronx next year just went up exponentially. Quick skinny: he's all fastball with a straight over-the-top delivery – the ball looks like it's dropping out of the sky. Not much of a breaking ball, so he'll have to be good with his fastball command. Sits at 91-92 with sink, but the downward plane makes it look like 97.
The 40-man roster has to be set Tuesday in regards to the Rule V draft. The biggest names the Yankees have to protect are Steven White, Marcos Vechionacci and Mike Gardner, but guys like Grant Duff, Matt Carson, Eric Hacker and Phil Coke are also eligible, just unlikely to be picked. Once the rosters are set, I'll look around and see if I can dig up a couple of guys the Yankees might target.
There are currently 4 spots open on the 40-man, although the Yanks need 2 spots if they plan on bringing Mo back and having Pettitte return. They could fill the roster up now and DFA someone in January or February to bring Pettitte back (later Sean Henn!), and/or  released Carl Pavano to free up another spot. They can't stick Pavano or Andrew Brackman on the 60-day DL until the season starts. I think they'll protect White and Gardner and risk it with Vech, but I never thought they'd protect Jeff Kennard like they did last year, so what do I know.
(hat tip to Chad Jennings)
Brett Gardner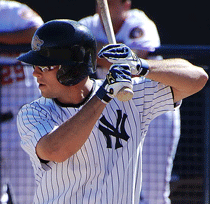 Pos: CF
Bats: Left Throws: Left
Age, DOB: 24, 8/24/1983
AFL Stats: AVG 343 OBP 433 SLG 380
Background: The book on Gardner would have you believe that he's a one dimensional slap-hitter that needs to outrun ground balls in order to get on base. That is simply not the case. According to Firstinning, he bunted in only 2% of his AAA appearances last season and his line drive rate was 18%. However, one area he needs to improve is being more aggressive early in the count. In the past, it seemed like his first objective was to draw a walk and if he got two strikes against him he would fight pitches off and hope that he gets another good pitch to hit. So his main goal heading into the AFL was to become a more aggressive hitter by looking for his pitch earlier in the count. This was very important for him to learn because most pitchers at the major league level will make him earn his way on base.
Offense: Gardner is the type of player that won't blow you away with his stats but when you watch him on a daily basis he can look like one of the most dominant players on the field. Read More→
Via The Big Lead – required sports reading, really – comes a tale of intrigue involving the Yankees Entertainment and Sports Network. According to Neil Best, Newsday's sports media commentator, the Yanks have banned SI.com's Tom Verducci from the YES Network because of his close ties to estranged former manager Joe Torre.
Last month, Verducci penned a very critical piece on the Yanks' treatment of Torre that was published just days before word came long that the two are working on a book. While I think YES should stomach the criticism, the ties between Torre and Verducci here blur the lines of journalist integrity. The relationship between sports writers and their subjects has always been cozy, and these co-writer situations like this always make me raise in eyebrow.
To replace Verducci, YES has turned to Jon Heyman for Sports Illustrated commentary instead.
By

From PeteAbe:

Karstens tossed seven innings in the World Cup quarter finals, striking out seven, walking none, and throwing 66 of 82 pitches for strikes.

So it's USA vs. Netherlands in one semi, and Japan vs. Cuba in the other. I'm not sure of the schedule. Maybe Karstens will have enough rest to pitch the finals? · (28) ·
By

Buried in the Marino article which Ben linked earlier:

The Yankees and backup catcher Jose Molina reached an agreement on a two-year, $4million contract.


When was the last time we went into Spring Training with an acceptable backup catcher? · (17) ·
By

What other owner has the balls to tell Scott Boras that he fucked up?

"Boras did a lot of good things for Alex through the years, and Alex knows that. I mean, obviously, he's going to look to Scott's advice on everything," Steinbrenner said. "That's not unusual today. It's not like he's the only one. And if an agent gets out of line or makes bad decisions, then that's going to hurt the player. And obviously, that's one of the things that happened here."


· (48) ·
The headline says it all. Mark Feinsand adds some details:
According to sources, the All-Star closer is now demanding a fourth year from the Yankees, who have already extended a three-year, $45 million offer to Rivera that would make him by far the highest-paid closer in baseball.

The $45 million offer drew criticism from Major League Baseball executives in charge of monitoring salaries and payrolls, as sources said that Yankee executives Hal Steinbrenner and Randy Levine were admonished during yesterday's owners' meetings in Florida for drastically upping the market for relievers. That criticism figures to be further incentive for the Yankees to stand firmly behind the three-year offer, and it could dissuade other teams from topping it – something that was unlikely to take place anyway.
That last line: We've said that here, here and here. Maybe it's time for the Yanks to reach out to Francisco Cordero's agent, if only for the sake of calling Rivera's bluff.