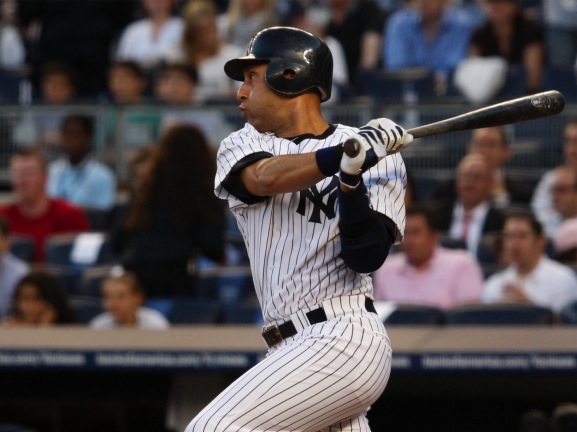 As a group of 17-year-old Red Sox fans sitting behind me last night started chanting "Yankees suck," Derek Jeter struck out against Daniel Bard on a 97-mph fastball that was probably ball four. In a fit of disgust, I posted to Twitter a sarcastic rant, "Remember when Derek Jeter was good? Yeah, me too."
Admittedly, that comment was borne out of my disgust with the 9-7 Boston lead, the state of the Yanks' bullpen and the team's inability to push more than two runs across the plate after the first inning. At the same time, though, Derek Jeter has now been to the plate 176 times this year and is sporting an OPS of .709, .135 points below his career mark, and those small sample size excuses are turning into larger sample sizes from which we can derive some insight.
So what's happening with Jeter? Well, for starters, his batting average on balls in play is well below his career mark. His BABIP is currently .286 while his career mark is an impressive .358. Bad luck could explain, in part, why Jeter is hitting just .268/.313/.396 through his first 36 games of the season.
Yet, BABIP doesn't tell the entire story. If we drill down on Jeter's plate tendencies this season, a few alarming trends emerge. Since 2002, Jeter has swung at just 19.8 percent of pitches out of the strike zone. This year, however, Jeter has swung at 33.3 percent of all pitches out of the strike zone. His overall contact rates have remained constant, but he's definitely chasing more pitches out of the zone.
As he flails at pitches low and outside, his batted balls are suffering as a result. His line drive rate is down from his career mark of 20.5 to 13.9 percent this year. His ground ball rates have spiked to 68.1 percent, well above his career mark of 56.2 percent.
For Jeter, slow starts are nothing new. As Joe explored a week ago, Jeter suffered through a slump in 2009, and his awful beginning in 2004 is fresh on our minds. But here, we're seeing a player who is close to 36 and has long relied on a high BABIP to sustain his excellence suffering through a bad spell of pitch recognition and contact rates. The trends are alarming.
It may very well be too early to grow too worried about the captain. Jeter has always managed to escape his slow starts in the past, but age isn't on his side. As his plate appearances creep up toward 200 and beyond, Jeter's slow start will look a little worse. The Yanks can afford to have a lead-off hitter with a .313 on-base percentage for only so long, and of course, his contract situation looms large. With 25 victories, second most in all of baseball, the Yanks can seemingly bury their problems, but Jeter deserves a close look this year. His start has been, needless to say, less than ideal.