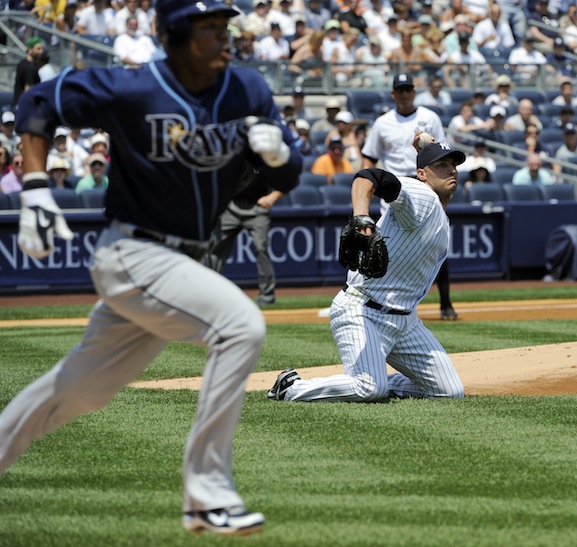 When Andy Pettitte left his July 18th start with a groin injury, the team hoped he would return within five weeks. Now, nearly two months later and with the Minor League season dwindling away, Pettitte is on the verge of his first rehab start.
Still, he and the team do not know when the lefty will make his triumphant return to the Bronx. In fact, according to Pete Caldera from The Record, the Yankees may ask Pettitte to make another minor league rehab start. "We'll just wait and see," Joe Girardi said. "What I want to see is command of all his pitches, and for him to come out of that start feeling really good."
Besides Pettitte's groin, the Yanks' biggest concerns focus around the Minor League schedule. Pettitte takes the ball for the AA Trenton Thunder tonight in the second game of the Eastern League semifinals. The Yanks' farmhands have a 1-0 lead in the best-of-five set, and if the Thunder advance, Pettitte's second rehab start would be Game 1 of the EL finals on September 14. He would then line up to start in Baltimore on September 19. If all goes according to that plan, Pettitte would enjoy four Major League starts before the playoffs.
The problems arise if Trenton cannot advance. Then, the Yankees would have to turn to their other Minor League teams in the playoffs. The AAA club in Scranton is currently playing in the International League postseason tournament. They lost the first game of their best-of-five set, and they too would play on September 14 if they can take three of the next four games from the Columbus Clippers. The Single A Tampa Yankees have advanced to the Florida State League best-of-five finals but play on September 14th only in the event of a full series. Trenton remains Pettitte's best hope.
If Trenton doesn't advance, the team's plans for Pettitte could be up in the air. They could have him throw some intense sim games or work out in Tampa. They seem hesitant to bring Pettitte back after just one rehab outing and then against the Rays in Tampa Bay for a key AL East showdown.
As the Yanks enjoy an off-day and hope to get back their 11-2 lefty with his 2.88 ERA as soon as possible, all eyes will be on Trenton tonight. "I'm going crazy. I want to go pitch," Number 46 said to Caldera yesterday. "I've been out almost two months. I want to go pitch and get going here. I feel like I haven't done anything in so long, like I haven't even pitched this year yet. I'm just excited to get back out there." So are we, Andy. So are we.