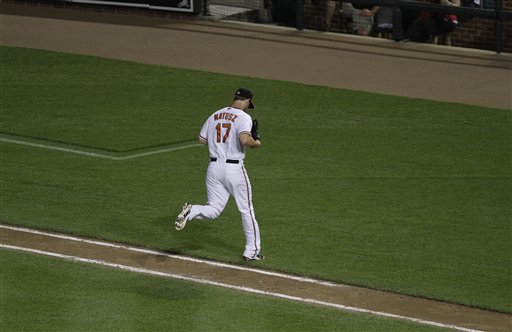 A minor scare was sent through Yankeeland yesterday when Derek Jeter exited the game with tightness in his left hamstring a few innings after being hit by a pitch in the same spot. The last thing the Yanks need is another injury, especially when the drop off from Jeter to his replacement is so massive. Thankfully, the Cap'n is back in their tonight, in his customary leadoff spot. As for the rest of the lineup, meh. I know a lefty is on the mound of Baltimore, but does Curtis Granderson really need to hit 8th? Eh, whatever.
The real story tonight is Javy Vazquez, who will be making his first start following the stinker in Minnesota that followed two dazzling starts. Javy has yet to face the Orioles this year even though they've already played them a bunch of times already, so at least he has the element of surprise on his side. He'll be opposed by Brian Matusz, who's already faced the Yanks twice this year, putting 18 men on base and allowing six runs to score in 12 innings. Hopefully the third time's a charm for the Yankee offense.
Here's the lineup…
Jeter, SS
Swisher, RF
Teixeira, 1B
A-Rod, 3B
Cano, 2B
Thames, DH
Cervelli, C
Granderson, CF
Russo, LF
And on the mound, Javier Carlos Vazquez.
The weather won't be perfect, but there should be plenty of time to get this one in. First pitch is scheduled for 7:05pm ET, and can be seen on YES. Enjoy.