Got 12 questions for you in this week's mailbag. The "For The Mailbag" form is gone, to delight of many I'm sure. You can now email us your questions at RABmailbag (at) gmail (dot) com. There's a little reminder in the sidebar, under the YES videos and above the Aaron Judge Watch, in case you forget the email address in the future. It's easy enough to reminder though, right? Right.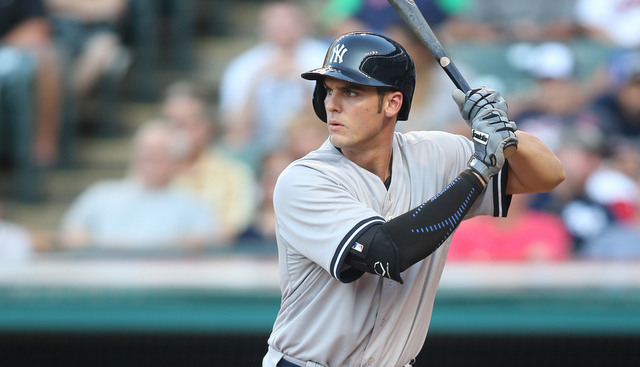 Greg asks: Does Greg Bird see any time in the outfield?
That would really surprise me. Bird is not particularly fleet of foot and he has no experience whatsoever in the outfield. He was drafted as a catcher then moved to first base because his back kept acting up. I wouldn't rule it out down the line, but I don't think the Yankees would have him shag fly balls during batting practice for a few days then just throw him out there like they did with Lyle Overbay. Gosh, remember that? That was weird. I think they'd wait and let Bird work out in the outfield in Spring Training should they decide to give it a try.
Ben asks: I know it's early, but MLBTR just updated their 2016 free agent power rankings and it's got me thinking. Who can you see the Yanks targeting this upcoming winter? My personal list (however far-fetched): Ben Zobrist and a pitcher (Zack Greinke, Johnny Cueto, David Price, Jordan Zimmermann).
I don't expect the Yankees to pursue any big name free agents this offseason. No one like Price or Cueto, for example. I think they'll stick to mid-range free agents again. Guys in the $10M per year range, not the $20M range. Second base is the only position player spot they could realistically upgrade, and in addition to Zobrist there's Howie Kendrick, Daniel Murphy, and Chase Utley. Utley's cooked, Murphy's really bad in the field, and Kendrick's probably going to get a significant contract despite being 32 years old. That makes me wonder if the Yankees will try to swing a trade for a second baseman instead. They'll need pitching too. I'd love Price but I have a hard time thinking they'll commit $200M to a pitcher who just turned 30. Staying away is probably the right move too. Hisashi Iwakuma could be an alternative there, assuming they can convince him to leave Seattle. They did get Hiroki Kuroda to leave Los Angeles back in the day, so it's not impossible.
Anonymous asks: With the Yanks lack of speed this year, should they call up Jorge Mateo in August, and have him eligible for a postseason roster spot?
No way. They can find someone else to pinch-run. There are always Freddy Guzmans and Quintin Berrys lying around in Triple-A to do that job. Go get one of them. Or, you know, use the perfectly qualified Slade Heathcott. Calling up Mateo would mean clogging up a 40-man roster spot going forward and starting his options clock next year. It's not worth it just to pinch-run a few times. There are too many negative roster ramifications to calling up Mateo in September. This is not a Terrance Gore situation. Mateo isn't a fringe prospect whose only MLB usefulness may come as a pinch-runner. He's a legitimate prospect and it's not worth adding him to the 40-man roster years before it is necessary for a role that insignificant.
Eric asks: Conspiracy theory time: Could the Yankees be faking a Michael Pineda injury to try and cut down on his innings?
Fire everyone if that's the case. Fall out of first place while you're faking an injury — an arm injury no less, hurting Pineda's future trade value — so you can send one of your two best starters to the DL for a month to control his workload? Fire. Every. One. That's not the case though. Pineda's actually hurt. It sucks, but it is what it is. I'm a sucker for a good conspiracy theory, but faking an injury like this doesn't quality.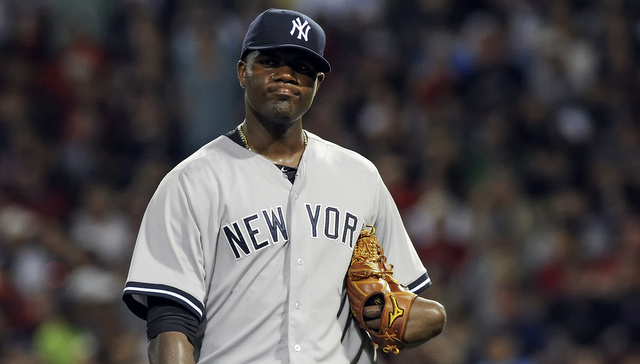 Brian asks: If Big Mike comes back healthy, could the forearm be a blessing in disguise? Given the innings increase, maybe a month off isn't the worst thing?
I'm always inclined to say "no" to the whole "injury being a blessing in disguise" thing. Andrew Miller and Jacoby Ellsbury have not been the same since coming back from their injuries this year, for example, so there's always a chance Pineda comes back a less effective pitcher, especially since it is an arm injury. Sure, it's possible Pineda comes back perfectly fine and well-rested and dominates late in the season and the Yankees still win the division, but I feel like the chances of that actually happening are very small. Injuries are almost always — 99.9% of the time? — a bad thing.
JLC776 asks: I'm writing this prior to the Yankees facing Henry Owens in his MLB debut. I'm used to hearing the narrative that Yankees do miserably against pitchers making MLB debuts (or maybe it's rookies making their vs Yankee debut), but what are the real numbers? Do we typically do better, worse, the same?
The Yankees have faced 12 starters making their MLB debut since the start of the 2010 season. It seems like it should be more, right? It's not though, I double checked. Here are the 12 pitchers and their stat lines (via Baseball Reference):
The Yankees are 9-3 in those 12 games and the pitchers have a combined 4.88 ERA with a 1.58 K/BB ratio. That's really bad! Tomlin, deGrom, and Montgomery pitched well while Richards, Crosby, and Smith all got smacked around. Everyone else was okay-ish. Not terrible but not great either. A total of 211 pitchers have made their MLB debut as a starter since 2010 and those 211 guys combined for a 4.72 ERA and a 1.81 K/BB ratio in their first starts. So I guess this means the Yankees have been a bit better than average when facing a starter making his big league debut.
Sal asks: Mike, whatever happened to the Hawaii Winter league? Saw Austin Jackson play there in 2007. Also, who are your predictions for Arizona Fall League (please say Ian Clarkin!)?
Hawaii Winter Baseball first ran from 1993-97 and it included players from MLB, the minors, Japan, Korea, and independent leagues. The league folded following the 1997 season and was revived in 2006. It ran from 2006-08 with minor leaguers and Japanese players before closing up shop again because MLB decided it didn't want another league competing with the Arizona Fall League. Jackson, Ian Kennedy, Joba Chamberlain, and Mark Melancon all played in HWB at one point.
As for the Arizona Fall League this year, guys who have been injured are always a good bet. Eric Jagielo and Jacob Lindgren jump to mind. Clarkin is a possibility if he's healthy in time (the season starts in early-October), but teams are only allowed to send one player who has yet to play above Single-A, and he'd chew up that spot for the Yankees. Also, not many teams send their top pitching prospects to the AzFL because it's so hitter friendly. Tyler Austin could be a candidate if he finishes strong at Double-A and the Yankees want to get him some more at-bats to get on track. Jagielo and Lindgren are the two big ones to me. If they're healthy, I have to think they'll play in the Fall League.
Michael asks: Do you think it would make sense to trade John Ryan Murphy? As you have said, he has impressed this summer, and figures to be expendable given the fact that we have Brian McCann for a few more years, plus Gary Sanchez, Luis Torrens, and others on the farm. Additionally, Austin Romine is hitting well and plays solid defense, so he could be a serviceable backup catcher. Couldn't we turn him, along with others in a package, into a more productive and useful roster piece?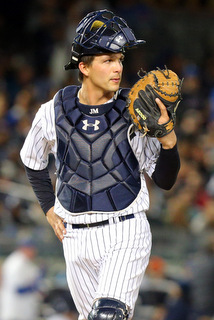 It could make sense, sure. It depends on what comes back to the Yankees, as always. A similar young and controllable position player (second base?) or starting pitcher? Yeah I could see that making sense. I am the world's biggest JRM fan and I do think he'll prove to be quite valuable as McCann ages and sees fewer starts behind the plate, but Murphy shouldn't be untouchable, especially if someone like Sanchez shows the potential to handle catching duties at the MLB level. I wouldn't actively shop Murphy but I would definitely listen to offers. Young catchers who can actually catch and hit a little are quite valuable. There's nothing wrong with keeping him around.
James asks: Do you think there's any chance the Yankees will sneak in an August trade?
I do. Nothing major, of course, but a depth piece or two. I could see them grabbing an extra back-end starter or something to provide depth. Someone to chew up innings. A Chad Gaudin type but not actually Chad Gaudin, if you catch my drift. Could that be … Ian Kennedy? Kyle Lohse? Aaron Harang? I'm not sure. Utley is the biggest name out there but I'd be surprised if they pulled the trigger on a deal of that magnitude, not that Utley is any good these days. I could see a smaller move to add depth, yes. Nothing too exciting though.
Tom asks: During the August waiver system: If I put player X on waivers, you claim him, and we open trade talks. You offer player Y. Does player Y have to clear waivers, too?
Of course. Any player on the 40-man roster has to go through trade waivers to be traded after July 31st. Non-40-man players do not have to go on waivers. I remember a few years ago when the Red Sox acquired Billy Wagner from the Mets, the deal sent two players to New York, one of whom had yet to go on waivers. When that player was placed on waivers (I think it was the other Chris Carter?), the Yankees claimed him just to create a roster headache for Boston. The BoSox had to pull the player back, include him in the trade as a player to be named, keep him on their 40-man roster the rest of the year, then send him to the Mets after the season.
Danny asks: I had a dream last night that the Yankees got Andy Pettitte to come back and pitch for them this year. Would that be a good idea? Are there any restrictions on "un-retiring?"
The only un-retiring restriction I know of involves players who retire while still under contract. They don't just come back as free agents, their former teams still hold their rights. Pettitte would be a free agent since his contract was up. It would be neat to see Pettitte pitch again, but remember, he wasn't very good towards the end of the 2013 season. That complete game in his last start really did come out of nowhere. Pettitte pitched to a 4.00+ ERA for much of the summer and generally looked to be nearing the end of the line. Love Andy, always will, but I think his baseball usefulness is very limited at this point. Such is life.
Justin asks: Who has to be added to the 40 man roster this offseason to be protected from the Rule 5 Draft?
This is worth an entire post and I'll put that together at some point in the future, probably soon after the end of the season. The short answer is this: the Yankees have a ton of useful players set to become Rule 5 Draft eligible this winter, too many to protect, so they're going to lose some. There's nothing they can do about it. Can't fill up the 40-man with prospects. Here are some of the notable players who will be eligible for the Rule 5 Draft this offseason: Ben Gamel, Jake Cave, Rookie Davis, James Pazos, Tony Renda, Johnny Barbato, Miguel Andujar, and Abi Avelino. (I believe Andujar and Avelino are Rule 5 Draft eligible this winter. International guys are always tough to pin down because we don't know their exact signing date.) Vicente Campos can also become a minor league free agent if he's not added to the 40-man roster. Lots of tough decisions!