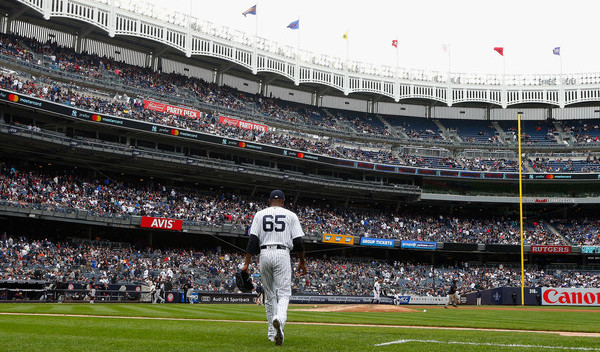 For the second time in less than a month — remember when non-intradivision series were spaced out? — the Yankees and Astros are meeting for a Measuring Stick™ series. The Yankees took three of four from the Astros in Houston a few weeks ago in what remains the most satisfying series of a very satisfying season to date. The Yankees passed that test with flying colors. Now they have to do it again.
Anyway, the Yankees are starting Domingo German today, not a reliever, and he hasn't not been good the last two times out. He did throw very well against the Astros a few weeks ago though, when Jordan Montgomery got hurt and the Yankees won a Justin Verlander start anyway. Little Sunday also had a great start against the Indians, so the ability is there. German certainly isn't lacking stuff. He has three really nice pitches. Can he command them? When he does, he's great. When he doesn't, it's not pretty. Here are the lineups:
New York Yankees
1. LF Brett Gardner
2. RF Aaron Judge
3. C Gary Sanchez
4. 1B Greg Bird
5. 2B Gleyber Torres
6. CF Aaron Hicks
7. SS Didi Gregorius
8. 3B Miguel Andujar
9. DH Neil Walker
RHP Domingo German
Houston Astros
1. RF George Springer
2. 2B Jose Altuve
3. SS Carlos Correa
4. 3B Yuli Gurriel
5. LF Marwin Gonzalez
6. DH Evan Gattis
7. 1B J.D. Davis
8. C Brian McCann
9. CF Jake Marisnick
RHP Justin Verlander
It is cloudy and on the cool side in New York today, but there's no rain in the forecast, and that's all that matters. Today's Memorial Day matinee will begin at 1:05pm ET and you can watch on YES locally and ESPN nationally. Enjoy the game.