Gosh it's never easy with this team. At least not of late. The Yankees took a three-run lead into the ninth inning on Wednesday night, and by time the final out was recorded, it was a one-run game with the tying run in scoring position. Not ideal! Thankfully that tying run never scored and the Yankees walked away with a 5-4 win.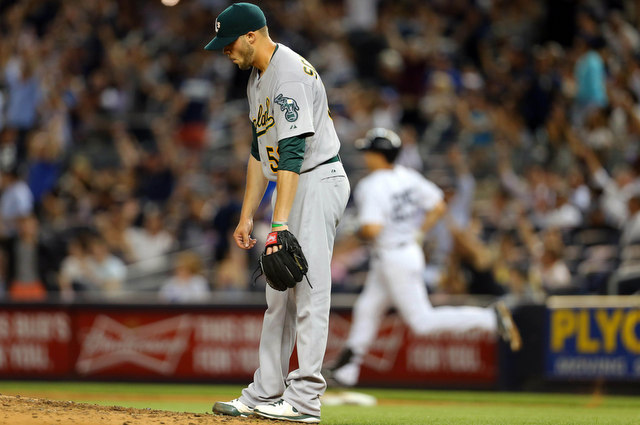 Two Times For Tex
The Athletics scored two quick runs in the top of second inning but the Yankees answered right back in the bottom half thanks to the best of Didi, and the worst of Didi. Chris Young reached base leading off the inning when Brett Lawrie booted his ground ball, then Didi Gregorius hammered a Scott Kazmir offering off the scoreboard on the right field wall. He hasn't hit a ball that hard against a lefty all season. Probably. Seems that way.
Young scored easily on the double, and Gregorius tried to take third on the throw home, but catcher Stephen Vogt Josh Phegley was able to gun him down at the hot corner. Replays showed Didi hesitated at second to make sure the throw wasn't cut off before taking off for third, though that's what he's supposed to do. He couldn't pick up third base coach Joe Espada because he was all the way down near home plate waving Young in. Gregorius just didn't outrun Vogt's Phegley's throw. Low baseball IQ, I tell ya. Something like that.
The Yankees caught a break when triceps tightness bounced Kazmir out of the game after three innings, forcing Athletics skipper Bob Melvin to go to his shaky middle relief. Mark Teixeira greeted Evan Scribner by sending his fourth pitch of the night over the right field wall for a game-tying solo homer. In the sixth inning, Teixeira took Scribner deep again for a solo homer, this one plating an insurance run. Both homers came on high fastballs:
Really, really similar. Same pitch, pretty much the same location, and they even landed in the same section. Those seats right above the scoreboard and below the bleachers in right-center. Where Didi hit his double. The Yankees peppered that part of the field Wednesday night. Teixeira now has 22 home runs on the season, equaling last year's total. It's not even the All-Star break yet! It's so nice to have a middle of the order again, isn't it?
Between Teixeira's two home runs, the Yankees took the lead on Jose Pirela's fourth inning sacrifice fly. Young walked, John Ryan Murphy beat out an infield single, Young stole third, Murphy moved up on a wild pitch, and Pirela lifted the ball to deep right field to score the run. The first three batters reached base against Scribner, leading to two runs that turned an early 2-1 hole into a 3-2 lead.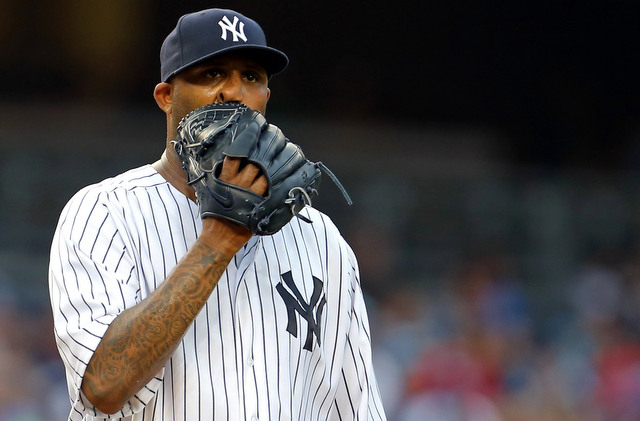 CCerviceable
CC Sabathia pitched just well enough to avoid lots of talk about being removed from the rotation during the All-Star break. For a while this one looked headed for disaster territory — Sabathia allowed two runs in the second and seven of the first eight batters he faced hit rockets — but, to his credit, Sabathia was able to settle down and give the Yankees 5.1 innings of two-run ball. That's what he is at this point. I'll take two runs in 5.1 innings from Sabathia every time out from now on.
Joe Girardi was smart to pull CC after Jake Smolinski singled with one out in the sixth — Smolinski hit a foul pop-up earlier in the at-bat that Young overran, otherwise it would have been the second out of the inning — because three of the last six A's to face Sabathia reached base. Two runs on seven hits and two walks. One strikeout. Only four swings and misses out of 88 total pitches too. But, two runs in 5.1 innings. Who cares how he gets there at this point.
Even if he had gotten smacked around — Bryan Mitchell was warming up in the second inning, so Girardi doesn't have much faith in Sabathia — there's no indication the Yankees would have yanked Sabathia from the rotation. So this is the best case. Get a winnable start, get him out of there as soon as possible, and hope for the same in five or six days. The game could have really gotten out of hand with all those line drives in the second inning, but it didn't, and for that we thank the baseball gods.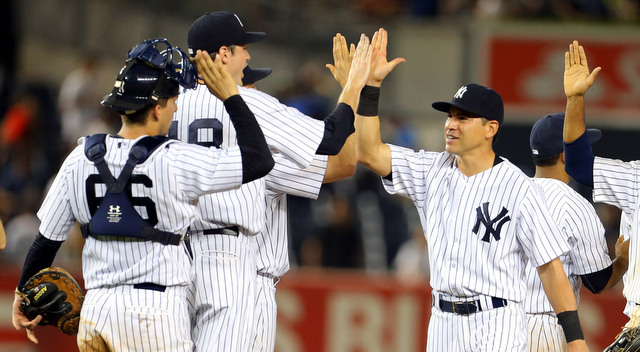 The Returns
Both Jacoby Ellsbury (knee) and Andrew Miller (forearm) returned from the DL on Wednesday after missing several weeks. Ellsbury went 1-for-4 with an infield single and a strikeout — he really had to bust it down the line on the single — and he wasn't tested with anything tough in the field. Knee looked fine based on this one game.
Miller, on the other hand, looked all sorts of rusty. His fastball location was particularly bad, and he paid for it when Marcus Semien clubbed a two-run home run. Luckily the Yankees had built a three-run lead by that point. The tying run made it to second base with two outs on Gregorio Petit's throwing error, though he atoned for the mistake with a nice play to get the final out. Teixeira gets an assist for his stretch at first. Miller struck out one and needed 30 pitches to get his 18th save.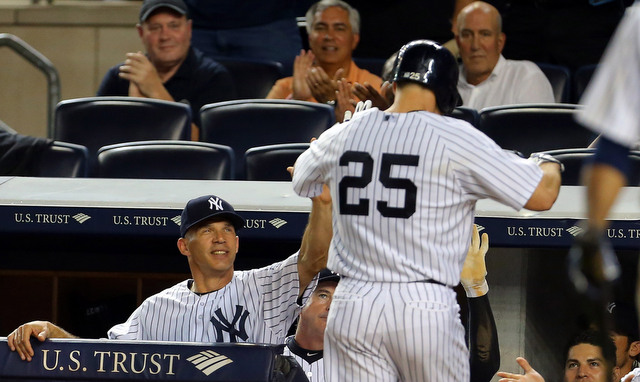 Leftovers
Stephen Drew was due for a "keep me on the roster for another two weeks" home run and hit it in the eighth, a solo shot off lefty Fernando Abad. That wound up being the winning run! Drew replaced Pirela for defense late. Everyone in the starting lineup reached base at least once other than Alex Rodriguez and Petit. Gardner (single, two walks), Teixeira (two homers, intentional walk), and Murphy (two singles) each reached base multiple times.
Teixeira's glove was just as good as his bat. He snagged a line drive and turned it into a double play in the first, made a great diving grab on a hard-hit ground ball in the eighth, then stretched to get Petit's throw for the final out in the ninth. Great first base defense is so underappreciated. Teixeira is a game-changer in the field even at such a non-premium position.
Mitchell walked a batter in the sixth but otherwise pitched out of the jam with the lead intact after replacing Sabathia. Justin Wilson and Dellin Betances tossed flawless seventh and eighth innings before Miller took over in the ninth. I'm guessing Chasen Shreve and Adam Warren will be the setup man/closer tandem Thursday.
And finally, Sabathia revealed after the game that he had his surgically repaired knee drained between starts, as soon as the team returned from Anaheim. He probably wouldn't have been able to start Sunday anyway had the team not pushed him back. It's the second time Sabathia has had his knee drained this season.
Box Score, WPA Graph & Standings
Here are the box score, video highlights, and updated standings. Also make sure you check out our Bullpen Workload and Announcer Standings pages because it would be a lot of wasted effort on my part if you didn't. Here's the win probability graph:

Source: FanGraphs
Up Next
The Yankees and Athletics wrap up this three-game series on Thursday afternoon, in the final home game before the All-Star break. Masahiro Tanaka and Jesse Chavez will be the pitching matchup. Check out RAB Tickets if you want to catch that game live.