Got eleven questions for you in this week's mailbag. Our email address is RABmailbag (at) gmail (dot) com. Send us questions, comments, links, or anything else there. We get a lot of questions each week, so don't get discouraged if yours isn't picked. I only know the answer to so many.
Jesse asks: Any potential for a trade with the Phillies? They could really use another outfielder and definitely have room for extra bullpen help as well, and they've got Nola, Morgan, and Eickhoff for young starters.
I do think it's possible even though the Phillies are a rebuilding team and are going to want young players in return, not Brett Gardner or Andrew Miller. (They traded Ben Revere at the deadline and Ken Giles earlier this offseason, remember.) The Phillies need a little of everything, and right now the Yankees have all kinds of extra relievers and outfielders to offer.
Aaron Nola is the real prize to me, though I have a hard time believing the Phillies would trade their best young starter — and their 2014 first round pick (seventh overall) — for anything less than a significant return. This isn't a Slade Heathcott and Ivan Nova kinda trade. Start with Aaron Judge and someone like Bryan Mitchell, then tack on more from there. Judge plus Mitchell is probably light as a starting point too. Nola is their Luis Severino.
Jared Eickhoff, who came over from the Rangers in the Cole Hamels trade, had a strong MLB debut last season (2.65 ERA and 3.25 FIP) that is way out of line with his projections as a prospect. Lots of people are high on him but I'm not sold. I'd take him on the Yankees, sure, though I feel like the asking price would exceed the expected production. Adam Morgan doesn't interest me at all. His stuff hasn't come close to bouncing all the way back from shoulder surgery a few years ago.
Eickhoff and especially Nola are the two young Phillies starters to target. Philadelphia looks at them as building blocks for the rotation going forward and will surely want a hefty return. They're not going to acquire these guys as part of their rebuild only to trade them as part of the same rebuild, you know? Pick up the phone and make the call, but unless the Yankees are open to moving one of their so-called untouchables (Severino, Judge, Greg Bird, etc.), I'm not sure it's doable.
Steve asks: Now that the Yankees have 3 closer type relievers, do you think the Yankees will try Dellin Betances as a starter again or is that permanently out of the question now that he is an elite reliever? Dellin's improved control may allow him to succeed as a starter.
This ship has sailed for me. Betances credits his improved control on moving to the bullpen and pitching more often, and I don't think it's worth the risk to move him back to the rotation. That has Daniel Bard 2.0 written all over it. Remember, Dellin had a 15.5% walk rate in 158 minor league innings as a starter from 2012-13. We're not talking about a guy who struggled to paint the corners here. He lacked basic strike throwing ability. I can understand the temptation to move Betances back to the rotation, but I think it's way too risky at this point. Being one of the best relievers on the planet is a nice consolation prize.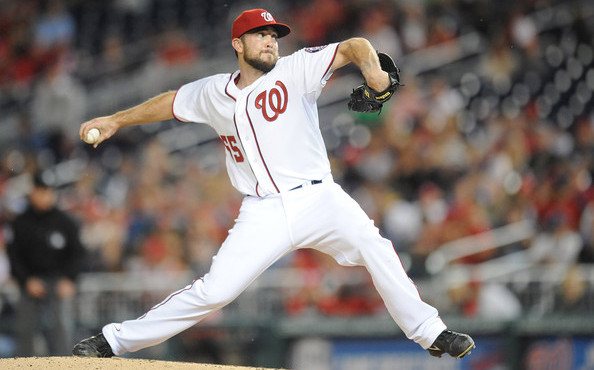 Mike asks: I saw you mention Taylor Hill as a possible target on Twitter. What's his deal?
The Nationals designated Hill for assignment earlier this week to clear a 40-man roster spot for Stephen Drew. As I said on Twitter, I think he's worth a waiver claim to serve as some team's seventh or eighth starter. I only see Hill as a depth guy, really. He has at least one minor league option left and he can definitely start because of his control and four-pitch mix.
Hill, 26, spent most of this past season in Triple-A with Washington, where he had a 5.23 ERA (3.85 FIP) in 118.2 innings. His walk rate (5.4%) was very good but he didn't miss many bats (12.9%). Hill's got a low-90s heater and the three standard issue secondary pitches (slider, curveball, changeup), the best of which is the slider. He's also said to be an aggressive guy who pitches inside because he knows he has to keep hitters honest to succeed.
As it stands right now, the Yankees have Mitchell, Luis Cessa, and Chad Green as their depth starters behind the top six guys, and Mitchell could easily wind up in the bullpen. If Hill hits waivers and they Yankees can bring him in as an extra layer of depth, great. It costs nothing and they have the 40-man space the moment. If the Nationals trade Hill or another team claims him first, so be it. Hill's a super low cost pickup for Triple-A, that's all.
Cory asks: Any plans for the Yankees to convert Cito Culver to pitcher to *maybe* get some value out of him?
Not that I'm aware of. Culver, who is still somehow only 23, has hit .223/.302/.310 (77 wRC+) in his last 2,080 minor league plate appearances now, with no real sign of progress. He's still a really good defender at short, but what good is that if he can't even be a replacement level hitter? Culver has a strong arm and he did pitch some in high school, reportedly touching the mid-90s. It's clear at this point his chances of being anything more than an organizational player as an infielder are tiny. I think it's time to try Cito on the mound, but what do I know. We don't have all the information.
P.J. asks: I think I already know the answer to this but I would like your perspective. Lets suppose CC Sabathia muddles along in 2016 he stays relatively healthy but not very productive. His 2017 option would still vest BUT what would you put at the chances of him voluntarily retiring at the end of the 2016 season and forgoing his 2017 season?
Not zero, but very close to it. I know a few players have retired in the middle of their contracts recently — Michael Cuddyer did it this offseason, Gil Meche a few years ago — but they are the exception, not the rule. There's a reason it's such a big deal when something like that happens. It's because it never happens. Sabathia would be walking away from $25M ($25M!) by retiring next winter. I know he's made an obscene amount of money in his career, but man, $25M? That's money for his kids and his kids' kids and his kids' kids' kids. People say it's honorable when players retire in the middle of their contract and walk away from millions of dollars. I think it's kinda dumb.
John asks: I know you always say one should never grade (or assess) a trade until several years after the trade has been completed. With that being said, what "grade" would you give the Yankees on the Granderson trade? I generally like this trade for the Yankees and give them a B, possibly a B+.
This is the short version of John's question. In his email, he noted the three players the Yankees traded for Curtis Granderson (Ian Kennedy, Austin Jackson, Phil Coke) combined for 30.2 WAR with their teams following the trade — most of that comes from Jackson's defense — while Granderson gave the Yankees 14.3 WAR. WAR says the Yankees lost the trade, but getting 30.2 WAR from three rosters spots is much different than getting 14.3 WAR from one roster spot.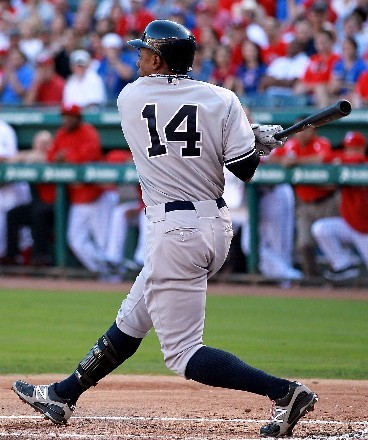 At the time of the trade the Yankees needed a lefty bat to replace Johnny Damon and Hideki Matsui, who were allowed to leave as free agents. The goal was to add that bat and also get more athletic and better defensively, which they did. Jackson was expendable because the Yankees had Gardner. Holding onto Gardner and trading Jackson proved to be the right move. Kennedy is the cost of doing business because Jackson had not yet played in MLB at the time of the trade. Coke? Who cares. Middle relievers are always expendable.
I think giving the trade a B is fair. You can stretch and call it a B+ because I think even the Yankees would tell you Granderson was better than expected. I doubt they were projecting two 40+ dinger seasons. The goal was to add an impact bat without dealing anything significant off the MLB roster, and the Yankees did that. The Diamondbacks got the short end of the stick because they gave up Max Scherzer in that trade, but, overall, I think it was a win-win for the Yankees and Tigers.
Travis asks: Since the next wave of free agent shortstops are terrible (the list according to MLBTR is, Aybar/Descalso/Drew with Alcides and Yunel Escobar having club options), could the Yankees switch Starlin Castro to SS and use Didi Gregorius to nab a young SP? Could a package similar or better than what ATL got from LAA work?
Interesting idea. I hadn't though of that. I don't think the Yankees would do it — I think they see Castro as a second baseman going forward, not a shortstop — but it wouldn't hurt to explore the market, right? Off the top of my head, teams in need of a young shortstop include the Rays, White Sox, Athletics, Pirates, and Padres. Maybe even the Dodgers if they think Corey Seager's better suited for third base long-term.
I have a hard time thinking a trade with the Rays will happen, so cross them off the list. The Pirates don't really have a young starter to offer (Gerrit Cole ain't happening) and neither do the A's (ditto Sonny Gray). That leaves the White Sox (Jose Quintana? Carlos Rodon?) and Padres (Tyson Ross?). I'd love love love the Yankees to get their hands on Quintana or Rodon, and if a package featuring Didi and some pieces (Judge? Gary Sanchez? Rob Refsnyder?) can get it done, wouldn't the Yankees have to at least consider that? Interesting idea.
R.J. asks: I'm wondering where we currently stand with the 40-man roster as of the Chapman trade? Who do you think will get the last few spots? Can you see Cashman saving a spot for a midseason call up for Judge?
Right now the Yankees have three open spots on the 40-man roster, which is kinda crazy because they came into the offseason with a logjam. The various trades have cleared up the 40-man clutter. I'm sure the Yankees will end up using one or two of those spots this offseason through a trade or waiver claim or something. I don't think they're specifically saving a spot for Judge though. They'll make room for him whenever he's ready to come up. They're not going to not make a move just because they want a 40-man spot for Judge at an undetermined point in the future.
Daniel asks: Assuming the they don't sign any QO free agents, where do you think the Yankees eventually pick in the first round? Angels and Orioles seem like good bets to sign a QO free agent, with the Astros and the Red Sox if they make a corresponding trade are other possibilities. Thanks RAB!
As our Draft Order page shows, the Yankees currently hold the 19th overall pick in the 2016 draft. They came into the offseason with the 22nd pick, then moved up three spots thanks to the Jeff Samardzija, Daniel Murphy, and Zack Greinke signings. The Yankees will move up more if the Mariners, Red Sox, Rays, Orioles, Indians, Twins, Angels, or Astros sign a qualified free agent.
I agree the Orioles and Angels are the most likely of those clubs to sign a qualified free agent. The O's have been connected to Yovani Gallardo this offseason, and they could also turn to Justin Upton if they lose Chris Davis. The Angels seem like a potential landing spot for Upton or Howie Kendrick. Maybe Dexter Fowler too. It seems like the 17th pick is the best case scenario for the Yankees. I don't think they can realistically move higher than that. Going from 22nd to 19th in an offseason is pretty good as it is. Hard not to be happy with that.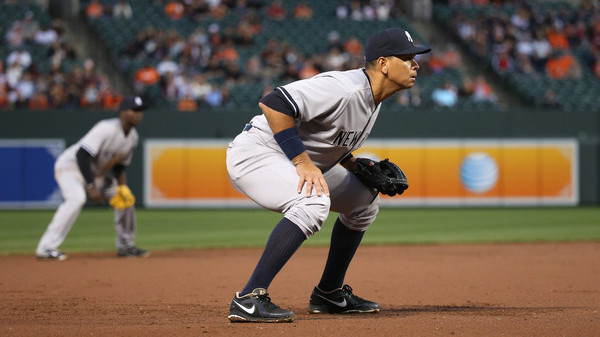 Alex asks: What about A-Rod as the backup 3B?
Not happening at this point. The Yankees insist Alex Rodriguez is a DH and a DH only at this point because they don't want to risk him breaking down physically by playing the field. I'm not even sure A-Rod could play a passable third base at this point of his career anyway. He's 40 years old and has two surgically repaired hips. He's barely able to run the bases. Playing the field seems impossible. I wish they'd try A-Rod at first base now and then, but it's not happening. He's a DH.
Anthony asks: I am worried that expectations are too high for Luis Severino in 2016. Most young pitchers struggle after a successful debut. The sophomore slump is a real thing. What do you think he does this year? Will fans be patient when he struggles?
Let's use ZiPS as a conversation starter. The system pegs Severino as a true talent 3.80 ERA (3.85 FIP) pitcher at the moment. I, personally, would consider that pretty successful for a 22-year-old in his first full season as a big league starter, especially since he'll be pitching his home games in Yankee Stadium and most of his road games in other hitter friendly AL East ballparks.
I suspect many people would be disappointed by that kind of performance though. Most fans are more apt to say they're willing to be patient than, you know, actually be patient. The big leagues are really hard and the Yankees moved Severino up the ladder very quickly — he's already thrown more MLB innings (62.1) than Triple-A innings (61.1), and nearly as many MLB innings as Double-A innings (63) — so some growing pains would not be unexpected. As long as the Yankees are patient, it doesn't matter whether the fans are.