Huge mailbag this week. Twelve questions and not a single one about Alex Rodriguez, thankfully. I tried to keep the answers short since there are so many of 'em. Remember to use the Submit A Tip box in the sidebar if you want to send us anything.
Jeff asks: What happened to Brian Roberts besides his problems with concussions and post-concussion sickness? I distinctly remember him being one of the best offensive second basemen in the mid-2000s. Is there even a minuscule chance he repeats anything close to it?
Roberts was awesome from 2005-09, hitting .294/.369/.451 (116 wRC+) while averaging 68 extra-base hits, 39 steals and 4.9 fWAR per 162 games. He missed more than three months with an abdominal strain in 2010 then suffered his first concussion later that year after whacking his helmet with his bat out of frustration. True story. He suffered his second concussion in May 2011 after hitting his head sliding into first base, and he dealt with post-concussion symptoms for several months after that. Roberts had surgery to repair his hip labrum in July 2012 and then missed three months last year after tearing his hamstring. That's a lot of serious injuries, especially the two concussions. Roberts was decent after returning from the hammy in late June (93 wRC+ in the second half) and that's probably the best we could reasonably expect out of him at age 36 and with all those recent injuries.
Manny asks: Suk-Min Yoon is planning on signing somewhere soon. Is Boras putting the cart before the Masahiro Tanaka-horse going to screw him here, or are they different markets for a guy like Yoon? Also, should the Yankees take note? From the little we've heard, he can start, he can close, he's useful and sounds like he could project something similar to a non-criminal Ace Aceves.
Everything you need to know about Yoon is in this post. The Yankees have had interest in the 27-year-old and he's a true free agent — there are no posting process hoops to jump through. Yoon is no Tanaka and he might not even be another Wei-Yin Chen — even Boras admitted he is "not an overpowering arm" — and the consensus is that he's more of a swingman/reliever than a big league starter. In fact, shoulder problems limited him to the bullpen for most of last year. Yoon will have no impact on the Tanaka sweepstakes whatsoever. I don't really have a grasp on what it would take to sign him and I'm not sure if he's an upgrade over in-house options like David Phelps and Adam Warren. The Yankees need relievers though, and if he's affordable, he might be an outside the box option to shore up the bullpen.
Ethan asks: The Giants would never do it because they don't have any other options at third, but would you do Brett Gardner for Pablo Sandoval in a vacuum?
Yes, I would. In fact, I wrote about Sandoval as a possible trade target earlier this offseason. He's a switch-hitter with power and surprisingly good defense, but weight and conditioning issues have hampered him his entire career. Both guys are due to become free agents next winter and given the team's needs, a Gardner for Sandoval trade would make a lot of sense for the Yankees. It would be risky — the one they call Kung Fu Panda has shed 42 points this winter (photo!) — but I think the potential reward is mighty big. It just doesn't make sense for San Francisco. Their outfield is full and they need Sandoval at the hot corner.
Dylan asks: Could we please have an update on Michael Pineda? I don't see too much about him recently in the news.
There is no real update on Pineda. At his annual end-of-season press conference, Brian Cashman said they shut him down late last year because he needed to rest after pitching and rehabbing for 15 months straight. "He is on a throwing program and healthy," said the GM to George King last month. "He is coming to Spring Training to win a spot in the rotation. He is a viable option." That's the update, I guess. No news is good news.
Mike asks: Given this story from MLB Trade Rumors: "Minor League Free Agents Finding Major League Deals" which highlights Jose Quintana, David Adams and others, could not "hating their own minor leaguers" be a new market inefficiency that the Yankees could exploit?
Heh. Letting Quintana walk was a massive blunder in hindsight. He could blow out his arm tomorrow and it still would have been a huge mistake. I would be surprised if the Yankees regret letting Adams go, especially since they've already replaced him with almost exactly the same player in Scott Sizemore. Those guys are a dime a dozen. Just about every team has given away an Adams or a Tyler Clippard or a Zach McAllister at some point, so the Bombers aren't all that different in that regard. None of their non-Warren minor leaguers impressed when called upon last year, so maybe they're right not to trust their own kids right now. The farm system isn't in great shape, especially when talking about MLB ready talent. Quintana was a huge mistake but I don't that's enough of a reason to give absolutely everyone a chance. He's an extreme outlier.
Billy asks: Ideally how many roster spots on the 40-man should be allocated towards players who will be of absolutely no help for the current season (Gary Sanchez, Jose Campos, etc.)?
I don't think there is an answer to this. It varies team by team and depends on a number of things, like the strength of their farm system and whether or not they are legitimate contenders. Every club is going to need to use a few spots on extra players, like extra bullpen arms and bench players. Guys you can send up and down without worrying about their long-term development. Is there a point where having a bunch of guys like Campos, who isn't expected to contribute to MLB at all in 2014, counterproductive? Sure. But that point is different for say, the Dodgers than it is the Astros.
Jeff asks: In the event that the Yankees don't sign Tanaka, would they be interested in Josh Beckett or Chad Billingsley if they're healthy and made available by the Dodgers?
I think the answer is no on Beckett but yes on Billingsley. Beckett was showing serious signs of decline — fading fastball and inability to put away lefties, mostly — before getting hurt and Thoracic Outlet Syndrome is no joke. It ended Chris Carpenter's career. Billingsley is still only 29, he's been rock solid for years (3.79 ERA and 3.42 FIP from 2010-12), and his contract includes an affordable ($14M) club option for 2014. He "only" had Tommy John surgery and is due back sometime around May. Billingsley is someone I think the Yankees should pursue with or without Tanaka. He makes sense for them both this year and next.
Dustin asks: Would you trade for Aramis Ramirez if he were available?
I said no back before the trade deadline but at this point, after seeing how the offseason has played out, I think I'd say yes. Ramirez would have to come cheap though, either in a pure salary dump trade (he's owed $20M in 2014 between his salary and the buyout of his 2015 option) or a deal involving one or two Grade-C prospects with the Brewers eating some salary. Grade-C prospects coming from the 21-30 range of a top 30 list, for example. Aramis is 35 with bad knees but he can still hit (12 HR and 132 wRC+ in 351 plate appearances in 2013) and his right-handed thump would fit the lineup well. It would be risky but even a half-season of Ramirez would be a big upgrade at the hot corner.
Ben asks: What do you think about the Yankees possibly trading for Jonathan Papelbon? Personality aside, I think he'd be a great addition to the bullpen, which is one of the last areas NY can throw money at to improve. What would it take to get him, a couple non- prospects (assuming NYY takes on the whole contract)?
I am anti-Papelbon and it has nothing to do with his personality or anything like that. He comes with a lot of red flags — I highly recommend this post by Jason Collette detailing those red flags — and he's owed $13M in each of the next two seasons with a vesting option for another $13M in 2017. I have no problem with paying big dollars for elite relievers, but I'm not very confident in Papelbon being elite or even comfortably above-average these next two years. The Yankees definitely need bullpen help, but I'd be careful about getting caught up in the name here. He's not the Red Sox version of Papelbon anymore. Read the linked Collette post, he breaks it down very well.
T.J. asks: Do you think the Yankees should go after Tommy Hanson? He had his best years in Atlanta with Brian McCann as his catcher. Of course, he could also be Phil Hughes 2.0.
There has been close to zero interest in Hanson this winter and I think that's very telling. We're talking about a 27-year-old who was one of the best prospects in baseball and an above-average starter as recently as 2010-11, yet no one wants him. Hanson has had a bunch of injury problems (with his shoulder, specifically) and it shows in the velocity in each of his pitches (via Brooks Baseball):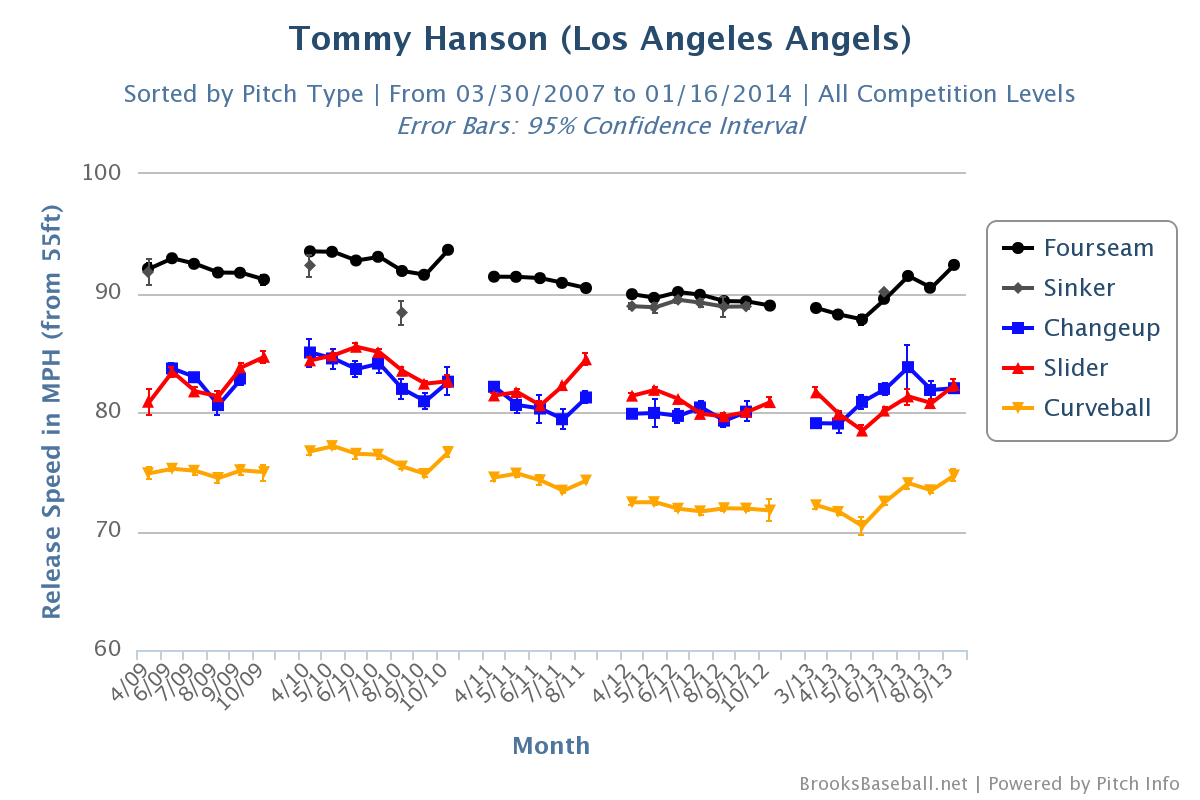 Don't get too excited about that uptick in velocity at the end of last year. Hanson made exactly two appearances in July, August, and September, and he was working out of the bullpen by the end of the year. It's not like he was making a start every five days and showing that velocity. Hanson was not been the same guy since his shoulder started acting up (4.76 ERA and 4.59 FIP from 2012-13) and I'm not sure throwing to his old batterymate McCann can help. I'd give him a minor league contract, sure. But I wouldn't count on him for anything. You'd have to treat him almost like you'd treat Johan Santana. Anything he gives you is a bonus.
John asks: What would it take for a team (not necessarily the Yankees) to land Jhoulys Chacin?
A lot. Chacin very quietly broke out last season, pitching to a 3.47 ERA (3.47 FIP!) in 197.1 innings while allowing only 11 homers despite pitching half his games in Coors Field. His bowling ball sinker explains that. Chacin turned 26 earlier this month and he's under team control through 2015. He's on the cusp of becoming the next dominant sinkerballer, a Tim Hudson or Derek Lowe type. Given the price of pitching, it'll take a boatload to get him. Two or three very good prospects/young minor leaguers at least. If I were the Rockies and the Yankees offered me Sanchez, Slade Heathcott, and someone like Phelps, I'd say no. Easily. Chacin's very young and very good.
Joe asks: I watched the 2013 World Baseball Classic, is there any chance that Kenta Maeda a right-hander will be posted?
Maeda, 25, has been the second best pitcher in Japan these last two years behind Tanaka. It's a big gap though — Ben Badler (no subs. req'd) says scouts view Maeda as a back-end starter while one international scouting director said "he could be a fourth starter at the big league level … he'll keep you in games." Not exactly a ringing endorsement. It's unclear if Maeda will be posted this winter but it is more and more unlikely with each week that passes. (The latest a player can be posted under the new system is February 1st.) More than anything, the takeaway from Maeda is that there won't be another Tanaka or Yu Darvish for at least a few years.
By

CC Sabathia has left Legacy Sports to join Jay-Z's Roc Nation Sports, the agency announced. Here's a photo of him signing the contract. Someone needs to give CC a sandwich or a Ring Ding or something.

Sabathia is under contract with the Yankees for what feels like an eternity — through 2016 with a vesting option for 2017, if you must now — so switching to Roc Nation isn't going to impact any upcoming negotiations or anything like that. Unlike Robinson Cano last year, the move won't create any headaches for the team, at least not right away. · (29) ·
By

As expected, the Yankees have officially released outfielder Vernon Wells. He was designated for assignment last week to clear a 40-man roster spot for Matt Thornton. No team claimed Wells and his massive salary off waivers (unsurprisingly), so any club can now sign him for the pro-rated portion of the league minimum. The Yankees still owe him $2.4M minus whatever his next team pays him. · (21) ·
You might have seen this by now, but Mark Teixeira and (a noticeably slimmer) CC Sabathia appeared on Jimmy Fallon's show last night to perform a scene from August: Osage County. I haven't seen the film, but from what I understand Teixeira was playing Meryl Streep's character while Sabathia was Julia Roberts' character. They both did pretty well and the bit is kinda funny. Teixeira is still the whitest guy on Earth though.
Here is your nightly open thread. All five of the local hockey and basketball teams are playing, so talk about those games, Sabathia and Teixeira, or anything else right here. Have at it.
By

The Yankees have signed Frankie Cervelli to a one-year contract to avoid arbitration, the team announced. Jon Heyman says he gets $700k, a bit below the $1M projection from Matt Swartz. The 27-year-old managed a 143 wRC+ in 61 plate appearances last year before suffering a broken hand and a stress reaction in his elbow. Cervelli was also suspended 50 games for his ties to Biogenesis.

The Yankees still have four unsigned arbitration-eligible players (projected salaries in parentheses): David Robertson ($5.5M), Brett Gardner ($4M), Ivan Nova ($2.8M), and Shawn Kelley ($1.5M). The players' union expects Gardner's salary to be "considerably higher" than projected. Tomorrow is the deadline for teams and eligible players to file salary figures. All four might sign before then. · (11) ·
By

Expanded instant replay has been officially approved for the 2014 season, MLB announced. The owners, players' union, and umpires' union all had to sign off on the new system before it could be implemented. Replays will be conducted at the league's central office in New York, not on-site by the umpires.

The system is explained here. Here's the short version: Managers get two challenges per game, but they lose the second challenge if the first is unsuccessful. Kinda silly, but whatever. The crew chief can elect to review any play from the seventh inning on without a manager's challenge. The full list of reviewable plays are right here and notice that the neighborhood play at second base is not reviewable. That could have created some headaches. Clubs are now allowed to show any and all replays on the ballpark scoreboard, even those that were not reviewed. That's neat. It's not a perfect system but it is progress. · (15) ·
Every offseason I put together a post looking at the projected Triple-A Scranton roster even though it's almost completely unpredictable. So much can and will change between now and the start of the season that it's impossible to pin down more than a few spots. At the same time, the Triple-A club is just an extension of the MLB club, so I think it's important to look at. We'll see a lot of these guys in the show next summer.
From the looks of it, the Yankees are planning to hold three competitions in Spring Training: one for the fifth starter's spot, one for the extra infielder, and one for the bullpen in general. That last one will be a bunch of smaller competitions, really. Injuries could open up even more spots, as we learned last year. For now, here's an early breakdown of who figures to head to Northeast Pennsylvania at the end of camp:
Barring injury, Frankie Cervelli will back up Brian McCann this summer, leaving Murphy and Romine for Triple-A. Murphy should get playing time priority but they'll both get plenty of at-bats, including some at DH. I wouldn't be surprised if Murphy sees some time at third base, as he has in the past. I also wouldn't be surprised if the team carried a third catcher (Jose Gil?) if the plan is to regularly DH those guys on the days they aren't catching. If so, Solarte or Wheeler could wind up with Double-A Trenton or released.
The infield is pretty straight forward. Canzler, Joseph, Pirela, and Wheeler will get an opportunity to win that last bench job with the big league team but they are at a disadvantage for various reasons. Eduardo Nunez, Scott Sizemore, and Dean Anna seem to have the best chance of winning that spot. The other guys will be there for show. The two losers of that competition (ST Comp. Loser 1 & 2) will wind up with the RailRiders. If I had to bet, I'd bet on Nunez and Anna landing in Triple-A with Sizemore in the big leagues. That's just a guess though.
The outfield is mostly set. I do believe both Tyler Austin and Ramon Flores will return to Trenton to at least start the year. Midseason promotions are always possible, but Austin has to stay healthy and Flores has to hit before moving up becomes a realistic possibility. The biggest outfield wildcard is Almonte, who is the odds on favorite to take over as the MLB team's extra outfielder should Ichiro Suzuki get traded. If not, he'll play everyday in Triple-A and await the inevitable call-up due to injury. Mustelier, Solarte, and Pirela are utility men with experience all over the field, so that position player crop features quite a bit of versatility.
Billings was picked up last week to be the team's veteran innings guy. Every minor league team needs one. That non-prospect you can run out there for 110 pitches every five days just to save the bullpen and lighten the load on the actual prospects. Turley pitched well enough last year to move up from Double-A and Banuelos is finally healthy after missing close to two full years. It's possible he may start the season down in Tampa with the warm weather, however. The organization could ease him back into things that way, and no, I do not think he has a realistic chance of winning the fifth starter competition. He missed too much time and wasn't a finished product before blowing out his elbow anyway.
That fifth starter competition will feature David Phelps, Adam Warren, Vidal Nuno, and Michael Pineda. Maybe David Huff as well, though I think he's more likely to be removed from the 40-man roster in the coming weeks than anything. I think Phelps and Warren have to be considered the favorites in that competition and I expect both to be on the Yankees' Opening Day roster. One as a starter and one as a long reliever. That would leave Nuno and Pineda for Triple-A, though Pineda could start the year in Tampa like Banuelos. After two missed years, it wouldn't be a bad idea to bring him along slowly.
Miller, Montgomery, Whitley, and Yoshinori Tateyama are Triple-A holdovers without much of an opportunity to win a big league bullpen job. Getting passed over in the Rule 5 Draft tells us not a single team thinks Whitley can help at the MLB level right now. Montgomery needs to rebound from his injury-plagued year before getting a chance to become a big league factor. I suspect we'll see him at some point in 2014, probably in the second half. He just hit a little developmental speed bump, that's all. The slider is still nasty.
The group of guys expected to compete for a bullpen gig in camp is really long. I count eight pitchers in the running: Dellin Betances, Cesar Cabral, Preston Claiborne, Robert Coello, Matt Daley, Brian Gordon, David Herndon, and Jose Ramirez. We can include Huff in this mix as well, but again, I don't think he is long for the roster. Realistically, there are three bullpen spots open in Triple-A and three open in MLB behind David Robertson, Shawn Kelley, Matt Thornton, and Phelps/Warren. I'd love to see the Yankees sign two starters and push both Phelps and Warren down the depth chart another notch, but I'm not going to hold my breath.
Eight pitchers for six spots means two guys are going to be left hanging, but that's not worth worrying about now. Ramirez could step into the Triple-A rotation if Banuelos and/or Pineda start the year in Tampa and chances are someone will get hurt at some point. There are too many guys listed here to think they'll all make it through Spring Training healthy. Spots will open in the coming weeks, guaranteed. Others like Danny Burawa (42 walks in 66 Double-A innings in 2013) and Pat Venditte (coming off shoulder surgery) figure to return to Trenton to open the year.
Unlike that fifth starter competition, I'm not sure we can handicap the bullpen competition right now. Betances, Cabral, Claiborne, and Daley may seem like they have a leg up, but Coello was pretty awesome before getting hurt last year and Ramirez could show up in Tampa and blow everyone away. Maybe Claiborne is at the front of the line after logging a decent amount of big league innings last summer, but otherwise I don't think there's much of a pecking order in the bullpen. Whoever impresses the most in camp will probably get the job, but either way, I'm willing to bet we'll see a whole bunch of these guys in 2014.
As I said before, this is just a snapshot of the Triple-A Scranton roster. We learned last year just how much things can change during camp. For now it seems like a good chunk of the RailRiders roster is set aside from those competitions, which are vast and numerous. The Triple-A team is basically a taxi squad for the big league club and that will be especially true for the 2014 Yankees. Those competitions are not limited to Spring Training, remember. Those spots will be revolving doors all summer.
By

Via Dan Martin: Derek Jeter is expected to begin baseball activities at the Yankees' minor league complex on Monday as he works his way back from numerous leg injuries. "I've been working hard. I started working out in the beginning of November. I'm anxious to get back out there," said the Cap'n, who added he is "still focused on this year" and not looking ahead to 2015 and beyond.

Jeter, 39, was limited to only 17 games last season due to those leg injuries, including the fractured ankle he suffered in the 2012 ALCS. He did not start baseball activities until early-March following offseason surgery on the ankle, so he is well ahead of last year's schedule. Given his age and all the missed time, the Yankees will probably take it easy on Jeter in camp, at least early on. He is probably their second best infielder right now, and they need to take care of him and not push it too hard too soon. · (23) ·
"I believe we need another starter."
Yankees fans know this, but it still felt good to hear it from ownership. Had the Yankees planned to pick from scrapheap options, Hal Steinbrenner might have said something else. I think our young guys are up to the task, he might have said. Instead he came right out and acknowledged the need for another starter.
By "another starter," Steinbrenner does not necessarily refer to Tanaka. He could refer to Paul Maholm, Joe Saunders, or even Johan Santana: low-cost guys who could provide the team a few alternatives to in-house candidates.
But after hearing such a proclamation from the owner himself, are fans really going to accept one of those retreads? Chances are fans wouldn't accept one of those retreads even absent Steinbrenner's statement. We'll be even less accepting given his overt praise of Tanaka. "This is a great, young pitcher. I'm sure he'll come here and do great things with someone."
So do whatever it takes to sign him.
It is absolutely clear to everyone, from the casual fan who tuned out after the Beltran signing to ownership itself, that the current crop of starters won't get the Yankees through the 2014 season. Supplementing that crew with a few back-end, at best, pitchers and minor league signings will not change the scenario much. They need Tanaka, Jimenez, Garza, or (shudders) Santana.
Perhaps Steinbrenner is just trying to keep expectations low with his "we'll see what happens." It certainly seems as though at least one Yankees official is trying to tamp expectations: "Just because he had great success over there doesn't mean he's going to be lights out here. We'll find out soon enough, but it's not like he's a sure-fire thing. I'd like to think so, but I'm not convinced."
There is a certain necessity in keeping expectations low. Many teams remain interested in Tanaka, so the Yankees are anything but guaranteed to sign him. They'd clearly like to, and if forced to interpret Steinbrenner's remarks I'd say that they'll go pretty far in their efforts to obtain his services. But if a team like the Cubs blows them out of the water, they need to cover themselves. And so we get Steinbrenner hedging a bit, and we get anonymous officials trying to lower the bar.
Don't let this game of expectations confuse the reality, though. The Yankees absolutely need Tanaka. If they don't land him, they're almost forced to try for one of the remaining trio. Anything else would, put a serious damper on an otherwise solid off-season, as a rival official said.
"If you don't get Tanaka, it kind of nullifies some of what you've added to the offense."
For the first time since his record 162-game suspension was handed down, Alex Rodriguez spoke publicly on Wednesday. He spoke with the media in Spanish at the opening of his Alex Rodriguez Energy Fitness Center in Mexico City and sounded like someone who is starting to accept the reality of his situation. Here's are the quotes, courtesy of Josh Egerman:
"I think that the year 2014 could be a big favor that [Major League Baseball has] done for me because I've been playing for 20 years without a timeout," he said. "I think 2014 is a good year to rest mentally and physically and prepare for the future and begin a new chapter in my life."

…

"I have three years left on my contract starting in 2015 and I hope to play very well and finish my career in New York," he said

…

"[To] tell the truth, it's a very sad situation and we hope to get this out of every newspaper and start concentrating on all the good things that MLB is doing and the great things that young ballplayers are doing and move forward," he said.
A-Rod did not mention performance-enhancing drugs at all, but he did say he has received support "not just from my Yankees teammates, but also players from other teams, retired players, Hall of Fame players and lots of good people, owners of other teams."
Does this mean A-Rod and his legal team will drop their various lawsuits? I don't know. I can't imagine it helps his case that he came out and said he's looking forward to taking a year off. I also wonder if he simply got some bad advice from his lawyers. Maybe he wasn't fully behind pushing the case to federal court but took the word of the people he hired. Either way, it sounds like Alex is starting to understand how unlikely getting the suspension overturned is.
Update: Through his spokesman, A-Rod said he will continue to fight the suspension in federal court. "This process has been taxing both mentally and physically throughout the past eight months," said Ron Berkowitz said in a statement. "Alex will abide by the rulings of the federal judge — whatever he decides — and get ready for 2015 should the judge rule against him. He will continue to move forward with his complaint which will help all players against this unfair system."