Holy cow. Best win of the season? I think this qualifies given the postseason race and all that. The Yankees went from being nearly no-hit to a 4-1 win over the Rays on Monday night. A+ win. Would watch again. Love this team, you guys.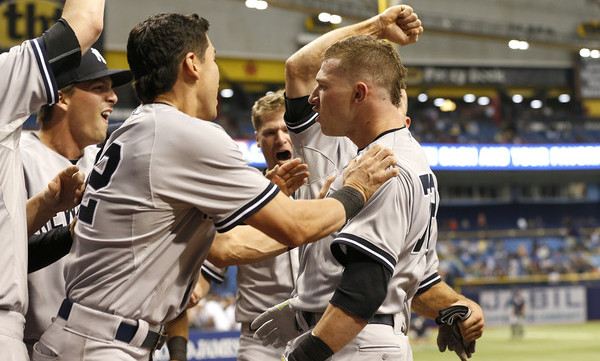 Slayed By Heathcott
I'm going to start at the end. No other way to do it. The Rays took a 1-0 lead into the top of the ninth, and pinch-hitter Dustin Ackley got things going with a leadoff single. He replaced Brendan Ryan and came up with the Yankees' second (!) hit of the game. They were in business … until Jacoby Ellsbury banged into a 3-3-6 double play on the first pitch. Ellsbury's been a black hole lately. Gosh.
The Yankees didn't quit though. They have that Fightin' Spirit. Brett Gardner worked a four-pitch walk against Brad Boxberger then stole second to get into scoring position. (They initially called it defensive indifference, which was absurd. He was the tying run!) With Gardner on second and two outs, Alex Rodriguez laced Boxberger's 1-1 pitch into the right-center field gap for a game-tying double. Boom. The Autumn of Al is in full swing.
A-Rod only tied the game though. The Yankees still needed to score again to take the lead. The Rays opted to intentionally walk Brian McCann, which made sense because rookie Slade Heathcott was on deck. He replaced Rico Noel, who pinch-ran for Carlos Beltran in the seventh. I would have walked McCann to pitch to the rookie too. Shows what I know. On the first pitch he saw from Boxberger, Slade did this:
I have no idea what
WPA
says, but that felt like the biggest hit of the year. I know Beltran hit that three-run homer in Toronto, and I know some other guys had huge hits throughout the summer, but man, that was enormous. This game went from potentially very bad to incredible in an eye blink. And to think, if
Johnny Barbato
doesn't
melt down in the ninth inning Friday night
, Triple-A Scranton's season doesn't end and Heathcott might still be in the minors. Baseball, man.
Big Poppa
That might have been CC Sabathia's best start in three years. Game Score says it was his best since May 2013, though Game Score lacks context. It doesn't consider opponent and other stuff like that. Yeah, the Rays have scored the fewest runs in the AL, but they also loaded the lineup with righties, who have hit .314/.370/.520 (.381 wOBA) against Sabathia this year. Also, the Yankees are in a postseason race and the bullpen was sorta taxed. That makes CC's outing more impressive.
Sabathia held the Rays to three hits in 6.2 scoreless innings and not one was hit hard. Asdrubal Cabrera rolled a seeing-eye ground ball single the other way to beat the shift, then both Steven Souza and Kevin Kiermaier beat out infield singles that were touched by defenders. Ryan and Greg Bird couldn't make the plays, respectively. Sabathia also walked two hitters and that was it. He allowed just one hitter to reach third base — Cabrera on Souza's infield single. That was all. Sabathia dominated.
And, for all his good work, Sabathia was rewarded with a no decision. He walked Richie Shaffer with two outs in the seventh and was yanked in favor of Justin Wilson with his pitch count sitting at 111. Sabathia threw 68 strikes (61%) and got a season-high 15 swings and misses. His previous season-high was 14 swings and misses done three times. That was some outing by Sabathia. May new knee brace CC never change.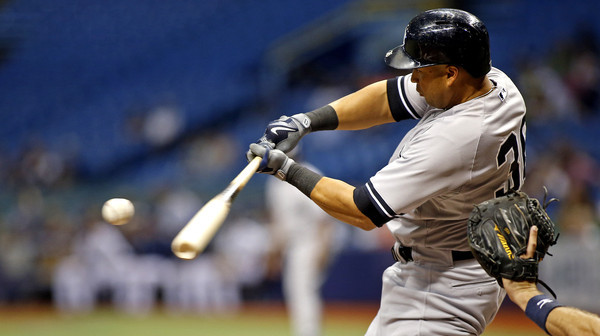 The Elusive First Hit
The Yankees did not record their first base hit off Erasmo Ramirez until Beltran ripped a hard-hit grounder off Shaffer's shoulder at first base leading off the eighth inning. They had just two base-runners in the first seven innings: walks by A-Rod and Gardner. Gardner stolen second/advanced to second on A-Rod's ground ball in the seventh, then was doubled off on McCann's line drive. Mikie Mahtook caught McCann's rocket at the wall in right field, then threw to second to get Gardner, who was going … somewhere? I have no idea why he was that far off the base.
Anyway, Noel replaced Beltran after his single, then almost immediately stole second. That's why he's on the roster, to do that. Bird popped up into foul territory for the first out of the inning, which was a killer because it didn't even move Noel to third. The game was scoreless in the eighth inning! One run is frickin' huge. Alas. Chase Headley then lined out to Mahtook — Noel moved to third on the play — and Didi Gregorius struck out to end the inning. Womp womp.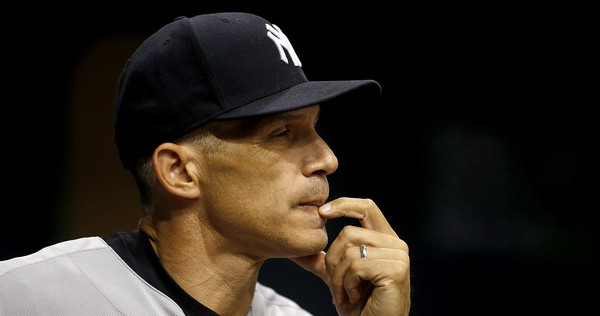 When One Run Seemed Like Too Many
The Rays finally broke the ice and scored a run in the bottom of the eighth against Wilson. Mahtook, who is the guy Tampa selected with the Yankees first round pick when they signed Rafael Soriano, singled with one out in the inning, then scored all the way from first on Logan Forsythe's booming double to left. The Yankees are lucky it stayed in the ballpark. It hit the top of the padded wall, bounced up, and the relay throws weren't good enough.
Joe Girardi had Dellin Betances warming while the Yankees batted in the top of the eighth, but for some reason elected to stick with Wilson. I guess Dellin was only coming in if the Yankees scored? Anyway, Wilson faced Evan Longoria and Forsythe with a runner on base, and while he struck out Longoria, Forsythe burned him. Isn't keeping a scoreless game tied against the middle of the lineup way more important than protecting a lead? Seems weird to warm up Betances and then not pitch him in that spot. Girardi's made some curious decisions the last few days.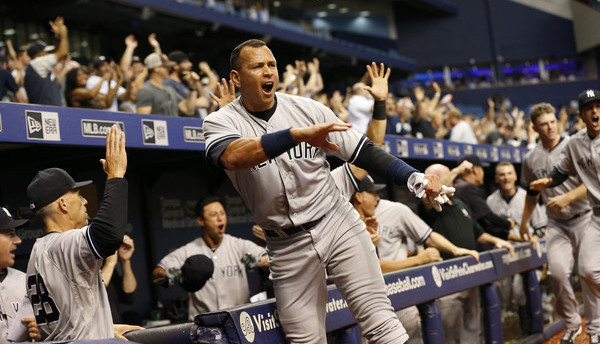 Leftovers
Congrats to Caleb Cotham, who picked up his first career win. He struck out Cabrera to end the eighth inning with Forsythe standing on third following his go-ahead double. (He took third on the throw.) Cotham used only five pitches to retire the only man he faced. Andrew Miller struck out the side on 14 pitches in the ninth. He was electric. As good as he's looked all season.
Only four hits for the Yankees: singles by Beltran and Ackley, A-Rod's double, and Slade's homer. They did draw five walks though, including two by Gardner. A-Rod, McCann, and Bird also drew walks. McCann's was intentional. The Yankees went 2-for-6 with runners in scoring position. That seems wrong. Did they really have six at-bats with men in scoring position?
And finally, this was Sabathia's first start with zero earned runs since April 7th, 2013. He threw seven scoreless innings that day. At 63 starts, Sabathia had by far the longest active streak with at least one earned run allowed. David Buchanan of the Phillies was second with 31. Geez.
Box Score, WPA Graph & Standings
Here are the box score, video highlights, updated standings, and postseason odds. The magic number to clinch a postseason berth is down to 16. Here are our Bullpen Workload and Announcer Standings pages, and here's the win probability graph:

Source: FanGraphs
Up Next
Same two teams Tuesday night, when the Yankees and Rays play the second game of this three-game set. Adam Warren returns to the rotation and will face Jake Odorizzi.