By

Shawn Kelley was not available for tonight's day due to lingering tightness in his back, Joe Girardi announced. "He does not have the flexibility to finish his pitches," said the skipper. No tests are planned at the moment. Kelley did warm up in yesterday's game, but apparently something is still not right. With David Robertson married to save situations, the bullpen is really short right now. · (12) ·
By

10:52pm: Beltran suffered a hyper-extended elbow while taking swings in the batting cage between at-bats, according to Joe Girardi. He is heading for an MRI.

9:41pm: Carlos Beltran left tonight's game for an unknown reason. He started the game at DH and was lifted for pinch-hitter John Ryan Murphy in the seventh inning, which is not normal. Beltran has not been hitting much since he flipped over the wall in Tampa, and while an initial MRI came back negative, it wouldn't be much of a surprise if he was still banged up some way. Stay tuned. · (15) ·
Triple-A Scranton (2-1 loss to Durham)
1B Ramon Flores: 0-4
3B Scott Sizemore: 2-4, 1 RBI
2B Dean Anna: 0-3, 1 BB
LF Zoilo Almonte & SS Zelous Wheeler: 1-4, 1 2B — Wheeler stole a base
C Austin Romine: 1-4, 1 R, 3 K
RHP Chase Whitley: 1 IP, zeroes, 2/0 GB/FB – five of seven pitches were strikes … seems likely he will be called up to the big league team in a few days, and since Alfredo Aceves pitched in relief tonight, Whitley will probably start in place of CC Sabathia on Thursday … Jon Heyman says he even took batting practice today in preparation for the game at Citi Field
RHP Brian Gordon: 6 IP, 7 H, 2 R, 2 ER, 4 BB, 3 K, 8/3 GB/FB — 64 of 109 pitches were strikes (59%)

RHP Brett Gerritse

: 2 IP, zeroes, 6/1 GB/FB — 17 of 27 pitches were strikes (63%) … up from High-A Tampa to help cover for some injuries
The Yankees earned a split of their six-game road trip even though they could have easily been 4-2 or even 5-1. They also could have been 2-4, but I digress. The team kicks off what is essentially a seven-game homestand, though only five of those games will be played in the Bronx. The other two will be in Flushing as part of this home-and-home series against the Mets. At least they don't have to travel anywhere.
Curtis Granderson is returning to the Bronx for the first time since signing with the Mets as a free agent, though, unlike Robinson Cano, the Yankees never really tried to re-sign him. I would be surprised if he was booed as mercilessly as Cano a few weeks ago. I bet it's a mix of cheers and boos, if anything. Whatever. Who cares. The Mets have lost eight of their last ten and these next four games will be a good opportunity for the Yankees to get back on track. Here is the Mets lineup and here is the Yankees lineup:
It is warm and cloudy in New York, and there is some rain in the forecast later tonight. Doesn't seem like it will be an issue unless the game goes to extra innings or something. The game is scheduled to begin at 7:05pm ET. You can watch on both YES and WPIX locally.
CC Sabathia Update: Sabathia (knee) is going to see Dr. James Andrews at his request, according to Brian Cashman. He called it a precaution. We'll see.
Mark Teixeira Update: Teixeira has some tightness in his left groin and is day-to-day. Joe Girardi called it a low-level concern. Teixeira was running gingerly yesterday and said he felt like he had "cement blocks" on his feet.
Rotation Update: Girardi said Alfredo Aceves is a candidate to start in place of CC Sabathia on Thursday but that is not final. They may need him in long relief before then … the Mets officially announced righty Rafael Montero will start on Wednesday with Jenrry Mejia moving to the bullpen. It will be Montero's big league debut.
From our friends at TiqIQ
Even in a city as big as New York, the Yankees clearly overshadow their crosstown rivals, the New York Mets. But last season the Mets pulled off a rare feat, and swept the Yankees in the four-game Subway Series, the only time the Yankees were on the Mets schedule. While it would be a shock to see similar results this year, the Mets are only two games behind the Yankees at this point in the season despite being in last place in the NL East. Mets tickets are averaging $139.82 for the series, 43 percent higher than the season average of $97.46 while tickets in the Bronx are averaging just $117.69, 14 percent below the season average of $136.59 for games on the Yankees schedule. Overall the series is averaging $128.75, which spans both Yankees Stadium and Citi Field.
5/12 NYM Bartolo Colon vs. NYY Hiroki Kuroda | Avg. Price: $142.87 | Get-in Price: $35
The first game of the series pits two of the oldest pitchers in the league against each other. Bartolo Colon and Hiroki Kuroda combine for 79 years of age but have remained surprisingly relevant. Each pulled in $10+ million annually in offseason deals this past year. The game is also the most expensive at Yankee Stadium, and the second most expensive game of the series with an average price of $142.87. The get-in price of $35 is also $10 more than the next day's price.
5/13 NYM Zack Wheeler vs. NYY Vidal Nuno | Avg. Price: $92.50 | Get-in Price: $25
The next game is the Yankees first look at one of the Mets top young arms, Zack Wheeler. Wheeler has shown a lot of promise this season, but has once again struggled to keep his walk totals down. A .342 BABIP is also working against him. The average price of this game is the lowest of the series, and the only one under $100. The get-in price of $25 is also the only game under $30.
5/14 NYY Masahiro Tanaka vs. NYM Jenrry Mejia | Avg. Price: $112.37 | Get-in Price: $36
The first game of the series at Citi Field is also the cheapest, even though Yankees ace Masahiro Tanaka is pitching. The Japanese pitcher has a K% at nearly 30 with a BB% under 4, and is inducing swinging strikes at 14.5%. Tickets are averaging $112.37, which is more than $50 less than the game on Thursday. The get-in price of $36 is only a couple dollars lower than Thursday's game.
5/15 NYY Alfredo Aceves vs. NYM Dillon Gee | Avg. Price: $167.26 | Get-in Price: $38
Alfredo Aceves has been great in his first two appearances for the Yankees, and is the likely starter Thursday. After a brief stint with the Red Sox the righty is back with the Bronx Bombers. He's only given up one run in 7.1 innings, making appearances against both the Tampa Bay Rays and Milwaukee Brewers. Tickets are the highest of the series and of any game this week with an average of $167.26. The get-in price of $38 is also the highest of the series.
The 2014-15 international signing period opens on July 2nd, so a little less than two months from now, and the Yankees are reportedly planning to blow their $2.2M spending pool right out of the water. The team is said to be willing to spend upwards of $15M on prospects, including another $15M in penalties. They would also be prohibited from signing a player for more than $300k in each of the next two signing periods.
Last week we heard the Yankees were heavily in on four 16-year-old position player prospects from the Dominican Republic, all of whom would command $2M bonuses or more. Today, Ben Badler reports the club is also targeting three other position player prospects likely to sign seven-figure deals of their own, likely in the $1M range. The scouting reports are subscriber-only, so I can only give away so much:
C Miguel Flames: "Scouts who liked Flames were impressed by his raw power, ability to work the count and put together consistent game at-bats."
OF Jonathan Amundaray: "He projects as a right fielder with a good arm and a tick above-average speed … Amundaray has a quick bat and home run power."
SS Diego Castillo: "One of the most instinctive baseball players on the market … a line-drive hitter with a clean, repeatable swing and feel for the barrel."
All three players hail from Venezuela and sorry, I can't find any video. I also have no idea how old they are, but 16 is a safe assumption. Flames was a third baseman for most of his life until recently moving behind the plate. Badler says the Yankees "are high on" Amundaray and are merely connected to the other two, for what it's worth.
If the Yankees were to sign these three plus the four guys from last week, it will amount to $12M or so in bonuses based on Badler's numbers. That would still leave $3M leftover, which is a ton. I have to think some of that would go towards pitching, though I'm not sure about the quality of this summer's crop of arms. It's safe bet the Yankees will grab at least a few pitchers though. Need to balance things out.
It has only been about five weeks, but so far this year the farm system has made a nice rebound from last season's disaster. Adding three first round picks last year helped, as did Manny Banuelos' return from Tommy John surgery and the continued progress of guys like Peter O'Brien, Luis Severino, and Gary Sanchez. It sure sounds like an international draft is coming in the near future, so this might be the Yankees' last chance to spend like crazy and add several impact youngsters to the system.
By

Via Chad Jennings: Joe Girardi confirmed Michael Pineda started a throwing program on Saturday — he played catch from 60 feet — and said he will likely need more than the original 3-4 week timetable to return to the team. No surprise there. "Everything was fine," said Girardi to Jennings and Brendan Kuty. "We have a plan. As long as he makes every step along the way, I don't know if it's quite six weeks (until he returns)."

Pineda, 25, originally got hurt on April 29th, so tomorrow would mark two weeks out. He just started playing catch, so he still needs to throw off a mound before he can get into minor league rehab starts. Pineda needs to get stretched all the way out and will probably have to make several rehab starts. He might be be 3-4 weeks away from returning right now. You have to think the Yankees will be careful with him because the injury is so close to his surgically repaired shoulder as well. Pineda had a 1.83 ERA (2.68 FIP) in 19.2 innings before getting suspended and hurt. · (18) ·
It's that time of year again, the Subway Series. The Yankees and Mets will meet four times this week, and, like last season, they will play a four-game home-and-home series. The battle for bragging rights opens tonight at Yankee Stadium and will wrap-up on Thursday at Citi Field. Two games at each building.
What Have They Done Lately?
Following a surprisingly strong start to the season, the Mets have lost eight of their last ten games. They did win yesterday (via walk-off), however. The Amazin's are 17-19 with a -8 run differential overall this season, which has them tied for last in the top heavy NL East.
Offense
The Mets have a below league average offense at 3.94 runs per game with a team 83 wRC+. They also have a 23.0% strikeout rate as a team, the seventh highest in baseball, so they struggle to score runs and struggle to put the ball in play. Manager Terry Collins does not have any position players on the DL but 1B Lucas Duda (118 wRC+) has missed the last few games with a stomach problem.
As usual, the Mets' lineup is anchored by 3B David Wright (104 wRC+), who is off to a relatively slow start. Former Yankee OF Curtis Granderson (72 wRC+) got off to a brutally slow start but has been much better over the last two weeks or so (151 wRC+). Defensive wiz OF Juan Lagares (121 wRC+) has had an unexpectedly strong start to the season. He was always a glove first guy. 2B Daniel Murphy (133 wRC+) has been excellent and Duda has been more than solid since taking over as the full-time first baseman following the Ike Davis trade.
Other than those five, the Mets have OF Chris Young (97 wRC+), C Travis d'Arnaud (67 wRC+), OF Eric Young Jr. (79 wRC+), and SS Ruben Tejada (54 wRC+) playing everyday. IF Wilmer Flores and UTIL Eric Campbell were just called up to add some spark. Flores has played three games and Campbell made his MLB debut yesterday. C Anthony Recker (103 wRC+) and former Yankee OF Bobby Abreu (91 wRC+) round out the bench. Yes, Bobby Abreu is in the big leagues.
It's worth noting Mets' pitchers are 0-for-63 this year, the longest hitless streak by a pitching staff to start a season in baseball history. The chances of them picking up their first pitcher hit on Wednesday or Thursday is roughly 10,000%.
Pitching Matchups
Monday: RHP Hiroki Kuroda (vs. NYM) vs. RHP Bartolo Colon (vs. NYY) (Pitcher GIFs)
Remember when the Yankees dragged Colon out of winter ball and we all laughed? Three years later, he's still going strong in the big leagues. Who would have guessed? The 40-year-old Colon has a 5.36 ERA (4.09 FIP) in seven starts and 43.2 innings this year, with his best strikeout (7.01 K/9 and 17.8 K%) and walk (1.03 BB/9 and 2.3 BB%) rates since his stint in pinstripes. Homers (1.44 HR/9 and 12.1 HR/FB%) and a lack of grounders (37.4%) have been his biggest problems. Colon still throws almost nothing but fastballs, upper-80s four-seamers and mid-80s two-seamers. His velocity isn't what is was three years ago. On occasion he'll throw low-80s sliders and changeups. There's no mystery here. Colon comes right at guys with fastballs.
Tuesday: LHP Vidal Nuno (vs. NYM) vs. RHP Zack Wheeler (vs. NYY) (Pitcher GIFs)
Wheeler, 23, is the second of the Mets' three big pitching prospects, sandwiched between Matt Harvey and Noah Syndergaard. He has a 4.35 ERA (3.13 FIP) in seven starts and 39.1 innings this season, and his only real problem has been walks (4.12 BB/9 and 10.6 BB%). Young pitchers, man. The two things they do better than anything is walk guys and get hurt. Wheeler has very good strikeout (8.92 K/9 and 22.9 K%), homerun (0.46 HR/9 and 6.3 HR/FB%), and ground ball (52.3%) rates, though he's been getting clobbered by left-handers (.393 wOBA). Righties haven't had as much luck (.277 wOBA). Two mid-90s fastballs (four and two-seamer) set up his upper-80s slider and upper-70s curveball. Wheeler throws only a handful of changeups per start. He's got nasty stuff, but like most young pitchers at this point of their careers, Wheeler is still rough around the edges.
Wednesday: RHP Masahiro Tanaka (No vs. NYM) vs. TBA
This start was supposed to go to RHP Jenrry Mejia, but after three straight rough outings, Collins told David Lennon they may skip his start and give him some time in the bullpen. They need to limit his workload anyway. If that does happen, either RHP Rafael Montero or RHP Jacob deGrom figures to get the call for the spot start. Both would be making their big league debuts. Montero, 23, has a 3.67 ERA (3.97 FIP) in 42.2 Triple-A innings this season and is by far the better prospect of the two. He was really impressive in Spring Training. Everything (delivery, ball out of his hand, etc.) looks easy. The 25-year-old deGrom has a 2.58 ERA (3.73 FIP) in 38.1 innings at Triple-A this season. He spent all of last year at Triple-A, so if the Mets make this decision based on seniority, deGrom would be the guy.
Thursday: TBA vs. RHP Dillon Gee (vs. NYY) (Pitcher GIFs)
Gee, 28, turned his season and to some extent his career around during the Subway Series last season, when he held the Yankees to one run in 7.1 innings while striking out 12. He went into that start with a 6.34 ERA and has pitched to a 2.72 ERA (3.85 FIP) in 202 innings since. Gee comes into this series with a 2.73 ERA (4.28 FIP) and just okay peripherals — 5.64 K/9 (15.6 K%), 2.56 BB/9 (7.1 BB%), 1.03 HR/9 (9.5 HR/FB%), 40.9% grounders, .302 wOBA against lefties, and .262 wOBA against righties — though he's obviously doing something right. He's one of those guys who defies the usual ERA/FIP relationship. Gee has the standard issue four-pitch mix: upper-80s fastball, mid-80s changeup, low-80s slider, and mid-70s curveball. Far from flashy, but it's damn effective, especially over the last year.
As for the Yankees, they seem likely to start Alfredo Aceves in the series finally now that CC Sabathia is on the 15-day DL with a knee issue. Chase Whitley, the other starter candidate, is pitching for Triple-A Scranton today according to Donnie Collins. It could be a short tune-up outing for Thursday or remove him from consideration all together. If that happens, maybe they'll just stick with Matt Daley as the extra reliever.
Update: Whitley threw only one inning and seven pitches this afternoon, so it was just a tune-up appearance. He is very likely coming up to either make the spot start or replace Aceves as the long man. I assume it's the latter.
Bullpen Status
It seems like the Mets have had one of the very worst bullpens in baseball this year thanks to some high-profile meltdowns, but they're closer to middle of the pack with a 3.99 ERA (4.31 FIP). It could be worse, I guess. Believe it or not, former Yankee RHP Kyle Farnsworth (4.39 FIP) is closing with RHP Daisuke Matsuzaka (3.52 FIP) getting most of the setup innings. That's a real thing that is happening. RHP Carlos Torres (2.94 FIP) will also see some late-inning time.
LHP Scott Rice (3.97 FIP) is Collins' only lefty right now. RHP Gonzalez Germen (4.21 FIP), RHP Jeurys Familia (3.77 FIP), and RHP Jose Valverde (5.36 FIP) fill out the rest of the bullpen, which could get a boost from Mejia this week. We'll find out soon enough. Dice-K threw two innings and 34 pitches yesterday, so he might not be available tonight. Valverde, Familia, and Rice also pitched briefly on Sunday. Our Bullpen Workload page has the status of the Yankees' relievers. Check out Amazin' Avenue for the latest and great on the Mets.
Record Last Week: 3-3 (28 RS, 23 RA)
Season Record: 19-17 (155 RS, 166 RA, 17-19 pythag. record)
Opponents This Week: vs. Mets (two games, Mon. and Tues.), @ Mets (two games, Weds. and Thurs.), vs. Pirates (three games, Fri. to Sun.)
Top stories from last week:
Please take a second to answer the poll below and give us an idea of how confident you are in the team. You can view the interactive Fan Confidence Graph anytime via the nav bar above, or by clicking here. Thanks in advance for voting.
Given the team's current roster construction, farm system, management, etc., how confident are you in the Yankees' overall future?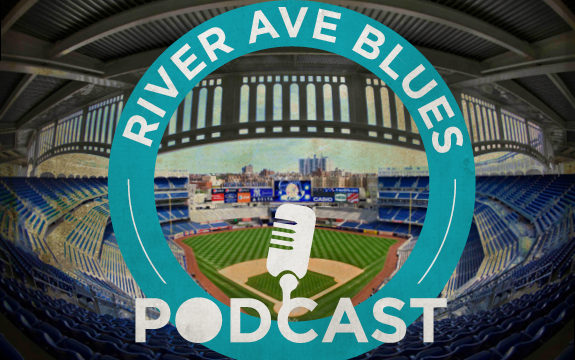 The total score of the weekend series: Yankees 14, Brewers 14. But they can't split the series, so the Brewers ended the weekend on top, winning Sunday's game in a walkoff. The Yankees came back from behind in both Saturday and Sunday's games, but it wasn't enough.
Jay and I look at the series that was, and then look ahead to this week's series, both against the Mets. To talk about the crosstown rivals other team, we have Marc Carig of Newsday. You might remember him from the Yankees beat a few years ago. The man knows his Mets.
iTunes link: subscribe here
Or you can subscribe to the RSS feed.
There are also plenty of iOS and Android apps that will grab the pod.
Podcast: Play in new window | Download (Duration: 46:44 — 21.4MB)