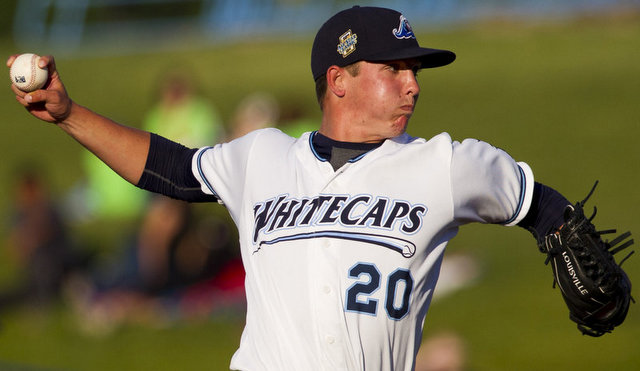 Chad Green | RHP
Background
Green, 24, grew up in Effingham, Illinois, which is roughly halfway between St. Louis and Indianapolis. He played both baseball and basketball at Effingham High School, where he was a three-time All-Conference and two-time All-Area honoree. Chad's twin brother Chase also played baseball, and went on to use up all five years of eligibility at Southern Illinois.
Baseball America (subs. req'd) did not rank Green among their top 200 prospects for the 2010 draft, but they did rank him the No. 12 prospect in Illinois. The Blue Jays selected Green out of high school with their 37th round pick but failed to sign him. He instead followed through on his commitment to Louisville and stepped into a low-leverage relief role as a freshman.
Green posted a 1.93 ERA with 23 strikeouts and 16 walks in 42 innings in his first year on campus. He remained in the bullpen as a sophomore, throwing 46.2 innings with a 2.70 ERA and 42/23 K/BB. After the season, Green headed to the Cape Cod League, where he really broke out with a Bourne Braves. He pitched to a 2.79 ERA with 47 strikeouts in 42 innings against the top college players in the country.
The Cardinals moved Green into the rotation his junior year. He threw 104.1 innings across 18 starts, posting a 2.42 ERA with 74 strikeouts and 27 walks. That earned him Second Team All-Big East honors. Green allowed five runs in 12 innings in two postseason starts, both wins. Louisville advanced to the College World Series but was eliminated after losing their first two games, so Green didn't get a chance to pitch in Omaha.
Green left Louisville after 193 innings with a 2.38 ERA, the best in school history at the time. Baseball America (subs. req'd) ranked him as the ninth best prospect in Kentucky and the 267th best prospect in the 2013 draft class. The Tigers selected him in the 11th round (336th overall) and signed him for $100,000. The Yankees acquired Green from Detroit in the Justin Wilson trade earlier this month.
Pro Career
The Tigers had Green start his pro career with their High Class-A affiliate — he went for a quick tune-up with their rookie Gulf Coast League affiliate first — where he worked as a reliever following his big workload in school. Green had a 3.54 ERA (3.22 FIP) with 16 strikeouts and six walks in 20.1 pro innings in 2013.
Despite the solid showing in High-A, the Tigers sent Green to their Low Class-A affiliate for the 2014 season. He spent the entire year at the level, throwing 130.1 innings with a 3.11 ERA (3.08 FIP). Green struck out 23.9% of batters faced and walked 5.4%. Baseball America ranked him as the team's 29th best prospect following the season in their 2015 Prospect Handbook.
The Tigers jumped Green straight to Double-A this past season — High-A to Low-A to Double-A is an atypical development path, I'd say — where he had a 3.93 ERA (3.22 FIP) in 148.2 innings. He had solid strikeout (20.9%) and walk (6.6%) rates while being about six months younger than the average Eastern League player.
Scouting Report
At 6-foot-3 and 210 lbs., Green is a big and physical right-hander with a low-90s sinker that is his key to success. He throws a lot of strikes with the pitch and consistently locates it at the knees. The Tigers introduced Green to a splitter last season and it has since emerged as his top secondary offering. He's still working to gain consistency with the pitch.
Green also throws a sharp low-80s slider that he struggles to locate on the outer edge to righties. He tends to miss way off the plate or hang it over the middle. The split-finger, which replaced a changeup, is Green's put-away pitch against both righties and lefties at the moment. There's not much video of him available, so here's a clip from April 2014, when he was in Low Class-A with the Tigers.
Green's delivery is pretty simple and in-line with the plate, allowing him to throw strikes with his fastball with ease. He's been praised for his ability to outsmart hitters and keep them off balance. Also of note: Green's a very good athlete and a strong fielder, which is not insignificant for a ground ball pitcher.
2016 Outlook
After pitching well and spending the entire season in Double-A in 2015, Green is ticketed for the Triple-A Scranton rotation next season. I'm guessing he'll get an invite to big league Spring Training so the coaching staff and front office can see him up close. Assuming he pitches well with the RailRiders, Green figures to make his MLB debut at some point next year, even if he's only an up-and-down arm at first. He'll be Rule 5 Draft eligible next offseason, so a 40-man roster spot hangs in the balance.
My Take
Pitching prospects like Green don't excite me much but the Yankees seem to have success with guys like this, guys who can throw strikes and pitch off their fastball. David Phelps and Adam Warren are the most notable recent examples. The Yankees worked with both to develop secondary stuff. Green's new-ish splitter is promising and I'm guessing tightening up the slider will be a point of emphasis going forward. There's nothing sexy about back-end starters, but the Yankees need cheap rotation help, and Green just might be able to help in that capacity.