By

Via Zach Braziller: Derek Jeter said he wants to own a Major League team when his playing days are over, and he intends to start gauging interest after the season. "That's the next goal, buddy. Calling the shots, not answering to someone, that's what interests me," said the Cap'n. "I'd like to think I would be good one. I'd probably be a little bit more behind the scenes than the Boss, but I learned a lot of things from the Boss."

I could totally see the Steinbrenners letting Jeter buy into the Yankees. Can't you? He could be for the team what Magic Johnson is for the Dodgers, that local megastar who is the face of the ownership group despite having a relatively small stake in the team. At least that's what he could be at first. Jeter's star power is unmatched in baseball, but he's a smart guy, he knows staying in New York is best for him. The Yankees and Derek Jeter were made for each other. Him owning a piece of the team makes too much sense. · (94) ·
The old saying is that you need five years to evaluate a draft class, but I'm not sure how true that is. On one hand, the prospects and non-prospects usual separate themselves within three or sometimes even two years. On the other hand, most players don't get much of an opportunity to have a big league impact within five years of being drafted, so it's not a enough time to truly know what you have. Five is a convenient number though (hooray round and half numbers!), so with the 2014 draft two days away, let's review the Yankees' 2009 draft haul, five years after the fact.
Because of their massive free agent spending spree during the 2008-09 offseason, the Yankees forfeited their first (for Mark Teixeira), second (for CC Sabathia), and third (for A.J. Burnett) round picks in the 2009 draft. They did still have first and second round compensation picks after failing to sign Gerrit Cole and Scott Bittle the previous year though, so it's not like they were stuck waiting until the fourth round to call a name. As Ken Rosenthal reported, New York was ready to draft Mike Trout with their first selection (29th overall), but the Angels grabbed him 25th overall. That was the Teixeira pick. The Yankees would have had to not sign Teixeira, Sabathia, and Burnett to keep that pick, and even then the Angels still would have had the 24th pick. They weren't getting Trout, so let's move on already. The Bombers did land two players currently on their active 25-man roster, however.
The Sladerunner
With the pick for Cole, that 29th overall selection, the Yankees drafted a toolsy, athletic, and somewhat troubled high school outfielder from Texas named Slade Heathcott. According to Gene Sapakoff, Heathcott's stepfather was in prison, he battled alcohol addiction and lived in his truck as a high school senior, and was nearly shot when he broke into a stranger's home in a drunken rage. That's … pretty scary stuff.
The Yankees did their homework though, and they believed in Heathcott's talent enough to give him a $2.2M bonus right before the signing deadline, which is exactly double slot money. It is still the largest bonus the team has ever given a draft hitter or high school player. Heathcott barely played after signing late and he never made it to Instructional League in the Dominican Republic after the season.
"I drank so much the night before, I blacked out. I hurried to the airport with my bag but my passport fell out. Having to explain that is how the Yankees found out about all my drinking," said Heathcott to Sapakoff. The Yankees sent him to Alcoholics Anonymous and gave him a mentor (ex-Yankee up and down reliever Sam Marsonek), after which Heathcott quite drinking. As far as I know, he has not had a relapse.
The Yankees held Slade back in Extended Spring Training before sending him to Low-A Charleston in the middle of the 2010 season. His full season debut was cut short by a shoulder injury that required surgery. Heathcott was bumped up to High-A Tampa the next year, but again his season ended abruptly due to another shoulder injury that again required surgery. It kept him out for half of 2012 as well. The shoulder has been fine since, but this past offseason he needed knee surgery. (He torn his ACL in high school as well.)
Since signing, Heathcott has played only 309 regular season games in parts of six seasons. His best season was 2012, when he hit .302/.380/.461 with five homers and 19 steals in 65 games, almost all for High-A Tampa. Heathcott's career highs are 103 games played and 444 plate appearances, both set last year. He missed the start of this season due to the knee surgery, played nine games with Double-A Trenton, then landed back on the disabled list with more knee problems.
The Bombers drafted Heathcott because he has high-end athleticism and exciting tools in his speed, raw power, and defense, but he has been hurt so much these last few years that he has not been able to develop those tools into baseball skills. Part of the problem is that he plays all out, all the time, and is prone to hurting himself with slides and dives and all that. Heathcott remains one of the team's better prospects — the Yankees added him to the 40-man roster last winter to protect him from the Rule 5 Draft — but the injuries have really hurt his development.
That's John Ryan To You
The best prospect the Yankees landed in the 2009 draft was their second rounder, the compensation pick for Bittle. They used that pick plus a $1.25M bonus for a Florida high school infielder/catcher named John Ryan Murphy, who they immediately moved behind the plate full-time. Apparently someone called him J.R. after the draft and he never bothered the correct them, so the nickname stuck until he spoke up last winter. Go figure.
Murphy steadily climbed the minor league ladder and made tremendous improvement behind the plate — "It's been a long process. I was not very good when I was drafted. I've come a long way … I'm completely different from when I signed. Slowly, but surely, there's been a total evolution," he said to David Laurila last year — then last year his bat caught up to his defense. Murphy hit .269/.347/.426 between Double-A and Triple-A last season, then earned a September call-up as the team's third catcher.
When Frankie Cervelli blew out his hamstring back in April, the Yankees called up Murphy and he has been pleasantly productive as Brian McCann's backup. He doesn't have star potential behind the plate, but he looks very much like someone who will be a solid all-around starting catcher that might crack and All-Star Game roster once or twice during his peak. At worst, Murphy spend a bunch of years in the show as a backup. Now five years later, he is clearly the best player the club drafted in 2009.
Long Man, Then Setup Man
The Yankees did not have a third rounder, and they used their fourth rounder on one of those cliched "safe" college arms. They selected senior right-hander Adam Warren out of UNC, where he spent four years being overshadowed by higher profile prospects like Daniel Bard, Andrew Miller, and Matt Harvey. The Yankees gave Warren a $195k signing bonus and three years later he was in the big leagues.
As you know, Warren's big league debut was a total disaster. The White Sox clobbered him for six runs in 2.1 innings in a spot start in June 2012. It was ugly. Warren did not pitch in the big leagues again until April 2013, when the made the team as the long man out of Spring Training because Phil Hughes hurt his back at the end of camp. He pitched to a 3.39 ERA (4.32 FIP) in 77 innings as a swingman, and this season Warren has emerged as a late-inning force as a mostly one-inning setup man (1.71 ERA and 2.34 FIP). Turning a fourth rounder into at worst a serviceable big league arm and at best a high-leverage reliever is a great get for New York.
Other Notables
Two other players from the 2009 draft have reached the big leagues with the Yankees, but only as emergency call-ups due to injury. The first is 15th rounder Shane Greene, who did not pitch at all during the spring of 2009 because he was rehabbing from Tommy John surgery. One of the team's scouts saw him throwing a bullpen while rehabbing and invited him to Tampa for a private workout. They like what they saw enough to draft him and give him a $100k bonus. Greene pitched in one MLB game earlier this year and is currently in Triple-A.
The other player is right-hander Bryan Mitchell, who was called up for a day in April, but did not pitch. He was the team's 16th round pick in 2009, and the Yankees gave him $800k to skip out on his commitment to UNC. Mitchell is a classic "big stuff, needs to learn how to harness it" pitching prospect currently in Double-A. Like Greene, he was placed on the 40-man roster over the winter. Righties Caleb Cotham (fifth round), Brett Gerritse (12th round), and Graham Stoneburner (14th round) remain in the system as organizational arms.
Big Arms, Small Busts
In addition to Stoneburner, Greene, and Mitchell, the Yankees rolled the dice on several other pitchers with big arms in the mid-to-late rounds. Righty Sean Black (seventh round) was the highest unsigned pick in the 2006 draft (59th overall by the Nationals), but he took a step back in college and never regained the stuff he showed in high school. Lefty Sam Elam (eighth round) had a huge arm and extreme control problems, walking 64 in 76.1 innings in Notre Dame before walking 51 in 30 pro innings. Lefty Gavin Brooks (ninth round) blew out his shoulder a year after signing. Lefty Evan DeLuca (44th round) received a $500k bonus to skip out on his commitment to San Diego. He posted a 98-95 K/BB in 109 pro inning before being released. The Yankees took shots in the dark with all four of these guys and none worked out. Only DeLuca required a substantial bonus.
Unsigned Gems
Unlike the 2007 (Drew Storen) and 2008 (Cole) draft classes, New York did not fail to sign a player in 2009 who has since gone on to be even a very good prospect. The biggest name among the unsigned players is outfielder Pat White (48th), who was more notable for his football exploits as a quarterback at West Virginia. In fact, he never even played baseball in college. White played in 13 games for the Dolphins in 2009 and has since bounced around to the UFL and CFL.
Two of the Yankees' unsigned 2009 draftees have reached the big leagues with other teams. Lefty Tyler Lyons (tenth round) returned to Oklahoma State for his senior year, was drafted in the ninth round by the Cardinals in 2010, and has gone up and down as a replacement level spot starter the last two years. Righty Jake Petricka (34th round) was the White Sox's second round pick in 2010 following his senior year at Indiana State. He's a hard-thrower with control problems who has seen some time as a setup man for Chicago this year.
The Yankees also failed to sign local outfielder Jeremy Baltz (45th round), who had a decorated career at St. John's. The Padres drafted Baltz in the second round of the 2012 draft and he current plays in their farm system. Baseball America did not rank him among the team's top 30 prospects in their 2014 Prospect Handbook. Infielder Stephen Bruno (26th round) was a seventh rounder of the Cubs in 2012 and was not among their top 30 prospects before the season, according to Baseball America. Outfielder Andrew Aplin (33rd round) was ranked as Houston's 19th best prospect by Baseball America before this season. They selected him in the fifth round of the 2012 draft.
* * *
The Yankees have already gotten value out of this draft class thanks to Warren, and it certainly looks like Murphy has a big league future ahead of him. Greene and Mitchell are interesting arms who might most help the team as trade bait. The Yankees are still waiting on Heathcott and he will be the biggest factor in determining if this was a good draft or a great draft.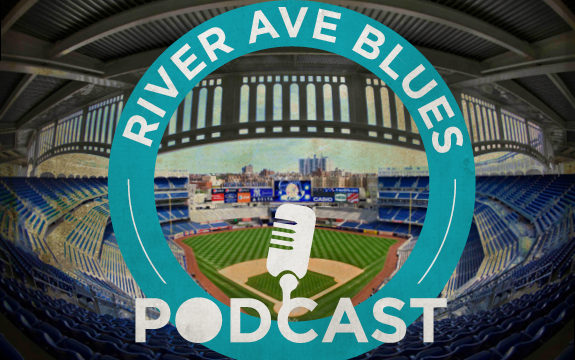 Guest: Former RAB weekend writer Hannah Ehrlich. She's out in the bay area and makes it to her share of A's games. It's very nice to catch up with an old friend.
After lamenting the weekend series against the Twins, Mike and I launch into what became a state of the Yankees segment. From what I remember of the conversation, it all made sense. It also led to the poll question below.
Remember to email in your questions before Friday's show (recorded Thursday night), podcast at riveraveblues.com.
You can also give us a call us at 716-393-5330 and leave a voicemail. We'll play it on air and answer it. It'll feel more radio-like that way.
Will the Yankees DFA Alfonso Soriano and sign Kendrys Morales?
Podcast: Play in new window | Download (Duration: 58:21 — 26.7MB)
Technically, the Yankees were swept by Robinson Cano and the Mariners at home. Seattle won the first two games in New York back in April, then won the make up of the rained out game on Monday night. The final score was 10-2. The Yankees are now 11-13 against the Mariners, Cubs, White Sox, Pirates, Astros, Twins, and Mets this year. Cream of the crop.
Bad Pitching, Bad Defense, Bad Team
The infield defense was terrible yet again, but the Mariners scored enough legitimate runs that it would not have mattered if the Yankees played flawless defense anyway. Kyle Seager scored on a ground ball after whacking a leadoff triple off the wall in the second, then Brad Miller drove in two runs with a single back up the middle in the seventh. The bases were loaded on a double, a walk, and a bunt hit. That's three runs right there, all without the aid of bad defense.
But, of course, the infield defense led directly to three other runs. Derek Jeter played a definite single and probable double into a leadoff triple in the fourth inning (more on that in a second), a runner that eventually came around to score. Then, with men on second and third in the seventh, Michael Saunders pulled a two-run single under Kelly Johnson's glove. The ball went right under his glove, very make-able play. There was only one out and one run probably would have scored anyway, but instead two came across and no out was recorded. Three legit runs, three Yankees-aided runs.
Because official scoring is weird, David Phelps was charged with six earned runs in six innings of work. The Yankees were not charged with a single error for … reasons. I'm sure there were reasons. Phelps retired seven in a row at one point but ran into trouble early in the game and towards the end of his outing. Again, a real Major League defense would have helped limit the damage. I don't even mean a Gold Glover at every position. A below-average defense would be an upgrade over this abomination.
Token Two Runs
If Felix Hernandez had not stuck out his foot in the fourth inning, the Yankees would have been shut out. They had men on the corners with two outs, and Miller was all set to field Ichiro Suzuki's ground ball back up the middle for the final out. Instead, Felix kicked it away and both runs scored. That's what it takes for the Yankees to score a run these days. The pitcher needs to kick would-be routine outs away from defenders.
The Yankees had eight hits in seven innings against Hernandez and five of them came in that fourth inning. Three were infield singles. Yangervis Solarte had two hits, including a double down the right field line. Brian McCann singled to center, Johnson blooped a single to left, and Jacoby Ellsbury yanked a ground ball between the first and second basemen. That's all. A legit double, two legit singles, a bloop, a grounder with eyes, and three infield singles, including one the pitcher kicked away. Ellsbury singled off reliever Charlie Furbush, but otherwise 15 of the final 16 Yankees to bat made outs.
Mistakes, Because We Love Mistakes
Things are going so poorly for the Yankees right now that even Jeter is making mental errors. Say what you want about his defense and double play prowess, but the Cap'n very rarely makes a flat out dumb mistake on the field. And yet, a few days ago he got caught in that rally killing rundown against the Twins, and on Monday he assumed a ball was foul and took his time throwing it back into the infield. Brett Gardner slid to make the catch, but the ball bounced off his glove in fair territory and right to Jeter. He picked it up and jogged down the line with his back to the infield, all while Seager was rounding the bases. What a weird play.
Then, an inning or two later, Johnson slapped a weak little ground ball through the shortstop hole while the Mariners had the shift on, though Ichiro over-ran third base and was thrown out. That mistake wasn't really on Ichiro though, third base coach Robbie Thomson was waving him around. Miller got to the ball pretty quickly, so he deserves some credit. Either way, someone on the Yankees screwed up and they ran themselves out of bases loaded situation with the top of the order coming to the plate. Can't blow those opportunities against Felix, especially not by gifting him outs.
Leftovers
Joe Girardi challenged the call at third base on Endy Chavez's bunt to load the bases in that seventh inning, and although the call was not overturned, I thought it was the right time to challenge. Tie game in the late innings, the play was very close, and it was the difference between bases loaded with no outs and runners on first and second with one out. Gotta take a shot there.
Matt Thornton allowed a single in his inning of work, but it was the single under Johnson's glove and should have been an error. Both runners he inherited scored because of that non-error. Alfredo Aceves allowed five hits, including two homers in two garbage time innings to put the game out of reach. I have no idea what's going on with him and McCann. McCann isn't putting down signs but they're on the same page and he knows what's coming. Very weird. Obviously it isn't working. Aceves has been terrible.
Still can't believe the Yankees were not charged with an error. What was that about?
Box Score, WPA Graph & Standings
MLB.com is the place to go for the box score and video highlights. FanGraphs has some additional stats and ESPN has the updated standings.

Source: FanGraphs
Up Next
The Mariners were only in town for this one makeup game. The Yankees and Athletics open a three-game series on Tuesday night, when veterans Hiroki Kuroda and Scott Kazmir get the ball. If you want to catch any of the final three games on the homestand, RAB Tickets can help get you in the door.
The video above is OF Mason Williams making a ridiculous catch after slipping in the outfield during yesterday's game. He might not be hitting much this year, but Williams is an outstanding defender and one of the very best in the all the minors. Here are some notes:
OF Ramon Flores, IF Dean Anna, and RHP Diego Moreno were all placed on the Triple-A Scranton DL, according to Donnie Collins. Flores has an ankle injury and will miss a month or so. Not sure what's wrong with the other two. C Jose Gil, IF Carmen Angelini, and LHP Francisco Rondon were bumped up to replace them.
According to his Twitter feed, RHP Gabe Encinas pitched in an Extended Spring Training game today. He made seven starts for Low-A Charleston last year before blowing out his elbow and needing Tommy John surgery. Encinas is one of the hardest throwers and best sleeper prospects in the organization.
IF Jose Pirela and 2B Rob Refsnyder were named the Triple-A International League and Double-A Eastern League Offensive Players of the Week, respectively. Meanwhile, RHP Jaron Long was named the Low-A South Atlantic League Pitcher of the Week. Congrats to all.
Triple-A Scranton's box score and game log seem to be broken after a lengthy rain delay. I'm not going to wait around any longer. Here is the link if you want to check it out yourself.
The Mariners are back in town for one night and one night only, as these two teams have to make up a rained out game from late-April. That means Robinson Cano is back in the Bronx for the second time, and of course he's in the lineup tonight. He missed the last four games with a bruised hand after being jammed by a pitch. Robbie hadn't missed four games in a full season with the Yankees since 2006. You didn't think he was not going to play, did you?
Anyway, Cano or no Cano, the Yankees need their offense to wake up tonight. That won't be easy because Felix Hernandez is on the mound, but still. It has to happen sometime. They scored six runs total in the three games against the Twins over the weekend and Minnesota started two guys who went into the series with literally the two worst ERAs in baseball. The Yankees have hit .230/.298/.304 with an average of 3.5 runs scored in their last 14 games, which is awful. That's NL team in a big ballpark production. Yuck. Here is the Mariners lineup and here is the Yankees lineup:
It is nice and sunny in New York today. Kinda hot too. No clouds and no chance of rain during the game, so it's a lovely night for baseball. First pitch is scheduled for 7:05pm ET and can be seen on YES. Enjoy the game.
Injury Updates: CC Sabathia (knee) has been running on a special treadmill that reduces impact and hopes to begin playing catch later this week. He spoke to Amare Stoudemire about rehabbing from the stem cell treatment, which I guess is good … Shawn Kelley (back) is likely to throw a simulated game on Wednesday and pitch in a minor league game on Friday before rejoining the team either over the weekend or early next week … in case you missed it earlier, both Carlos Beltran (elbow) and Frankie Cervelli (hamstring) played in Extended Spring Training games today. Beltran said he plans to rejoin the team for their road trip at the end of the week.
All-Star Voting Update: MLB released another All-Star Game fan voting update this afternoon, and Jeter remains the leading vote-getter at shortstop by a mile. Melky Cabrera jumped over Ellsbury for the final outfield spot, however. Mark Teixeira (fifth), Soriano (fifth), McCann (second), Beltran (fifth), and Gardner (13th) are among those getting votes at their respective positions. Here is the full update.
K.J. Harrison | C
Background
Harrison attends Punahou High School in Honolulu, and his father Kenny played briefly in the minors after being an All-American at Hawaii. He is one of the youngest high school players in the draft class (won't turn 18 until August) and is committed to Oregon State.
Scouting Report
At 5-foot-11 and 190 lbs., Harrison stands out for his strong and accurate arm behind the plate. He has good footwork and is a very good receiver for a high school backstop, showing no trouble catching premium velocity during showcase events. Harrison shows power in batting practice and gets his bat through the zone quickly, but he needs to improve his approach to fully tap into his offensive potential. Like most catchers, he can't run all that well. Harrison is also said to be a very intense competitor.
Miscellany
In their latest rankings, Baseball America and MLB.com ranked Harrison as the 138th and 172nd best prospect in the draft class, respectively. He did not make Keith Law's (subs. req'd) most recent top 100 draft prospects list. Last week, however, Law said the Yankees were targeting high school catchers and mentioned Harrison by name. That makes sense, they love hoarding catchers. The team's first pick is in the second round (55th overall), but Harrison is a better fit for their third (91st overall), fourth (122nd), fifth (152nd), or possibly even sixth (182nd) round pick. Catchers almost always get drafted higher than expected because of position scarcity though.
By

Via Bryan Hoch: Carlos Beltran played in an Extended Spring Training game earlier today, his first game action since landing on the disabled list with a bone spur in his elbow. He went 0-for-3, but results don't really matter. "The elbow felt good," he said. Beltran said the plan is to play two more ExST games before rejoining the Yankees when they leave for their road trip at the end of the week. Good news.

In other news, Frankie Cervelli also played in the same game as Beltran, according to Hoch. Cervelli went 1-for-2 with a double and a walk. It was his first game action since suffering a hamstring injury in April. He is eligible to be activated off the 60-day DL on June 14th, so less than two weeks away. With John Ryan Murphy playing so well as Brian McCann's backup, there's no reason to rush Cervelli back. · (17) ·
Thanks to a rainout on April 30th, the Mariners are back in the Bronx for one night only. The Yankees and Mariners are making up that postponed game tonight, on what should have been an off-day. Seattle did win the two other games in the series back in April.
What Have They Done Lately?
The Mariners just took two straight from the Tigers but have still lost five of their last eight overall. They played in Seattle yesterday afternoon and had to fly in overnight for this game. They leave for Atlanta later tonight. That must suck. Overall, the Mariners are 28-28 with a +13 run differential on the season, which has them sitting in fourth place in the top heavy AL West.
Offense
At 4.07 runs per game with a team 83 wRC+, manager Lloyd McClendon's squad is comfortably below-average offensively. They are without 1B Logan Morrison (8 wRC+) and DH Corey Hart (82 wRC+), who are on the disabled list with knee and hamstring problems, respectively. Neither will be back tonight. 2B Robinson Cano (115 wRC+) has not played the last three games due to a bruised hand after being jammed by a pitch. If he doesn't play tonight, then it must be a really bad bruise. I can't imagine Robbie will pass up an opportunity to torch his old team.
3B Kyle Seager (125 wRC+) has been the team's best hitter on a rate basis this year, and that is especially true right now with Cano banged up. OF Michael Saunders (109 wRC+) and OF James Jones (107 wRC+ in limited time) are the only other hitters who have been even average for Seattle. 1B Justin Smoak (88 wRC+) and OF Dustin Ackley (85 wRC+) continue to be monumental disappointments, as is SS Brad Miller (42 wRC+). Miller might legitimately be the worst regular player in baseball. It's amazing he's not back in Triple-A yet.
Aside from that group, the Mariners are trotting out C Mike Zunino (88 wRC+) and IF Nick Franklin (-1 wRC+ in limited time) fairly regularly right now. OF Stefen Romero (56 wRC+) plays against lefties, OF Cole Gillespie (88 wRC+ in limited time) plays against righties, and UTIL Willie Bloomquist (53 wRC+ in limited time) is the veteran bench guy every team loves to have. C John Buck (65 wRC+) is the backup catcher and OF Endy Chavez (79 wRC+) the designated "holy moly he's still in baseball?" guy.
Pitching Matchup: RHP David Phelps (vs. SEA) vs. RHP Felix Hernandez (vs. NYY)
One game series and of course it's Felix. How could it not be? The rainout pushed the 28-year-old Hernandez out of the series in New York, but I guess the Yankees can't escape him that easily. Felix has been superb this season, as usual, with a 2.57 ERA (2.23 FIP) in 12 starts and 84 innings. Lots of strikeouts (8.89 K/9 and 24.8 K%), lots of grounders (51.7%), few walks (1.71 BB/9 and 4.8 BB%), fewer homers (0.32 HR/9 and 5.9% HR/FB). Definition of elite. He also has a bit of a reverse split this year — righties have a .271 wOBA while lefties have a .248 wOBA — but still, he's good against everyone. Felix has probably the nastiest stuff in the game, with a low-90s fastball that runs back in on righties, an upper-80s changeup that falls off the table, an unhittable mid-80s slider, and knee-buckling low-80s curveball. Every positive pitching adjective in the book applies to this guy.
Bullpen Status
Left-hander Roenis Elias threw a complete game shutout against the Tigers yesterday, so McClendon's bullpen got a nice day of rest. Closer RHP Fernando Rodney (3.02 FIP) is the anchor and he has been a high-wire act all season. Every time I watch him he's putting the tying run on base. RHP Yoervis Medina (4.07 FIP) and former Yankees farmhand RHP Danny Farquhar (2.76 FIP) are the primary setup men. Farquhar went to Seattle in the Ichiro Suzuki trade.
LHP Charlie Furbush (4.09 FIP) and LHP Joe Beimel (2.95 FIP) are the team's two lefties while RHP Dominic Leone (3.24 FIP) and RHP Tom Wilhelmsen (3.97 FIP) handle pretty much all other situations. Outside of David Robertson, who has thrown a ton of pitches the last two days, the Yankees' bullpen should be in good shape behind Phelps tonight. Check out our Bullpen Workload page for recent reliever usage, then check out USS Mariner and Lookout Landing for everything you need to know about the Mariners over the next like, ten hours or so.
The 2014 season is now one-third of the way complete. Well, technically it's one-third plus one game complete for the Yankees. They played their 54th game of the season on Saturday, and through that game they were on pace to go 87-75 with a -30 run differential. There is still a pretty big disconnect between the win-loss record and run differential this time of year. The relationship usually doesn't start to stabilize until the All-Star break or so, according to Russell Carleton.
Anyway, as is the case every year, the Yankees have had some players or parts of their game be a pleasant surprise this season. There have also been some disappointments as well. That's just baseball. Things don't always go according to plan, both for better and worse. So, with all that in mind, let's review the Yankees' biggest surprises and disappointments at the one-third (plus one game) point of the 2014 season.
Surprise: Yangervis Solarte
I can't imagine anyone doesn't consider Solarte a massive surprise this year. Even if you totally bought into his excellent Spring Training, I still don't think you could have reasonably expected a .294/.363/.458 (127 wRC+) batting line through the first third of the season. How could you? This is best case scenario stuff. Solarte is not a total fluke either — he has a not outrageous .305 BABIP and is a high contact switch-hitter hitter with a solid approach (23/20 K/BB). That's a good recipe for success. The infield was pretty unsettled coming into the season, but Solarte has emerged as a legitimate everyday player and a much-needed above-average bat to lengthen the lineup.
Disappointment: Hiroki Kuroda
Maybe Kuroda's shaky start to the season shouldn't be much of a surprise given his age (39) and the way he closed out last season (terribly). His 4.57 ERA is by far a career-high — he's also allowed seven unearned runs because of the lol defense — yet his peripheral stats are right in line with recent years. Check it out:
| | K% | BB% | GB% | HR/FB | Whiff% | Zone% | BABIP |
| --- | --- | --- | --- | --- | --- | --- | --- |
| 2014 | 17.3% | 3.9% | 47.2% | 12.3% | 9.8% | 42.9% | 0.311 |
| 2013 | 18.2% | 5.2% | 46.6% | 10.3% | 9.9% | 38.8% | 0.282 |
| 2012 | 18.7% | 5.7% | 52.3% | 13.0% | 9.6% | 38.7% | 0.281 |
There's nothing really crazy going on there. The biggest difference between Kuroda this year and Kuroda the last two years might be that he is throwing too many pitches in the strike zone, which would explain the jump in BABIP. More balls in the zone means more strikes to hit. (The shaky infield defense would explain that too.) Anecdotally, Kuroda has really struggled with his slider and to a lesser extent his splitter. When he misses, he's missed out over the plate and the ball gets hit hard. When he's going well, Kuroda lives on the edges and manages contact, meaning lots of weak pop-ups and grounders. Now he's missing his spots and those pop-ups are line drives. I don't know if it's an age thing or a mechanical thing or something else entirely. Whatever it is, it's made Kuroda part of the problem for the first third of the season.
Surprise: Masahiro Tanaka
Man, how great has Tanaka been? He has taken over as the undisputed staff ace and has legitimately been one of the very best starters in all of baseball. I mean, the Yankees didn't invest $175M in him because they thought he would be a solid mid-rotation workhorse, they expected him to be an ace. But this good, this soon? An adjustment period to life in the big leagues (and a new country) would have been totally normal.
Instead, Tanaka has been elite (2.06 ERA and 2.52 FIP), with excellent strikeout (10.07 K/9 and 28.7 K%), walk (1.37 BB/9 and 3.9 BB%), and ground ball (48.0%) rates. After allowing seven homers in his first six starts, he's allowed zero long balls in his last five starts. Tanaka's splitter has been as advertised (49.2% whiff rate!), ditto his toughness and poise. Dude is a stone cold killer on the mound. I expected Tanaka to be very good this year, but not this good.
Disappointment: Brian McCann
Yeah, he's been much better over the last three weeks or so, but the Yankees absolutely did not expect a .229/.292/.380 (84 wRC+) batting line out of McCann when they agreed to give him $85M over five years. The homers have been there (seven so far), the other base hits (career-low .233 BABIP) and walks (6.7%, worst in seven years) have not. I've thought McCann was pressing more than anything — he is hitting .269/.363/.434 with an 11/9 K/BB in 21 games dating back to the start of the Brewers series, for what it's worth — and it really isn't ridiculous to think a guy who changed leagues and had to learn a new pitching staff needed a few weeks to adjust. McCann is trending in the right direction, but he was a negative in the first third of the season, there's no doubt about it.
Surprise: Dominant Setup Crew
I had no concerns about David Robertson taking over the ninth inning, and yesterday's total meltdown notwithstanding, he's been pretty awesome as the closer. Getting the ball from the starters to Robertson looked like it might be something of a challenge when Spring Training opened, but, as has been the case the last few seasons under Joe Girardi's watch, setup men have stepped forward.
Dellin Betances has been unreal, with a 1.38 ERA (0.86 FIP) and a 46.7% strikeout rate in 32.2 innings. I love that Girardi has been using him as a multi-inning setup man (I just wish it wasn't every other day, fatigue in the second half could be a problem) and effectively turning it into a six or sometimes even five-inning game. Adam Warren has not been quite as dominant as Betances, but a 1.71 ERA (2.34 FIP) with a 23.8% strikeout rate in 31.2 innings plays just fine. Shawn Kelley had 3.52 ERA (2.35 FIP) and a 25.0% strikeout rate in 15.1 innings before hurting his back as well.
Given the lack of offense and generally short outings from the non-Tanaka starters, the setup crew has been super important this season and they have been dynamite. Getting Kelley back will allow Girardi to spread the workload around a little more, which should make them even more effective.
Disappointment: Injuries, Again
The Yankees, once again, dealt with several injuries to key players. Some of them, like Michael Pineda going down with a shoulder issue and Mark Teixeira dealing with nagging wrist soreness, should not be surprising at all. They're coming off surgery and complications come with the territory. Others, like Ivan Nova blowing out his elbow or Carlos Beltran developing (or, really, aggravating an existing) bone spur in his elbow, kinda popped up out of nowhere.
The injuries have stretched the Yankees thin and exposed their lack of offensive depth — they had four guys (Brett Gardner, Jacoby Ellsbury, Brian Roberts, Ichiro Suzuki) in the lineup yesterday who have spent the majority of their careers as leadoff hitters, and that doesn't include long-time number two hitter Derek Jeter either — as well as forced them to play guys out of position. I mean, 21 games at first base for Kelly Johnson? Really? Injuries are part of the game and no one is going to feel bad for the Yankees. But these are real problems they have to overcome. Again.
Surprise: The AL East Sucks
Overall, the Yankees have been pretty mediocre this season. Let's call a spade a spade here. At the same time, the AL East as a whole has been mediocre as well. The Blue Jays have been the best team in the division by a decent margin with a 34-24 record and a +34 run differential. The other four teams are 107-116 with a -65 run differential combined. The Rays are especially terrible. They're a half-game worse than the Astros (!) at 23-34 with a -38 run differential. Can you believe that?
The Yankees are only 3.5 games back of Toronto, which is nothing with two-thirds of the season to go. They still have five head-to-head series to play. There does not appear to be that one great team that will run away with the division, which means New York's general mediocrity will not sink them over the summer. This division could be decided by which team gets the most impact from a call-up or makes the best (not necessarily the biggest or the most) moves at the trade deadline.
* * *
Some aspects of the Yankees are not surprising and have played out exactly as expected. The bad infield defense and general lack of power, for example. Gardner again being totally awesome and one of the most unheralded players in the league is another one. The Yankees are a flawed team and there is no argument to be made against that. They are also a flawed team in an eminently winnable division full of flawed teams. The first third of the season revealed some very real cracks in the dam. The second third is for fixing those cracks and putting the club in the best position to make a run at a postseason berth, AL East title or otherwise.