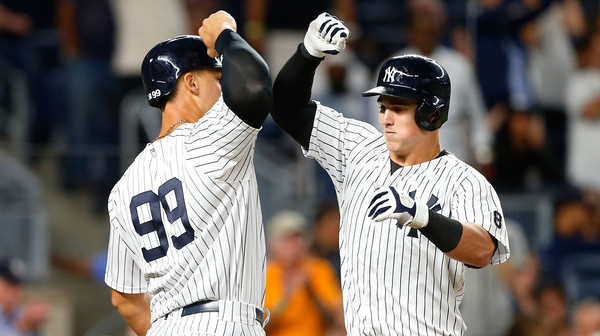 The Yankees have already clinched the series win over the Blue Jays, their first against Toronto since last August. It's their first series win against the Blue Jays in Yankee Stadium since September 2014. The Yankees haven't swept the Blue Jays in either ballpark since June 2014. The pitching matchups that series: Masahiro Tanaka vs. Marcus Stroman, Chase Whitley vs. Mark Buehrle, and David Phelps vs. Drew Hutchison. Yeah, it's been a while.
On paper, the Yankees are at a big disadvantage tonight. Bryan Mitchell is making his season debut after throwing only 21 tune-up innings in the minors following his freak Spring Training toe injury. Just a few days ago Joe Girardi said the Yankees would like to give Mitchell more time in the minors, yet here it is. Also, Dellin Betances and Adam Warren won't be available tonight, and Tyler Clippard's not exactly well-rested either. If the Yankees are going to pick up their first three-game series sweep of the season (!), they'll really have to earn it. Here is the Blue Jays' lineup and here is the Yankees' lineup:
It's another cool and overcast day in New York. Same weather as yesterday. There's a tiny little bit of rain in the forecast, even less than last night, when it was misty for a few innings. Tonight's series finale will begin at 7:05pm ET and you can watch on YES. Enjoy.
Injury Update: Chad Green does not need Tommy John surgery. Yesterday's dye contrast MRI showed his elbow ligament is intact. He only has to rehab the flexor tendon strain and is expected to be ready to go for Spring Training. Green was placed on the 15-day DL and I'm not sure why with rosters expanded, but whatever.