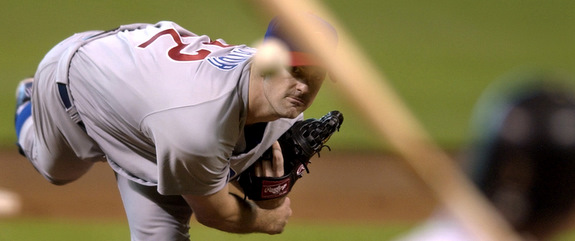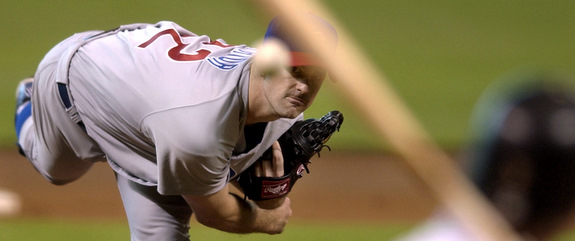 Once the Yankees failed to sign Cliff Lee, they shifted into salvage mode and grabbed what they deemed to be useful players on the cheap. Among that group was fifth starter Freddy Garcia, long man Bartolo Colon, bench players Andruw Jones and Eric Chavez, and reliever Mark Prior. As each signing trickled in, a familiar wisecrack was bestowed from the masses: "they'd win if it was 2003!" The joke came in various forms, but the one constant was 2003 for whatever reason. People were fixated on that year. So, naturally, the question becomes: what's so special about 2003 anyway?
2002
This is a convenient place to start since it's Prior's first (half) year in the bigs. He came up in late May and pitched to a 3.16 FIP in 116.2 IP, striking out 11.3 batters per nine. Colon was in the middle of a six-year stretch of 4-5 fWAR seasons, splitting a 3.73 FIP in 233.1 IP between the Indians and Expos. Sweaty Freddy was already a vet at age 25, with 87 big league starts to his credit. His second straight Opening Day assignment was followed by 223.2 IP of 4.01 FIP pitching. That's a fine three-man pitching staff right there.
Jones' .377 wOBA was the second highest of his career at the time, and the 15.6 runs he saved on defense (!) was then the lowest full season total of his career (!!) by eight runs (!!!). Chavez was a young buck just coming into his own at the time (24 years old), but his .364 wOBA was his third straight year in the .360's. He also saved nine runs with the glove, down four from the year before.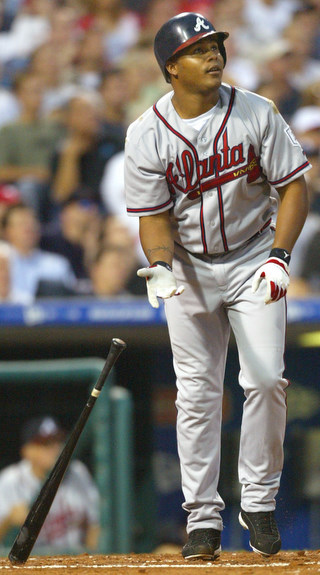 2003
Prior zoomed right past Beast Mode and went straight into F*ck Sh*t Up Mode this season, giving the Cubbies 211.1 IP with a 2.47 FIP. Over the last eight years, there have been only five instances in which a pitcher has posted a FIP that low in a single season (min. 180 IP). He was, as they say, redonkulous. Garcia had one of the worst full seasons of his career with a 4.82 FIP in 201.1 IP, and Colon was rather ordinary with a 4.11 IP in a crazy 242 IP. That's the sixth most innings thrown in a single season by a non-Roy Halladay pitcher over the last eight years. Jones had another phenomenal year (.361 wOBA, 18.4 runs saved) but Chavez slumped with the glove, costing his team 5.2 runs defensively. He did provide another .360-ish wOBA (.365 to be exact), the fourth straight year. This is the year everyone keeps referring too, though Prior and Jones were the only real standouts.
2004
Things started to go south for Prior in '04, but he still managed a 3.53 FIP in 118.2 IP. Colon had the worst full season of his career (4.97 FIP in 208.1 IP), but Garcia had the second best of his career (3.67 FIP in 210 IP). Once again, Andruw was a monster, saving 24.3 runs defensively with a .351 wOBA. That's his worst offensive performance in this here "study." Chavez, meanwhile, had the best offensive season of his career thanks to a .383 wOBA, and he also saved eight-and-a-half runs at the hot corner. The Prior injury and Colon's poor season really drag this group down.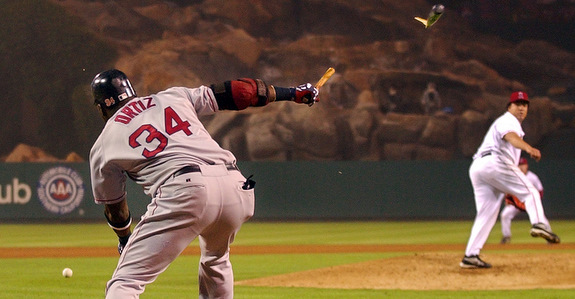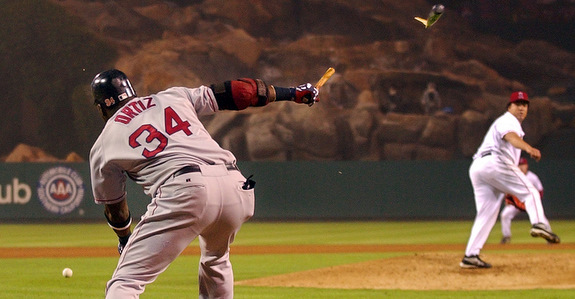 2005
Jones stole the show this season, clubbing 51 homers and registered a .382 wOBA at age 28. He also saved 24.3 runs in center, resulting in an 8.3 fWAR effort that was second only to some guy named Alex among all position players. Colon won the Cy Young this year, but a 3.75 FIP in 222.2 IP is more really good than Cy worthy. Garcia (4.05 FIP in 228 IP) and Chavez (.342 wOBA, 7.1 runs saved) were solid but not brilliant. The '05 season was Prior's last hurrah, a 3.85 FIP in 166.2 IP. He made nine appearances in 2006 and hasn't been back to the show since.
* * *
Now that we have an idea of what each player did during this completely arbitrary four year stretch, let's recap it all using everyone's favorite catch-all stat, fWAR…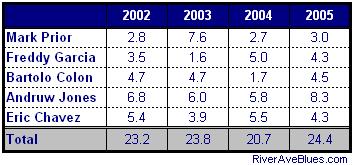 While this fivesome did some fine work in 2003, the 2005 season is where it's really at. Each player was worth at least three wins, and four topped at least 4.3 wins. The star-level performances aren't there after Jones, but one star and four other above-average contributors is a recipe for success. So the next time someone says the Yankees would be doing great if it was 2003, make sure you point out that they'd be doing even better if it was 2005.