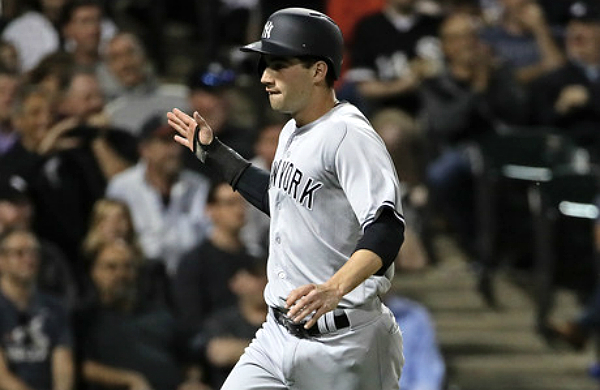 Most seasons, the Yankees would have had to look to the outside for that pinch running help down the stretch. But this year, they'll only have to look a little further down their 40-man roster.
As you may remember, the Yankees tend to acquire a pinch runner every year around the end of August. That allows them to add the player in time to be eligible for the postseason while adding some small value in September.
There are plenty of past examples. Eric Young Jr. fulfilled the role last year. Rico Noel the year before. The one that sticks in my mind is Freddy Guzman during the 2009 World Series run. These players are easy to forget and wouldn't be a useful part of a 25-man roster from April to August, yet they earn their spot once the roster expands in September or becomes more position player friendly in the postseason.
The thing is, the Yankees didn't acquire anyone at the August waiver deadline this season.
That could mean one of two things. One possibility is that they can't afford to take someone off the 40-man roster for someone in such a minute role. They'll be able to put the extra relievers to good use and they already gave Erik Kratz a 40-man spot on Friday.
But the more likely explanation is that they have their pinch runner on the roster already. Two in fact.
Therefore, Tyler Wade is likely the Yankees' late season pinch runner.
Wade was added to the active roster on Monday. He hit extremely poorly in his first cup of coffee with a .135/.211/.212 (10 wRC+) line. Yikes. And with Ronald Torreyes/Starlin Castro/Didi Gregorius ahead of him up the middle and plenty of depth on the corners, he won't be seeing a start unless everything goes wrong or there are meaningless games at the end of the month.
He's a fine defensive replacement, particularly because he can play almost anywhere, and he should be able to hit as he adjusts (second for International League batting title), but for now, he can just show off his blazing speed. He's a 75 percent base stealer in his minor league career and has stolen 27 in 32 attempts (87 percent) this year. He's third in the International League with 26 steals while swiping one base against the Astros two months ago.
He hasn't had enough opportunities in the majors to place on Statcast's sprint speed leaderboard, but suffice to say, he's an above-average runner.
Jacoby Ellsbury, of course would have been the perfect pinch runner for October, but that's not going to happen after Aaron Hicks' injury. Like it or not, he's going to be playing center field an awful lot, even after Clint Frazier returns from injury. That's just the way it is. Joe Girardi trusts him enough to give him those starts and Hicks' oblique injury makes Ellsbury starting a potential playoff game a likely possibility.
Ellsbury had already been quite useful as a pinch runner this season. In seven pinch running appearances, he's stolen four bases and been caught once. He even helped the Yankees tie up a game in the ninth inning with a clutch steal before scoring on a single vs. the Mariners in July.
Even though he's looked overmatched at the plate and has lost a step, he's still an efficient base stealer and that alone means he's worth the roster spot down the stretch. His 28.1 ft/s sprint speed is over 1 ft/s above average. He's not a 70-base stealer anymore, but he can still be a menace on the basepaths. Therefore, it's a shame he'll be in the lineup instead of lying in wait on the bench.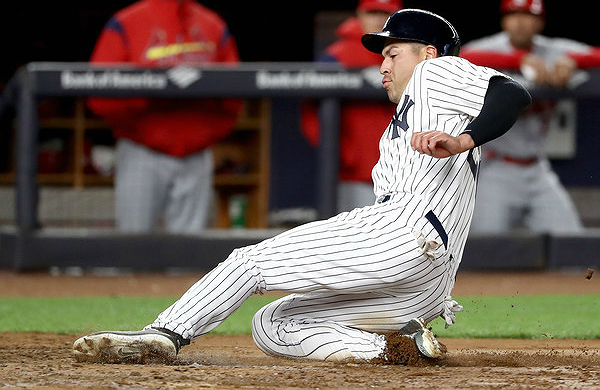 Before Saturday, Wade may not have even been a likely member of the playoff roster. He has the positional flexibility to make the 25-man roster, but Girardi certainly wouldn't want him at the plate. Can you blame him? The first opportunity for the 22-year-old was uninspiring.
But Hicks' injury bumps Ellsbury up from inch runner to everyday player. Wade was already essentially a lock for the Wild Card Game roster where you have room for 16-17 position players, but now he's the best pinch running option for the ALDS and beyond. This assumes there will be room for a pinch runner, which there should be if the Yankees
This assumes there will be room for a pinch runner on the ALDS roster, which there should be if the Yankees carry 11 pitchers as would be expected if the Yankees get that far.
Wade is a much more dynamic player than just a pinch runner and you shouldn't let 57 poor PAs in his first try at the majors define him. He has potential to be a solid everyday shortstop or a Ben Zobrist-type if he hits his ceiling.
But for 2017, the best way the 22-year-old can make an impact down the stretch will be solely with his legs.