By

Barring a Mets deal, Bobby Abreu's days as New York resident are numbered. To that end, Abreu is looking to sell his two-bedroom apartment in One Beacon Court, and Luxist takes a tour of the property. Abreu is asking $7.9 million, but as will be the case when he finally signs with a new team, he won't get his asking price for the apartment either. No matter though; he'll turn a profit on his original $3.5-million investment. (Hat tip to Shysterball.) · (41) ·
By

This one comes from Ken Rosenthal. Angel Berroa is expected to compete with Cody Ransom for the utility infielder spot come Spring Training. The deal is contingent on Berroa admitting that Hideki Matsui should have won Rookie of the Year back in '03. · (50) ·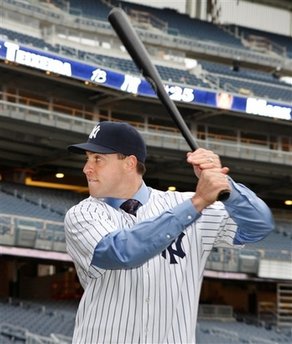 Now, that guy looks pretty good in pinstripes, eh? As the Yanks welcomed their newest addition today, let's catch up on some rumors.
Bobby Abreu is still looking for a three-year, $48-million offer, and I'm looking for a rainbow with a leprechaun and a pot of gold at the end of it. Neither of us are going to find what we're looking for, and Jerry Crasnick says that no one is really interested in Abreu.
Ken Rosenthal reports that Xavier Nady and Nick Swisher are "drawing significant interest." Joe will have more on this for the overnight tonight, but to sum up my thinking, the Yanks don't really need to trade anyone right now. Unless they are blown away by an offer, they are far better off holding Swisher and Nady than they are trading them right now.
In the same piece, Rosenthal drops in a tidbit about Brian Fuentes. Apparently, Fuentes' agent tried to pitch the closer to the Yanks as a possible set-up man and future heir to Mariano Rivera's throne. The Yanks weren't interested in paying Fuentes closer money and never made an offer. While some folks in the Mark Teixeira press conference liveblog believed that this news shows that the Yanks are nervous about the 8th inning, I completely disagree. They weren't keen on bringing in Fuentes, and it seems as though the closer's agent just wanted the Yankees in on the negotiations. Nothing to see there really.
Anyway, use this as your open thread for the night. Anything goes. Just play nice.
Update by Mike (7:04pm): The Yanks signed outfielder John Rodriguez to a minor league deal. The Bombers originally signed J-Rod as an international free agent back undrafted free agent out of an NY area high school back in '96 for $1,000. He has a 110 OPS+ in 332 big league at-bats, which came for the Cardinals back in '05 & '06.
By

The Cleveland Indians landed themselves a lemon today as they are the lucky winners of the Carl Pavano Sweepstakes. Mark Shapiro has signed the oft-injured 32-year-old to a one-year, $1.5-million deal with incentives. Pavano will be warmly remembered in New York for his grit and determination as he totaled his Porsche while on rehab made 26 starts over four years, earning per Yankee start the same $1.5 million he will make over the course of the entire 2009 season.

On another Pavano note, a few weeks ago, Ken Davidoff noted that it took the Yanks "10 minutes to realize what a fraud [Pavano] was" when he joined the team in 2005. That tidbit piqued my curiosity in December, and I hope one day we'll get the full story on Carl Pavano. He certainly took the Yanks for a $40-million ride over the last four seasons. · (44) ·
By

Via PeteAbe, the Yanks have signed ex-Pirate, Devil Ray, Oriole, Tiger, Indian, Red Sox, Red and Dodger Jason Johnson to a minor league contract. About the only thing noteworthy about Johnson, who has a 89 career OPS+ ERA+, is that he's a diabetic and was the first player in MLB history allowed to wear an insulin pump on the field, which he wears behind his back on his belt. Joe Girardi said he'll be in the competition for the fifth starter spot. It was very kind of Joe to say that.

Pete also notes that Shelley Duncan has been designated for assignment to make room on the 40-man roster for Mark Teixeira, and that Phil Coke has been told to prepare for Spring Training as a starter. No surprise, I've been saying they'll probably give him a shot to start in camp all along. · (69) ·
By

On Jan. 12, the Hall of Fame will unveil its class of 2009, and yet again, Don Mattingly, despite the beliefs of many a fervent Yankee fan, will not make the Hall of Fame. His career was cut short by a bad back, and he never put up the totals that the voters like to see from the Cooperstown bound. For a few years, however, in the late 1980s, Donnie Baseball was quite literally the best player in baseball, and in interesting glimpse into Yankee history, Larry at wezen-ball has explored what the press had to say about Mattingly in the 1980s. Year after year, the Athlon and Street & Smith previews heaped praise upon the Yankee Captain. It's a shame back problems robbed him of what otherwise would have been a Hall of Fame career. · (128) ·
Our long national nightmare is over, as Mark Teixeira will officially be introduced as a Yankee today after those bothersome holidays got in the way. The presser is going to be carried by ESPN, MLB Network and presumedly YES.  There's still no word on the corresponding move to open up a 40-man roster spot, but my money's on Shelley Duncan getting the old heave-ho. We'll probably find out after the press conference is over.
Now that the deal's official, I've update the Depth Chart and 2009 Draft Order pages. The Brewers and Blue Jays had been in line to receive the Yanks' first and second rounders, respectively, but because Tex was the highest rated Type-A free agent, the Angels will now get the Yanks' first rounder. The Crew and Jays will now have to settle for a second and third rounder, again respectively. Despite losing their own first rounder for signing Brian Fuentes, the Angels still have two true first rounders and two sandwich rounders because they lost Tex and K-Rod. They also stand to gain another sandwich rounder if Jon Garland signs elsewhere.
Ben (not me) is going to liveblog this thing for all of you stuck at work. Enjoy.
The first annual RAB Fantasy Football League came to a close last week, and I'd have to say it was a smashing success. Managing a squad in a twenty team league took some foresight and plain old luck, but it was a blast. We'll definitely being doing this again next year.
Resident RABer tommiesmithjohncarlos took the league title despite getting a combined 0.00 points out of his kicker and Titans' stud Chris Johnson in the championship game. He defeated me, JSBrendog (rocks) and Punk in Drublic (run by longtime reader Aaron) on his way to the title. I settled for a seventh place finish, which I'm happy with since this is my first experience with fantasy football in about five seasons.
In the last update I bragged about my seven-week winning streak heading into a final week battle with JSbrendog to determine second place, but that probably wasn't such a good idea. I lost by 36+ points and had to settle for the sixth seed in the postseason. TSJC then sent my team packing with a 26.86 point defeat in round one of the playoffs. Brandon Jacobs' poorly timed knee injury is what did me in, as I was forced to start Leonard freaking Weaver in my lone postseason game.
So for triumph, TSJC's prize was a fancy new … nothing. All he got is bragging rights, and something tells me he'll use them to fullest extent possible. Final standing after the jump, see you next year.
When the Yankees signed Sergio Mitre to a Minor League deal, we praised the signing as a low-risk, medium- to high-reward move. Little did we realize that Mitre's first headline as a Yankee would involve a 50-game drug suspension.
According to ESPN.com, Mitre failed a drug test last summer when trace amounts of androstenedione were found in his urine. He'll serve the 50-game time out while on the disabled list this spring, and he takes full responsibility for his actions. In a statement released by his agent, he said the following:
"Although being suspended for 50 games is tough to accept, I think that it is important to understand that I am in full support of drug testing in baseball. I did take the supplement in question and accept full responsibility for taking it. What has been difficult for me to understand is that I legally purchased this supplement at GNC and had no intention nor desire to cheat or to circumvent the system in any way.

"As confirmed through the drug testing and grievance processes, it contained a 'contaminant' amount of an illegal, performance-enhancing drug. This was not listed as an ingredient on the packaging, should not have been in the supplement and certainly should not have been available for legal purchase at a store.

"I accept my punishment because, as a professional, I have a responsibility for what I put into my body. For this I will suffer a significant financial penalty and, more importantly, it will affect my reputation. I only hope that this will help others avoid being punished for having taken a product bought legally at a retail store."
Oops. That's not the best way to start a Yankee career.
If Andy Pettitte pitches in 2009, it figures to be for more than $10 million. Tyler Kepner reports that Pettitte has rejected the Yankees' offer, though he still "could return because some in the Yankees' hierarchy want him back." Pettitte has long expressed his desire to stay with the Yankees, but they'll have to sweeten the pot for that reunion to occur.
The Yankees still have a number of options to round out their rotation. They could pursue the remaining free agent options. While it's tough to count them out on Derek Lowe, I don't think anyone believes he'll end up in pinstripes. Ben Sheets remains a possibility, though his shoulder might be too large a concern. They could check out Oliver Perez, but they certainly should not. Alternatively, they could open up the spot to Phil Hughes, Ian Kennedy, or Alfedo Aceves in Spring Training.
I still think that retaining Pettitte is the best option. The risk is obvious. Pettitte posted a 4.54 ERA last year, 5.35 after the All-Star break while battling shoulder issues. The Yanks would be gambling on him recovering and staying healthy throughout 2009. The payoff would be 200+ innings of slightly above-average pitching. This would take a bit of pressure off Joba Chamberlain, who has to work around an innings cap.
Will the Yanks tack on a couple million to the offer to retain Pettitte? I'd like to think so. If we're talking $12 million, I don't see why not. No, I don't cut the checks, but if they were offering $10, they could probably do $12 easily. For one year, it's a better deal than the other available free agents.