In today's Times, Harvey Araton wrote a meandering column on the fate of old Yankee Stadium. Notable in his piece is the news that the city won't get around to completing the destruction of the old cathedral until spring 2010, and he plays off of this painfully slow timetable.
The Mayor's Office explained the slow pace of deconstruction to Araton:
PART I "The primary reason Yankee Stadium has not started demolition is that the new stadium and its offices have just now become available for occupancy." But if New York schoolchildren can learn in trailers when there is a shortage of building space, why couldn't the Yankees have conducted business in a temporary shelter for a few short months to expedite the demolition process?

PART II "The demolition of Yankee Stadium, with a lot of adjacent construction, utility work and proximity to the elevated subway structure, requires a complicated public procurement process." But if demolition is so complicated, how has Shea Stadium — not as cramped but similarly flanked by a new stadium and an elevated subway — been largely flattened, piece by piece, since October, with the job expected to be completed next month?

Hogi's point about construction priorities is one that cannot be hammered home enough. When it is in the baseball team's interest to demolish a stadium so there will be enough parking by opening day, the old ballpark can't come down soon enough. When the existing stadium site has been designated for replacement park baseball fields, the community can wait — in the case of Heritage Field on the existing old Stadium site, until at least fall 2011, or three years after the last major league pitch.
As I predicted when the bond issue reached its conclusion, the parkland replacement problems are going to emerge to the forefront of stories surrounding the stadium. And it is a problem because the South Bronx — the nation's poorest Congressional district — needs its parkland.
"That's going take at least two years because the city's priority is the Yankees, not the neighborhood," Joyce Hogi, a member of the Community Board 4 parks committee, said to Araton.
There's a lot of cynicism in Araton's article, but there's a lot of truth to it too. This time, though, the problem falls on the shoulders of the city. As much as the baseball traditionalist in me doesn't want to see Yankee Stadium ever destroyed, the city must make good on its promise to replace the parks lost to the new Stadium. The Macombs Dam Park closed in Augusth 2006. It's going to take five years to replace that space, and the South Bronx will suffer because of it.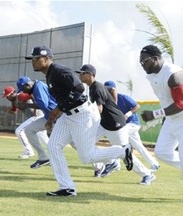 It seems like every year the big stories at the beginning of Spring Training are about how Player X showed up looking trimmer than last year. Player Y looks to be in great shape. We saw that plenty of that last year, and I wouldn't expect any different this year as we head into February. Up first this year: Robinson Cano. Kat O'Brien reports that he looks "very trim," though we know that has little to do with how well he'll perform.
The picture to the right is of Cano at a recent WBC workout for the Dominican team. It's just one picture so it's tough to tell if there's any difference. According to O'Brien, Cano finished the year at 213 and now weights 208 (though she also notes that he probably played most of the year weighing more than 213). While it's good to know that he did work out this off-season, it really means nothing in regards to his performance on the field. He's put himself in a better position to succeed, no doubt, but he still has to prove it with the bat. It's going to be tough to forget his slow starts the past two years.
Thankfully, Cano knows what's at stake:
"I've just been working on my new stance," Cano said, "just getting ready mentally and physically. … I know that I have to start in April, not in May or June."
Or March, for that matter. Cano had a monster spring in 2008, hitting .446/.471/.646 in his 65 at bats. Even if he does tear it up again this March, we'll be looking for how he transitions to April. Adding his bat early on could help the Yankees avoid the slow starts they've experienced the past two years.
All the rave on this Sunday morning relates to Joe Torre's new book, The Yankee Years, which is due in stores on February 3. Tabloid reports focus on two main aspects: Alex Rodriguez and Brian Cashman. You can check out the report on NJ.com if you want to check out the tabloids, but I'm not linking them here. I know we've basically broken the tabloid ban, but these headlines are perfect examples of what we don't like about those two outlets.
First, Mr. Cashman. The complaint levied in the book, or at least how the media portrays it, is that Cash didn't stand up for Torre at the end of the 2007 season. I guess Torre's ire stems from Cashman's public stance that he supported Torre. Yet both can be true. Cashman might have favored the one-year deal the Yankees were willing to offer, but not the two-year deal Torre sought. In any event, I can't see the reason for any harsh feelings between the two. Cashman did stand up for Torre and had him brought back after the 2004 season.
Regarding A-Rod, is this anything we didn't know before? It's not like any of us think he's a model citizen. He's an insecure bastard who happens to hit baseball really well. This isn't some shocking revelation. It will continue to fuel the fire of those who dislike Alex for his personality, and will ignite a spark in those who defend him for his baseball skills. I hope we can avoid this discussion in the ensuing comment thread. The important point, I think, (and as 'The' Steve pointed out) I wonder how his current players feel about him publicly slamming a former player?
These are just two points in a 400-plus-page book. They're the juiciest details, so that's what the tabloids will pick up. What will make someone buy a paper: a headline which includes the term "A-Fraud" and "betrayal", or a headline that says "Torre speaks mostly well of time with Yankees"? So please, let's reserve judgment until we all actually read it. If we do at all, that is.
* Another revelation was that the Yankees team doctors told George Steinbrenner that Torre had prostate cancer before they told Torre himself. I have no idea what to say about this charge. If true, that's a pretty deep violation of ethics and the law.
By

Via BBTF, Chop-n-Change took a stab at ranking baseball's general managers. Excluding guys who've been on the job for less than a year, they anoint Billy Beane, Theo Epstein and Andrew Friendman as the elite GMs, noting their ability to build and sustain winning clubs. Yanks' GM Brian Cashman falls into the second tier, alongside Mark Shapiro, Kenny Williams, Larry Beinfest and Dave Dombrowski. Brian Cashman's legacy is a sensitive topic in Yankeeland, as some feel he's greatly underperforming considering his vast resources, while others praise his patience (ie ability to deal with the Steinbrenners), loyalty, and track record of successful teams. Fun fact: Cashman's teams have more division titles (9 to 6) and the same number of World Titles (3 to 2) as the First Tier GMs combined. · (113) ·
By

According to SI's Jon Heyman, the Yanks are still looking to add a veteran presence to their rotation, and are still having dialogue with free agents Andy Pettitte and Ben Sheets. In one helluva coincidence, Joe talked about Sheets' new medical report and Ben mused about Pettitte within the last 24 hours. With each passing day, I'm more and more intrigued by the possiblity of adding Sheets to the rotation, especially since it'll only cost a fourth rounder. · (104) ·
Richard Justice of the Houston Chronicle has been covering the Astros for a long time, and he's one of the very best baseball writers this great country has to offer. However his affection for the Dodger-bound Brad Ausmus is a bit … how to you say … wacky. Allow my to quote at length (h/t Jamal G.):
The Astros have had some good players through the years. They've had nice pitchers and big sluggers and dazzling defensive players.

They've never quite had one as valuable to the franchise as Brad Ausmus. This guy was all about winning.

You can look it up. The Astros had their best years when he was the man wearing the tools of ignorance.

Some of you will quibble about his indvidual (sic) stats. All you're doing is showing how little you know about baseball.

If you understand winning, you understand how critical the things Ausmus brought to the table were.

This guy was all about the bottom line. The Los Angeles Dodgers showed again why they're the National League's smartest franchise.

The Dodgers appear to be on the cusp of doing something special, and now they've added Brad Ausmus.

I guess there'll still be a season, but there doesn't seem to be much point. The Dodgers will be in the playoffs, probably the World Series.
Umm … we're talking about the same Brad Ausmus here, right? His avg OPS+ this century is 63.875. Ah, but presenting stats – factual information, mind you – shows how little I know about baseball. Because, after all, winning is done by things that can't be measured. Stuff like grit and pride and smarts and understanding the game and pixie dust and being a young pitcher's best friend, stuff that … apparently is so hard to explain that Justice doesn't even bother to attempt it.
Instead, Justice just makes a blanket statement saying that anyone who points to his individual stats knows little about baseball, that the Dodgers will probably be in the World Series JUST BECAUSE Brad Ausmus is on the team. Why? Who cares, it will happen, because it's Brad motherfreakin' Ausmus. All that time he'll spend sitting on the bench while Russ Martin plays will be invaluable to the team. And what is with all the one/two sentence paragraphs?
Here's another recent JusticeGem (h/t MLBTR):
The Astros may have the weakest farm system in the game, but that's irrelevant. If a couple of their kids contribute, they might have enough to stay in contention until the trading deadline. At that point, Drayton McLane almost certainly would allow Wade to add a piece or two.
I love it. It's irrelevant that the team has the weakest farm system in the game, because some of the kids from the worst farm system in the game could contribute, and if so they'll add a piece or two at the deadline by trading … young … players … from … their …. farm … system. Huh?
I don't mean to harp on Richard Justice, he truly is one of the best and most respected sportswriters in the country. I just hate to see him take the route "I say it, therefore it's true" route.
Here's your open thread. The NHL Superskills competition is on Versus at 7pm, that's always fun (it's hockey's version of the Homerun Derby/NBA Skills Challenge). You know the deal, the floors is yours.
In a rumors column early this week, Kenny R. engaged in some catcher-related speculation. He writes:
Here's a sinister thought: Varitek to the Yankees. The chances probably are slim, but the Yankees need to add a catcher due to their uncertainty over Jorge Posada, who is recovering from shoulder surgery. Varitek, 36, might recoil at the notion of joining the Red Sox's biggest rival, and the Yankees might prefer to spend on pitching. But because the Yankees already have signed three other Type-A free agents, Varitek would cost them only a fourth-round pick …
I like the idea of the Yanks' picking up another front-line catcher, but I don't like the idea of Varitek. It has nothing to do with his personality. While iYankees objected on personal grounds, my complaints are purely baseball-related. If the Yanks could stomach the arrivals of Wade Boggs, Johnny Damon and Rogers Clemens, to name a few, they could deal with having Jason Varitek on the team.
However, Jason Varitek isn't very good anymore. He hit .220/.313/.359, and his 73 OPS+ placed him slightly ahead of Melky on the bottom of the AL OPS+ list. He'll turn 37 a week after Opening Day and hasn't ever been a great defensive catcher. It would be a waste of money and a waste of a roster spot. While Pudge and Varitek remain out there, the Yanks may be tempted to kick the tires on one of these two retreads, but in the end, they're better off waiting on Posada.
By

Bryan Hoch took a look at the lower Yankee payroll a few days ago and notes that the Yanks are on target to pay out less in 2009 than they did in 2008. Right now, the team has committed $186 million to 16 players. While some of that lower figure is due to creative bonuses for their big free agent signings, this figure is largely dependent upon Andy Pettitte's not returning. If Pettitte comes back — as I hope and think he will for the right price — the Yanks' figure will actually be lower this year than last for the first time in a long time. If Pettitte returns, the two figures should be about to the same. · (38) ·
As Spring Training inches ever closer, Andy Pettitte, as we all well know, remains the last real question mark for the Yanks. Meanwhile, Pettitte is running out of options.
To wit, we'll start with Ben Sheets. As Joe noted last night, Sheets' new medical report doesn't really change the equation. All signs point to a Texas landing for the Brewers' former ace. Cross the Rangers off Pettitte's potential list.
Meanwhile, across baseball, the story remains the same. In Flushing, the Mets have extended an offer to Oliver Perez. The control-plagued lefty remains Minaya's top target. The Astros are "pretty well set" without Pettitte and can't really afford him anyway, according to owner Drayton MacLane. The Dodgers will soon land themselves Randy Wolf.
So that about wraps up all of the other teams tangentially related to Andy Pettitte this off-season. All signs, then, lead to the same place to which they've been pointing since the start of the Hot Stove League: Andy Pettitte can either work out a deal with the Yankees or with no one.
With other options closed to him, I'd have to believe that Pettitte, if he wants to return to the Majors this year, will figure out a way to take a pay cut and pitch for the Yanks. As Joe predicted a few hours ago, I too think Pettitte will resign before too much time is up. After all, pitchers and catchers report in just three weeks.
By

For your Saturday morning enjoyment, the Daily News has a feature on the top five Yankees center fielders of all time. Except they copped out and had No. 1 as a tie (gee, guess who), so it's really the top six Yankees CFers of all time. Me? I'd go Mantle, DiMaggio, Combs (look at those gaudy numbers), and Bernie. Tough call between Rickey and Bobby, but I'll give Bobby the benefit of the doubt because he played in New York longer. · (108) ·