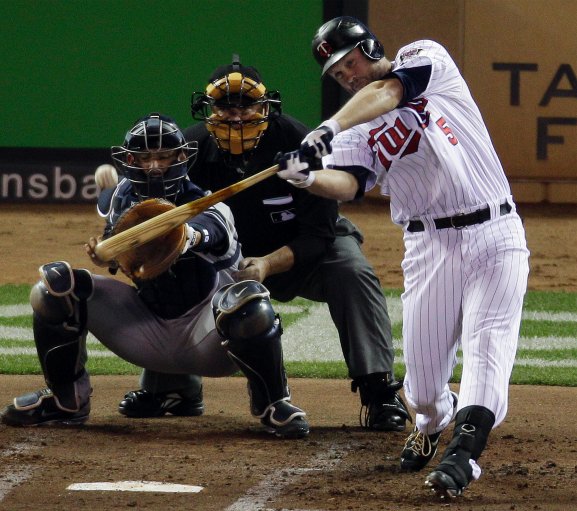 The Twins might feature the same lineup tonight as they did last night, but the match-ups will not at all be the same. Andy Pettitte and CC Sabathia might throw with the same hand, but they feature completely different repertoires and they attack hitters in different ways. So while the general match-up numbers might be the same, we need to get into more specifics in order to break down this game.
At this point in his career, Andy Pettitte is no longer a ground ball pitcher. Previously he'd keep the ball on the ground roughly half the time, but for the past two years he has been around 43, 44 percent. Thankfully for thim those have turned into more fly balls than line drives. Even better, those fly balls haven't been particularly well-hit, since his HR/FB ratio is actually down from where it was earlier in the decade.
In my FanGraphs preview I looked at the Twins hitters against pitchers similar to Pettitte. Since they haven't faced him that often we can't learn much from those small samples. The samples when including three other pitchers — Brett Cecil, John Danks, and Mark Buehrle — aren't adequate by any means, but it should give us a better idea than if we used Pettitte's numbers alone. Here's the grim table.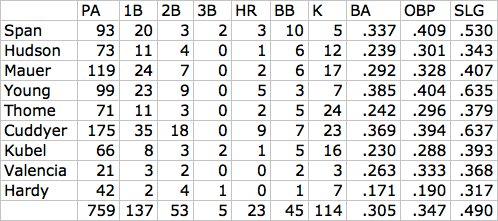 Pettitte and similar pitchers have trouble dealing with the righties in the Twins lineup, plus Denard Span. The only saving grace is that the Ron Gardenhire tends to break up his lefties and righties. So while Span might set the table, the next two hitters don't tend to fare as well. Still, we could be in for a night similar to last, where the righties Young and Cuddyer lay into some pitches.
(Of course, this isn't necessarily more significant than any other way to preview the game. By the numbers Curtis Granderson was the least likely guy to get a big hit against Liriano. It's just a different way to look at it.)
Also working in the Twins favor is general success against two types of pitchers. As a team this year they hit .272/.344/.420 against fly ball pitchers. Even if Pettitte's fly ball rate doesn't necessarily classify him as a fly ball guy, the Twins have hit average pitchers to the tune of .287/.351/.457. They also hit average power/finesse guys well, at a .277/.341/.431 clip. Pettitte might seem like a finesse guy, but given the criteria (top third of the league in strikeouts plus walks for power, bottom third for finesse) I'm pretty sure Pettitte fits in the middle. If he does fall into the finesse category it gets even worse, as the Twins hit .279/.345/.444.
The numbers certainly line up in favor of the Twins. Carl Pavano seems to pitch well every time he faces the Yankees, which is infuriating on a number of levels. That's the only reason I'd be upset with a loss tonight. They won Game 1 on the road, which gives them an advantage. If they head back to New York tied it's a pretty favorable situation. But not if it is the result of Carl Pavano's pitching.