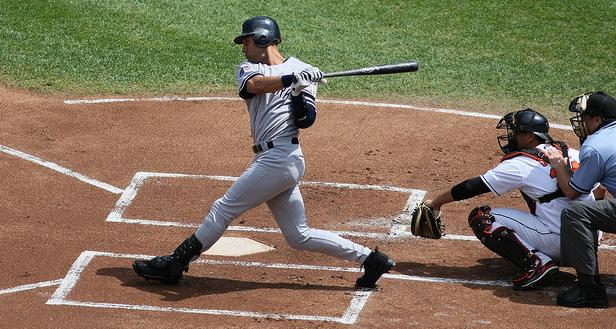 Even though we do it constantly, checking baseball stats every single day is as useful as checking your weight every day if you're on a diet. It fluctuates so much that the data rarely tells you anything useful, especially early on in the process. It's best to break things down into larger segments, like checking your weight on the first of every month or something. We're not deep enough into the baseball season to break things down by month, but we're at a convenient point in the season where we can break things down into three 21-game segments. Obviously these are team games and not individual player games, but we can definitely see some interesting trends. Let's dive in…
Derek Jeter
After 21 Games: .262/.330/.286
After 42 Games: .257/.309/.327
After 63 Games: .259/.324/.324
The good news is that the extra base power is starting to show up even though it's almost all doubles. That's fine, Jeter's real job atop the lineup is to simply get on base, and he's really doing a very poor job of it. His walk rate (8.1%) is right in line with his career numbers, he's just isn't hitting for average anymore. Some of that is BABIP luck (or unluck, really), but we all watch the games, Derek just doesn't make much hard contact these days.
Curtis Granderson
After 21 Games: .270/.325/.635
After 42 Games: .270/.339/.610
After 63 Games: .279/.353/.611
Curtis is a bad man. A bad man with a rising walk rate as pitchers begin to show him more respect. Don't go changin', Curtis.
Mark Teixeira
After 21 Games: .253/.387/.560
After 42 Games: .253/.373/.500
After 63 Games: .252/.366/.539
Well, at least his batting average is consistent. Unfortunately Tex's on-base percentage is trending in the wrong direction because he hasn't been walking much lately, at least relative to his usual walk rate. The power numbers really had nowhere to go but down after he hit six homers in the team's first 15 games, and they'll probably continue to go down because a .287 ISO is still crazy high.
Is Tex just a .250 hitter now? It's entirely possibly, he's certainly gotten pull happy from the left side in Yankee Stadium, but frankly he should. Play to the ballpark man. I think the other team would rather see him lay down two or three bunt singles (to beat the shift) a game than take a normal at-bat. I know I'd rather see David Ortiz and Adrian Gonzalez do that whenever they face the Yankees, anyway. Teixeira's hit more and more fly balls since coming to New York, and more fly balls means more homeruns but also more outs. It shouldn't be a surprise that his BABIP has also dropped. It would be nice if the $180M first baseman hit for average, but I'm happy as long as he maintains a .380-ish OBP and a .250-ish ISO with his usual stout defense, which he's close to doing.
Alex Rodriguez
After 21 Games: .317/.442/.667
After 42 Games: .261/.348/.486
After 63 Games: .288/.363/.518
The start of A-Rod's season was very 2007-ish, he was just tearing the cover off the ball and it looked like nothing could stop him. Then he had that stiff back/oblique and fell into that brutal slump he's since rebounded from. Alex's 9.6% walk rate and .231 ISO combination is still crazy good (just 17 other players in the game have both) but both are below his career averages (10.9% and .268, respectively). We can't ignore what he did (or didn't do) following that little injury, but A-Rod started the season hot and is hitting .314/.367/.568 over the last 31 days. That's All-Star production, just not what we've come to expect from Alex.

Robinson Cano
After 21 Games: .299/.303/.586
After 42 Games: .288/.313/.519
After 63 Games: .281/.324/.500
Is it fair to call the guy with the third highest wOBA among AL second baseman (and fourth best overall) a disappointment? I don't think I would go that far, but I am disappointing in the complete deterioration of Cano's plate discipline. His walk rate is right back down to where it was before last season, but the real problem is that he's swinging at more pitches out of the zone than ever before. It's not a coincidence that his strikeout rate is a career worst (though still way better than league average). He's been better about that of late, but come on man, Robbie ain't no .280 hitter.
Nick Swisher
After 21 Games: .208/.326/.236
After 42 Games: .223/.337/.317
After 63 Games: .225/.350/.350
Okay, now this guy has been a disappointment, there's no way around it. Swisher really didn't pick up the pace until the west coast trip started about three weeks ago, but he's still struggling against righties. I suppose the good news is that he's drawing a freaking ton of walks, as in a top ten walk rate (15.7%) in all of baseball, and that his batted ball profile is relatively unchanged. Like I said, Swish has started to turn it around, but we're now 63 games into the season and he just finally cracked a .700 OPS. Ouch.
Jorge Posada
After 21 Games: .138/.233/.415
After 42 Games: .183/.299/.374
After 63 Games: .226/.323/.378
It's been … uh … an eventful season for Posada, who was hitting so poorly that he was supposed to hit ninth one game, at least until he pulled himself out of the lineup. All of the improvement has come in the last six games or so, in which Jorge has simply destroyed the ball. His power continues to disappear (he hasn't hit a homerun since April 23rd) though at least he's drawing some walks. Aside from the last week, it's been a brutal season for Posada, the kind of season that gets non-legacy players released.
Russell Martin
After 21 Games: .292/.370/.597
After 42 Games: .268/.371/.480
After 63 Games: .232/.338/.429
When you hit six homers in the team's first 17 games, there's just nowhere to go but down. Martin crashed back to Earth a little harder than expected, but he continues to provide value with his ever-increasing walk rate alone. A 2-for-31 slump (with some games missed due to injury mixed in) has dropped his batting average almost 40 points in his last ten games, though he isn't striking out much and that appears to be some dumb BABIP luck more than anything. Russ doesn't have to hit for huge power to be valuable, just keep getting on base at a decent clip and play solid defense. Expectations were pretty modest coming into the year and a hot start shouldn't change them.
Brett Gardner
After 21 Games: .145/.197/.306
After 42 Games: .266/.343/.411
After 63 Games: .276/.353/.425
Now this guy, this guy's been an adventure all season. Gardner's early season slump was among the worst I've ever seen, but the statistical correction was glorious. I can buy his current batting average and OBP as his true talent level, but I do think the power numbers are a touch high. Seven total bases in four at-bats yesterday really gave him a nice boost in that department anyway (came into the game with a .395 SLG). For a nine-hole hitter that plays top of the line defense in the outfield for the low, low price of approximately league minimum, it's hard to be disappointed with Gardner's overall production to date. Now, if only he could get back to stealing bases like he did last year…