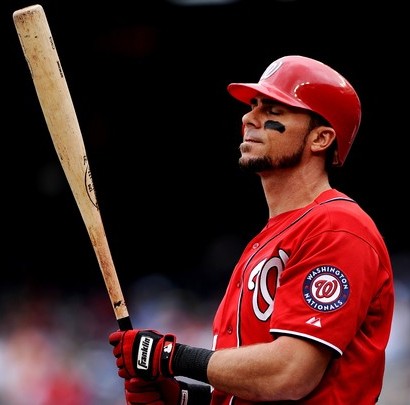 Brett Gardner's season is likely over thanks to right elbow surgery, creating a bit of an outfield void even though the Raul Ibanez-Andruw Jones platoon has been insanely productive. Brian Cashman told Marc Carig that the team will remain active on the waiver wire, but Jon Heyman hears that they do not have interest in either Rick Ankiel and Juan Pierre. Speedy center field types figure to be the club's focus in the coming weeks.
Ankiel, 33, posted a 76 wRC+ in 171 plate appearances for the Nationals this season before being designated for assignment yesterday. He can hit righties a little (95 wRC+ last three years) but not lefties (44), and he's fine defensively in the corner outfield spots. His arm is obviously extremely strong and he can fake center field just enough for teams to keep running him out there. Over the last four seasons he's owns a .295 OBP in 1,230 plate appearances. Ankiel will make $1.25M this season and any team that claims him off waivers assumes that obligation.
Pierre, 34, has put up a 107 wRC+ for the Phillies this season. It's all tied up in batting average (.312) because he doesn't walk (4.7 BB%) or hit for power (.067 ISO). He's 21-for-25 (84%) in stolen base attempts and isn't anything special in left field these days. Pierre is making six figures this year and Philadelphia figures to sell sell sell leading up to the trade. Cashing in Pierre for something, anything seems like an obvious move on their part.
The Yankees have Chris Dickerson, Darnell McDonald, and the recently signed Kosuke Fukudome stashed in Triple-A for outfield depth. Their big and comfy lead in the AL East should allow them to rest Jones and (specifically) Ibanez down the stretch, hopefully limiting the wear-and-tear. Adding on outfielder isn't a major priority but it should certainly be on the to-do list leading up to the deadline. There's always room for improvement.