Boy do the Yankees suck right now. Losing two games to the Orioles in the first half of the season is usually considered a disappointment, but two in one series? That's rough.
Too Much Nova
Did you know that coming into this start, hitters had tagged Ivan Nova for a .343/.378/.619 batting line 111 plate appearances? That's unbelievably bad. I knew he was giving up lots of fly balls and extra-base hits in the early going, but good grief, I didn't realize it was that bad. I haven't done the math, but chances are those numbers climbed even higher following Wednesday's game.
Now don't get me wrong, Nova was actually really good for the first six innings, holding the Orioles to just two runs and executing big pitches in big spots to escape jams. The only problem is that he went back out for the seventh after laboring through the sixth with his pitch count nearing 100, and Baltimore promptly tagged him for three more runs. Matt Wieters took him deep for a solo homer earlier in the game before hitting another ball off the top of the wall to end Nova's night. The final result was five runs and 13 baserunners in 6.1 IP, raising his ERA to 5.58.
Two runs isn't a huge deal, the Yankees were by no means out of it at that point, but the game was over after those three tack-on runs in the seventh. The worst part is that I'm 100% certain Joe Girardi tried to squeeze another inning out of Nova just to see if they could extend his win streak, a streak that officially came to an end at 20 starts. I'm sure Ivan appreciates the gesture, but let's not make a habit out of managing to stats or milestones, mmmkay?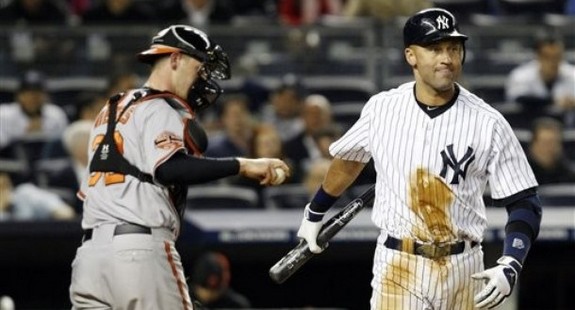 LOLffense, Still
In three games against the Orioles at home, the Yankees scored a total of three runs. All three came on two homers — a two-run shot by Eric Chavez on Monday and a solo number by Curtis Granderson on Tuesday. Pretty much everyone other than Derek Jeter and Granderson is in some kind of slump, either recent or extended, though Alex Rodriguez did contribute two singles in this game. As a team, the Yankees struck out ten times against zero walks to bring their K/BB for the series to 32/4. Ugly.
The Yankees didn't get a single hit with runners in scoring position tonight and you know why? Because they didn't even get a runner past first base. Five singles and nothing more, they didn't advance even one runner. They scored the two runs on Monday, the one run on Tuesday, and zero runs on Wednesday. I can only assume David Phelps will get -1 runs of support tomorrow. With all due respect to Jake Arrieta, who really did pitch a helluva game, this offense is pathetic right now. Seriously.
Leftovers
I'll trade a Yankees loss for a NY Rangers win tonight.

— Mike Axisa (@mikeaxisa) May 2, 2012
I'm willing to take at least some of the blame for the loss given my pre-game proclamation. At least the NY Rangers held up their end of the bargain.
Three days after being banished to the bullpen, Freddy Garcia resurfaced in this game with two scoreless innings in garbage time. He allowed a pair of hits and walk without striking out a single batter. Hard to see him being trusted in anything other than a blowout right now. Clay Rapada and Cory Wade both pitched as well, with the latter recording an out on the only pitch he threw. Hooray for efficiency.
On a serious note, Eric Chavez left the game with whiplash and a possible concussion after attempting to make a diving stop at the hot corner. He went for more tests after the game and will not travel with the team to Kansas City. Brandon Laird is the obvious call-up candidate when Chavez is placed on the DL tomorrow. Hopefully he's okay, concussions are nothing to mess around with. Just ask Brian Roberts or Justin Morneau.
Box Score, WPA Graph & Standings
The game wasn't nearly as close as the WPA graph suggests. MLB.com has the box score and video highlights, FanGraphs some other stats, and ESPN the updated standings.

Source: FanGraphs
Up Next
The Yankees are off to Middle America for a four-game series against the Royals, where right-hander David Phelps will make his first career start on Thursday night. He'll be opposed by southpaw Danny Duffy.