Another day, another ridiculous Alex Rodriguez story.
Buster Olney, the official ESPN writer of River Ave. Blues, has a report that states something mind-boggling: A-Rod wasn't going to even meet with Yankee officials if they didn't start their contract extension offer at $350 million. The Yanks were initially willing to go up to about $250 million for the next eight years and fell $100 million short of Scott Boras' insane demands just for a meeting.
Basically, Boras wanted the Yanks to pay A-Rod a whopping $43.75 million per year to play baseball for them. Does he really expect any team to approach that figure? And what's he going to do when he has to settle for less than the $30 million a year the Yanks were basically offering as a starting point for negotiations? With the Yanks starting the conversations at $150 million for five years, I believe they would have been willing to go up to $175 million, and Boras wouldn't even sit down to listen to these ridiculous figures.
For that money, A-Rod isn't really a good fit anywhere.
By

Well, actually, there's no trouble. Just a cheesy reference to a 1963 song. In other news, Ed Price reports that the Yankees have decided to exercise the $16-million, one-year option they hold on Bob Kelly Abreu. The Yanks' right fielder – whom they acquired in 2006 for a whole lotta nothing – will be 34 on Opening Day and, considering what else is out there, is a fine, fine choice for the 3 hole in the Yankee lineup. · (14) ·
The other day I posted a list of five prospects that I believe don't get the respect the deserve; now I'm going to look at the flipside and take a gander at five guys that I think get a bit too much hype. Now don't get me wrong, I'm not saying these guys aren't good prospects or anything like that, I'm just trying to control the New York hype monster (every fan over-rates their team's players, whether you want to admit it or not.).
The good stuff (or bad stuff, depending on your point of view) starts after the jump. 
Today, in his blog, Buster Olney echoes some of my thoughts from yesterday: If A-Rod fires Scott Boras and attempts to personally make amends with the Yankees, he could still be the Yankees' third baseman come 2008. But since that's about as likely as the Pirates winning a World Series next year, we best be movin' on.
The biggest free agent third baseman out there is this year's undeserved World Series MVP Mike Lowell, and his impending free agency is the subject of an article in today's Boston Globe. The article, written by Captain Obvious, notes that Lowell, 34 by Opening Day and not getting younger, will have plenty of suitors, chief among them will be the Yankees.
But if I'm the Yankees, I pass on Mike Lowell with a vengeance. Who needs another overpaid aging player on the team? Plus, he won't hit.
Wait, you may say. How can I claim that Mike Lowell won't hit? This is after all the same Mike Lowell who hit .324/.378/.501 with 21 home runs and a team-leading 120 RBIs. Of course he can hit!
But that hitting is a product of Fenway Park. Take a look at this: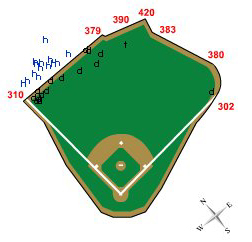 This is Mike Lowell's Fenway Park hit chart. How did he manage to hit a whopping .373/.418/.575 with 73 RBIs at home? By spraying the crap out of the Green Monster. Nearly all of his Fenway Park extra-base hits seemed to be a product of that wall. Meanwhile, on the road, Lowell hit just .276/.339/.428, numbers much more in line with his career stats and 2006 numbers.
So in Yankee Stadium, Lowell just wouldn't be the same force he was at home for the Red Sox this year, and there's no reason to spend $12-14 million a year over four or five years to sign a player that just isn't going to be much of an offensive force. Pass.
Rafael Chaves was named Triple-A Scranton's new pitching coach, taking over for Dave Eiland. Eiland, as you know, will OFFICIALLY be named the Yanks' pitching coach any minute now. There, happy now Ben?
AzFL Peoria (5-3 loss to Mesa) there's 12 games left in the Javelinas' season
Brett Gardner: 1 for 4, 1 3B, 1 BB, 1 K – he's hitting .365, but he's got only 2 XBH…and they're both triples
Juan Miranda: 1 for 4, 1 BB, 1 K
HWB Honolulu had a scheduled off day. There's only 13 games left in the Sharks' season.
Update: I'm not sure if any of you follow college baseball, but if you do then you know that Oregon has resurrected it's baseball program after a two decade hiatus, and will begin play in 2009. Baseball America will have a monthy feature following coach George Horton as he tries to build the program up from scratch. Check it out, it should make for some interesting reading.
PeteAbe has a few good words from Brian Cashman. I'll summarize.
This is the coaching staff. Those early reports – including one in this space – about Kevin Long's departure were incorrect.
Joba Chamberlain will start unless Mariano Rivera leaves.
Related: The Yankees want Posada, Rivera and Pettitte in pinstripes in 2008.
Hideki Matsui is getting knee surgery; Derek Jeter is not.
The Yanks will decide in the next day whether or not they are picking up Bobby Abreu's option. Signs are pointing to yes.
And, of course, the big news. The Yankees, Cashman said again, are utterly through the A-Rod. Cashman, Hank and Hal all tried to reach out to A-Rod, and the self-obsessed slugger didn't return their calls. This snub along with the loss of the subsidy means the door is firmly shut there. I believe it.
On November 1, Cashman also claimed that Robinson Cano could play third base, that Wilson Betemit could play third base and that some combination of Shelley Duncan, Andy Phillips and Jason Giambi will man first base. As we seemingly wave good bye to Doug Mientkiewicz, you can bet a lot of money that the offseason probably will not end with those folks playing those positions come Opening Day.
By

Let's say you have two players at the same position, and they put up four-year splits that look like this:

Player A: .250/.323/.408 with 83 HR and 333 RBI.
Player B: .303/.403/.573 with 173 HR and 513 RBI.

Which one do you choose? Bonus points if you can identify "Player" A and Player B. That's a hint. · (44) ·
By

When Joe Girardi is formally announced today as the Yankee manager, he will don number 27. Why 27? Because he wants to win the franchise's 27th World Championship and will literally carry that chip around on his shoulder. The number 27 has a rather unglorious history in New York. But fan favorite Mel Hall wore it during a stretch that seems that it was generations ago. · (3) ·
So two interesting A-Rod stories today, courtesy of the Daily News. Let's just jump right in.
The first comes courtesy of John Harper who tries to spin some Scott Boras comments as to create the sense that Boras is blaming Mariano Rivera for A-Rod's postseason vilification. What did Boras say? Nothing too flattering:
"The brilliant Mariano Rivera, probably the only flaw he's made in a historic career over the postseason, if he got those three outs (in the ninth inning of Game 4), Alex would have been in the World Series and he would have been held to have a great postseason."
In his column, Harper harps on the fact that Boras is trying to blame Rivera for A-Rod's postseason failures. Up through game 4 of the ALCS, Rodriguez had been hitting the tar out of the ball. After game 4, he, along with every other Yankee, simply stopped hitting the ball. Had the series ended in four games, A-Rod would have probably taken home ALCS MVP honors.
Now, while I can understand what Harper is trying to do here, Scott Boras is simply stating something we all know. Had Rivera gotten those three outs in the 9th, the Yankees would have made it to the World Series against a fairly weak opponent, and A-Rod would have been one of the heroes. As much as I loathe myself for defending Boras, I don't think he's blaming Rivera for A-Rod's struggles, as Harper thinks he is.
But let's hold that thought.
Article number two comes to us courtesy of Mark Feinsand. Despite opting out and despite the Yanks' vehement and very public stance that they are through with Mr. Rodriguez, A-Rod still claims he wants to return to the Yanks. The relevant part:
The Yankees have made it clear that they have no plans to bid on Rodriguez when free agency gets underway, but a source with knowledge of the situation said Rodriguez is hoping that the Bombers reconsider their stance.

"Alex wants the Yankees to be a part of this, because the opt-out was not done with the intention of saying goodbye to the Yankees," said the source. "Alex wants to see what his market value is, but that doesn't mean he necessarily wants to leave the Yankees."
Now, I have two reactions to this. First, if A-Rod is serious about returning to the Yankees – and despite my disgust with A-Rod, I wouldn't necessarily turn his .314/.422/.645/56/156 line away – if he's serious about New York, he ought to tell his agent to shut up. In fact, if he's 100 percent serious about New York, the easiest way for him to patch things up would be to simply fire Scott Boras. A-Rod could then say that he received bad advice, sign with the Yanks for a somewhat reasonable amount and let bygones be bygones. That's not happening, but I can dream.
My second reaction is one of suspicion. Feinsand's source, who sure does sound like Scott Boras, claims that A-Rod wants the Yankees to "be a part of this" (in old New York). Of course, A-Rod's agent wants the Yanks – baseball's richest team – to be a part of the bidding process; it helps drive up the price. Without the Yanks, Boras loses a lot of leverage.
So right now, A-Rod's team sure is sending mixed signals. On the one hand, his agent is trying to blame the Yanks' beloved closer. On the other, some unknown source is trying to claim A-Rod wants to stay.
No matter. Unless A-Rod's willing to do some major penance for the way he has handled himself the last few weeks, to hell with him.
AzFL Peoria (10-7 win over Mesa)
Brett Gardner: 1 for 3, 3 R, 2 RBI, 1 BB, 2 SB - on base 33 times in 16 games
Juan Miranda: 2 for 4, 1 R, 1 RBI, 1 BB
Reegie Corona: 1 for 4, 1 R, 1 2B, 1 RBI – still batting a robust .000-.176-.000 vs LHP
Steven Jackson: 2 IP, 3 H, 1 R, 1 ER, 0 BB, 2 K, 1 WP
HWB Honolulu (13-9 loss to Waikiki in 7 innings)
Austin Jackson: 1 for 3, 1 R, 1 K – 13 hits (8 XBH) during 7 game hit streak
Team USA (5-3 win over AzFL Surprise)
Jeff Karstens: 4.2 IP, 2 H, 2 R, 2 ER, 0 BB, 6 K, 1-7 GB/FB – those 2 hits were solo jacks