Sunday's game lasted a little longer than the Yankees would have liked because of a two-plus hour rain delay, and they presumably arrived in Cleveland a little later than they would have liked this morning. That could have explained their slumping bats early in Monday's game, but then again the team also seems to have no interest in scoring runs for Javy Vazquez. Curtis Granderson's third homer in the last two games put the Yankees on top late, and a surprise 8th inning setup tandem handed the ball off to Mariano Rivera, who preserved the 3-2 win. Matt Garza no-hit the Tigers, so the Yanks' lead in the AL East remains at three.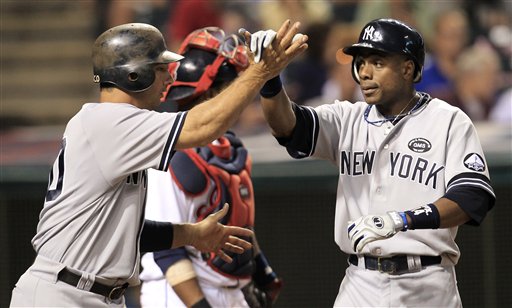 Wait, Why Aren't They Pinch Running For Posa … Nevermind
Former Yankee Jake Westbrook was on his game Monday night, holding the Yankees to just two hits through the first eight innings. One of those hits was a Nick Swisher solo shot, accounting for the Yanks' lone run up to that point. Westbrook's pitch count sat at 99 entering that 8th inning, though it was a stress-free 99 pitches and there was every reason to believe he had enough left in the tank for another three outs.
Jorge Posada, the designated hitter following the long game and late travel, starting the inning off by taking two sinkers for strikes, but he managed to work the count full before knocking a ball through the 5.5 hole for a leadoff single. Down by one with a lifeless offense, it stood to reason that Joe Girardi would send out a pinch-runner, especially since he had Marcus Thames and Juan Miranda on the bench to bat as the DH if needed later in the game. Instead, Girardi left Posada out there to run for himself, and it turned out all he would need to do was jog.
Curtis Granderson, just 5-for-23 (.217) off Westbrook prior to Monday night, took the righty's first pitch changeup in the dirt for a ball. Westbrook's next pitch was his worst of the night, a 91 mph fastball belt-high and out over the plate, and Granderson didn't miss it. Posada knew it was gone, Grandy knew it was gone, Westbrook know it was gone, we all knew it was gone. The ball landed several row back in the rightfield stands, giving the Yankees a one run lead they'd never give up.
The homer was worth .402 WPA, which I'm going to guess is the second highest WPA for a non-walk-off hit by a Yankee this year behind Alex Rodriguez's game tying homer off Jonathan Papelbon back in the Thames walk-off game.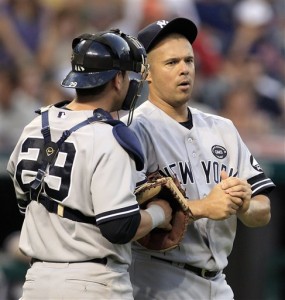 Give The Guy Some Run Support
In what has become a common occurrence since mid-May, Vazquez took the ball deep into the game and was rather stellar, only to be saddled with minimal run support. Travis Hafner touched him up for a solo homer in the 2nd, and the Indians scored what was then the go-ahead run in 6th on a double, fielder's choice, and another double. In between the homer and the first double, Javy retired ten of 11 and threw no more than 16 pitches in an inning until the 7th.
All told, Vazquez gave the Yanks seven strong innings, giving up five hits (scarily enough, four doubles and a homer) and two walks while striking out five. The offense backed him up with three runs or fewer for the fourth time in his last five starts, and for the tenth time overall in his 19 starts. Big ups to Javy though, he was pretty damn good.
Where's Joba?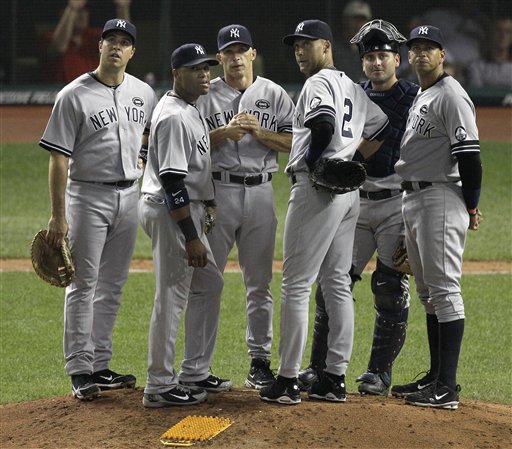 During his pre-game press conference, Joe Girardi indicated that he would "lean toward" using Joba Chamberlain should a situation arise where the Yanks had a slim lead in the 8th. That exact situation came up tonight, but there was Joba on the bench in the bullpen, watching as David Robertson warmed up while Javy started the inning. After Vazquez walked Michael Brantley to start the frame, Girardi called for Robertson, who ran out of the bullpen like the place was on fire.
With a man on first and none out, Robertson's jumped ahead of Asdrubal Cabrera 1-2, though the Indians shortstop spoiled a good put-away curveball. D-Rob's last pitch of the night was a fastball that Cabrera beat into the ground for a rally killing 6-4-3 double play. It decreased Cleveland's chances of a win by more than 20%. It was the third time this year that Robertson has faced just one batter while recording two outs, which is kind cool.
Girardi turned to Boone Logan to face Shin-Soo Choo (and his enormous platoon split) with two outs in the 8th, and six pitches later everyone was walking back to the dugout after strike three. It was the cleanest 8th inning pitched by Yankee relievers in who knows how long.
The Best Of The Rest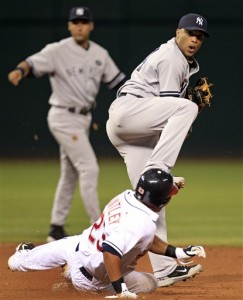 Granderson's homer wasn't his only well struck ball of the night. He clobbered a ball off the top of the rightfield wall in the 5th, but got thrown out at second trying to stretch it into a double. Choo played it perfectly off the wall and made a great throw, but the replay showed Grandy's foot got in there before the tag. Such is life.
Speaking of Choo, Kenny Singleton was mispronouncing his name all night. He was saying "Shin-So", not "Shin-Sue". I'll be paying attention tomorrow to see if he keeps doing it, but I suspect someone on the staff will straighten him out.
Mark Teixeira drew a walk, extending his streak of reaching base safely to 42 consecutive games. It's the longest streak of his career by several games, and is the second longest such streak in the big leagues this year.
Robbie Cano was intentionally walked for a league leading 11th time. He had been intentionally walked 14 times total in the first five years of his career. That's awesome. Robbie also reminded us all that he has the meanest double play pivot in the game in that 8th inning.
You know what isn't awesome? Jhonny Peralta. He saw six total pitches in his four at-bats tonight. Turrrible. Good thing he's on the Indians.
Mariano was understandably rusty tonight, it was his first action since last Wednesday. Nevertheless, scoreless 9th inning for Mo.
I have to say, I've been very impressed with Javy's fielding this year. He handled that comebacker in the 6th to nab the lead runner between second and third, and it was just one of many times this year that he's made nice plays on balls hit back at him. Very cool and collected in those spots, makes good decisions too. Fielding the position is not a crucial part of a pitcher's game, but it's certainly a nice bonus.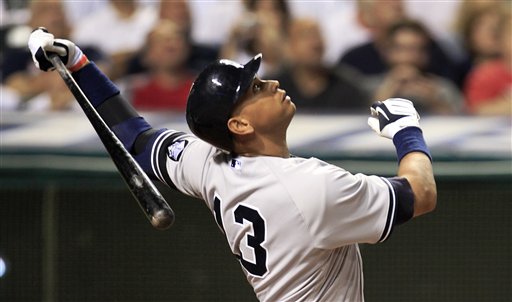 We're all still waiting on Alex Rodriguez's 600th career homer. He went hitless in four at-bats tonight, and is 6-for-17 (.353) with two doubles since hitting No. 599. It'll come soon enough, don't worry. Part of me hopes it doesn't come until the Yanks return home next week.
WPA Graph & Box Score
I love big spikes (or in this case, dips) like that, as long as they go in the Yanks' favor. MLB.com has your box score, FanGraphs your nerd score.
Up Next
Same two teams as the same time tomorrow. Former Indian CC Sabathia gets the ball against rookie righthander Josh Tomlin, who will be making his big league debut. You know what that means … they're doooooooooomed!