By

Tyler Kepner, writing on the Bats blog, reminds us that not only will we miss Jorge Posada's offense while he's on the DL, but we'll miss his toughness as well. It's hard to overstate what Posada means to this Yankee team. He's a feared switch-hitter in the middle of the order with an excellent feel for his pitching staff. While a few Yankee fans may criticize them for signing an old catcher to a four-year deal, this injury is not age-related, and it's a blow the Yanks will have to absorb for now. · (8) ·
By

While 16 percent of the baseball season has come and gone already, some folks are still rolling out thes season previews. Yesterday, Baseball Think Factory unleashed its Yankee blogger roundtable on the world. Joe, Mike and I all participated in the 20-question exercise. Check it out. And for the record, if Jason Giambi keeps on hitting, I won't consider him "a baseball train wreck" for much longer. · (21) ·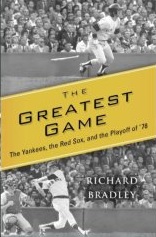 Before delving into the game, Richard Bradley, author of The Greatest Game: The Yankees, the Red Sox, and the Playoff of '78 (Free Press, $25), sets a high bar for himself. How exactly does one go about determining the "greatest game" ever with such certainty?
In my life — which started a good four and a half years after the 1978 playoff game — I've seen two perfect games, an amazing World Series game 7 and a 3-0 playoff series lead evaporate. Depending upon your perspective, most of those games could be considered the greatest game ever, and when Buster Olney wrote about that World Series game 7, he just called it the last night of a dynasty.
Bradley has no qualms about his claim. Game 163 of the 1978 regular season — played only by the New York Yankees and the Boston Red Sox in Fenway Park — stands as baseball's greatest game. For nine innings, two bitter rivals duked it out with the victor becoming the heavy favorites to win the World Series.
For Yankee fans alive at the time, that game stands as one of the greatest baseball games of all time, and in his book Bradley takes his readers through both the game and the season. In alternating chapters of game play and 1978 baseball history, Bradley sets the stage for an epic showdown. It's Carl Yastrzemski's last hurrah, and the culmination of a Bronx Zoo-type season in the Bronx. It's Yankee grandeur and success against the Red Sox's decades of failure. It's Mike Torrez trying to prove his former employees wrong, and it's Bucky Dent trying to prove his manager wrong.
Bradley starts out inside the minds of Goose Gossage and Yaz. What takes this book that extra step are his sources. Bradley relied on a lot of interviews with players. It brings up questions of historical memory: What does Goose Gossage remember in 2007 of a game 29 years earlier? How do Mike Torrez and Bucky Dent recall seminal moments in their careers after volumes of ink have been spilled over the game's most famous rivalry? But for now, we can let the players take it away.
And take it away they do. Bradley describes the characters involved. There's the irascible Billy Martin, the pugnacious Thurman Munson, the arrogant Carlton Fisk. He discusses recent Yankee history and recent Red Sox history. We learn about Reggie Jackson and Dwight Evans, about Lou Piniella and Catfish Hunter, about Yaz's time in Fenway and Don Zimmer's managerial failures.
For avid baseball readers, Bradley's book treads some familiar ground. Jonathan Mahler's excellent Ladies and Gentlemen, The Bronx is Burning covers the Bronz Zoo Yankees and the 1977 season is detail, and Bradley rehashes that in an early chapter. But Bradley's book is the logical literary sequel to Mahler's seminal tome. Bradley's writing and reporting takes you inside the minds of the players of this game, and for those of us who are fans of the game — alive or not in 1978 — the book takes us back to that crisp fall day in October 1978 when two teams laid it all on the line for a chance to move on.
Was the game really the greatest one ever? Two aces without their best stuff faced off against each other; the lead changed a few times; an unlikely hero emerged in Bucky Dent. A closer — Gossage — nearly blew the game, and a late-inning home run by Reggie Jackson would be the difference. Carl Yastrzemski was fitting the last out just as Gossage and Yaz imagined the game would unfold. For all that, it's still tough to top that 2001 World Series Game 7.
But this book is also about baseball at a moment in its history. It's is about baseball on the cusp of change. It's about how the onset of free agency would forever alter the game's economics but how playoff baseball remains the pinnacle of the sports world.
You didn't have to be there or be alive to still feel the goosebumps as Bucky F***in' Dent blasts a three-run home run over the Green Monster to give the Yanks a lead they would not relinquish. It was a good day for Yankee fans.
Triple-A Scranton
Game 1 (2-0 win over Syracuse in 7 innings)
Brett Gardner & Jason Lane: both 0 for 4, 2 K
Bernie Castro & Juan Miranda: both 0 for 3, 1 BB – Castro K'ed once & swiped a bag … Miranda K'ed twice
Cody Ransom: 2 for 4, 1 K, 1 SB
Nick Green: 1 for 4, 1 R, 1 RBI
Eric Duncan & Chris Stewart: both 2 for 3 – Stewart drove in a run & K'ed
D-Ras: 6 IP, 5 H, 1 R, 1 ER, 1 BB, 6 K – 60 of 89 pitches were strikes (67.4%) … his ERA ballooned to 0.87
Billy Traber: 0.1 IP, zeroes, 1 K – brought in to face the immortal (and lefty hitting) Chip Cannon, but a righty pinch hitter was brought in
Jose Veras: 0.2 IP, 1 H, 0 R, 0 ER, 0 BB, 1 K
How's that for an April to remember for Chien-Ming Wang? Wang closed out his opening month in grand style today, throwing 7 innings against the Indians. He limited Cleveland to four hits — three singles and a double — while striking out a season-high nine. With Joba and Mo throwing an inning, the Yanks eked out a 1-0 win behind a Melky Cabrera home run.
For Wang, this start — his sixth of the month — really cemented his status as the Yankee ace. He'll finish the month leading the AL in wins with five, and he has yet to lose a game this season. His ERA is a nifty 3.23, and his peripherals are great. He has 27 strike outs to 11 walks and has allowed just one home run all year in 39 innings. Opponents, meanwhile, are hitting .235/.292/.315 off the righty.
For Wang, today's line is a departure from what we've come to expect from the sinkerball specialist over the year, but it is a welcome departure. Wang recorded five ground-ball outs and six fly-ball outs today while retiring nine by the K. We're used to seeing few strike outs, few fly outs and many more ground balls, and as some fans in the game thread wondered, what has changed with Wang this year?
From watching him work, Wang seems to have a better idea how to keep hitters off balance. Last season, when October rolled around and the Yanks trekked out to Cleveland, the Indians hit Wang around because they knew what was coming. They knew he would throw mainly sinkers, and they knew they could him them. This year, Wang is going more to his slider and his splitters. Considering that he throws in the mid-90s, this diverse repertoire of pitches will keep hitters guessing. Wang is, in other words, really maturing as a pitcher.
On the other side of the ball, the Yankee offense continued to scuffle today. This time, however, the opposing pitcher was the AL Cy Young Award winner. C.C. Sabathia, perhaps auditioning for his future employer, threw a lights-out game, matching Chien-Ming Wang nearly inning for inning. He threw 8 innings, also allowing one hit while walking one and striking out eight. It was a vintage pitchers duel, one missing from the ALDS, and the Yanks emerged on top.
Game Notes:
Despite Joe Girardi's post-game comments, The Times story is true: Jorge will go to the DL, and he will go visit Dr. James Andrews. The Yanks' erstwhile catcher says he doesn't need surgery, but I would expect a lot of innings at first and DH for Jorge this year.
To the Yankees' center fielder: Who are you and what have you done with Melky Cabrera? The Melkman's fifth home run — the only run of the game — tied him with Jason Giambi for the team lead in homers. He's on pace to hit 33 this year. If Melky keeps this up, I will be very happy to admit that I was wrong about his future on the Yanks.
By

Sit down. Take a deep breath. And read the bad news on Jorge Posada. The Yanks' catcher was a very late scratch today because his shoulder tear is not improving, and he will be visiting Dr. James Andrews this week. Posada, who seemed to aggravate his shoulder while throwing out Grady Sizemore yesterday, will end up on the disabled list, and the Yanks now have to pray that Jose Molina can shoulder the load. They have no true backup catcher right now as Chad Moeller has not cleared waivers yet. Doug Mirabelli is a free agent possibility. · (33) ·
We can bemoan the Yankee pitching as much as we want. We can blame bullpen management or poor starting pitching. We can blame bad weather and freak injuries. But all of that pales in comparison to the real problem.
The Yankees, folks, are just not scoring any runs. They are ninth in the American League — and 16th overall in baseball — with 113 runs scored. That figure puts them behind such power-packed offenses as the Seattle Mariners, Los Angeles Dodgers and Oakland A's. What is more mysterious, however, is that the Yankees are fourth in the AL with a .772 OPS. They're just not getting their hits when it counts as we saw yesterday. That will change, but for now, we just have to grin and bear it.
Today, the Yanks face a familiar foe, one they saw last in the ALDS and one many think could be in pinstripes next year. C.C. Sabathia, who pitched a fairly pedestrian game 1 in the ALDS against the Yanks last year, will take the mound for the Indians. He's 1-3 with a 10.13 ERA, but the numbers don't tell the whole story. In his last start, he threw six shutout innings against the Royals, walking two and striking out 11.
The Yanks counter with their ace. Chien-Ming Wang is 4-0 with a 3.94 ERA. But his last two starts have been a bit rocky. Against the Red and White Sox, Wang threw 10 innings, giving up 11 earned runs on 19 hits. Over that stretch, he's walked five and struck out seven as his ERA climbed from 1.23 to its current 3.94. A solid start from Wang against a team that seemingly took batting practice off him in October would do wonders for the Yanks.
Hideki Matsui sits for the second straight day. He's 0 for 9 in his career against Sabathia. No word on any potential call-up for Darrel Rasner. He's set to start today for Scranton in Syracuse, and if he goes today, he won't be ready to pitch again for another four days.
Damon LF
Jeter SS
Abreu RF
Rodriguez 3B
Posada C
Duncan 1B
Ensberg DH
Cano 2B
Cabrera CF
Molina C
Wang P
Update 1:03 p.m.: As per Suzyn Waldman — what a lovely soundtrack to my shower, by the way — Jorge Posada is a scratch from the lineup today. After he gunned out Grady Sizemore yesterday, he seemed to be wincing a bit. I hope this isn't a setback from his shoulder problems. Everyone moves up, and Molina's hitting 9th.
No matter how frustrating it gets to watch Hughes and IPK nibble at the corners, just remember that it's better than having Mark Redman in the rotation. Suddenly the kids don't seem so bad, huh?
Triple-A Scranton was washed out, they'll play two tomorrow. Darrell Rasner was the scheduled to starter, but maybe they'll call him up to be the long man before the first game since he's not in need of four days of rest.
Double-A Trenton (7-4 loss to New Britain in 13 innings)
Ramiro Pena & Reegie Corona: both 0 for 5 – Pena walked & K'ed … Corona K'ed twice
Austin Jackson & Matt Carson: both 2 for 6, 1 R – Ajax doubled & swiped a bag … Carson drove in a run & K'ed
Cody Ehlers: 1 for 3, 1 R, 1 HR, 2 RBI, 1 BB
Jose Tabata: 0 for 3, 2 K - came out of the game after striking out in the 7th … I recently heard that his swing is all messed up, and that he's out of shape and playing like he doesn't care … it's time to send him down to Tampa to light a fire under his ass
Phil Coke: 6 IP, 11 H, 3 R, 3 ER, 0 BB, 7 K, 5-6 GB/FB
David Robertson: 3.2 IP, 1 H, 1 R, 1 ER, 0 BB, 4 K – 3.2 IP? wow
Eric Wordekemper: 0.2 IP, 2 H, 0 R, 0 ER, 1 BB, 1 K - let an inherited runner score, hence the earned run on Robertson's line
Mike Gardner: 1.2 IP, 3 H, 3 R, 3 ER, 3 BB, 2 K
The Yankees are not going to win many games if they can't score more than three runs off pitchers like Jeremy Sowers. We can blame Girardi's decision to go with Ohlendorf over Rivera in the 9th. We can unfairly blame Ian Kennedy. But if the Yankees do not score runs, they obviously are not going to win.
The Yanks had 12 hits today and left nine runners on base. They hit into two double plays at key moments and managed to draw just one walk. The best pitching staffs in the world aren't going to overcome these anemic performance.
Before wrapping this one up, let's toss some credit Ian Kennedy's way. He threw 105 pitches in five innings and walked four while striking out two. But he showed clear signs of improvement. He overcame a 35-pitch fifth inning to make it through five, and he allowed just one baserunner in his final three innings of work. I think Kennedy turned a corner today. Too bad the Yankee offense didn't.
The Yanks wrapped up their weekend roster moves this afternoon and now find themselves with a righty-heavy bullpen. Billy Traber, after proving that a lefty can't always get out other lefties, finds himself heading from Cleveland to Scranton, and Shelley Duncan makes his triumphant return to the Bronx.
For the Yanks, the bullpen now contains a bunch of hard-throwing righties and LaTroy Hawkins. While a few folks will be dismayed at the Yanks' seemingly non-traditional approach to the bullpen — Where's the lefty? Where's the long man? — as long as these guys throw strikes they can get out lefties and righties. Plus, they've managed to survive without a strike-throwing lefty, and they haven't really been burned by the lefties. It's no different today than it was yesterday.
The Yanks, meanwhile, face back-to-back lefties, and I guess today's the off-day for the lefty hitters. While C.C. Sabathia and his Cy Young Award go tomorrow, Jeremy Sowers will be making his 2008 debut against the Bombers. Bobby Abreu, Robbie Cano, Hideki Matsui and the switch-hitting Jorge Posada all find themselves on the bench today.
Damon LF
Cabrera CF
Jeter SS
Rodriguez DH
Giambi 1B
Duncan RF
Ensberg 3B
Molina C
Gonzalez 2B
Kennedy P