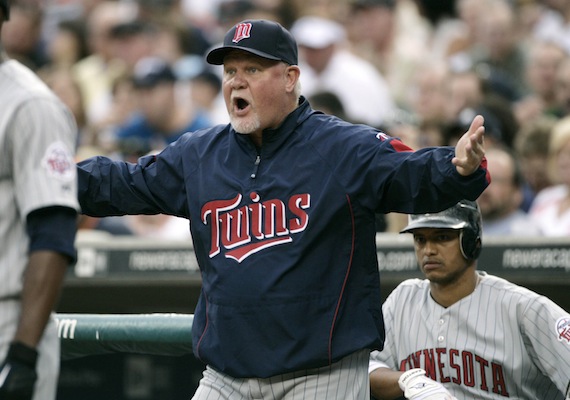 With the Yankees and their pitching changes, it's always something. For years, teams have complained about how, at home, the Yanks ice their opponents by drawing out "God Bless America." The extra 30 seconds of signing, apparently, are to blame for any effective pitching, and the Yanks managed to reach the 2001 World Series simply by exploiting Ronan Tynan.
Yesterday, though, Twins manager Ron Gardenhire managed to trump those complaints with a rant of his own. In the ninth inning of the evening match-up between the two clubs, the Yankees jumped out to a 3-2 lead when Nick Swisher homered with two outs in the 9th. After Mark Teixeira was thrown out at second, the Yanks had to rush back onto the field, and Mariano Rivera didn't have enough time to warm up. So Joe Girardi stalled.
At the time, Andy Pettitte had thrown just 94 pitches, and the Yanks' skipper sent his lefty back onto the field to take his warm-up tosses. From a baseball strategy perspective, it made sense. Rivera had pitched just a few hours earlier, and Justin Morneau, a lefty who doesn't hit southpaws as well as he does right-handers, was due up. Pettitte took his seven pitches to the glove, and then, Joe Girardi came out to retrieve him. Into the game came Mariano, and three batters later, the Yanks had themselves their second win of the day.
Later, Gardenhire claimed that he knew Pettitte wouldn't actually face Morneau, and he ranted against the Yanks. He said:
No, he wasn't going to throw a pitch. That was kind of tired, to tell you the truth. You don't know normally get that long between innings to do all that, but we know what's going on there.

That's a situation Major League Baseball needs to take care of when stuff like that happens. You don't have a guy ready in the bullpen, if your starter goes out there, he should have to face a hitter. That's just the way it should be. If you don't get a guy up, that's the way it should be, unless the other team makes a change.

But that's not what lost the game for us. That's stuff that just gets old right there.
Now, I can see why Gardenhire might be frustrated with the Yankees. Since he took over for Tom Kelly in 2002, Gardenhire's Twins have gone a woeful 15-45 against the Yankees during the regular season and have lost three ALDS series to the Bombers as well. Even though the Twins are one of the more successful AL Central teams of the decade and even though Gardenhire has managed the club to five first-place finishes during his first eight years at the helm, the Yankees just have the Twins' number.
But this little rant comes across as a sore-loser whine. How many times do we see pitchers throw over to first to give a reliever more time to warm up? How many times have we seen a manager send out one pitcher to start an inning to allow another more time? I'm sure Gardenhire has done this himself, and it's really not a different tactic than sending out a pitching coach to make a perfunctory and unnecessary mound visit.
Ron Gardenhire has been nothing short of professional in his time with the Twins, but he's wrong here. The Yankees did what any team would do in their situation, and the Twins didn't lose because of it. They lost because their closer allowed a home run to Nick Swisher five minutes earlier. Them's the breaks.