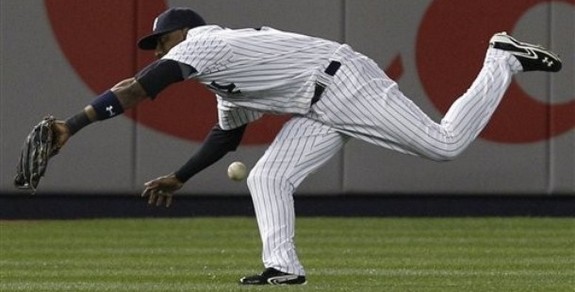 The Yankees have been playing with a 24-man roster the last few days as Nick Swisher nurses his low-grade hamstring strain, an injury that will reportedly keep him on the shelf for another 5-7 days*. To make matters a little worse, they replaced Brett Gardner with another pitcher — first Cody Eppley, then D.J. Mitchell — when the left fielder hit the DL with various right arm problems. Of the 24 usable players, only eleven are non-pitchers. That's a little nuts.
* I can't imagine we'll see him any early than Tuesday, following the scheduled off day.
No one will replace Gardner's defensive value, but the Yankees have compounded the problem by keeping Swisher active rather than replacing him a healthy player that can play the outfield competently. That's led to Raul Ibanez and Eduardo Nunez roaming the outfield and costing the team runs on defense, sometimes in painfully obvious ways. I understand not wanting to lose one the team's most productive players any longer than you have too, but we're starting to reach the point where keeping him on the roster will the cost the team more than they'll gain by having him back a few days earlier.
The easiest way for the Yankees to fix their two-man bench problem is to simply send down Mitchell and get back to a normal 12-man pitching staff. They'll still have Freddy Garcia available for long relief, plus CC Sabathia and Hiroki Kuroda have started pitching deeper into games on a more consistent basis. Monday's an off day as well, a built-in day of rest. The need for eight bullpen arms just isn't all that great right now. No, the pressing need is another warm body for the bench, someone who can at the very least play passable defense in an outfield corner and maybe even pinch-run. They don't need miracles, just someone like Melky Mesa for a week. That's all.
More than anything, my biggest concern in this entire roster mess is that Swisher won't get the proper time to heal and his low-grade hamstring strain turns into a high-grade hamstring strain. It's very easy to re-aggravate a muscle problem, especially a lower body strain on an outfielder. A setback would put the timetable for Swisher's return at weeks, not days. If they're dead set on keeping him off the DL, fine. They just better not rush him back because well, the bench is short. With Gardner reportedly unlikely to come off the DL when eligible tomorrow, just send down a pitcher and get another capable body where one is really needed, the corner outfield.