A contextless table of Yankee ticket prices by year has elicited a small reaction from a few bloggers. WasWatching tossed up a brief post on the subject and iYankees noted the cost of going to the game.
The AP presented in the information in a way that suggests that Yankee ticket prices have, by and large, gone up for over forty consecutive seasons now. The tickets for field boxes were $3.50 in 1967 and now cost $250. Except for consecutive years in which the prices were held steady, then, the cost to attend games has been on the rise since the days of Lyndon Johnson, right?
Well, note quite. Take a look at this chart with a third column I added using inflation data. A graph put together by Tommy follows the table.
| Year | Ticket Price | 2008 Dollars |
| --- | --- | --- |
| 1967 | $3.50 | $22.18 |
| 1968 | $4.00 | $24.33 |
| 1969 | $4.00 | $23.07 |
| 1970 | $4.00 | $21.82 |
| 1971 | $4.00 | $20.91 |
| 1972 | $4.00 | $20.26 |
| 1973 | $4.00 | $19.07 |
| 1974 | $4.00 | $17.18 |
| 1975 | $5.00 | $19.67 |
| 1976 | $5.50 | $20.46 |
| 1977 | $6.00 | $20.96 |
| 1978 | $6.50 | $21.10 |
| 1979 | $7.00 | $20.41 |
| 1980 | $7.50 | $19.27 |
| 1981 | $7.50 | $17.47 |
| 1982 | $8.50 | $18.65 |
| 1983 | $9.00 | $19.13 |
| 1984 | $9.00 | $18.34 |
| 1985 | $9.75 | $19.18 |
| 1986 | $9.75 | $18.83 |
| 1987 | $10.00 | $18.63 |
| 1988 | $11.00 | $19.68 |
| 1989 | $12.00 | $20.49 |
| 1990 | $12.00 | $19.44 |
| 1991 | $12.50 | $19.43 |
| 1992 | $14.50 | $21.88 |
| 1993 | $16.00 | $23.44 |
| 1994 | $17.00 | $24.28 |
| 1995 | $25.00 | $34.73 |
| 1996 | $25.00 | $33.73 |
| 1997 | $35.00 | $46.16 |
| 1998 | $45.00 | $58.44 |
| 1999 | $50.00 | $65.53 |
| 2000 | $55.00 | $67.61 |
| 2001 | $62.00 | $74.11 |
| 2002 | $62.00 | $72.96 |
| 2003 | $72.00 | $82.84 |
| 2004 | $80.00 | $89.65 |
| 2005 | $90.00 | $97.55 |
| 2006 | $110.00 | $115.51 |
| 2007 | $150.00 | $153.15 |
| 2008 | $250.00 | $250.00 |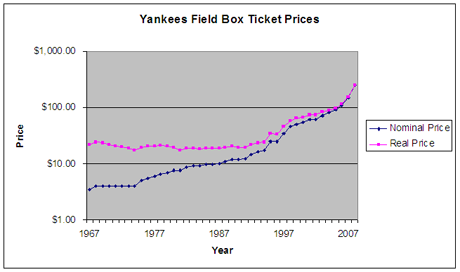 A funny thing happens on the way to 2008. It now appears as though ticket prices for the Yankees remained steady, in 2008 dollars, for nearly thirty seasons. In 1967, it cost $3.50 to purchase a Yankee field box seat. That's $22.18 in 2008 dollars. Twenty four years later, in 1994, it cost $17 to purchase the same ticket or $24.28 in 2008 dollars. In 1994, $3.50 from 1967 would get you $15.53. Ticket prices, in other words, were tracking inflation.
The spike — and we seem to still be in the middle of it — occurred following the 1994 season when ticket prices went through the roof. All of a sudden, the Yankees were good, the Yankees were popular, and the Yankees were very, very expensive. In 14 years, Yankee ticket prices have increased by a factor of 10 from a 2008 value of $24.28 in 1994 to $250 in 2008. That's crazy.
Meanwhile, some bloggers and fans always ask why, and for that, we turn to the market. The Yankees are selling tickets at a face value of $250 per, and they're selling out the stadium. Tickets for premium games sell on StubHub for well over that value. The market, in other words, can afford it, and the Yankees are just trying to capture their revenues.
If you can sell out a stadium at $150 a ticket and at $250 a ticket, what owner wouldn't charge the higher amount? The fans, of course, are the ones who lose out, and it times like these when we remember that baseball is a business. It's all about the bottom line.
Via a press release:
Shelley Duncan of the Yankees has been suspended for three games and fined an undisclosed amount for his violent and reckless actions, which incited the bench-clearing incident. Unless appealed, Duncan's suspension is scheduled to begin on Monday, March 31st, when the Yankees host the Toronto Blue Jays in their first game of the 2008 Championship Season.

Jonny Gomes of the Rays has been suspended for two games and fined an undisclosed amount for his violent actions, which escalated the bench-clearing incident. Unless appealed, the suspension of Gomes is scheduled to begin on Monday, March 31st, when the Rays play at Oriole Park at Camden Yards in Baltimore in their first game of the 2008 Championship Season.

Melky Cabrera of the Yankees has been suspended for three games and fined an undisclosed amount for his violent and aggressive actions during the incident. Unless appealed, Cabrera's suspension is scheduled to begin on Monday, March 31st.
So Jonny Gomes gets two games for sprinting in from right field and escalating the incident while Duncan and Melky get three. That seems wrong to me.
In related news, Shelley Duncan says he will continue his aggressive play even while the Yankee veterans have asked him to tone it down. This could become an issue over the course of the season, and it will test Joe Girardi's abilities to keep his players in line.
Speculation is that the Yanks will go with an outfield of Matsui in left and Damon in center with Giambi DHing on Opening Day. I have a feeling the Yanks may figure out a way to work Brett Gardner into that lineup instead, but we'll see. Melky, have you ever heard of Wally Pipp? Careful out there with those punches.
By

No. 5 starter for the Yankees, and No. 1 man in the New York political hierarchy. Yep, 2008 seems to be a good year for Ian Patrick Kennedy. Apparently, the state has decided to invoke the "Best Kennedy available clause, a law allows for the "citizens of New York, at any time, [to] install any person with the last name of Kennedy into any public office, without any sort of vote or any clear inclination that said Kennedy is prepared to hold office." Kennedy himself was elated. "I have now realized my two dreams in life," he said. "I am a starting pitcher for the New York Yankees, and I am fighting on behalf of the American working citizen in the hallowed halls of Albany." Fictitious democratic consultant James Michener — no relation to the author, apparently — puts it best: "Who better to bring us all together with boyish charm and perceived integrity than a Kennedy? Nobody, that's who."

(Yes, this is satire. I actually liked the idea of the article more than the article itself.) · (4) ·
By

New Yankee manager Joe Girardi may end up missing the season opener, Mark Feinsand of the Daily News reports. The reason: a suspension, of course. Baseball sources say that Bob Watson may give Girardi and Rays manager Joe Maddon time outs for their roles in this past week's events. I hope Watson allows Girardi to helm the team on Opening Day. He can serve the suspension on day two of the season, and it will have the same impact.

Update 12:00 p.m.: PeteAbe notes that Girardi will be fined and not suspended. The Yanks' new manager gets to make his debut on Opening Day as he should. Shelley Duncan will receive a short suspension. · (9) ·
After telling you about some of the top overall prospects and top left-handed pitchers available in this year's draft, it's time to bring you up to speed on how they're doing. The draft order is close to being finalized, with Mike Piazza being the only unsigned compensation free agent (Type-B) remaining. Even though he signed a minor league deal, the A's will get a sandwich pick for Shannon Stewart if, and only if, he sticks on Toronto's 25-man roster out of Spring Training. Right now the Yanks are picking at #28 overall, followed by #44, #77, #107, #142 and then every thirty picks thereafter. Not too shabby.
I had trouble finding stats for the high schoolers; most of the info on MaxPreps was team W-L records and individual game results only, not box scores or player stats. The schools' websites were also useless, so I'll have to update you on the prepsters in the future. Fun starts after the jump.
By

While everyone appeared to have fun during this afternoon's celebration of Billy Crystal's birthday, one writer for The Times thinks that the Pirates blew a golden opportunity to earn some good baseball karma. Writing on the Bats blog, Richard Sandomir takes Paul Maholm to task for throwing Crystal a steady diet of sliders and cut fastballs. "Had Maholm laid it in for Crystal, he might have been reciting David Letterman's Top 10 list on Friday. Instead, he's the pitcher with a career 10-15 record who whiffed a comedian one day from turning into a sexagenarian," he writes. Ouch. · (11) ·
Via PeteAbe comes the news that two more Yankees have lent their visages to Longball Cellars line of Charity Wines. Bobby Abreu and Jorge Posada are the latest two to have their faces immortalized in wine.
Abreu's Finest is a 2006 Merlot from California. Money from the sale of this wines to the Police Athletic League, the charity of New York's Finest. The Jorge Cabernet supports The Jorge Posada Foundation.
Also in this latest release is a Schilling Schardonnay. This is an over-the-hill bottle of wine that was once good but now just sits around pretending to be the be-all and end-all of baseball wines.
With Mike Mussina on the mound and Mariano Rivera due to pitch as he attempts to win one of those coveted bullpen spots, the first inning of today's game will be devoted to none other than the Yankee DH-for-a-day Billy Crystal. Wearing number 60 in honor of his birthday, the comedian will lead off the bottom of the first against the Pirates' Paul Maholm.
Opinion in Yankeeland over Billy Crystal is divided. I personally have no qualms with this little stunt. It's a one at-bat honor bestowed upon a prominent baseball fan for his birthday. The Pirates, as iYankees tells us, are amused by this as well. However, Alex Belth at the Banter is rather skeptical of the movie, and Jason at My Baseball Bias isn't quite sure what to make of it. Meanwhile, Ed Price offers up a Crystal scouting report.
In other game news, Jaret Wright is slated to pitch a few innings for the Pirates today. So be prepared for a four-hour Spring Training game. One day, I will never have to watch Jaret Wright pitch again, and it will be glorious. The game is on YES and MLB.tv. At around 1 p.m. or so, you should be able to follow the Spring Training Gameday here.
Lineup
Crystal DH
Jeter SS
Abreu RF
Rodriguez 3B
Matsui LF
Cano 2B
Duncan 1B
Molina C
Cabrera CF
Pitchers
Mussina
Rivera
Karstens
Veras
This post is for a competitive fantasy league run by one of my buddies. He ran this last year on another blog, and they actually had too many guys sign up at the beginning. If anyone has any questions or concerns about this, email me and I'll get right back to you. This friend will also help to host our eventual RAB Day at the Park — he's there every Sunday on top of the parking garage, grilling and generally acting like a loon with the rest of us.
Hello RAB bloggers, I wanted to invite everyone to the RAB fantasy league for 2008 (yahoo). I ran the fantasy league on another Yankee blog last year and we had a lot of success. I wanted to bring the league over to the best Yankee blog this year (ed note: his words, not mine). Below is some specefic information regarding the league. It will be $35 a person and for the people that join, we can decide how much the splits should be for the 1st, 2nd, and 3rd place prizes. Please get back to me asap so we can move forward with the RAB league. There are already a few people that are part of RAB blogging that are going to be in the league.
What I need from everyone right now are their opinions and preferences.
What time is good for doing the live online draft for everyone? I think March 23rd, Sunday, at 7pm EST would be good, 1 week before the season starts. We will also have a better idea of the rosters.
Depending on how many people play, how would you prefer the prize money to be divided up?
I will pay for the league initally, ($125), but for payment from everyone, I just wanted to know how many people have paypal? I have a paypal account so you can make your payment there. Paypal will is probably also safer for the person giving money since all transactions are documented there. If you don't have paypal, a check would be fine.
Since majority of the people have voted for the point system, here is an option so let me know what you think. There maybe some people that are doing this for the first time so this may seam basic to some people.

The categories for points can be Runs, HR, RBI, SB, AVG, Wins, Saves, K's, ERA, and WHIP. At the end of the season, you are ranked in each of the categories. For example, if our league is 9 people, if you finished first in each category, a perfect score for 1st place would be 90(10 categories X 9 peole being ranked). Let me know if these are the categories you are okay for the league.
most people prefer the option to make daily roster changes, please tell me your preference (daily, weekly, 2 times a week, etc).
When would you like the trade dealine (7/31, 8/14?) give me a peference for a date, it doesn't have to be the 2 I mentioned.
for trades to get approved, its is recommended that the league in majority has to approve a trade. This can help someone giving up and trading all his good player to a friend. With league approveable of a trade, this usually cannot happen. Let me know.
These are the roster positions that we can have, let me know if this format is okay. C, C, 1B, 2B, 3B, SS, CI (corner infielder), MI (middle infielder), OF, OF, OF, OF, Utility, SP, SP, SP, RP, RP, P, P, P, BN (bench), BN, BN, BN, BN, DL, DL. Before the draft, check player position eligibility on yahoo fantasy baseball.
Look forward to hearing from everyone,
Relaunch
parazor@yahoo.com
By

So after watching this clip, I'm struck by something Shelley Duncan did. To me, it appears as though he was gunning for second base out of the box with the intent to slide in hard. My question then to the rhetorical you then is this: Was Shelley aiming to start something from the crack of the bat? And does it matter? MLB's discipline guru Bob Watson might think it does. · (17) ·