As we know, Jorge Posada officially signed his contract yesterday, and had a little something to say when he did:
"We need a No.1, and I think that's one of the reasons we're going after Santana. It is a need in October, no question about it. When you look at the past World Series champions, they were able to have a No.1 throwing at least two games to win the title."
First off, the claim about past World Series. Josh Beckett, 2007, one game start. Chris Carpenter, 2006, one start. Mark Buehrle, 2005, one start. Curt Schilling, 2004, one start. You have to go all the way back to 2003 to find an ace going twice in the World Series. Now, Posada could have meant twice during the playoffs, in which case my response would be: "Duh!"
Mostly, though, I want him to shut up because we don't need this shit right now. We know how the media in New York operates. Jorge says his thing, and all the outlets are clamoring for Santana because a player now wants him. There's a reason, though, why few former players become GMs, and further reason why a good number of them (::cough:: Kenny Williams ::cough::) aren't all that good at their jobs.
So spare us, Jorge. The Yankees will do what the Yankees need to do to win in 2008. And if that means hanging onto the Big Three, so be it. You know there would be no complaints from us.
Whether they want to pursue this philosophy or not, the Yankees won't be overspending on bullpen help this year. Two pitchers the Yanks had targeted to some degree — Troy Percival and David Riske — have opted to go elsewhere, and that's probably a good thing.
According to Buster Olney, Riske, the Brewers and a multi-year contract worth about $4 million per are a good fit. For Riske, his timing couldn't be better. The Brewers just lost their closer, Riske had a great season and Scott Linebrink and the White Sox just torpedoed the relief market.
So Riske, 31, with decent career numbers, will get a large contract and probably break down at some point. At least, that's what always happens to the Yanks when they sign relief pitcher to large deals. Strike that one off our list.
Percival, the Yanks' other target, is heading for a two-year, $8 million payday with the Rays. While the Yanks were willing to pay Percival more to set up for Mariano Rivera, the Rays are offering Percival and his 324 career saves a chance to close. Maybe now the Rays will actually manage to beat the Red Sox once in a while.
I'm not that upset about missing out on either of these players. Riske is probably the safer bet, but he's getting overpaid. Meanwhile, Percival is just a few years removed from basically retiring from baseball due to inoperable arm problems. After spending 2006 on the bench, he threw 40 innings for the Cardinals in 2007.
But here's his dirty little secret: Percival, 38 and not getting any younger, pitched on back-to-back days twice all season, and one of those times was for 0.1 innings in a 15-1 blowout. The Yanks already have one headcase reliever who can't throw on back-to-back days. Why do we need another who's one slider away from blowing out his arm?
So with these deals, thus ends the Yanks' half-hearted desires to sign two guys who, like the nationally televised Knicks are getting paid too much. I like this approach almost as much as I like the internal options the Yanks have available. Maybe they've finally learned that expensive relief options are just as ineffective as inexpensive options.
Remember that source I lampooned a bit this morning? Well, now Buster Olney is reporting it, too. He mentions the same players from this morning, only Michael Bowden as a possible replacement for Justin Masterson.
It is also possible, as the rival Yankees and the Red Sox simultaneously engage Minnesota in discussions for Santana, that the Red Sox could go to the brink of a deal in order to push the Yankees to go high in their offer as well, like two competing bidders at an auction. The Yankees, who have been involved in regular conversation with the Twins about Santana this week, may be doing the same thing — trying to push the price high for Boston.
Here's to hoping that's Boston's strategy. Here's to further hoping the Yanks don't take the bait.
Update by Ben: Just something to keep in mind: This is the Red Sox equivalent of the story that the Yanks and Twins had entered into preliminary talks. For the Yanks, the keyword was "preliminary," and for the Red Sox, the keyword is "framework." It's all the same stuff, folks. These are just initial discussions. We shouldn't get too worked up by it. These rumors will increase before a trade happens. Nothing is imminent.
By

The Yankees officially announced their deal with Jorge Posada this afternoon. At this point, their 40-man roster is stocked in advance of the Rule V draft. A-Rod and Rivera won't officially re-enter the fold until after the draft. · (6) ·
Kevin Goldstein is duly impressed with the Yankees' organization. He feels they have the arms to compete for a very long time. We know this, but it's nice to hear an unbiased outsider offer up the same prospect love that we feel.
Goldstein's piece is subscription-only, but I'll run down the list for you. Go subscribe to BP, if you haven't already.
Five-Star Prospects
1. Joba Chamberlain, RHP
Four-Star Prospects
2. Ian Kennedy, RHP
3. Austin Jackson, OF
4. Jose Tabata, OF
5. Alan Horne, RHP
Three-Star Prospects
6. Dellin Betances, RHP
7. Jesus Montero, C
8. Andrew Brackman, RHP
9. Edwar Ramirez, RHP
10. Kelvin DeLeon, OF
Two-Star Prospects
11. Humberto Sanchez, RHP
Under the Under-25 list, Phil Hughes takes the top slot, further proving that the Yanks just should not trade him. Melky Cabrera sits at 9 on that list, but Goldstein admits that the Yanks' erstwhile center fielder is "a liability offensively when you play him every day."
By

When Eric Duncan was left off the 40-man roster last week in advance of the Rule V draft, no one blinked. No one, that is, except Eric Duncan himself. As Pete Caldera writes, better players within the Yankee organization have simply passed by Duncan, and while the 23-year-old still wants to make it as a Yankee, he understand the reality of his situation. I guess hitting .234 with an OBP hovering around .300 in your first 500 AAA plate appearances does that to a player. · (4) ·
Now, this comes from the same newspaper that printed this laughable article, so take it with the largest grain of salt you can find. But this writer has a "source," which may or may not be his own broken imagination, that says the Sox are in the lead for Santana. The potential winning bid: Jon Lester, Justin Masterson, Coco Crisp, Jed Lowrie. Not only do I think the Yanks can top that, I think they can top that without Hughes or Joba.
Dear Pioneer Press,
If you pay me, I'll make up more believable rumors than your current staff. Promise.
-Joe
Hat tip to Steve.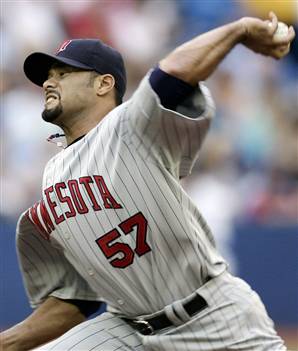 Yesterday, we made our position clear: Save The Big Three. This was met with varying responses, most of which disagreed to one extent or another. It seems that most Yanks fans — surprise surprise — would like to see Johan Santana in pinstripes. Hell, count me among 'em. My problem is that I don't want to see the Yankees dish any of the Big Three to get him, in which case a deal wouldn't happen.
Now, before anyone else says, "You'd be an idiot not to trade IPK for Santana," let's be clear about something. A package centered around Ian Patrick Kennedy will not land Johan Santana. Period. Maybe before yesterday, when Matt Garza was still a Twin, there was an inkling of a chance the Yanks could pull off such a deal. Any chance that existed (probably none) is now gone. If the Yanks want Santana, it's going to cost Joba or Hughes. If IPK is in the deal, it will be in addition to one of those two. This is why we need to save IPK.
When asked to choose which of the other two to dish, it appears the consensus is Hughes. I get that. The only knock on Joba before the season was his injury risk, but after he showed up to camp a bit lighter and after having a relatively healthy season (except when he caught the hamstring strain bug from Wang), he has quelled some of those concerns. At least relatively speaking, as we found out that Hughes, the invincible No. 1 pitching prospect in the game headed into the season (I'm not counting Dice-K), is also susceptible to injuries. Who knew?
So we're talking Hughes and more for Santana. Jutting off on a tangent for a second, I would think that the Twins, given their recent transaction, would be looking for Horne and Austin Jackson, at least. With the acquisition of Jason Pridie, the immediate need for a center fielder is lessened. He's not a world beater, but he can fill in adequately while the Twins wait on someone like Ajax. The Twins could still have interest in Melky, but I think that given the situation, we can leave him out of the conversation until we hear otherwise. And who knows: Maybe they want Tabata in the deal, too, instead of Horne — or on top of Horne. That changes the story, but for now let's stick to Phil and Johan.