Joe took a look at the ten biggest hits of the 2009 regular season last week, and I felt it was appropriate to follow up with a post about the most important pitching performances. Unlike big hits, which are singular events that come unexpectedly and can happen at literally any time, big pitching performances are a bit more deliberate. We watch them unfold over several innings and we know exactly who's delivering it. They lack the excitement and surprise of their batting counterparts, but dominant pitching performances give us a chance to sit back and appreciate what we're witnessing.
Despite relying on a core of four starters all season long, seven different pitchers managed to crack my list. And let me emphasize that this is my list. These are my ten biggest pitching performances of the 2009 regular season. Chances are you'll disagree with me, and I encourage you to tell everyone about it in the comments.
I managed to find a picture from each game, so know that they aren't some meaningless stock photos I came across. They're all legit. So, without further ado…
10. Chad Gaudin mows down his former team (video)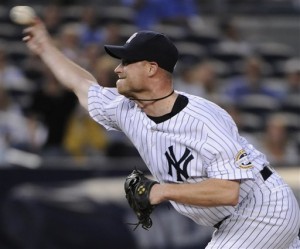 It was a relatively meaningless September contest because the Yankees were already up nine games in the division, though the team still had no idea who was going to serve as their fourth starter in the postseason. Joba Chamberlain held that title by default, however no one felt comfortable with him given his second half performance. Enter Gaudin, who at the time had a 4.04 ERA and an .808 OPS against since joining the Yanks in August. He had made two starts in pinstripes prior to this one, and they were both pretty much so-so.
Tampa Bay came to town losers of their last six, so all the stars lined up for Gaudin to grab hold of the fifth starter's spot. He retired 10 of the first 12 batters he faced and took the ball into the 7th inning for the first time in a month and a half. Gaudin's pitching line was not spectacular  (6 IP, 6 H, 1 R, 1 ER, 2 BB, 6 K), but he only needed 76 pitches to record 18 outs. The outing was enough to earn him a rotation spot the rest of the way, and even though the playoff schedule made a fourth starter unnecessary for the Yanks, Gaudin was always on call if needed. It took almost all season, but the last rotation spot was finally settled following Chien-Ming Wang's epic meltdown.
Photo Credit: Bill Kostroun, AP