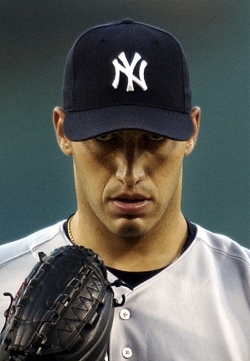 Part of Andy Pettitte's first half success has been his defense's ability to turn balls in play into outs. He surely has something to do with that himself — he sets 'em up, the defense knocks 'em down — though we're not really sure to what degree he controls the results of balls in play. His .268 mark is currently the lowest of his career, though he did have a .270 BABIP for all of 2005. Yet that's not where all of Andy's success lies.
A low BABIP means Pettitte is doing a good job keeping runners off base. But once they do reach base they still don't stand a great chance of scoring. On the year Pettitte has allowed 115 men to roam the bases. That counts hits, walks, reach on errors, and hit by pitches, but subtracts home runs. Of those 115 baserunners, only 26 have come around to score (37 runs allowed minus 11 home runs). That's good for a 77.4 percent strand rate (I ran this a bit differently than FanGraphs does their strand rate, which has Pettitte at a 79.7 percent strand rate).
How is he doing this? Usually pitchers can achieve high strand rates by striking out runners with men on base, but Pettitte actually fares worse in strikeouts with men on base than he does with the bases empty. He also walks more batters with men on base. The answer is that hitters fare even worse on balls in play with men on base than they do with the bases empty. Hitters currently have a puny .184 BABIP with men on base against Pettitte, and have grounded into double plays in 17 percent of their opportunities.
Some of this has to be luck, but part of it, I'd like to think, involves some veteran savvy on Pettitte's part. He knows he doesn't have the stuff to overpower hitters, so he bears down and gets the guys he has to. The question, of course, is of whether he can continue this favorable trend for the rest of the season.
For what it's worth, Pettitte doesn't notice a difference. In an excellent story by FanHouse's Jeff Fletcher, Pettitte is quoted as saying, "I feel like I'm pitching exactly the same." We'll take it.