AzFL Peoria was off.
HWB Honolulu was rained out. The game will not be made up.
Carribean Leagues
Frankie Cervelli: 1 for 10, 1 R, 1 2B, 2 BB, 4 K in 4 games
Edwar Gonzalez: 10 for 46, 3 R, 1 2B, 1 HR, 5 RBI, 1 BB, 2 SB, 1 CS in 14 games
Jesus Montero: 15 for 39, 8 R, 1 2B, 3 HR, 7 RBI, 5 BB, 5 K, 1 SB in 11 games
Edgar Soto: 1.1 IP, 3 H, 4 R, 4 ER, 3 BB, 1 K in 2 games
Marcos Vechionacci: 19 for 60, 8 R, 4 2B, 2 3B, 2 HR, 9 RBI, 4 BB, 7 K, 1 SB in 17 games
Guillermo Villalona-Bryan: 0 IP, 2 H, 2 R, 2 ER, 0 BB, 0 K in 1 game
Skimpy updates because the Yanks just cut a bunch of guys. I'm pretty confident they'll resign Scott Patterson though, so here's his update:
Scott Patterson: 6.1 IP, 7 H, 0 R, 0 ER, 0 BB, 4 K in 5 games
On a very slow news day in Yankee-land, Peter Abraham chimed in with his take on the A-Rod/Boras blame game. In his view, we should be blaming Alex Rodriguez and only Alex Rodriguez for this opt-out extravaganza. Scott Boras, Abraham contends, simply works for Alex Rodriguez. Scott Boras, he writes, "wasn't above him manipulating any strings"
To back up his contention that A-Rod is the one who deserves all of our ire, Abraham cites the case of Ron Villone, a fair-to-mediocre middle reliever who also happens to be a Scott Boras. Villone, who has made a meager (by baseball standards) $12 million over a 13-year career, has asserted his own desires about those of Boras'. Abraham writes:
Ron Villone is a Boras client. We were talking about it a few months ago and he told me that on several occasions during his career, Boras wanted him to sign with a certain team and he didn't. "At some point you have to do what is best for you and your family," Villone said. "You're a man, you make your own decision."
Using this as the basis for his argument, Abraham wraps up the piece by pinpointing A-Rod and his desire for more money as the root cause of the opt-out.
Now, while I'm sure A-Rod is no saint in the whole controversy, I have to disagree with Abraham's assumption that Alex opted out all by himself and that Boras is working only for what A-Rod wants. I have a unique perspective on this agent-client relationship. My father is an agent himself, and throughout my life, I've met a lot of agents and heard a lot about the agenting business. While its true that Boras is working for A-Rod, to think that Boras had nothing to do with this opting out is simply naïve.
Of course, agents are working for their clients, but when their client is the number one star and money-marker, agents will try to push a little bit harder for that bigger deal. That bigger deal, you see, has ramifications that echo all the way down to the Ron Villone's of the world. When Scott Boras says to A-Rod that by opting out, A-Rod could make $300-$350 million over the next ten years, A-Rod is going to listen. When Scott Boras sees an opportunity to imprint baseball with his fiscal legacy, as this article in The New Yorker claims Boras wants to do, he'll leap at that opportunity. If it means pushing A-Rod a little bit harder, then so be it.
By taking advantage of the opt-out clause, Boras is making it known to Major League Baseball that owners should not take these clauses lightly. For two years' running, a major Scott Boras client has opted out when presented with the option to do so. By triggering these clauses, Boras can extort more money from owners. "Give us more money or give us an opt-out clause," he'll say in negotiations. With this bargaining chip as well as the opportunity to really cash in with A-Rod, you can bet that Boras, while not pulling all of the strings, is certainly giving his client constant advice.
Meanwhile, the Ron Villone analogy is just plain wrong. To Boras, Ron Villone is nearly a non-entity. He makes less than the league average salary and doesn't help Boras achieve any of the long-term goals he has set out for himself. If a Ron Villone says to Boras, "Keep me in New York," Boras is going to listen because he (that is, Boras) has nothing to lose. But A-Rod is a whole different beast.
Abraham may choose to blame A-Rod based upon his first-hand knowledge of Rodriguez. I can't vouch for that because I, unlike Abraham, do not have access to the Yankee clubhouse. But I do have access to an agent, and I know how the business works. You can bet that Boras had a major role in A-Rod's opting out. Definitely blame A-Rod, but don't give Boras a free pass just because he works for his clients. It's a two-way street.
BA's got the list, here's the Yanks' players:
New York Yankees (22)
Righthanders: Chris Farley, Scott Patterson, Justin Pope, Ferdin Tejeda
Lefthanders: Ben Kozlowski, Charlie Manning
Catchers: Alan Atacho, Ben Blumenthal, Jason Brown, Raul Chavez, Omir Santos
First baseman: Erubiel Durazo
Second baseman: Juan Francia
Third basemen: Mike Kinkade, Carlos Mendoza
Shortstops: Andy Cannizaro, Angel Chavez
Outfielders: Jose Cruz, Rudy Guillen, Noah Hall, Kevin Reese, Jamal Strong
They'd be stupid not to bring Patterson back, and probably should do the same with Kozlowski and Manning. All three of those guys have a chance to help out the Yanks' bullpen next year. Other than that, maybe keep Omir Santos, but it wouldn't be that big of a loss if they couldn't resign him. No one else is worth getting upset over.
Digging through the rest of the list, guys like Gustavo Molina (C, Orioles), Rodney Choy Foo (SS, Indians, love the name), Dane Sardinha (C, Tigers, Bronson's older brother), Brooks Conrad (2B, Astros), Jason Stokes (1B, A's), Dewon Brazelton (RHP, Pirates), Tripper Johnson (3B, Pirates), Jesse Foppert (RHP, Giants), ex-Yank Brandon Claussen (LHP, Nats) and Mike Hinckley (LHP, Nats) would all make good scrap heap pickups. Admittedly, I do have inexplicable man-crushes on Stokes and Hinckley, so take those names with a grain of salt.
AzFL Peoria (11-5 loss to other Peoria)
Brett Gardner: 1 for 5, 1 E (throwing)
Juan Miranda: 2 for 3, 2 R, 2 HR, 2 RBI, 1 BB, 1 E (fielding) – tied for the league lead in homers…only 1 RBI behind Matt LaPorta for the league lead
Reegie Corona: 2 for 4, 1 RBI, 1 E (throwing)
Rock 'n R-Ohlendorf: 2 IP, 1 H, 0 R, 0 ER, 0 BB, 2 K – I think that's my best nickname to date, no?
Eric Wordekemper: 1 IP, 1 H, 1 R, 0 ER, 1 BB, 1 K
HWB Honolulu (9-5 win over West Oahu)
Austin Jackson: 1 for 5, 1 R, 1 2B, 1 RBI, 2 K, 1 SB - 9 XBH in his last 8 games
Bradley Suttle: 0 for 4, 3 K
For the first 15 days following the World Series, free agents are allowed to talk to and negotiate with only their former teams. That, however, doesn't stop interested teams from using other means — like the media — to express their interest. And that's just what the Mets are doing in their pursuit of Jorge Posada.
Both The New York Post and Fox Sports' Ken Rosenthal are reporting that the Mets are prepared to go all-in in their effort to land the services of the Yankees' All Star catcher. From The Post:
The Mets have interest in Posada, the longtime Yankee catcher who filed for free agency on Monday and who would fill a position of uncertainty for the club. Paul Lo Duca has filed for free agency as well. Though Lo Duca's agent, Andrew Mongelluzzi, said yesterday the Mets have an interest in re-signing him, he is no lock to return. Either way, Posada is a more accomplished option…

The tricky issue with the Mets and Posada is that the Yankees will bid for the backstop, who made $12 million this past year. They're expected to offer him a three-year deal in the range of $40 million, and they almost certainly won't be the only other team in the hunt either, as the Marlins could be a surprise candidate. Posada loves the Yankees – he's been with them since debuting in 1995 – but does like New York, meaning the Mets could be viable if he doesn't return to The Bronx.
Right now, the Mets are talking with Lo Duca, but it's clear that Posada is the superior catcher. Now, while the Yanks are probably going to offer Posada a three-year deal with a performance-based option, if they don't wrap it up before those 15 days are over, the Mets could jump in with an offer that just might break the bank. And that is our Jorge Posada Doomsday scenario.
What happens if the Mets offer Posada a guaranteed four- or even five-year deal at $15 million a year? It's not out of the realm of possibilities. Posada would be a big name for that team, and the Mets certainly have the money.
At that point, it will be hard for the Yanks to justify a counter-offer. Posada turns 37 next year and is coming off a career year. For a catcher, that's incredibly unlikely. His career line of .277/.381/.479 makes him one of the game's best catchers over the last decade and a perennially underrated Yankee, but the Yanks, DH or no DH, shouldn't pony up $13-15 million for his services when he's past the age of 40. If the Mets are willing to assume that risk, the Yanks may have to roll the dice on finding another catcher.
Hopefully, it won't come to this. Hopefully, the Yankees will offer Jorge Posada a deal he likes and wants to sign. In my opinion, Posada will be back in the Bronx, but the Mets lurk. As much as we want to, we can't ignore them on this, another day of the tumultuous Yankee offseason.
Not to brag or anything, but River Ave. Blues currently holds the top spot on the StrikeTwo.net rankings of Yankee blogs. We'd like to thank Alex Rodriguez, Peter Abraham's new server and all of our readers for making that possible. We'll enjoy it while we can.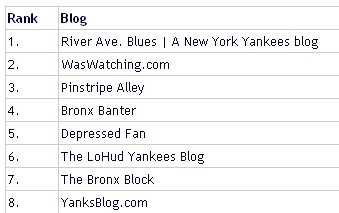 Another day, another ridiculous Alex Rodriguez story.
Buster Olney, the official ESPN writer of River Ave. Blues, has a report that states something mind-boggling: A-Rod wasn't going to even meet with Yankee officials if they didn't start their contract extension offer at $350 million. The Yanks were initially willing to go up to about $250 million for the next eight years and fell $100 million short of Scott Boras' insane demands just for a meeting.
Basically, Boras wanted the Yanks to pay A-Rod a whopping $43.75 million per year to play baseball for them. Does he really expect any team to approach that figure? And what's he going to do when he has to settle for less than the $30 million a year the Yanks were basically offering as a starting point for negotiations? With the Yanks starting the conversations at $150 million for five years, I believe they would have been willing to go up to $175 million, and Boras wouldn't even sit down to listen to these ridiculous figures.
For that money, A-Rod isn't really a good fit anywhere.
By

Well, actually, there's no trouble. Just a cheesy reference to a 1963 song. In other news, Ed Price reports that the Yankees have decided to exercise the $16-million, one-year option they hold on Bob Kelly Abreu. The Yanks' right fielder – whom they acquired in 2006 for a whole lotta nothing – will be 34 on Opening Day and, considering what else is out there, is a fine, fine choice for the 3 hole in the Yankee lineup. · (14) ·
The other day I posted a list of five prospects that I believe don't get the respect the deserve; now I'm going to look at the flipside and take a gander at five guys that I think get a bit too much hype. Now don't get me wrong, I'm not saying these guys aren't good prospects or anything like that, I'm just trying to control the New York hype monster (every fan over-rates their team's players, whether you want to admit it or not.).
The good stuff (or bad stuff, depending on your point of view) starts after the jump.