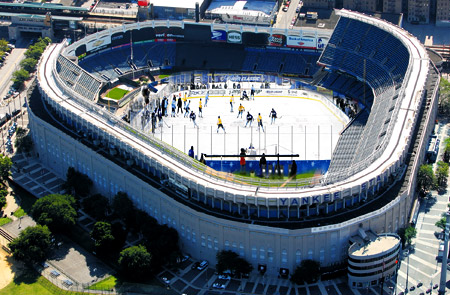 Not very much effort went into creating this photo illustration. (Courtesy of the Daily News)
In a perfect world, the last game at Yankee Stadium would be late in October this year. It would be Game 7 of the World Series, and the Yankees would of course emerge victorious. An ending like that would be an utter lovefest for the Stadiums; fans just wouldn't leave, and Frank Sinatra on repeat would be the Yankee Stadium swam song.
If my fantasy can't come true, no one other than the Yankees should be allowed to play the last live sporting event at Yankee Stadium. But if the Yankees and the NHL have their way, the New York Rangers may be the last local team to play in the House that Ruth Built, according to a report in the Daily News. John Dellapina has more:
The NHL is working with the Yankees' high command and representatives of the city to try to play a game at Yankee Stadium next winter. While there are plenty of logistical hurdles to clear, the principals are interested. "We'd love to do it," said Rangers GM Glen Sather, who is always up for a new hockey adventure.

Obviously, the NHL feels the same way. The Yankees might figure to be a bit hesitant about having the final pro sporting event at the old Stadium be a hockey game. But sources familiar with the discussions insist that the Bombers' brass is into it, with COO Lonn Trost serving as the Yankees' point man in discussions with the NHL.
The NHL has been inspired to search for other outdoor venues for games after a successful New Year's Day contest in the snow in Buffalo. Someone should probably tell the NHL that temperatures in New York in early January these days routinely reach into the lower- to mid-50s. That's hardly ideal weather for outdoor ice hockey.
While the Islanders and Devils now seem to be competing over who gets to play the Rangers in a hypothetical outdoor match-up at Yankee Stadium, I can't endorse this game. Yankee Stadium should go out with the Yankees. It shouldn't go out with a crowd watching an outdoor hockey game that's as much a marketing tool for the NHL as it is another regular season hockey game.
Hat tip to BBTF for this one.
Over at his blog today, Steve recalls a Ken Rosenthal radio interview from this morning where he says that the Blue Jays could to finish above the Yankees in 2008. This, before even pitchers and catchers have reported. So Ben and I got to thinking: There are tons of things that could happen to the Yanks in 2008. Here's our list of 10 things that could happen to the Yanks in '08.
Brian Cashman develops the ability to foretell the future. The Yankees never lose again.
Oil is discovered under new Yankee Stadium. Hal and Hank pack up their trucks and move to Beverly Hills.
Derek Jeter volunteers to move to first base, "for the good of the team."
The truth of why the Yankees never bean David Ortiz is revealed. After Joba Chamberlain beans him in the seventh inning of a tie game, Ortiz reveals his true form, Godzilla, and devours the City of New York.
In a change of heart, George says, "Ah, screw this," and orders new Yankee Stadium to be torn down, mid-construction.
Hank Steinbrenner contracts laryngitis, causing Kat O'Brien to lose her job.
Josh Beckett's arm falls off on April 1st. Marc Melancon, joining the Yankees in May, infects the entire clubhouse with a Staph infection. Devil Rays win the AL East.
Johan Santana goes 34-0 with a 1.09 ERA.
Melky hits .280/.354/.406, the exact same line put up by Bernie Williams in his age 23 season.
George Mitchell uncovers evidence of rampant steroid abuse in clubhouses around the league. "I thought this incident was limited to New York," he says. "We'll need another $4 million for a thorough investigation. Except for Boston. I can vouch for them."
By

Reiterating what The Daily News reported on Friday, ESPN notes that a Yankee source says Johan Santana trade talks are dead unless one of the Steinbrenners changes his mind. Interestingly enough, ESPN notes that the Yanks had an offer centered around Phil Hughes on the table until last week. It was my impression that the offer had been pulled in December, but the Twins knew the Yanks were willing to trade Hughes for Santana. Now, it seems that we have indeed saved the Big Three. · (18) ·
By

Orlando Hernandez and other Cuban baseball defectors were on the air in Cuba for the first time since feeling the country. In a sign of loosening policies, officials allowed a baseball documentary on the air in Cuba. The 68-minute documentary, made in 2004, looks at how players who left the island nation view their Cuban heritage. · (8) ·
When it comes to sports, baseball is my game. Now and then, I'll watch the Knicks give a pretty pitiful 48-minute attempt at playing basketball, and on Sundays, I'll usually kick back with a Giants game on. But nothing tops my love and knowledge of baseball.
I can't sit here and analyze tonight's Giants game like I could for any Yankee game. I can't reel off Giants trivia like I can for the Yankees. And I don't feel a particular love-and-death sort of relationship with Big Blue as I do with the Yankee. I can stomach a Giants loss and move on with my Sunday. But when the Yankees lose, well, the world ends. Clearly.
But tonight's game was one for the ages. Playing with in Dallas with a beat-up defense and a depleted secondary, the Giants managed to stop the Cowboys and return to the NFC Championship game for the first time since 2000. The only thing standing between the Giants and a coveted trip to the Super Bowl are the Green Bay Packers.
It certainly won't be easy for the Giants to stop the Packers, but they could do it. The Giants have reeled off nine straight road wins right now, and as John Mara said, no one even expected them to make the playoffs this year, let alone win their first two games.
The Giants have already lost the Packers once this year, but then again, they had already lost to the Cowboys twice. Maybe Eli, the only Manning left in the playoffs, can step further out of his brother's shadow and delivery the Giants to the Super Bowl. But win or lose, it's been a great run, and I was genuinely nervous and excited as the clock wound down on that last-gasp fourth-quarter Cowboys drive. And in the end, it is comforting to see a New York sports team make and win in the playoffs this year. Here's to hoping the Yanks pick up that mantle in October.
By

Hilarious:

"This is a textbook case of slander: If steroids had not injected themselves—maliciously and with premeditation—into Mr. Clemens' bloodstream on multiple occasions, people would not be accusing my client of taking steroids," Clemens' lawyer Rusty Hardin said in a statement released Tuesday.


· (4) ·
By

Via the Winston-Salem Journal, the AP is reporting that 2007 first round pick Andrew Brackman is scheduled to begin throwing from 90 feet next week. Brackman is right on target with the rehab schedule I explained in his Prospect Profile. It sucks having to wait a year to see your first rounder take part in game action, but trust me, it's better than not having a first round pick all together. The AP piece also notes that Humberto Sanchez will start throwing off a mound next month, putting him on target for game action in May. · (14) ·
By

A Brooklyn man is suing the New York Yankees, saying that their players' use of PEDs amounts to consumer fraud. Is it just me, or is this like suing for reimbursement for the money you spent going to see David Wells pitch a hungover perfect game? · (14) ·
With Congressional grandstanding comes legal games.
Right now, Roger Clemens does not have to testify in front of Congress or agree to a deposition in front of the House Oversight and Government Reform Committee. Henry Waxman and Co. have asked Clemens to cooperate, but Clemens would simply be granting Congress a favor in doing so. He has yet to be legally compelled to testify.
And guess what? It doesn't sound like he's too keen to come forward on his own. T.J. Quinn has the story:
After saying repeatedly that Roger Clemens will answer any questions Congress wants to ask him, a source familiar with the inquiry said Saturday night that attorney Rusty Hardin is hedging over the House Oversight and Government Reform Committee's request to depose Clemens under oath next week because it might interfere with his defamation lawsuit against personal trainer Brian McNamee.

The source said Hardin is also making "noises" about not turning over a taped conversation between McNamee and two investigators for Hardin's office recorded Dec. 12, the day before the Mitchell report was released.
Raise if your hand if you're surprised. Exactly.
While tales of reported abscesses on Clemens' buttocks may end up throwing McNamee's credibility into doubt, I'm not at all surprised that Hardin would opt not to have Clemens testify in front of Congress. Our esteemed legislative body isn't the tightest lipped organization, and Hardin wouldn't want his legal strategy plastered all over the pages of the nation's newspapers. On the surface, this does represent an about-face for Hardin who said that Clemens would definitely testify at a hearing, but a deposition may hold more legal weight.
Meanwhile, Quinn's sources say that nothing has been decided yet. Clemens may yet agree to be deposed or Congress could resort to a subpoena. No one knows. For a change.
From the Canadian Press. Why they're writing about the Yankees in January, I don't know.
"I try to avoid the rumours best I can, but you eventually here it from friends, family and the whole deal," Hughes said after working out Friday at the Yankees' minor league complex. "You never want to hear your name out there, but on the other side, at least it's good to know that other teams think highly of you. I wouldn't say tough winter, but definitely an interesting one."
That's right; Phil Hughes is already in Florida working out at the Yankees' minor league complex. That's devotion, dedication and drive any Yankee fan has to love. The Press notes that Hughes wants to work off a mound before Feb. 14 and wants to get in "four or five bullpens." And that is just one of the reasons why we love Phil Hughes.