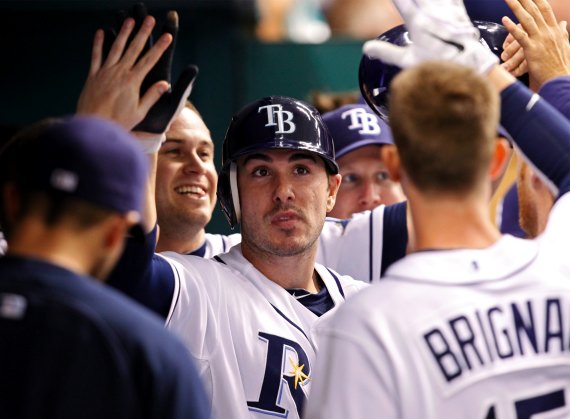 The Yankees conclude their first tour of the AL East with a series against the Rays. In a way the Yankees couldn't head down to Tampa at a better time. They could certainly use an escape from New York, and, well, it's hard to imagine them playing any worse. If you're going to turn things around, might as well do it against the team that leads the division.
What the Rays Have Done Lately
At 23-17 the Rays currently lead the East, but that doesn't quite describe how they've played lately. They started the season 0-6 and 1-8, so it's been quite a run back from the bottom. The best part for them, perhaps, is that the wins didn't come in one burst — that is, it's not as though they got lucky for a stretch. They have two five-game winning streaks, a four-gamer, and a pair of three-game ones. That's enough to help smooth over a rough start. Though, to put an arbitrary end point on it, they are 3-3 in their last six, including 0-2 during the weekend. So there's that.
Rays on Offense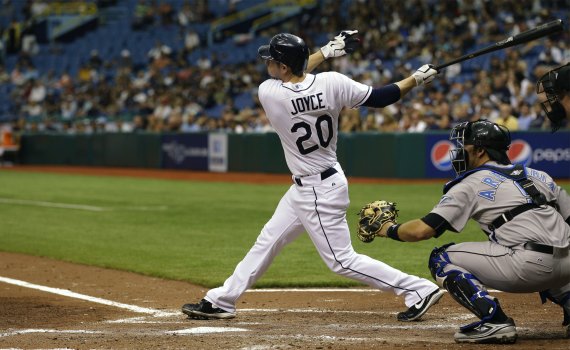 While the Rays have scored runs at about a league average clip, they have seen some standout performances. For instance, Ben Zobrist is back into beast mode, hitting .288/.369/.568 on the season. To make things even crazier, since April 24 he's hitting .394/.471/.718. He might not be as good as he was in 2009, but he's also better than he showed in 2010.
Helping out, especially when they missed Evan Longoria for a few weeks, has been Matt Joyce. He's currently at .368/.424/.615, and since April 28th that's .463/.508/.870 in 63 PA. If that weren't scary enough, Longoria is now back, and he hasn't missed a beat. In his 52 PA since returning he's hitting .295/.404/.568. That gives the Rays a powerful punch in the middle of the lineup. Even Casey Kotchman has helped out, hitting .341/.411/.424 (29 hits, 24 singles) in his 95 PA.
Yet for all the hot hitters the Rays have, they have little else going for them. John Jaso's OBP is under .300, which is a problem, because Jaso's sole value is in his ability to get on base. Reid Brignac's batting average is not only below the Mendoza Line, but his OBP is approaching it, too. Sam Fuld has cooled down from his torrid start, while Johnny Damon still hasn't gotten much going. Don't be fooled by B.J. Upton's line, though. He's at .311/.354/.557 in his last 65 PA, and he's probably a bit better than his overall line indicates. Tough stretches — Upton went 8 for 53 at one point — look worse on the stat line at this time of year.
Rays on the Mound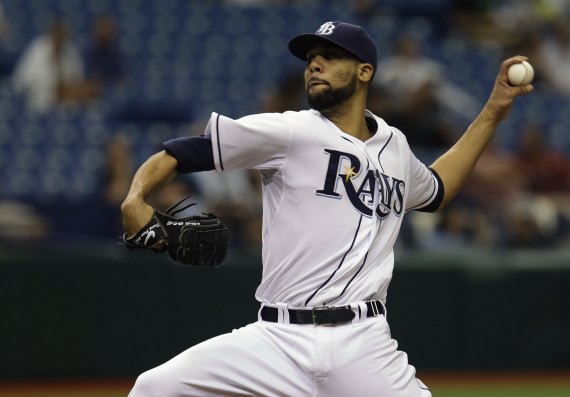 Monday, LHP David Price. While Price has no complete games this year, he has completed at least eight innings on four occasions, and has been generally awesome in those outings. This includes his previous two, when he took down Toronto and then Cleveland, combining to pitch 16.2 innings and allowing just three runs while striking out 17 and walking none. In fact, avoiding the walk has been the biggest change for Price this year. He has just nine of them in 57.2 IP, which is 1.4 per nine. Last year he walked 3.4 per nine.
The bad news is that doesn't mix well with the Yankees, a patient team. The good news is that when they've faced pitchers whose weaknesses are their strengths, they've faltered. Maybe there's reversal of fortune potential here?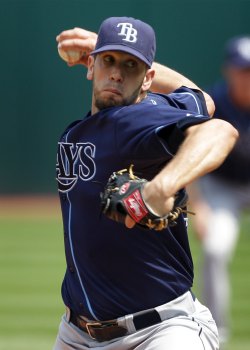 Tuesday, RHP James Shields. If I've grown sick of one sight this season, it's the Yankees swinging over off-speed and breaking pitches. It's not as though this is something new, though. Last year they did that a lot, against Shields in particular. The one game that comes to mind is August 1, 2010, when he struck out 11 Yankees in 7.1 IP. There was also his 6.1 IP, 8 K game in September. On the bright side, the Yanks did knock him around most of the other times they faced him, so he's not unbeatable.
As with Price, Shields has avoided walking batters this year, just 13 in 60.2 IP. His strikeout rate has settled somewhere between last year's and his career, and he's actually getting more ground balls and, therefore, allowing fewer home runs. He has also completed two games this year and has gone into the eighth on three other occasions. While Price is the ace of the staff, Shields isn't far behind with the way he's currently.
Bullpen: Looking at the Rays bullpen in the aggregate, they have a slightly lower ERA, but higher FIP and xFIP, than the Yankees. Of course, they've pitched 14 fewer innings, which wouldn't be a huge margin if the Yankees hadn't played fewer games. While things have certainly gone well so far, forgive me if I don't have a ton of confidence in a bullpen helmed by Kyle Farnsworth. It might not be the worst in the league, but part of the reason it's so good is that the rotation has made it less necessary. That's the mark of some great bullpen work, really.
Recommended Rays Reading: The Process Report and DRays Bay.