The more things change, the more they stay the same. We're now less than three months away from the draft, but there hasn't been enough time for any major developments to … uh … develop, so the best draft prospects from last month are still the best draft prospects this month. Keith Law posted his updated list of the top 50 prospects yesterday (Insider req'd), and had UCLA RHP Gerrit Cole jumping ahead of Rice 3B Anthony Rendon as the top talent. There's not much of an argument against that ranking right now, Cole's showing three knockout pitches every Friday while Rendon is battling shoulder issues that have limited him to mostly DH duty. They're both premium guys, but for now, Cole's in the lead.
TCU LHP Matt Purke fell a handful of spots because he's been battling blister issues and his stuff hasn't been as crisp this year as it was last, so I've got my fingers crossed that the slide continues and he's available when the Yankees' first pick comes around. Personal fave Taylor Guerrieri has gone from a second-ish round guy to the best high school right-hander in the country, so the Yanks' won't be getting a shot at him. For shame.
The Yankees' first pick doesn't come until number 51 overall, in case you've forgotten, which isn't exactly a high-end slot. That doesn't mean its doomed for failure though. I went back and looked at the list of players taken there throughout the 45-year history of the amateur draft, and then I did the same thing for their next three picks as well. Here are the results, which are for your information only and are not intended to be some kind of analysis of the caliber of player the Yankees could land…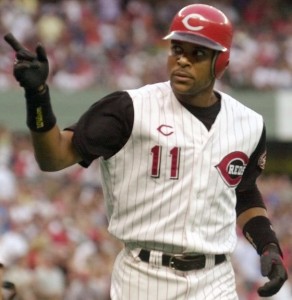 First Pick, #51
The most productive player ever taken with the 51st overall pick is a Hall of Famer, or someone that should be in the Hall of Fame, anyway : Barry Larkin. It's a major, major drop-off after that, with guys like Chris Haney and Rocky Biddle representing the familiar names. As for recent prospects, there's Anthony Gose (part of the Roy Oswalt swap) and personal fave Jeff Locke (part of the Nate McLouth trade), but Larkin's it, the one legit, long-term big leaguer to be taken 51st overall.
As for the 52nd and 53rd overall picks, since those players were available at 51 as well, you've got Carl Crawford, Gary Carter, Andy Messersmith, Sean Casey, Ryan Sweeney, and Pirates' farmhand Stetson Allie. That's a fine group right there.
Second Pick, #88
Kirk McCaskill, who spent a dozen completely unspectacular seasons in the big leagues in the mid-80's to mid-90's highlights this pick, but after that you've got bit pieces like Alex Cora and Eli Marrero. Yikes. There are a few interesting prospects running around that were taken 88th overall, led by Robby Rowland of the Diamondbacks (2010). This pick has historically been a bit of wasteland, but go up to the 89th pick and you're looking at Justin Morneau, Nick Johnson, Chris Young (the pitcher), and then some guy named Randy Johnson who is probably the best left-handed pitcher most of us will ever see. Of course that was when the Braves drafted him out of high school, not when the Expos drafted him out of college. Imagine RJ with Greg Maddux, Tom Glavine, and John Smoltz. Wowza.
Third Pick, #118
The biggest name here (to date) is Mickey Tettleton, but the Rays took this spot in 2005, added an above-slot $500,000 bonus, and landed themselves a frontline guy named Jeremy Hellickson. The Angels drafted and failed to signed eventual seventh overall pick Matt Harvey here four years ago. Sal Bando and Todd Stottlemyre highlight the history of the 119th overall pick, and number 120 is complete barren unless you happen to be a Mickey Morandini fan.

Fourth Pick, #149
There's some premium names here (emphasis on name), specifically Michael Young and Deion Sanders, plus a few recent and interesting prospects like Jason Adam (Royals), Jeff Samardzija (Cubs), and Brandon Allen (ChiSox, now with the D'Backs). The Yankees have some history at this pick as well, taking Zach Day here back in 1996. He was eventually packaged with Ricky Ledee and Jake Westbrook for David Justice, who put on a Superman costume for half-a-season in 2000. Dan Hudson and Mike Marshall are the only noteworthy players taken with the following two picks.
* * *
Like I said, don't read much into this at all, it's an exercise in history more than anything else. It has zero predictive value. Every draft class is different, and the way teams draft today is considerably different than the way they drafted five years ago and worlds different than the way they drafted ten years ago. Having to wait 50 picks before your first selection is a pretty big handicap, but there's always talent to be had, it's just a matter of finding it.