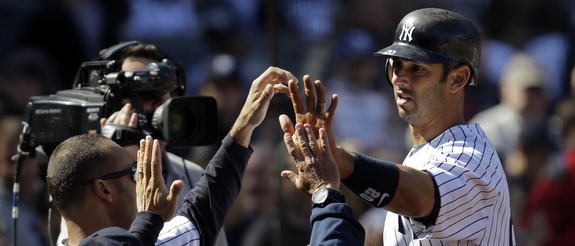 The first series of the year is officially in the books, and the Yankees did all you could ask them to do: they won it. Win a lot of series, and you're going to enjoy a very successful season. The pitching hasn't been very good, but that appears to be an epidemic around the league at the moment. I blame El Niño. The offense is kicking ass and taking names, except for the the two guys batting first and second, ironically enough. The Twins are coming into town next, and we all know how those series tend to play out. Just keeping winning series, that's all we ask.
Anywho, here is tonight's open thread. The ESPN Sunday Night game has the Giants at the Dodgers (Zito vs. Kuroda), plus the Knicks and Nets are in action. Talk about whatever you want, go nuts.
Site Update: Just so you don't miss it, The Banuelos Watch is now up in the far right sidebar, right underneath our names and email addresses. The four full-season minor league affiliates kick of their seasons on Thursday.