Player
WPA
Pitcher
WPA
Matsui
.189
Pettitte
.172
Jeter
.081
Proctor
.004
Minky
.052
Henn
.001
Alex
.051
Damon
.033
Posada
.008
Melky
.000
Phelps
-.001
Abreu
-.008
Giambi
-.035
Cano
-.047
On the heels of a victory stolen, the Yanks fired back against the always vulnerable Texas Rangers, beating up on Mike Wood en route to a 8-2 win. It was a great game to watch — we got solid starting pitching and some life out of the bats. Combining those will lead to wins nine times out of 10, making me a bit more optimistic about the rest of the season. Unfortunately, we have precious few games left against the Rangers.
Before I jump into the main points of the game, let it be said that the scorers screwed Matsui. Third inning, runners on first and second, two out, Matsui up with the score tied at one. After being issued two balls, he laid into one and drove it to right-center. Jerry Hairston (who, in addition to being named in the most recent HGH scandal, cannot play center field) raced over to make a play, but wasn't able to get there in time. Instead of giving Matsui a triple, they scored it an error on Hairston. I really don't know what the scorers were thinking. The play was basically right in front of me, and I just assumed it was a triple. The box score says differently. I think they're wrong. Am I?
Finally, Dougie-do-nothing is doing something! He continued his hot streak — obviously caused by this image — knocking two singles and driving in Jorge with a sac fly. He's hurdled the Mendoza line (though, to be fair, he did that Monday with his two doubles), and maybe, just maybe he can reach the levels at which he hit last year. However, since he's done so well while we've been bashing him, my official statement is, "Doug, you suck. You have no place on this team. Go back to the Red Sox."
I know life in the minor leagues can be rough, with the long bus rides, crappy hotels and baseball groupies (well, maybe that last part ain't so bad), but no team should ever have to play a doubleheader when the first game starts at 6 pm. Double-A Trenton did just that tonight.
Triple-A Scranton (3-1 win over Pawtucket)Â 
Kevin Reese: 1 for 4, 1 R, 1 2B, 1 K
Andy Phillips: 2 for 4, 1 R, 1 HR, 3 RBI – he's killin' it,  clearly the best hitter in the Yanks system so far this year…
Eric Duncan: 0 for 3 – you know what, his numbers really haven't been THAT bad this year…
Shelley Duncan: 0 for 3, 1 K
Bronson Sardinha: 1 for 3, 1 K – 8 for his last 37, but 10 RBI in that span
Alberto Gonzalez: 0 for 3, 1 E (throwing)
Steven Jackson: 7.1 IP, 4 H, 1 R, 1 ER, 1 BB, 5 K, 1 WPÂ - best start of the year BY FAR
Ron Villone: 1.2 IP, 0 H, 0 R, 0 ER, 0 BB, 2 K
By

Well, it took only 16 games of Bobby Abreu's producing at a .179/.273/.224 clip but Joe Torre finally moved him down in the lineup. Some Supreme Being must have threatened to smite Torre to get him to make a change that should have been made, oh, a week ago. · (6) ·
By

He used to be good, but now he's just a big fucking hack. How ESPN let's one of it's "personalities" be so blatantly biased is beyond me. I'm having a FJM moment, so forgive me. From the Sports Guy's blog: As for Clemens signing with the Yankees, I was surprised by my lack of emotion as I watched him pull a Jimmy Chitwood and address his forgiving lapdogs at Yankee Stadium (who seemed perfectly willing to forget that Clemens screwed them over a few years ago by fleeing to Houston). Wow, lapdogs perfectly willing to forget that he screwed them over? If he didn't mention Clemens by name, you'd think he was talking about Epstein. I didn't really care. I swear, I didn't care. In fact, Simmons cared so little about the Rocket signing that he drummed up an 840 word blog post about it. In fact, here are 10 reasons I'm happy the Rocket signed with the Yankees. Oh boy, here it comes… 1. There's finally a villain on the 2007 Yankees. Just like the good old days. I was tired of talking myself into despising A-Rod and Posada. I know, it's hard to root for guys who fight with THEIR MASKS OFF. 2. Since he didn't sign with Boston, I wasn't put in the position of (A) having to boycott his starts and (B) feeling constantly sick because so many Red Sox fans would have been perfectly willing to forgive him if he came back. Forgive him? It was your incompetent owner who felt the team would be better off without a guy who won 192 games in 10 years… This would have been awful. I would not have handled it well. Now I get to look forward to the possibility of Clemens pitching in Fenway in three weeks while the entire crowd chants, "H-G-H! H-G-H! H-G-H! H-G-H!" Much better. I guess Sully O'Tool and Smitty O'Sully don't have the brainpower to formulate chants that involve more than 2 alternating letters. And please, if you want to talk PED's, take a gander at that fat fuck you have at DH… 3. He burned his bridges with yet another city (Houston). Love when that happens. You're right, they'd never take him back. 4. Watching the inevitable "Brokeback Mountain" parody trailer on YouTube with Clemens and Andy Pettitte. It hasn't happened yet, but you know it's coming. Oh ha ha, a gay joke. He must not have seen this. 5. If he'd signed with Boston, between Dice-K Mania, 5.45 ERA… Beckett's quest for 30 wins If only every pitcher could face the offensive juggernauts that are the Royals, Mariners, Angels, Orioles and A's 5 out of every 6 starts… and the return of the greatest Red Sox pitcher ever, Curt Schilling Oh no he didn't. The only time that fat fuck ever won anything was when he played second fiddle to Randy Johnson and Pedro Martinez, two guys with real Hall of Fame resumes. Bill, make sure you wipe your lipstick off Curt's ass before you roll him back into the ocean. might have snapped from a lack of attention — we could have seen him break a baseball bat over a Japanese photographer's head just to grab the spotlight again. Glad we avoided this. 6. Honestly? I don't think Clemens will be that good for the Yanks. A Sawx fan that doesn't think Clemens will be good for the Yanks? Way to be original Sports Guy. Settin' the bar nice and high… He turns 45 in August and has been pitching in an inferior hitting league for the past few years. Read Joe's 4th full paragraph. Physically, it just doesn't add up. He's defying the career paths of every other pitcher in the the history of baseball … I mean, even a freak of nature like Nolan Ryan started to break down in his mid-40s. Yeah, the guys who played into their mid-to-late 40′s, you know, the Nolan Ryan's and Satchel Paige's and Warren Spahn's of the world really didn't amount to much…except Hall of Famers. How is Clemens still chugging along? How? Hard work baby. The whole "I need a month to get myself back into playing shape" thing is irrelevant apparently. I just feel as though the odds of Clemens either breaking down or becoming involved in a massive scandal seem to be much greater than the odds of him continuing to be an elite pitcher. And if he stinks … it's going to be glorious. Just glorious. When Will Ferrell used the word "glorious" in Old School, it was funny. Five years later though, not so much. 7. The Yankees' clubhouse is already fragile enough … now they're adding a guy who abides by his own sets of rules, A guy who abides by his own rule huh? Has he never heard of this? flies back home after every start, drags his kids around with him like Michael Jackson, And now a pedophile joke…fun-ny. and comes and goes when he pleases? Sounds like a recipe for disaster, doesn't it? If he struggles out of the gate, the Yankees' fans will turn on him faster than the WWE fans turning on John Cena during a pay-per-view. A wresting reference? He just confused every non-junior high aged male who's reading… 8. We're coming closer and closer to my dream of Clemens' Hall of Fame plaque featuring a cap with a dollar sign on it. I feel as if that's a genuine possibility at this point. Yeah, guys who play for the money are such douchebags. 9. The Red Sox spitefully giving No. 21 to someone else this season, preferably the worst pitcher on the team. In fact, I vote that they bring Rich Garces back, feed him burritos until he passes the 400-pound mark, then squash him into a No. 21 jersey and hire him as the bullpen coach. Better yet, why not give Garces #21, stick him in the bullpen, and watch the dumbfounded look on your face in a mirror when you realize he's your best middle reliever. 10. Looking forward to an entire season of e-mails like these … Ooooooooooooh boy. Should I pick on his minions? Yeah…… RC in Guatemala City: "So let me get this straight … we're supposed to be scared of the Yankees hiring a 45-year-old fat dude with groin problems? Really?" So let me get this straight … we're supposed to be scared of a 22-year old who had a 4.76 ERA last year with cancer? Really?? Jason T. in Maine: "I'm happy Roger is going to the Yankees. Trying to bring him back to Boston made me feel like Forrest Gump at the end of the movie. You know, when Jenny, the used-up coke fiend, came back to Forrest to die of AIDS after screwing half the continent. After the last two series, the amount of hate for the Yankees, at least in my heart, was in serious decline. Now I feel reinvigorated, full of hate for all things pinstriped." …this dude's got issues… Gary in Somerville, Mass.: "I thought you were nuts last year when you were openly hoping that Roger didn't come back to Boston. But after he dangled himself in front of the Yanks, Sox and Astros AGAIN this year I snapped out of it and realized that some things just aren't worth another championship. That grotesque display today IN THE MIDDLE OF A GAME told me I made the right choice. Am I the only one that finds this Clemens/Pettitte thing more than a little odd? I can imagine that when Roger told his wife that he was going back to the Yankees she had the same look on her face that Michelle Williams did when Heath Ledger told her he was going 'fishing' with Jake Gyllenhaal." The difference between the Red Sox and the Yanks: Hall of Famers announcing their return to the team in front of 55,000 screaming fans is considered "grotesque" only by the former. And was that another Brokeback Mountain reference? Great homophobic minds think alike… John F. in Kansas: "This is historic … who ever heard of a rat jumping ON a sinking ship?" Now that one's clever. Made me giggle a bit. It'll be even funnier when the Yanks win the AL East. Again. For the 10th year in a row. · (24) ·
By

I guess I need to check my work. Here's Kyle's breakdown when pitching back-to-back days last year: April 4; April 5 – 1 ER April 14; April 15 – 0 ER April 26; April 27 – 0 ER May 15; May 16 – 0 ER May 23; May 24 – 0 ER May 28; May 29 – 0 ER; May 30 – 1 ER (but that's the third day) June 1; June 2 – 0 ER June 27; June 28 – 0 ER July 7; July 8 – 0 ER; July 9 – 0 ER (third day in a row with no earned runs) July 18; July 19 – 0 ER August 8; August 9 – 4 ER (shoulda checked my work before I posted that) September 16; September 17 – 1 ER Okay, so I missed three games: April 5, August 9 (and how could I forget THAT game?), and September 17. That's 12 appearances (apparently I did count the third straight days in my initial count – apologies again), and only thrice did he allow a run. Maybe it's not as appalling as I had made it out to be at first. But looking at this, would you say he's had trouble pitching back-to-back days? I wouldn't. He did it nine straight times before August 9. That's where the myth began, I believe, since it only happened once the rest of the season. One again, apologies for rushing that post up without checking my work. I still think I have a valid point, though not as emphatic as I thought it was yesterday. · (1) ·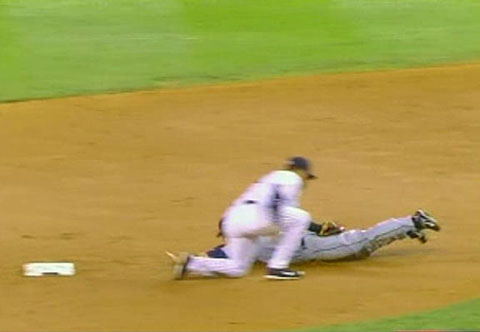 Willie Bloomquist said it best. "We'll take it," he said. "It's just a good thing there's no instant replay in baseball." Which, of course, raises the obvious question: Why is baseball so averse to instant replay?
Meanwhile, Peter Abraham notes that the umpire admitted his mistake. "I kicked the shit out of it," Gerry Davis said. He ought to be suspended for this call. It's an inexcusable inability to do his job.
If the baseball powers-that-be had any sense of justice, they would order this game replayed from the top of the 8th without the blind Gerry Davis on the field. But that won't happen. So what can we do (other than tar and feather Mr. Davis)?
The truth is, the Yankees managed to put 14 runners on base but eked across just two runs. You can blame a bad call for the blown game. Sure, the bad didn't help. But I want to blame Bobby Abreu.
Bobby Abreu, who hasn't hit lower than 3rd since April 20th. Bobby Abreu who is 12 for 67 (.179) with 4 RBIs since April 20th. Bobby Abreu who left seven runs on and struck out looking in the bottom of the 9th with the tying run 180 feet from the plate. Bobby Abreu who shouldn't be batting third and yet keeps landing there because of the Joe Torre's pencil can't figure out a way to get Hideki Matsui or Jorge Posada into that three hole. Hell, at this point, Doug Mientkiewicz is hitting .100 points better than Bobby Abreu since April 20th. Someone wake up the sleeping manager.
But blown calls and missed opportunities aside, I want to leave you with one question that has to be asked: Now can we start worrying about Mariano Rivera?
So how 'bout that Matty DeSalvo character? Mighty indeed.
But man, come on ump!
Kei Igawa to Single-A? Daaaaaaaaaaaaamn.
Triple-A Scanton (2-1 win over Pawtucket)
Chris Basak: 1 for 4, 1 CS
Eric Duncan: 1 for 3, 1 BB
Shelley Duncan: 0 for 0, 1 R, 3 BB – I believe that 0 for 0 is a DotF first…
Bronson Sardinha: 1 for 3, 1 R, 1 HR, 2 RBI
rest of lineup: 0 for 17, 6 K
Tyler Clippard: 7 IP, 5 H, 1 R, 1 ER, 3 BB, 9 K – 2 strong starts in a row…
By

Michael Kay just infuriates me. Kyle Farnsworth comes on to pitch the eighth, and Kay says that Farnsworth doesn't pitch well on back-to-back days. I bet Michael Kay never looked at Kyle's game log from last year. If he did, he would see that Farnsworth pitched back-to-back days 14 times last year. In the second of those games, he allowed zero runs. As in not any. Not one. He did get jacked up once when he pitched three games in a row, in the third game. But he did not allow any runs in the second of that set. Of course, Farnsworth gives up a run on a broken-bat single, a bullshit steal, and a single. He pitched plenty well, but he's still going to get shit for it. Amazing. Update: I'm wrong, but not as wrong as Kay. I've posted my correction above. · (7) ·
Lamest. Title. Ever.
But who really cares. Joba Chamberlain is on the mound for the High-A Tampa Yanks tonight.
You'd be hard pressed to find a better 1-2 punch on one team in the minors than Ian Kennedy-Joba right now.
Update: He's outta the game, here's what the big guy did:
4 IP, 3 H, 1 R, 0 ER, 0 BB, 5 K – if you haven't been keeping track, his career K/BB ratio is now 51-3 as a pro…