Over the next week or two or three, we're going to recap the season that was by looking at what went right as well as what went wrong for the 2010 Yankees.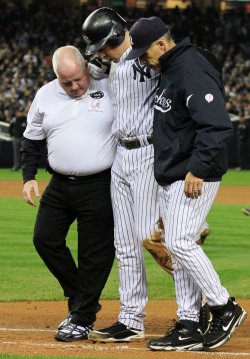 April struggles are no stranger to Mark Teixeira. In his career he has a .329 wOBA in April, easily his worst month of the year. He makes up for it in the following five months, producing at an elite level. We saw him do that in 2009, which left us with faith that he would do the same in 2010. Unfortunately, his season did not unfold in a similar manner.
For all that's made of Teixeira's early season woes, it is actually something that developed fairly recently. In 2004 he had a .422 wOBA in April, but then dipped in May to .323. In 2005 his .347 April wOBA surged to .416 in May and .419 in June. The next year he posted a .375 wOBA in April. Even in 2008 he had a .341 wOBA in April — not up to his normal standard, but certainly better than what we've seen lately.
Teixeira's first April in New York actually didn't go that poorly, or at least not as poorly as it felt at the time. While a .330 wOBA is low for him, it's not terrible. His problem, unsurprisingly, was the inability to hit the ball on a line. He had a mere 11.9 percent line drive rate and a 57.6 fly ball rate. That poor contact led to a .196 BABIP. But after he got into a groove he started to hit the ball much better, raising both his line drive and ground ball rates. That led to more hits and more power.
When Tex again struggled in April 2010, it was easy to write it off as a repeat of 2009. In fact, there were indicators that he might make an even better recovery. While his numbers were worse — an abysmal .270 wOBA — his hit tendencies were a bit better. He hit 19 percent of balls in play on a line and just 39.7 percent in the air, but still had a .148 BABIP. Yet that recovery took a while. And once it did kick in, Tex hit further troubles.
May started with a bang. Teixeira went 6 for 9 with a double in the first two days. A few days later he hit three home runs in a game against Boston (though one, to be fair, was off non-pitcher Jonathan Van Every). But the slump resumed shortly thereafter. After he went 0 for 4 with three strikeouts in a game against the Mets reporters flooded to his locker and asked what was wrong. Tex took it as well as he possibly could have, but his struggles were undeniable. He didn't help his case with another good, but not to Teixeira standards, month of June.
Recovery was in the cards, but it would be short lived. Teixeira went berserk in July, 33 for 96 (.344) with 20 walks (.462 OBP) and 18 extra base hits (.698 SLG). August was another quality month, .289/.355/.629 (.411 wOBA). The team streaked towards the end of the month, and it appeared as though they would soar to another AL East title. But then the injuries happened.
At the end of August he missed a day with a thumb injury; the team admitted that he wouldn't fully heal until the off-season. Then in mid-month he fractured his little toe. That caused him to overcompensate, which led to knee inflammation. It's unclear whether that was a big factor in his season-ending hamstring strain, but the cascade does make sense. Teixeira, for his part, produced a mere .312 wOBA in September, his power noticeably absent. In the playoffs he did hit a big home run in Game 1 of the ALDS, but after that he went just 2 for 22, both singles.
Even the best players have down years. It's unfortunate that the Yankees experienced them from their Nos. 3 and 4 hitters, but that will sometimes happen. The good news is that one down year does not render a player useless in the future. After an off-season of recovery and reflection Teixeira will be back in 2011, and I expect he'll return to his normal production. And who knows: maybe he'll produce in April as he did in 2004 and put together a career year.