Yesterday afternoon I put together a requiem for an offseason gone awry, analyzing the starting pitchers on whom the Yankees missed out on and analyzing their PECOTA projections for the 2011 season. The offseason is nearly complete now. 1 more sleep, 1 more sleep and it's all over. In recognition of that, what follows is an examination of possible trade targets for the Yankees this summer. Some of these pitchers have been explicitly mentioned in trade rumors; others are merely speculatory subjects. All of them are intriguing trade options, and Baseball Prospectus' PECOTA system can help formulate expectations for the coming year.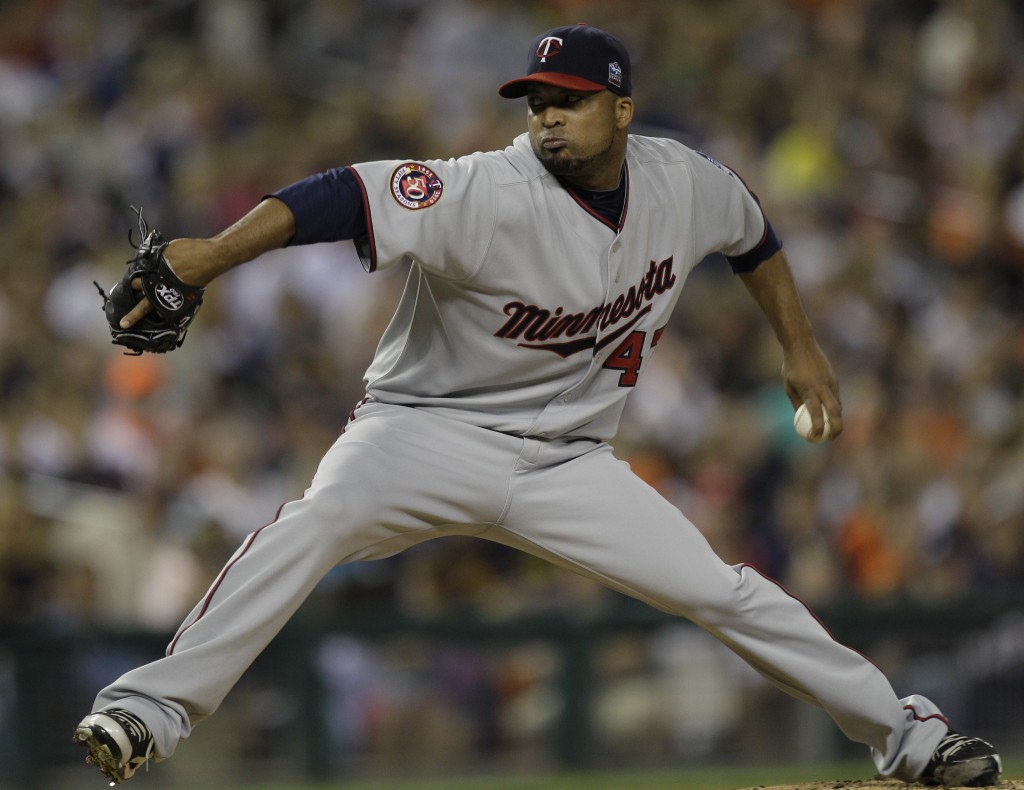 Francisco Liriano
2010: 191.2 IP, 3.62 ERA, 2.66 FIP, 9.44 K/9, 2.72 BB/9, 3.47 K/BB, 53.6 GB%.
2011 PECOTA projection: 161.9 IP, 3.75 ERA, 3.40 FIP, 8.30 K/9, 3.30 BB/9, 2.53 K/BB, 46.40 GB%.
Francisco Liriano's 2010 campaign was nothing short of dominant. It's rare to see such a combination of strikeout-heavy stuff, excellent control and a scorched earth of groundballs. As Mike put it a few days ago, Liriano is one of the best 10 pitchers on the planet, and he showed it in 2010. PECOTA sees a lower ground-ball percentage for Liriano in 2010, below 50%, which represents the half way mark between his 2009 and 2010 campaigns. However, statistically speaking 2010 was most similar to Liriano's 2006 season, before he was injured, and in 2006 Liriano registered a 55.3 GB%. This might suggest that when Liriano is "on" and has all his pitches working, he'll be a groundball machine.
Oddly, Liriano had a remarkably high BABIP in 2010, .336, a figure that goes a long way towards explaining the nearly full run discrepancy between his ERA and his FIP. In 2011, PECOTA projects this number to fall slightly, to .315. As I noted yesterday though, the Twins swapped out JJ Hardy and Orlando Hudson for Alexi Casilla and Tsuyoshi Nishioka. Hudson has a record of solid defense, and Hardy is a defensive wizard, so it remains to be seen how the defensive downgrade in the middle of the infield will affect the ground-ball heavy Liriano.
Ultimately PECOTA projects Liriano to come back to earth a bit in 2011. It's not a surprise; with regression-based projection systems it's rare to see outlandishly good statistical lines. His projection is certainly nothing to be ashamed of though. The takeaway is that PECOTA expects Liriano to be very effective if he can stay healthy.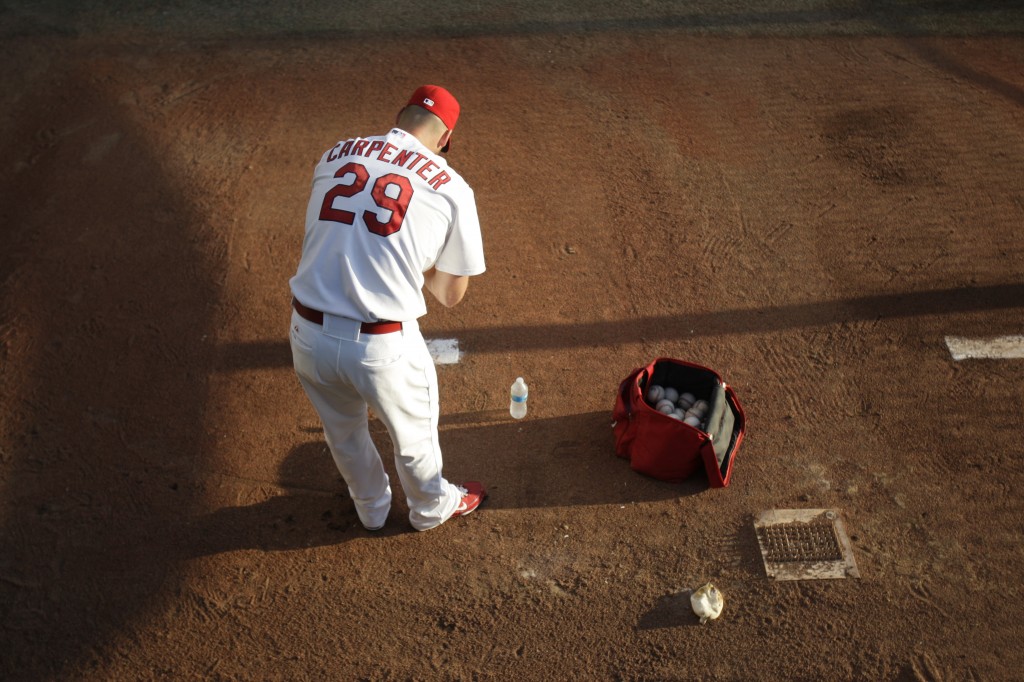 Chris Carpenter
2010: 235 IP, 3.22 ERA, 3.69 FIP, 6.86 K/9, 2.41 BB/9, 2.84 K/BB, 51.1 GB%
2011 PECOTA projection: 136.7 IP, 3.21 ERA, 3.47 FIP, 6.20 K/9, 2.40 BB/9, 2.61 K/BB, 50.8 GB%.
Carpenter essentially missed all of 2007 and 2008 after undergoing Tommy John surgery, but has found his stride since returning. His 2010 IP total of 235 represents his second-highest mark in his career, and while he wasn't as dominant in 2010 as he was in 2009 (2.78 FIP, 55.0 GB%) the season was still very good. PECOTA likes Carpenter's odds to replicate his 2010 level of performance, but isn't optimistic about his ability to make 35 starts. Injuries are difficult to predict, but it's worth noting that Carpenter has had serious injury in the past and will be 36 years old by the time the trade deadline rolls around. Marcel is more optimistic than PECOTA, projecting him to throw 197 innings of 3.50 FIP ball.
Whether the Cardinals will make Chris Carpenter available is an open question. Given the unfolding drama of the Albert Pujols negotiations and the fierce competition they'll face in the NL Central from the Reds and the Brewers, it could be a very tough summer for the team. It's hard to imagine them punting on the year and moving Carpenter at the deadline, especially if they're still trying to convince Pujols to stay, but weirder things have happened. If he's healthy and available Carpenter would be a great fit behind CC Sabathia in the Yankee rotation.
Gavin Floyd
2010: 187.1 IP, 4.08 ERA, 3.46 FIP, 7.25 K/9, 2.79 BB/9, 2.60 K/BB, 49.9 GB%
2011 PECOTA projection: 190.7 IP, 4.24 ERA, 4.30 FIP, 6.90 K/9, 3.10 BB/9, 2.25 K/BB, 45.6 GB%
This projection is a bit surprising. PECOTA isn't bearish on Floyd's ability to stay healthy, it's bearish on his ability to be as good as he's been in the past. The projection is more similar to Floyd's 2008 line of 206 IP, 4.77 FIP, 6.32 K/9, 3.05 BB/9 and 42.1 GB%. Floyd has been better in both years since, rattling off FIPs of 3.77 and 3.46, strikeout rates of 7.60 and 7.25, and walk rates of 2.75 and 2.79. Yet the projection system doesn't seem confident in his ability to maintain a nearly 50% groundball rate. Given his lower career averages this is understandable, but whether his increased groundball rate in 2010 was a fluke or the product of pitcher maturation or an alteration in pitch selection or location is something that warrants more study.
The Marcel projection system is slightly more bullish on Floyd, seeing 173 innings of 3.80 FIP ball with a strikeout rate of 7.18 and a walk rate of 2.86. Given that Floyd is entering what should be his prime as a pitcher, I would tend to side with Marcel here. The CAIRO system splits the difference between the two, seeing 183 IP of 4.07 FIP ball with a 6.98 K/9, a walk rate  of 2.80 and a a 47.1 GB%.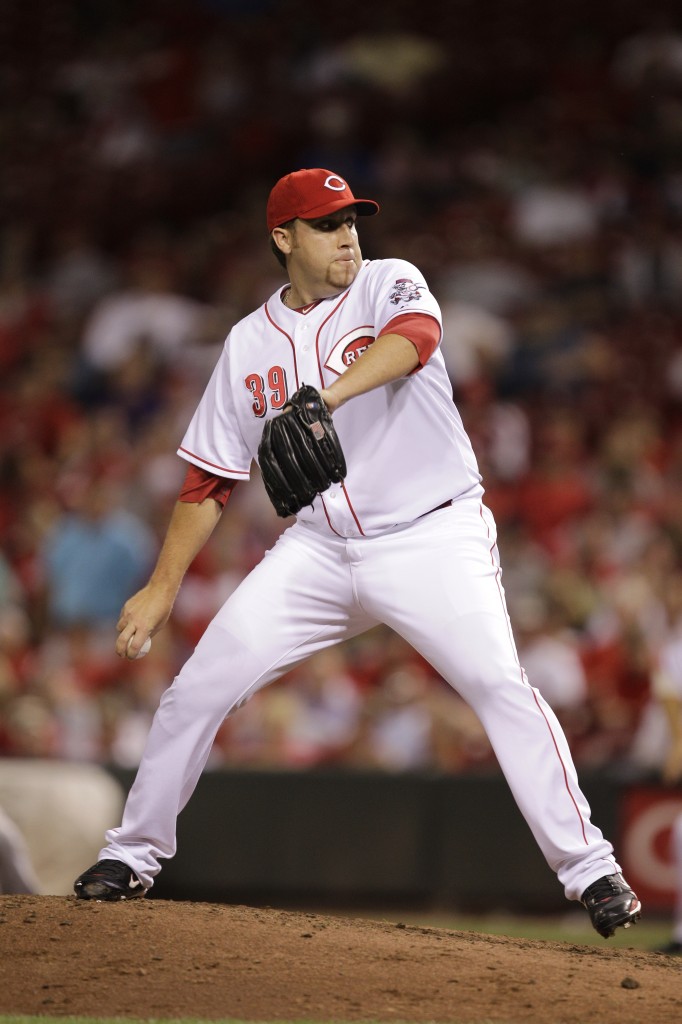 Aaron Harang
2010: 111.2 IP, 5.32 ERA, 4.60 FIP, 6.61 K/9, 3.06 BB/9, 2.16 K/BB, 36.8 GB%
2011 PECOTA projection: 189 innings, 4.34 ERA, 4.13 FIP, 7.40 K/9, 2.40 BB/9, 2.79 K/BB, 39.6 GB%
Aaron Harang is the same age as Cliff Lee, but feels like he's been in the league for far longer. Harang's story is somewhat sad. From 2005 to 2007, he was one of the better pitchers in the National League. 11 starts into the 2008 season though Dusty Baker asked Harang to pitch 4 innings in relief in an extra-innings affair against the Padres. He was on only three-days rest, and still made his next start four days later. But something was wrong, and Harang saw a rapid decline in performance. People have long speculated that the cause of this decline was the relief appearance, and yesterday Harang finally admitted it. Via Hardball Talk:
Including his next start four days later, Harang threw a total of 239 pitches over the course of eight days. The damage was done.

"What it did," said Harang, "is fatigue me beyond the point of recovery. I started to change my arm angle to compensate for the fatigue and that's when my forearm started to bother me."

Harang tried to pitch through the injury initially, but eventually spent over a month on the disabled list later that summer. He has an ugly 5.00 ERA over 379 2/3 innings since the relief appearance in question. While he feels healthy now, he's still trying to get his mechanics back in order.
It's possible that Harang's struggles have been overstated. Despite a horrific win-loss record and ERA in 2008 and 2009, he still managed to keep his K/BB ratio above 2.5 and even posted a 4.14 FIP in 2009. Regardless, Harang is no longer at risk of getting manhandled by Dusty Baker, having signed a 1 year, $4M contract with a $5M mutual option for 2012 with the San Diego Padres. Like Jed Hoyer and the Padres' front office, PECOTA is a buyer. The system doesn't see him fully regaining his past form, but it's certainly not far off. After consecutive seasons of having a BABIP over .330, PECOTA projects it to drop to .311; it also sees him regaining his strikeout stuff and exhibiting good control. If he can regain his past mechanics and stay healthy, PETCO could be a great landing spot for this fly ball pitcher. He's no Liriano, but he's cheap and could prove to be a surprisingly big name at the trade deadline this summer.
Honorable Mentions
Johan Santana
Discussed in great detail here and here, Santana has a fantastic projection from PECOTA. Unfortunately PECOTA doesn't know about his shoulder injury. This one's on hold.
2010: 199 IP, 2.98 ERA, 3.54 FIP, 6.51 K/9, 2.49 BB/9, 2.62 K/BB, 34.5 GB%
2011 PECOTA projection: 210.2 IP, 3.09 ERA, 3.59 FIP, 7.20 K/9, 2.60 BB/9, 2.81 K/BB, 41.3 GB%.
2010: 196.1 IP, 3.39 ERA, 3.26 FIP, 7.29 K/9, 2.20 BB/9, 3.31 K/BB, 51.1 GB%.
2011 PECOTA projection: 171.3 IP, 3.47 ERA, 3.63 FIP, 6.10 K/9, 2.20 BB/9, 2.72 K/BB, 50.1 GB%.
Analyzed here yesterday, Kuroda would be a fantastic trade target for the Yankees should the Dodgers decide to make him available this summer. Unlike Santana, he's relatively cheap, the commitment is short and he gets tons of groundballs.
The best part about having an incomplete rotation is that it keeps things interesting. This spring fans will get to see the battle for the fourth and fifth starter position play out between veterans like Garcia and Colon and youngsters like Warren and Nova. Hopefully one or two can emerge as a viable option, allowing the Yankees to be patient this year and let the trade market develop. There may be good candidates on the market after all.