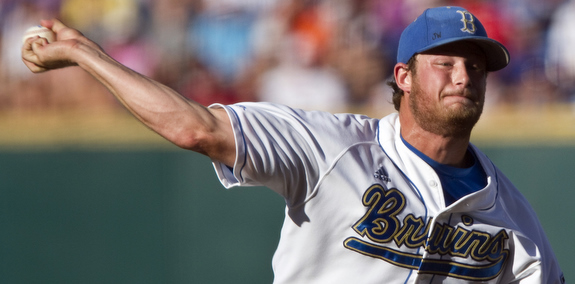 Now that Spring Training is underway, we can shift our attention from Prospect Profiles to the draft. Instead of jumping right into players and stuff like that, I first want to muse a bit about the draft in general because (I think) this stuff is important.
The Value of Picks
Marc Carig recently spoke to an AL exec who dubbed draft picks "a different currency," referring to the way they turn into prospects which can help level clubs above and beyond the financial playing field. "Those (big market) teams are smarting up and they're out-muscling teams in the draft, and internationally," said the exec. "And it's those drafted players that they haven't spent much money on that they're now turning into Adrian Gonzalez, or turned into Victor Martinez."
That's obviously true for the Yankees, who boast a top shelf farm system and will undoubtedly use a few of their prospects to trade for a pitcher at some point. If you don't have those players to give up, you're not getting anyone in a trade. Not anyone good, anyway. I didn't like the Rafael Soriano because of the contract, though surrendering that first round pick (to a division rival!) in a loaded draft is another mark in the cons column. Something that could impact the team long after the right-hander's tenure in pinstripes is over.
Draft picks are an asset just like money and prospects, they're expendable at the right price, but their value should not be underestimated.
The Rays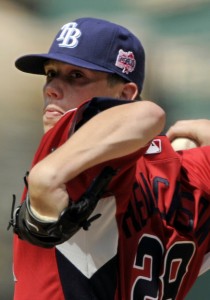 Tampa Bay holds a dozen of the first 100 picks this summer (really a dozen of the first 89), which is the most in draft history. GM Andrew Friedman recently called this year's draft "among the most important days in the history of this franchise [because] we have a chance in this year's draft to impact our future in a way that's unprecedented," so you know they're looking forward to it. The Rays are the gold standard when it comes to scouting and player development, so the combination of a high quality draft class and the sheer number of picks can legitimately make this a historic haul for the team.
And don't fool yourself into thinking the Rays will cheap out. They've spent over $21M on the last three drafts, the seventh most in the game, and the only reason it's not more is because they didn't sign their first or second round picks in 2009, a rare mishap for them. I'm sure they'll squeeze in a few college seniors to save some cash, but they're going to be quality players with the potential to help the team.
Exceeding Slot
Going over MLB's slot recommendation to sign players isn't something only the cool kids do anymore. Only three teams still strictly adhere to slot, and two of them (Astros and White Sox) were said to have two of the fourth weakest farm systems in baseball by Baseball America. The third team, the Mets, is under a new regime that has indicated a willingness to pay for premium talent. Whether or not that happens because of the Madoff stuff remains to be seen, but that's not our concern.
The point is that it's not just the Yankees and Red Sox going over slot now. Small market teams now recognize that it's far better to spend $6M on like, six or eight draft picks that one year of 37-year-old Jeromy Burnitz (coughPiratescough). The idea of landing a top ten or a top 15 talent later in the draft because of signability is still valid, just not as much as it was two or three or four years ago.
The New CBA
Everyone's going to focus on the NFL's labor talks now, but baseball's Collective Bargaining Agreement expires this December. There has already been a ton of talk about changes to the draft, including everything from trading picks to hard slotting to a worldwide draft to overhauling/eliminating the free agent compensation system and everything in between. Therein lies the problem: the uncertainty.
We have no idea what changes are in store for the draft, if any, which is why I suspect that teams will go bonkers to sign as many players as possible. It might be the last time they can spend as they please on amateurs. There's also added incentive for the players as well, since this might be their last chance to negotiate with a club rather than get stuck adhering to a set number.
A lot can and will change between now and the draft, which will take place from June 6-8th this summer. If it starts to become clear that the draft will be changed drastically in the next CBA, I expect it to turn into a feeding frenzy for top talent. The Yankees really aren't in a position to take advantage of that though, their division rivals will pick a total of 14 times before their first selection (51st overall) rolls around.