So it's been a long time a few hours since we lasted talked about A-Rod, and as Mike R. just asked, what exactly would we be talking about had A-Rod simply signed that extension?
…
Exactly.
Anyway, there's been a lot of talk in around Yankeeland about what the Bombers could have done differently to retain the services of Alexander Emmanuel Rodriguez. While Scott Boras claimed $350 million would have done the trick, I'm a bit skeptical. Let me instead offer you two A-Rod conspiracy theories.
1. Alex Rodriguez was never going to stay in New York
As much as Yankees fans would hate to admit it, it's very possible that A-Rod simply wanted out of New York, and no amount of money or promises from Tampa could have changed a thing. A-Rod, not the most thick-skinned guy around, was, by many accounts, simply tired of New York City. Hew as tired of the tabloids tracking his every move; he was tired of the fans putting him under a microscope and expecting perfection. He was tired of shouldering the blame for postseason failures.
By

The Yankees plan to offer A-Rod salary arbitration so they can pick up two draft picks when he signs with some other team. More on A-Rod later (for a change), but this is definitely a good move by Cashman. Even in the unlikely event that A-Rod accepts, the Yanks would simply be retaining one of the best all-around players.

Update: Sean McNally points us to a post of his from last week on RLYW predicting this exact turn of events. Now if only someone would tell that to Baseball Prospectus… · (16) ·
We can apparently debate the Yankees' third base hole for 118 comments worth of thoughts. Ample pixels were burned on Monday discussing Miguel Cabrera. So let's get started on him.
Baseball Prospectus' Will Carroll reports that Cabrera is on the open market. Here's what Will writes:
One of the team's big two is gone and everyone's expecting it to be Miguel Cabrera. "He's at the end of his time at 3B," the baseball source told me, "but he's still good enough to play 1B. They won't get quite as much as [Jon Daniels] did for Mark Teixeira, but they're looking for a different payoff." The rumored asking price is three players – one pitcher and position player that are under three years of service time and "solid ink-'em-in guys." The other would be a "plus prospect, not the best guy on the team, but useful. The Marlins will probably look for a slugger."
At the same time, Tyler Kepner of The Times reports, well, a few things. First, we hear that Yankees Manager Joe Girardi is a big fan of Cabrera's. Says Joe of the 24-year-old slugger, ""He's a great player, a smart player. He really understands the game of baseball. I was impressed in how mature he was as a hitter at a young age, his approach on a daily basis. I did not have any problems with him. He worked hard for me."
Next up, we hear a similar asking price. According to Kepner's sources, the Marlins want a center fielder and one or two top-tier pitchers. In other words, the Marlins want to turn Cabrera into the same package they got from the Red Sox from Josh Beckett. Instead of Hanley Ramirez as the centerpiece and Anibal Sanchez as the very good other piece, the Yanks would be trading a stellar pitcher and a very good other piece.
So now we know that if the Yanks pick up Cabrera, it would be, in all likelihood, as a first baseman. I can live with that. The Yanks got meager production from first base last year. Combined, their first basemen hit .284/.350/.419 with 16 home runs. Miguel Cabrera wails on those numbers. I'd take him at first base for the next ten years.
And with that in mind, we can now debate the package. While Brian Cashman says he would rather not trade Phil, Joba or IPK, it would take one of these guys to land Cabrera. The package would probably focus around one of the Yanks' pitchers, Melky Cabrera, and a lesser pitching prospect, of which the Yanks have plenty right now.
I have, in the past, repeatedly spoken about my thoughts on Melky. I think, defense aside, he is very expendable, especially if the Yanks can get a bat of Miguel Cabrera's caliber in return. Melky's a fine defensive center fielder who often looks lost at the plate. The Yanks have a few good outfielder prospects who are simply better than Melky and have much higher ceilings. With two solid-but-not-spectacular seasons of MLB experience under his belt, Melky is the very definition of trade bait and would fill a hole the Marlins have tried to fill for a few seasons now.
Would you pull the trigger on this deal? As unpopular as trading Melky and IPK (along with a lesser prospect) could make me, I probably would. Let the debate begin.
By

Laura Posada, wife of the Yankees' All Star catcher, said that the Yankees are Jorge's first choice. While Jorge says he's glad to see Joe Girardi managing the team, the Yanks will have to come up with the dollars to sign Jorge. With the Mets in the picture he won't come cheap, and I've already gone on the record with my belief that the Yanks should not over pay in dollars or years for Posada. With the Marlins and Blue Jays also desirous of Posada's services, this could get interesting. · (7) ·
J.C. Bradbury, author of the excellent Sabernomics blog, has an interesting response up to the Jeffrey Gordon piece from Sunday's Times. Bradbury writes that the Yanks are definitely not going to reverse their position on A-Rod:
What is at stake here is not a single player's contract, but the organization's long-run credibility at keeping its word. If the Yankees cave, the repercussions will echo into the future. Why would any player ever not opt out of his deal in the future if he knows the Yankees will give in? Not following up on your threats is bad for your reputation as a tough guy.
Bradbury is dead-on in this analysis. The Yankees simply cannot afford, long-term, to back down for their established stance on A-Rod. Hopefully, Hank and Hal have realized this reality as well.
By

Courtesy of loyal reader and frequent commenter Brian comes a tip to this article on the Dodgers' Official Site about Joe Torre. In it, relief pitcher Joe Beimel relates a conversation he had with his new manager's all-time favorite middle reliever:

I talked to Scott Proctor today. He said to be ready to pitch a lot. He [Torre] likes to use the bullpen.


I can only imagine how that conversation went. Poor Scott Proctor. He must be beside himself. · (5) ·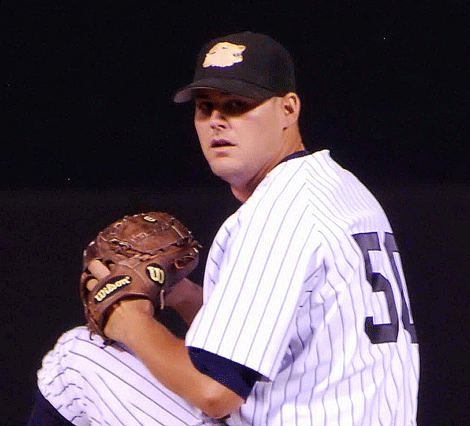 AFL Peoria Javelinas (6-2 Loss to the Phoenix Desert Dogs)
Brett Gardner: 1-4, RBI, SB Tied for the league lead in SB's with 14. Robbed of a hit (Line Drive) by the third baseman.
Juan Miranda: 1-4, 2B, R (the box score incorrectly shows 2-4) Lined a double off the LF wall
Reegie Corona: 0-3, BB, R Robbed of a double by McCutchen on a shoe string catch. Hit the hard all night but nothing to show for it.
Steven Jackson: 2IP, 2H, 2ER, 3K, 1BB All three SO's were on great sliders.
There were a couple scouts that were pimping the Yankee prospects during the game. It could be just coincidence or it could have something to do with the GM meeting that are taking place right now. They were very complimentary of BG, calling him the 'fastest player in the league' and said that he's been 'hitting the snot out of the ball'.
Andy Pettitte has, according to his agents, declined to exercise his 2008 option. While the initial reaction among Yankee fans is one of panic, there's comparatively little to worry about here. Pettitte will either pitch for the Yankees in 2008 or retire.
Randy Hendricks, his agent, issued the following statement:
"I have spoken with Brian Cashman, who has reiterated what Hank Steinbrenner said about the Yankees wanting to give Andy all the time he needs to decide about next season. Accordingly, we are declining to exercise the option for 2008 and Andy will declare free agency in order to free up a roster spot for the Yankees.

"If Andy decides to play, I am confident we can reach an agreement with the Yankees within 24 hours. The only options, as Andy has stated, are the Yankees or retirement. He appreciates the Yankees' willingness to give him the time he feels he needs. I do not expect him to make a decision for quite some time."
Don't panic. Pettitte isn't jumping ship. It was anticipated that he would take a little bit longer than ten days to determine his future. I'm still betting he'll be back.
Update: PeteAbe has a little bit more from Brian Cashman. The Yanks GM has politely asked Pettitte to decide within the next two months. That seems quite reasonable to me.
It's clear that the Yanks want Andy to stay. They see big things for him in his role as staff ace next year, and his departure could radically change the Yankees' offseason plans. Johan Santana is just moving higher and higher up their Wish List.
"Obviously we want Andy to stay with the Yanks and pitch for us in '08," Cashman said. "In fact I'd say I need him to. He's an important piece for us."
Clearly, the Yankees have a hole at third base. They also have a few spare outfielders sitting around as well as a large stockpile of good, young prospects. Somehow, someway, this hole will be filled.
Right now, the rumors as the GM meetings begin in Orlando involve the Yankees and the White Sox. The Yankees are rumored to be interested in Joe Crede; the White Sox are intrigued by Johnny Damon. Over at The Bronx Block, EJ Fagan believes, as I do, that the Yanks can do better than Crede, and John over at Yanksfan vs. Soxfan notes the Crede-Brosius comparison.
I understand the appeal of Crede when it comes to Scott Brosius nostalgia. Crede is a glove man at third who has shown some flashes of hitting ability at the plate. Crede turns 30 in April; Brosius was 31 when he arrived in New York.
But let me tell you the dirty little secret about Scott Broisus: Despite his postseason success and career year in 1998, he wasn't very good as a member of the Yankees.
In 1998, Brosius was an All Star for the Yanks. He hit .300/.371/.472 with a career-high 19 HR and 98 RBI. It looked like the Yanks had landed themselves an unheralded star in a lineup of top performers. But it all came crashing down after that.
From 1999-2001, Brosius hit .254/.316/.411 with 46 HR. Take out 2001, and those numbers are even worse (.239/.303/.394). Now, I loved Scotty-Bro just as much as the next Yankee fan. He was a great number nine hitter in a pretty powerful lineup.
But 2007 is not 1998. In 1998, the Yankees were trying to replace Wade Boggs. He was a great hitter, but he wasn't the centerpiece of the lineup. In 2007, the Yankees are trying to replace their number four hitter and third baseman at the same time. There are plenty of better options out there, and the Yanks, with all of their resources, shouldn't settle on Joe Crede this early in the offseason.