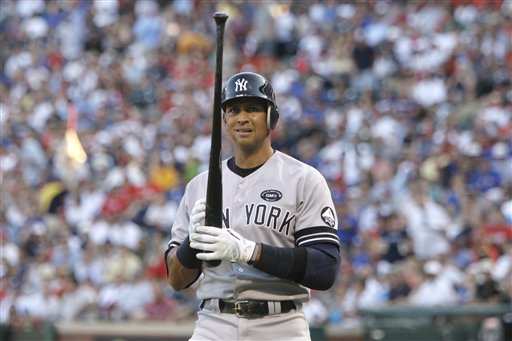 Two days ago we heard quite a bit from the mainstream media types about the Yankees and their 12-0 record without Alex Rodriguez, which while fun and quirky, is indicative of nothing. The "they're better off without him" cracks made the rounds, and after the last two games against the Blue Jays the sans A-Rod record sits at 13-1 this season. They've scored 8.1 runs per game without their cleanup hitter compared to just 5.0 with him, a function of small sample size than anything else.
For all intents and purposes, Alex has been out since August 16th with a calf issue (let's just ignore that one at-bat cameo last week for simplicity's sake), and yet the Yankees have hit .284/.377/.519 as a team in the eight games since. Prior to his injury, the team boasted a .268/.347/.435 batting line, still very good in this age of suppressed offense. Mediocre opposing pitchers have as much to do with that as the Yanks' hitters, but that ruins the narrative.
So who has picked up the slack in A-Rod's stead? Well, pretty much everyone. Robbie Cano, the fill-in cleanup hitter, has hit .333/.459/.800 with four frickin' homers in those eight games while Mark Teixeira has picked it up to the tune of a .367/.444/.667 batting line with a pair of homers. It's been clear for months now that those two represent the future core of the Yankee offense, and they seem to have gotten a head start on things with Alex on the mend.
Even in his somewhat diminished state, it takes several players to replace Alex Rodriguez in the lineup, and so far the complementary bats have been up to the task, if not more. The damage done by the new 3-4 hitters has been maximized because Derek Jeter has reached base 11 times and Nick Swisher has made it to first safely at least once in each of those eight games without Alex. Jorge Posada has clubbed three homers in the last four games, Curtis Granderson three in the eight games, and the mash-up of Austin Kearns and Marcus Thames has hit .289/.357/.500 with the extra playing time.
Similar to the concept of bullpen chaining, losing your cleanup hitter doesn't necessarily impact the middle of your lineup as much as it does the bottom of it. A-Rod went down, and a very capable hitter in Cano moved up a spot, as did everyone else hitting below him. Taking Alex's place at the hot corner has been the combination of Ramiro Pena and Eduardo Nunez, who have assumed the ninth spot in the lineup, where Brett Gardner and his .280/.378/.377 batting line are usually found. Those two have combined to hit just .236/.250/.353 during the last eight games, ineptitude only made bearable by the increased production of everyone else.
So far, the Yankees have done a rather remarkable job with A-Rod on the shelf, a job that has kept them tied atop the AL East and in firm grasp of a playoff spot. Their third baseman is able to come off the disabled list on September 6th, and although we haven't gotten any indication that he will come off the DL following the minimum 15 days, we're all hopeful that will happen. The Yankees kick off a three game set against the Orioles that day before heading into a stretch where they play 13 of 16 games against the Rangers, Rays, and Red Sox. They're going to need their third baseman and cleanup hitter then, and with any luck, the rest will help get him back to MVP form.