By

Voting for ESPN's crappy little annual NEXT competition is underway, and Joba's one of the choices. ESPN has either been horribly wrong when picking NEXT athletes (Kordell Stewart? Kaz Matsui?? The US Men's Soccer Team???), or just too lazy to do any research and instead picked the most obvious choice possible (A-Rod, LeBron, Kobe). This is a rather useless honor, but I want Joba to win. So go vote. · (15) ·
Remember when Mariano Rivera went all Godfather on the Yanks' bullpen? He called out Brian Bruney, Scott Proctor and Kyle Farnsworth for sucking. A week later, Proctor had been sent to the Dodgers, Bruney to AAA and Farnsworth to the sixth inning of 11-2 games.
Now, reports are emerging that Mariano Rivera, the Yanks' own Vito Corleone, was at it again. This time, though, his target was A-Rod. Newsday's Jim Baumbach reports:
Rivera is believed to have been one of A-Rod's major sounding boards during the craziness of Rodriguez's past three weeks. Rivera, according to his friend, told Rodriguez as far back as days after A-Rod opted out Oct. 28 that he should approach the Yankees to tell them how he truly felt.
Hey, if Rivera truly did help convince A-Rod to stay in New York, maybe his own $45-million deal should include some negotiating clauses as well.
When the Red Sox decided to fork over $103 million for a pitcher who had never thrown a Major League pitch, they do so with the expectation that their investment would open up new markets for them. The Yankees and the Mariners, after all, have managed to secure multi-million-dollar revenue partnerships with Japanese-based companies due to the presence of Japanese stars.
However, the Red Sox were not so lucky. Rob Bradford of The Boston Daily Herald reported today that the Sox managed just one $900,000 deal with a Japanese company. While the World Champions aren't complaining, they are a bit disappointed in the financial returns.
"There was absolutely not this windfall of corporate advertising dollars we thought there may be, or that [Matsuzaka's] representative might have led you to believe during the negotiations," Sam Kennedy, Boston's senior vice president of sales and marketing, said to Bradford. "But it was fascinating to watch the media, the fans that came over from Japan to see him, and to see someone assimilate into our culture. From everything I hear the best is yet to come."
And as astute observers may note, Matsuzaka's representative in this process is the much-beleaguered Scott Boras. With Kenny Rogers' unceremoniously dumping Boras this weekend and the way the A-Rod saga has played out, this news is just another blow to the Boras empire.
By

According to the Yanks' $275-million man, his negotiations with the Bombers are "in the bottom of the fifth." I have no idea what that means. The starting pitcher is beginning to tire? The bullpen is getting ready? The game is rushing to a conclusion? The two parties are a little bit more than halfway there? Strange metaphor there, Alex. · (20) ·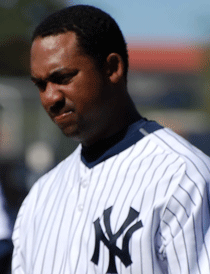 Juan Miranda
Pos: 1B
Bats: Left Throws: Left
Age, DOB: 24, 4/25/1983
AFL Stats: AVG 295 OBP 423 SLG 551 with 5 HR's and 17 RBI's
Background:
Juan Miranda played for the Cuban National Team from 2001-04, where he put together a career batting average of .303 with 27 HR's, 73 BB's while striking out only 87 times. He was used as an outfielder and first baseman in Cuba but his best tool has always been his ability to hit for power while still showing great plate discipline. He defected from Cuba in 2004, after two prior attempts, and was granted his citizenship in the Dominican Republic in 2005. After defecting, he stood firm on his contract demands and was finally able to come to terms with the Yankees when they announced his signing in December of 2006. He was signed to a four-year major league contract that was reported to be worth just over $2 million. He was immediately added to the 40-man roster and assigned to the Tampa Yankees of the Florida State League (Class A Advanced).
Miranda's first year in the minors received mixed reviews. He batted .265 with 16 HR's and 96 RBI's while splitting the year between Class A Tampa and AA Trenton. The biggest concern was the drop in his batting average and BB/K rate (52/106) but that should be expected from a player that was away from the game for nearly two years. There was also strong speculation that he's actually two years older than reported, which would make him 26yrs old if his DOB is in fact 4/25/1981, as listed on Rotowire. Read More→
By

Pete Caldera of the Bergen Record has spoken to a friend of Mo, and he's going to accept the Yankees offer. This really doesn't give us more than we already know, but I suppose hearing it from a friend of Mo makes it more official. Sorta. Maybe.

The friend says that he would have taken two years and an option. Way to rub it in, asshole.

Hat tip to Jason. · (11) ·
Meet Tim Kawakami, writer for the San Jose Mercury News. He had nothing better to write today, so he compared A-Rod and Bonds.
It was already obvious, but last Thursday sealed the deal. Bonds and Rodriguez are fused in the sports mentality – what you love about one of them, you love about the other; what you hate about one, you hate about the other (aside from the Bonds/Balco mess).
Yeah, because the Bonds/BALCO thing is just a footnote on Bonds's career. Not like he's being indicted for it or anything.
The column, as you can probably figure, is an enormous waste of the newspaper's budget.
By

The Yanks are looking at Francisco Cordero just in case Rivera doesn't end up signing a contract. They also want to bring back Luis Vizcaino to fill out their bullpen. · (22) ·
By

So says Alex Rodriguez. The line strikes me as Eastwood-eque, though I don't think he's ever uttered those exact words (minus the "in New York" part) on screen.

Our $275 million dollar man says he'll reveal all…"when the time is right and I have a proper forum….It's important for my fans, for the New York Yankee fans, to realize exactly what happened from A to Z." · (7) ·