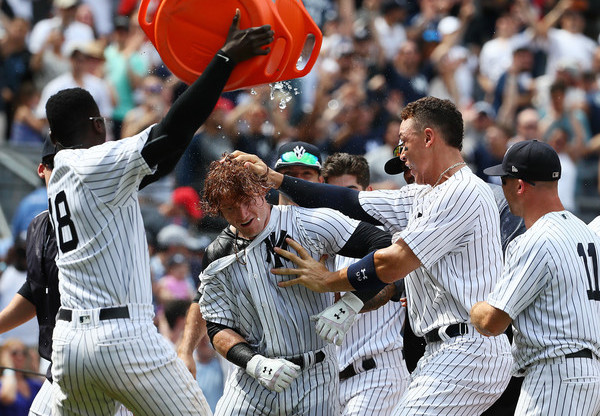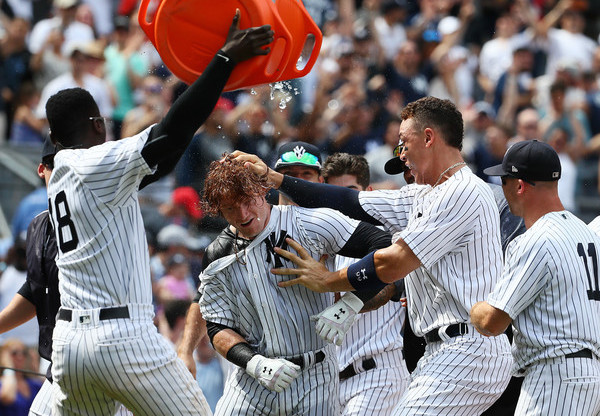 Even though the Yankees were not considered a slam dunk contender going into the 2017 season, there were plenty of reasons to be excited. Gary Sanchez and Aaron Judge were two of them. We were also looking forward to seeing some of the team's top prospects make their MLB debuts at some point. Gleyber Torres and Chance Adams didn't debut this year for different reasons, but plenty of others did.
Because so many things went right at the MLB level (Aaron Hicks breaking out, for example) and because the Yankees went out and made in-season upgrades (Todd Frazier trade), the Yankees did not have to lean heavily on any of their position player prospect call-ups. They came up, got their feet wet, and that's about it. Time to review the four young position player prospects who made their MLB debuts this summer.
Miguel Andujar
Andujar finally had that big breakout season in 2016, and after hitting .312/.342/.494 (126 wRC+) with seven homers in 67 games with Double-A Trenton to start 2017, the Yankees moved him up to Triple-A Scranton. Nine days later he was in the big leagues, replacing the ill Matt Holliday. Against the White Sox on June 28th, his first MLB game, Andujar went 3-for-4 with a double, a walk, and a stolen base. He also drove in four runs.
Andujar became the first player in Yankees history to drive in four runs in his MLB debut. He was the first player with three hits and four runs driven in in his big league debut for any team since … Steven Matz? Steven Matz. Matz went 3-for-3 with a double and four runs driven in during his MLB debut on June 28th. Okie dokie. He's a pitcher, you know.
The Yankees sent Andujar back down the next day — he returned for a day as an injury replacement a few days later, but did not play — because their plan was to use him against the left-handed Carlos Rodon before bringing up a more permanent replacement. Andujar returned in September and appeared in three games, all as a late-inning replacement in blowouts. He went 4-for-8 with two doubles as a big leaguer while hitting .315/.352/.498 (132 wRC+) with 16 homers and a 13.6% strikeout rate in 125 games split between Double-A and Triple-A.
Andujar of course survived the 40-man roster purge last month and, more surprisingly, he was not included in the Giancarlo Stanton trade. That surprised me. A cheap, young, and talented MLB ready third baseman seemed like someone the Marlins would target in the deal, but nope. Third base is open long-term for the Yankees, especially now that second base is clear for Torres. Andujar needs to work on his defense, sure, but chances are he'll get a longer opportunity to help the Yankees at some point next year.
Dustin Fowler
Hands down, the worst moment of an otherwise wildly fun and exciting 2017 season for the Yankees was Fowler's injury. The injury itself wasn't particularly gory or gruesome, though the circumstances were awful. In literally his first inning as a big leaguer — Fowler was called up on June 29th, as the more permanent replacement for Andujar — Fowler crashed into the side wall chasing a foul pop-up at Guaranteed Rate Field, and blew out his knee.
Fowler suffered an open rupture of the right patella tendon and needed emergency surgery, which ended his season. In his first inning as a big leaguer. Terrible. The kid didn't even get an at-bat. He was due to lead off the next inning. Fowler spent the rest of the season on the disabled list — at least he got to accrue 95 days of service time and big league pay while on the disabled list, as if that's some consolation —  and was included in the Sonny Gray trade at the deadline. Had he been healthy, I'm not sure he gets traded. It might've been Estevan Florial instead.
Prior to the injury Fowler ripped up Triple-A, hitting .293/.329/.542 (138 wRC+) with 13 home runs and 13 steals in 70 games before getting called up. He is no longer with the Yankees, but the good news is that according to John Shea, Fowler's rehab is progressing well and he is current working out at the A's complex in Arizona. MLB.com ranks him as the third best prospect in Oakland's system and their center field depth chart is very weak. Fowler is expected to be ready for Spring Training. I hope he wins the center field job in camp.
Clint Frazier
Spring Training got off to a pretty ridiculous start for the headliner in last summer's Andrew Miller trade. First the Yankees made a spectacle of Frazier getting a haircut to conform to the team's hair policy rules. Then there was a flat out made up story that Frazier asked to wear Mickey Mantle's No. 7, which required an apology from Suzyn Waldman. The damage had already been done though. Clint became the new media whipping boy.
Anyway, Frazier opened the 2017 season with Triple-A Scranton, where he got off to a bit of a slow start, but he eventually picked it up and hit .256/.344/.473 (123 wRC+) with 12 home runs in 74 games before being called up on July 1st. Frazier replaced Andujar, who replaced Fowler, who replaced Andujar, who replaced Holliday. Got all that?
Frazier's big league debut — and his first few weeks in pinstripes, really — was quite eventful. He went 2-for-4 with a double and a homer in his first MLB game, and in his first 15 games, Clint went 17-for-56 (.304) with five doubles, two triples, and three homers. That's ten extra-base hits and seven singles. One of those three homers was a walk-off three-run shot against the Brewers on July 8th.
That bat speed, man. Frazier turned around a 97.3 mph heater from All-Star Corey Knebel like it was a batting practice lob.
By both win probability added and championship probability added
, the walk-off blast was the second biggest regular season hit of the year for the Yankees, behind only Brett Gardner's three-run jaw-dropper at Wrigley Field.
Frazier stayed in the lineup on an everyday basis because Holliday was hurt, Hicks was hurt, and Jacoby Ellsbury was largely ineffective. He wound up on the disabled list himself on August 10th, after tweaking his oblique during batting practice. The injury kept Frazier out until mid-September, and when he returned, he was largely a bench player who played in blowouts. All told, he hit .231/.268/.448 (82 wRC+) with four homers in 142 MLB plate appearance.
Like Andujar, Frazier somewhat surprisingly wasn't included in the Stanton trade, so he remains in the organization. The Stanton trade does create some uncertainty about Frazier's long-term role, however. In Judge and Stanton, the Yankees now have two of best corner outfielders in baseball, so where does Frazier fit? Triple-A depth/injury replacement? DH? Make him fake center field long-term? Trade bait? I'm not sure, and the Yankees might not be sure right now either.
Oh, and by the way, Frazier initially wore No. 30 after being called up, though he gave it up when David Robertson was reacquired. His new number? No. 77. I have no idea whether that is a troll move following the Spring Training nonsense, but I'm going to pretend it is.
Tyler Wade
The players in this post are listed alphabetically, but it all started with Wade. He was the first in the parade of prospect debuts. Wade started the season in Triple-A before being called up on June 27th. He debuted the day before Andujar, who debuted the day before Fowler, who debuted two days before Frazier. That was quite a week. Arguably the four best non-Gleyber position player prospects in the system made their MLB debuts in the span of five days.
Unlike the other guys in this post, Wade did not make his debut as a starter. He came off the bench. Wade hit .313/.390/.444 (135 wRC+) with five homers and 24 steals in 71 Triple-A games before coming up, and his first taste of the big leagues came as a pinch-hitter. He pinch-hit for former teammate Rob Refsnyder against future teammate Tommy Kahnle. Wade worked a seven-pitch walk against Kahnle that sparked the go-ahead rally. Too bad the bullpen blew that game.
Wade started in left field the next day and went 1-for-5 with a double, his first MLB hit. He started the next day at second base and went 1-for-4. He started in right field the day after that and went 0-for-4 with a walk and two runs scored. Three different positions in three days in his first three starts as a big league ballplayer. You can do that when you have the athleticism to make plays like this:
After those three starts at three different positions, Wade slipped into a utility role, and he barely played. He accrued 81 days of service time and had only 63 plate appearances. There was also a short Triple-A stint in August mixed in there. Joe Girardi stuck with Ronald Torreyes at second base while Starlin Castro was injured, so from July 1st through the end of the season, Wade was on the MLB roster for 73 games and appeared in only 26.
One of those 26 games came against the Rays on July 27th, in a rare start. Wade had a brutal game, going 0-for-5 with three strikeouts and a double play. Two of the strikeouts and the double play came in the late innings with either the tying or go-ahead run in scoring position. Ouch. At least the Yankees won. Wade finished the season with a .155/.222/.224 (17 wRC+) batting line in his 63 big league plate appearances, and a .310/.382/.460 (136 wRC+) line in 85 Triple-A games.
As with Andujar and Frazier, Wade was not included in the Stanton trade, so he remains in the organization. And depending what the Yankees do the rest of the offseason, it's entirely possible Wade will go into Spring Training with a chance to win the starting second base job. I imagine it would be between Wade, Torreyes, Torres, and the journeyman infielder the Yankees will inevitably sign to a minor league deal. I like Wade. His MLB stint this year was terrible, no doubt about that, but he has some skills and can be a nice contributor as soon as next season.