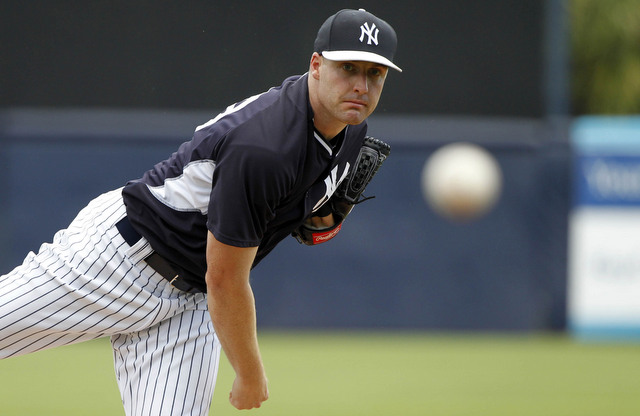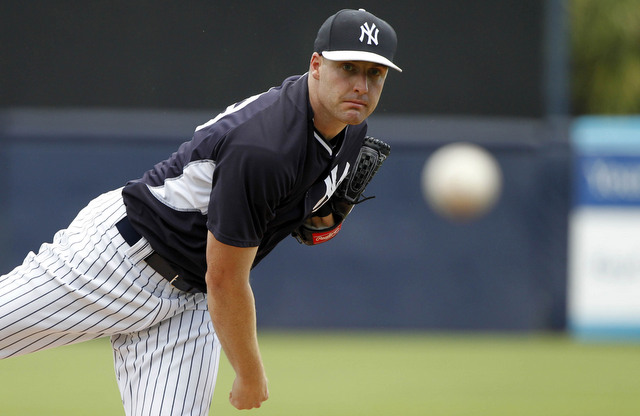 The Yankees announced their latest round of roster cuts earlier today, optioning Chase Whitley to Triple-A Scranton and reassigning non-roster invitees Rob Refsnyder, Nick Noonan, and Eddy Rodriguez to minor league camp. By my count there are still 32 players in big league camp, four of whom are injured (Brendan Ryan, Chris Capuano, Ivan Nova, Vicente Campos).
Today's roster cuts clarify if not finalize the Opening Day bullpen and bench pictures. Whitley was one of four candidates left for the final two bullpen spots along with Andrew Bailey, Chasen Shreve, and Chris Martin. Bailey told Mark Feinsand today he will stay behind when the team heads north tomorrow and continue working his way back from shoulder surgery with High-A Tampa when the minor league season begins. That leaves Shreve and Martin for the last two bullpen spots.
Ryan's calf injury opened up the backup infielder's spot, and while Joe Girardi hinted at Refsnyder being a candidate for the job, his reassignment to minor league camp today confirms he won't make the team. Same with Noonan. Fellow reserve infielder candidate Cole Figueroa was sent to minor league camp last week, leaving the recently acquired Gregorio Petit as the front-runner for the backup infielder's job. That makes sense, he can play defense all around the infield (unlike Refsnyder) and is right-handed hitter (unlike Didi Gregorius, Stephen Drew, Noonan, and Figueroa).
I'm very surprised Whitley was sent down. He's pitched very well in camp. I guess the Yankees feel Whitley is more valuable as the sixth starter in Triple-A than as the second long man in MLB. The backup infielder situation is whatever. As I said this morning, sitting on bench does Refsnyder no good, and picking between Petit, Noonan, and Figueroa is a toss-up. There's no right or wrong answer. There's just an answer, and it appears the answer is Petit.
Adam Warren has officially been named the fifth starter, and with Shreve, Martin, and Petit now looking like safe bets for the Opening Day roster, the only position battle left in camp is for the backup catcher's job. All signs from the last 12 months point to John Ryan Murphy being the guy, but Austin Romine is out of minor league options and Brian Cashman admitted that will play a role in the decision. We'll see.